A rich tasting keto beef stew featuring meltingly tender beef chuck and perfectly cooked vegetables. You'll never believe this is a low carb stew recipe. Your ketogenic diet just got better.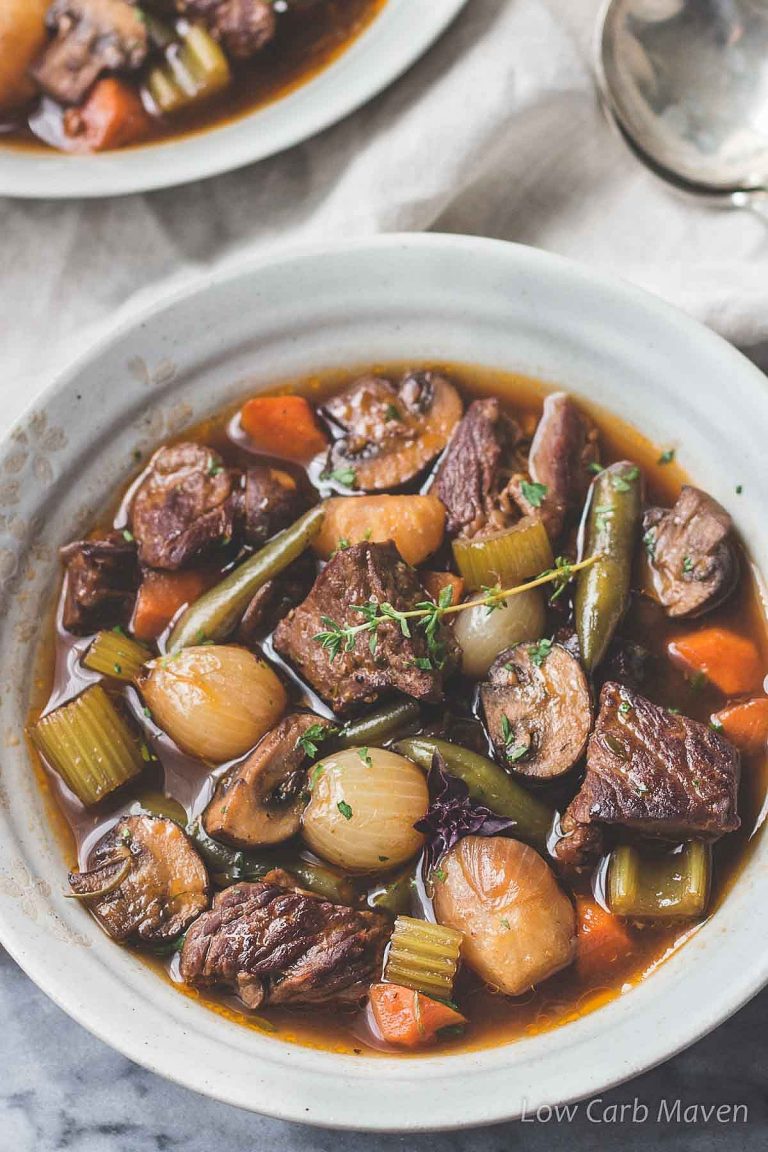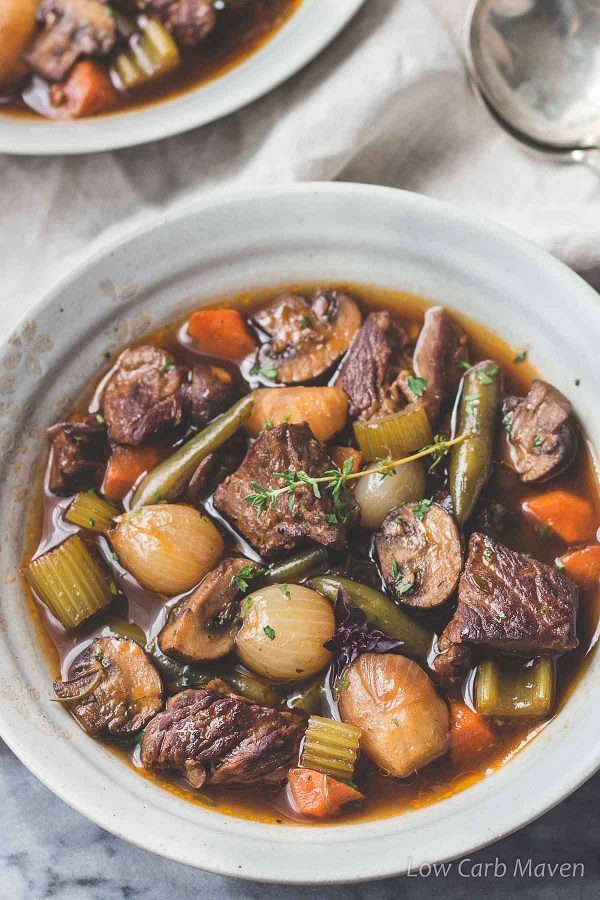 I'm a big fan of stew. Place a steaming bowl of this comfort food fave in front of me and watch it disappear. I'm an equal opportunity stew eater, fabulously happy with any good bowl of Thai or Indian coconut milk curry, New Mexico green chili verde, carne guisada, Moroccan chicken tagine, Cioppino, chowder, chili, and my favorite – good old American beef stew.
Traditional Beef Stew
Most traditional American style beef stews are thickened with flour or cornstarch and are often overly-thick and gloppy. Except for celery, traditional stew vegetables are starchy and sweet: potatoes, carrots, parsnips, onions, and peas. Root vegetables feature heavily which is why we see stew recipes in the Fall.
Keto Beef Stew
This Gluten-free stew recipe is perfect for those on a low carb keto diet. Making beef stew without flour or thickeners reduces carbs while intensifying overall flavor. To make it truly low carb, choosing low carb vegetables is a must (see a complete list of low carb foods here). But properly cooking the stew is equally important.
The ideal low carb stew should feature fork tender beef and tender (not mushy) vegetables in a meaty tasting broth.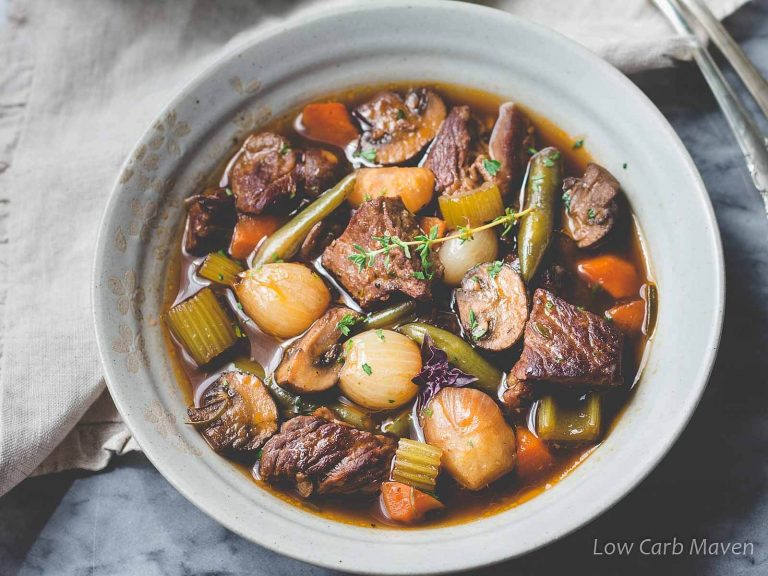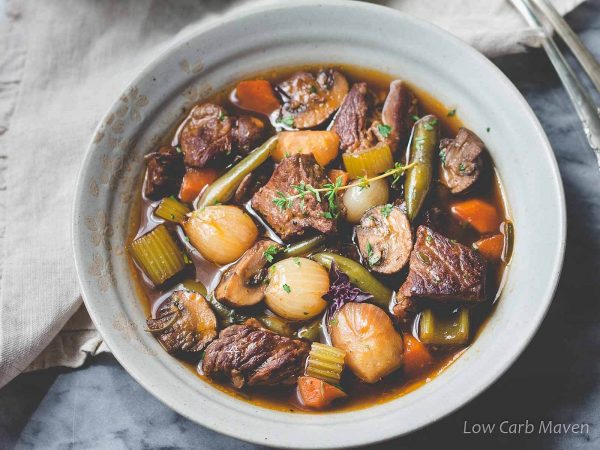 Low Carb Vegetables for Keto Beef Stew
The best low carb vegetables for beef stew are: celery, mushrooms, green beans, celery root, turnips, rutabaga, and radishes. Some people like to add zucchini and summer squash.
When making keto beef stew:
choose low carb vegetables
replace potatoes with less starchy root vegetables
use onions and garlic judiciously
small amounts of colorful vegetables add visual appeal
add the vegetables at the last 40-60 minutes of cook time
Food should be appealing, so I include one medium (3 oz) carrot. "Rolling" the carrot while slicing, produces small irregular-shaped chips which provide a pop of color throughout. Green beans are a great sub for peas and add color and variation in shape. Replacing starchy potatoes with better choices like radish, turnip, rutabaga, and celery root (celeriac) is a great low carb trick. (I used celery root in this stew recipe, that I cut to mimic the shape of potatoes.)
TIP: To have the vegetables look and taste their best before serving, add them to the stew at the last 40 – 60 minutes of cooking. They will soften and cook-through but keep their integrity. To me, that's the hallmark of a perfect keto beef stew.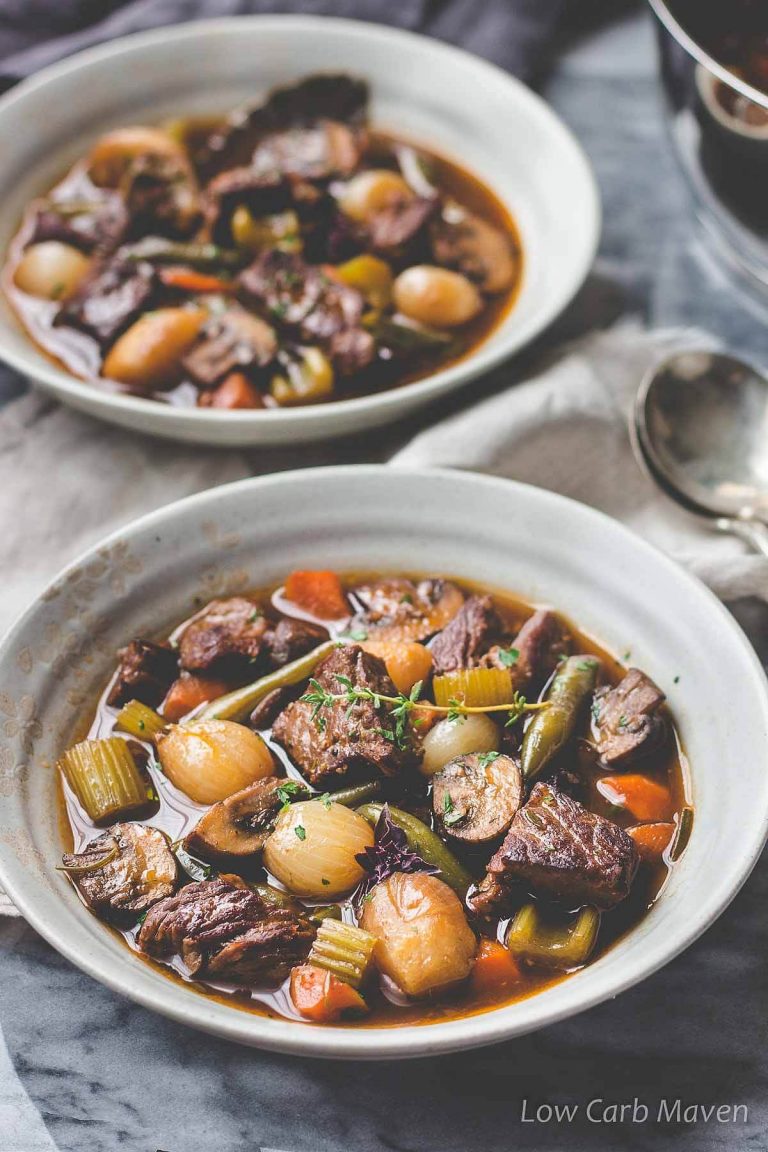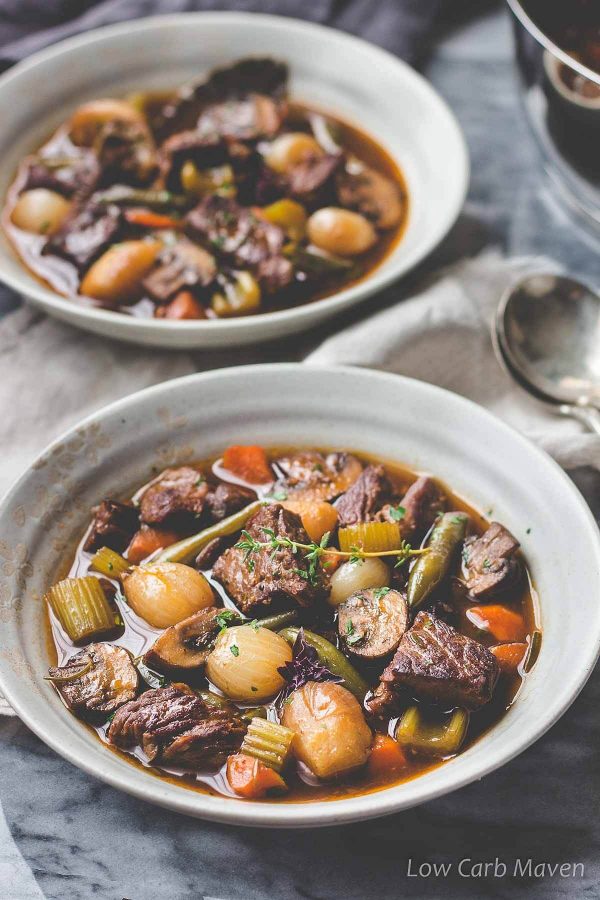 How to Make Stew Meat Tender?
We've all experienced eating stews with tough chewy bites of beef and others where the beef was fall apart tender. Wanna to know how to make stew meat tender? Use the right cut of beef.
use a chuck roast (trim and cube it yourself)
let it come to room temperature for 30 mins. before cooking
brown well in batches
cover the pot with a lid and simmer in broth until fork-tender
BUY THE RIGHT CUT: I used to buy "stew meat" from the grocery store as a convenience. Then, I wondered why it was tough. Now, I buy a chuck roast or pot roast. It has the best beefy flavor, it's affordable, and it becomes meltingly tender when cooked. It only takes a few minutes to trim off any excess fat and cut it into chunks.
DON'T SHOCK THE MEAT:Let the chuck come to temperature for at least 30 minutes before cooking. Searing cold meat shocks it, causing it to pull together and toughen. Mix a little oil into the beef pieces.
DON'T CROWD THE PAN: Brown the chuck in batches to ensure good caramelization on the exterior of the beef and in the bottom of the pan.
USE A LITTLE ACID AND THE RIGHT COOKING METHOD: Add a little acid in the form of wine or tomato paste to help lift the fond (brown bits) from the bottom of the pan. It also helps break down connective tissues in the meat. Add enough broth or stock to just cover the meat and simmer for 1 1/2 hours. Pierce with a fork to check for tenderness. When there is just slight resistance, it's time to add the vegetables and gently simmer uncovered for 40 minutes to an hour more.
Keto Beef Stew is 6 net carbs per serving and yields 6 servings.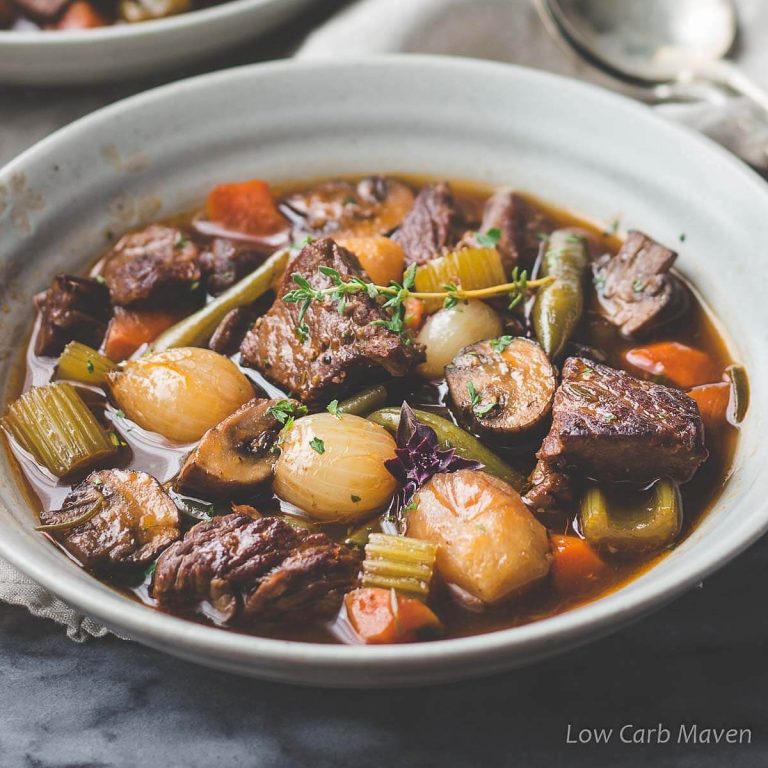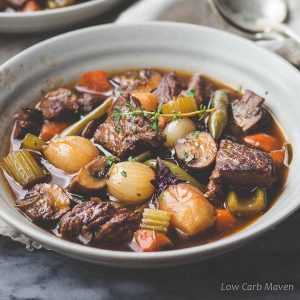 Keto Beef Stew
A rich tasting low carb beef stew without potatoes featuring meltingly tender beef chuck and perfectly cooked vegetables. Your gluten-free ketogenic diet just got better.
Print
Pin
Rate
Ingredients
1 1/4

pound

trimmed beef chuck roast, cubed (1 inch)

8

ounces

whole mushrooms, quartered

6

ounces

celery root, peeled and cubed into 3/4 inch pieces

(or sub turnips or radishes)

4

ounces

pearl onions, trimmed and peeled (or regular onion, large dice)

2-3

ribs

celery, sliced

3

ounces

carrot, roll-cut (or sliced)

2

cloves

garlic, sliced

2

tbsp

tomato paste

2

tbsp

olive oil, avocado oil, or bacon grease

5

cups

beef broth (I used Kettle and Fire bone broth)

1

large

bay leaf

1/2

tsp

dried thyme

salt and pepper to taste
Optional Flavorings to change it up:
marjoram, winter savory, oregano, summer savory, juniper berries, clove, orange peel, red wine, balsamic vinegar
Instructions
Preparation:
Remove the chuck roast from the refrigerator to come to temperature. Quarter the mushrooms and set aside. Wash and chop the vegetables, including the garlic, putting them together in a bowl for later. Trim the excess fat off of the chuck roast (pot roast) and cut into 1-inch cubes. (I used 1 1/4 pounds of meat, but you may use more if you wish.) Thoroughly mix two teaspoons of oil into the beef.
Method:
Place a dutch oven or heavy bottomed pot on the stove over medium heat. When hot, add the rest of the oil and swirl to coat the bottom of the pot. Add the mushrooms and stir to coat. Do not disturb them for 2 minutes. Stir and let them cook for two minutes more. Remove the mushrooms from the pot and add them to the other vegetables.

Brown the beef in the pot in batches, adding more oil as needed. Place all of the beef into the pot and stir in the bay leaf, thyme, and tomato paste making sure to coat the beef. Let it cook for less than a minute, then slowly add 1 cup of broth while scraping up the browned bits from the bottom of the pot. Add the rest of the broth and bring the stew up to a simmer. Cover and reduce the heat to low-ish and simmer gently for 1 1/2 hours.

Insert a fork into a piece of meat to check for tenderness, it should meet little to no resistence. If tough, let it cook another 20 minutes. When tender, add the vegetables and turn up the heat until it simmers. Turn down the heat and simmer uncovered for 40 minutes to an hour or until the vegetables and meat are tender. Add salt and pepper to taste.

Makes 11 cups with approximately 1 3/4 cups per serving.
Notes
HIGH ALTITUDE INFORMATION: A reader said that it took 4 hours of cooking for her beef to get tender. She also said that the recipe was worth the time. 
ADDITIONAL NOTES: It's important to get nice color on the beef and in the bottom of the pot. The fond (browned bits on the bottom of the pan) should be dark in color (not black) and dry. This caramelization is what gives a nice depth of flavor to the stew. Other ways to add more flavor is by adding 1/2 cup of red wine after adding the tomato paste and letting it reduce by half, or adding 1 teaspoon of beef base, and also making sure that the broth is seasoned appropriately with salt and pepper. I find that adding more pepper makes the stew nice and savory.
Nutrition
Calories:
288
kcal
|
Carbohydrates:
8
g
|
Protein:
20
g
|
Fat:
20
g
|
Fiber:
2
g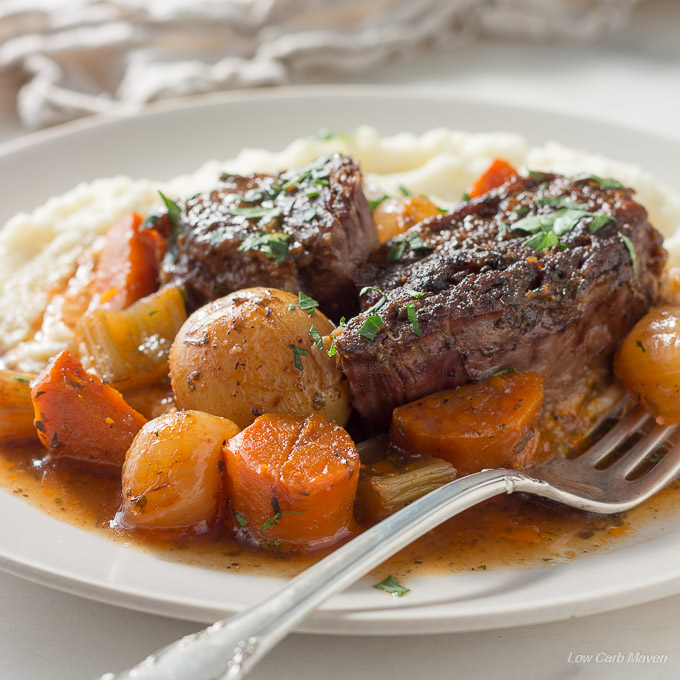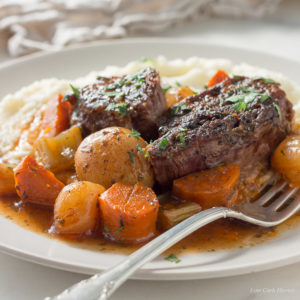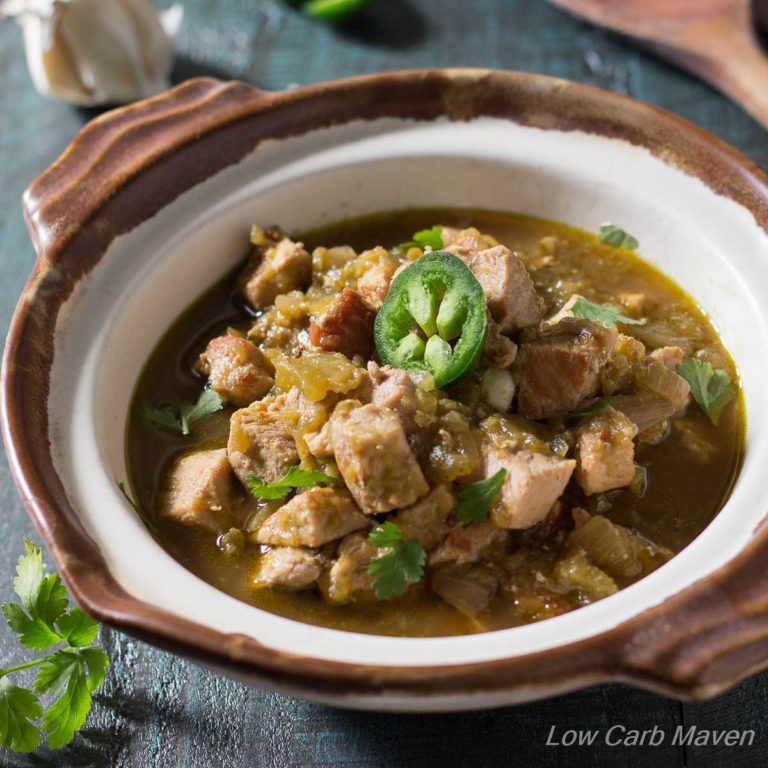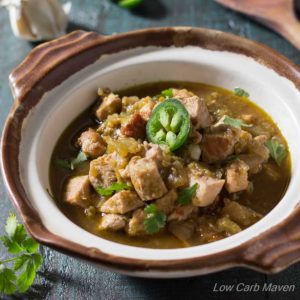 New Mexico Green Chile Pork Stew (Green Chile Stew or Chili Verde)