This incredible tasting Low Carb Almond Flour Porridge takes 7 minutes to prepare and is 6 net carbs per serving.  It's perfect for any Paleo or Ketogenic diet.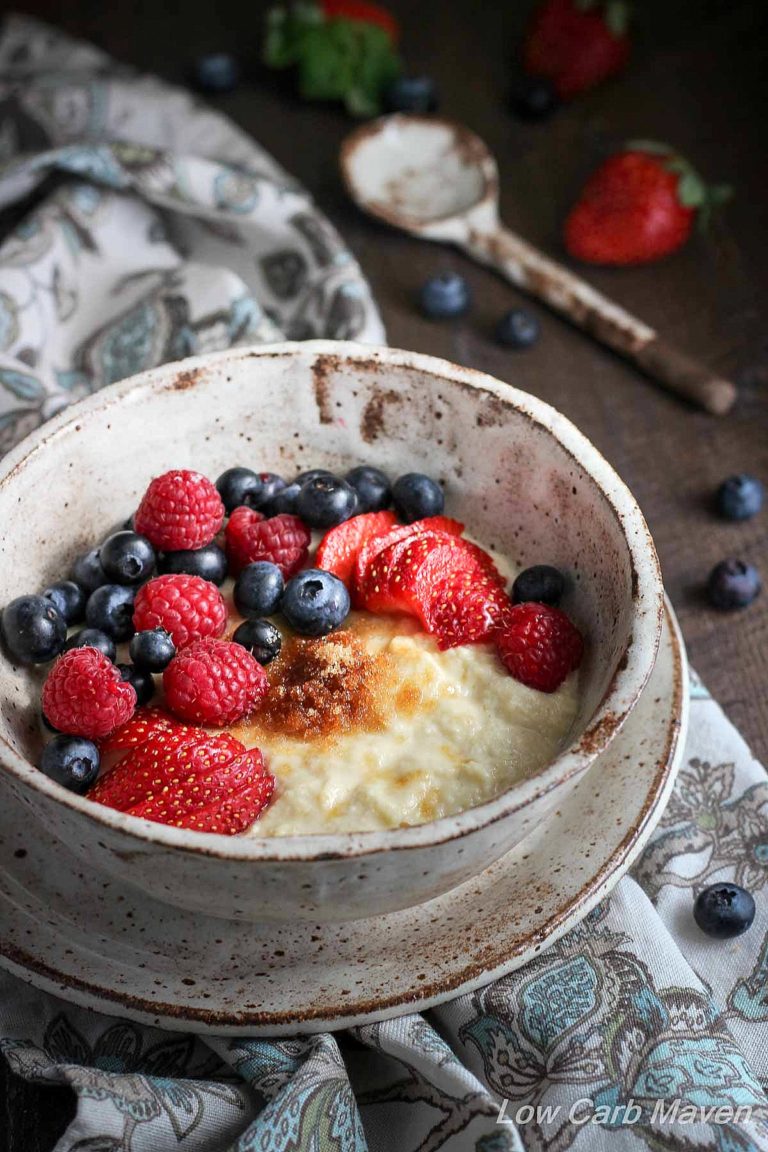 There are days I look upon my children's Sunday oatmeal with jealousy.
Don't get me wrong… I love my usual breakfast of crustless spinach quiche, the occasional breakfast muffin or even a piece of crustless cheesecake. They keep me full for hours and I am happy as a clam eating the same thing for breakfast every day. I'm a creature of habit.
Before choosing a low carb, ketogenic lifestyle, I looked forward to my weekends. Weekends were made for a warm bowl of comforting hot cereal or porridge. Oatmeal was my favorite; fixed with butter, brown sugar and a little milk, it was perfect. It didn't keep me as full as my typical low carb breakfast, but it was a delicious treat!
I've been happily enjoying hot cereal again – THIS is the best low carb cereal made with defatted-almond-flour from Sukrin. When I first examined the Sukrin Almond Flour, I didn't know what to make of it. It's dry, powdery, and not at all like the blanched ground almonds I am familiar baking with. It requires more liquid and time to absorb other ingredients. I admit that I haven't used it much in baking, but it is perfect in this low carb paleo porridge!
[Note: If you are looking for the perfect Fall flavor experience try the keto Pumpkin Spice Porridge, too!]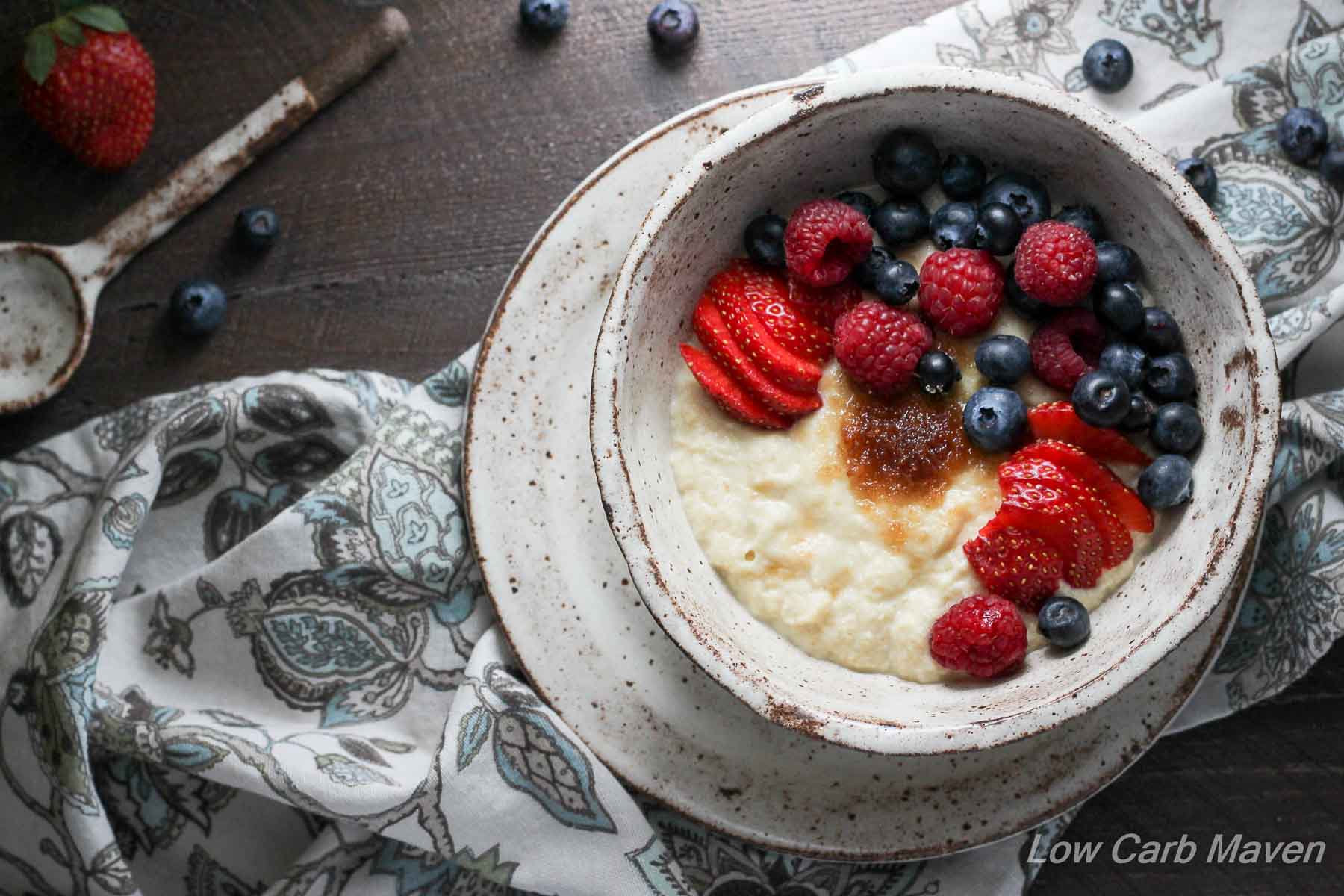 (By the way, ONLY the defatted-almond-flour will work in this particular recipe. It's a completely different product than what we usually work with. It is very low in net carbs and much lower in fat. My husband LOVES this cereal and asks for it.)
The recipe took me at least 10 times to get right. On it's own, the defatted-almond-flour wasn't quite the consistency I wanted. I alternately added blanched almond flour, sesame flour, oat fiber, and protein powder in search of the correct texture. The first several bowls were chalky and dry, lacking that smooth moist mouth feel I remembered. Using psyllium husk powder and glucomannan powder produced a cereal with the consistency of snot.
The magic ingredients? Flax and an egg. Golden flax meal provides the cohesion I wanted and a beaten egg lends thickness and creaminess of texture. I would characterize the texture of this ketogenic hot cereal as between cream of wheat and thick oatmeal without the lumps. I added a little brown sugar substitute (Sukrin Gold), butter and cream to finish it off. Ahhh, low carb luxury!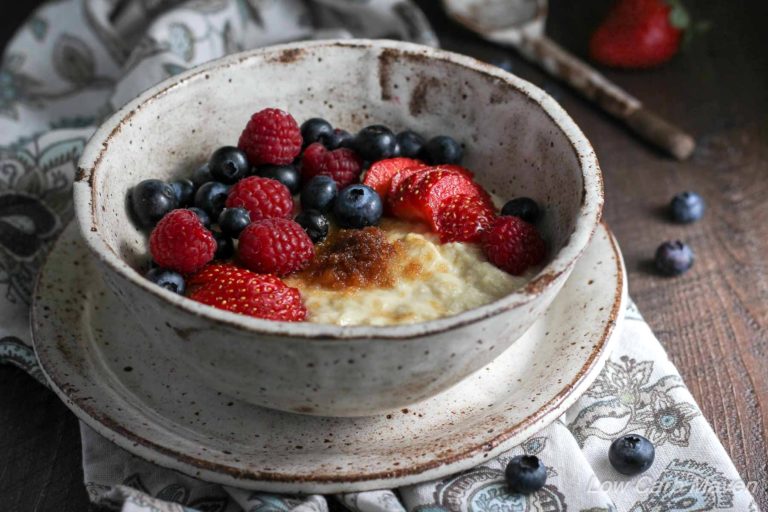 Errant thoughts:
I was able to get 18 servings from one bag of Sukrin Defatted-Almond-Flour, about 75 cents worth of product per serving.

Make your own low carb brown sugar = 1 cup granulated sweetener plus 1 tablespoon blackstrap molasses for 1 net carb per tablespoon (Sukrin Gold has zero carbs per tablespoon. I LOVE it!).
Paleo or Dairy-free subs: sweeten with honey or maple syrup and replace butter with ghee or coconut oil; also sub almond milk or coconut milk for the heavy cream.
Garnish with your favorite toppings but don't forget to count the carbs.
This low carb cereal is 2 net carbs per serving plain! With the berries it's 6 net carbs and a great keto breakfast option.
NOTE: An Australian friend said that she had success drying out the wet almond meal leftover from making almond milk and using it for the porridge. She dried it in a low oven and then re-ground it. I bet a dehydrator would work too! 
[This recipe may contain affiliate links.]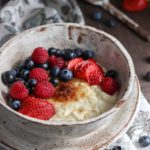 Almond Flour Porridge (low carb cereal)
This incredible tasting Low Carb Almond Flour Porridge only takes 7 minutes to prepare and it's 6 net carbs per serving! Gluten-free, Dairy-free,Paleo, Keto, THM
Ingredients
3

tablespoons

Sukrin Defatted-Almond-Flour

1

tablespoon

ground golden flax

pinch of salt

3/4

cup

water

1

large

beaten egg

2

teaspoons

butter

(ghee or coconut oil)

1

tablespoon

Sukrin Gold

(or your favorite sweetener to taste)

1

tablespoon

heavy cream

(or coconut milk)

1

ounce

strawberries

1

ounce

raspberries

1/2

ounce

blueberries
Instructions
Traditional Method: Measure the first 4 ingredients into a small pot and place over medium high heat.

When the mixture begins to simmer, turn the heat down to medium and whisk until it thickens and becomes hot.

Remove from the heat and add the beaten egg, little by little, whisking all the while. Place back over medium heat and whisk quickly until the porridge gets thick. Remove from the heat and whisk for 30 seconds more.

Whisk in the butter (ghee), sweetener of your choice and cream (or coconut milk).

Garnish this low carb almond porridge with your favorite ingredients and enjoy!

Microwave Instructions: Mix all of the ingredients together in a microwaveable bowl until thoroughly combined. Cook on hi power in 30 second bursts, stirring in between, until thick and hot.
Recipe Notes
Only Sukrin's Defatted-Almond-Flour will work in this particular recipe.


2 net carbs for the cereal
6 net carbs for the cereal as shown
Nutrition Facts
Almond Flour Porridge (low carb cereal)
Amount Per Serving
Calories 287
Calories from Fat 189
% Daily Value*
Total Fat 21g 32%
Total Carbohydrates 13g 4%
Protein 16g 32%
* Percent Daily Values are based on a 2000 calorie diet.
Signup for my Newsletter
Subscribe to get our recipies by email.