Experience the best gluten free low carb focaccia made with almond flour. The nooks and crannies hold onto delicious olive oil dipping sauce like little spoons, delivering the perfect bite! Serve it as an appetizer for your next intimate gathering.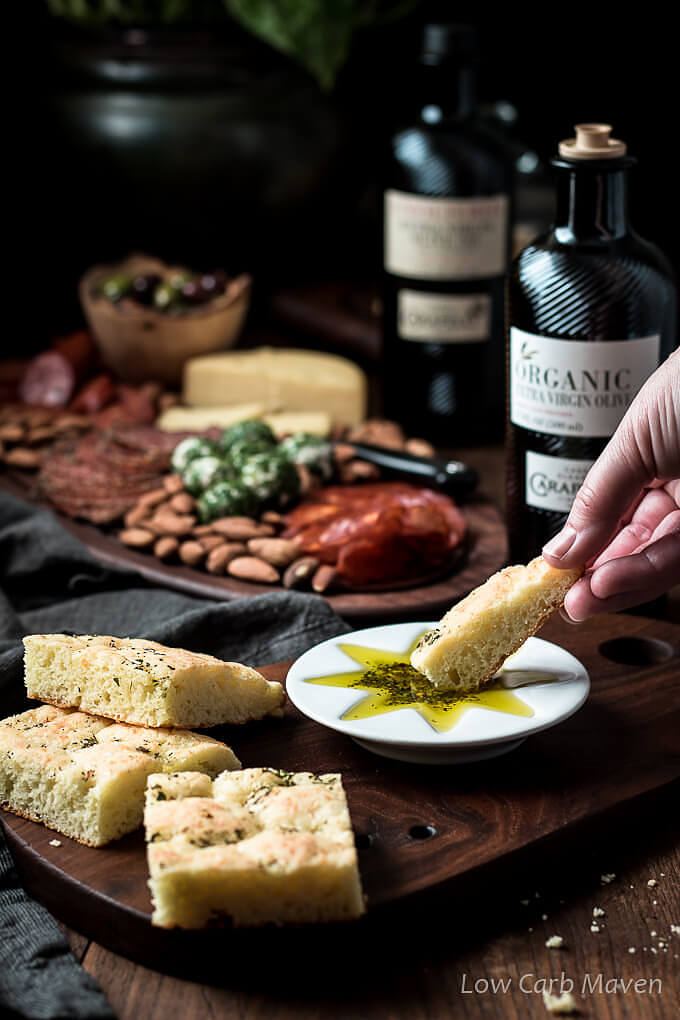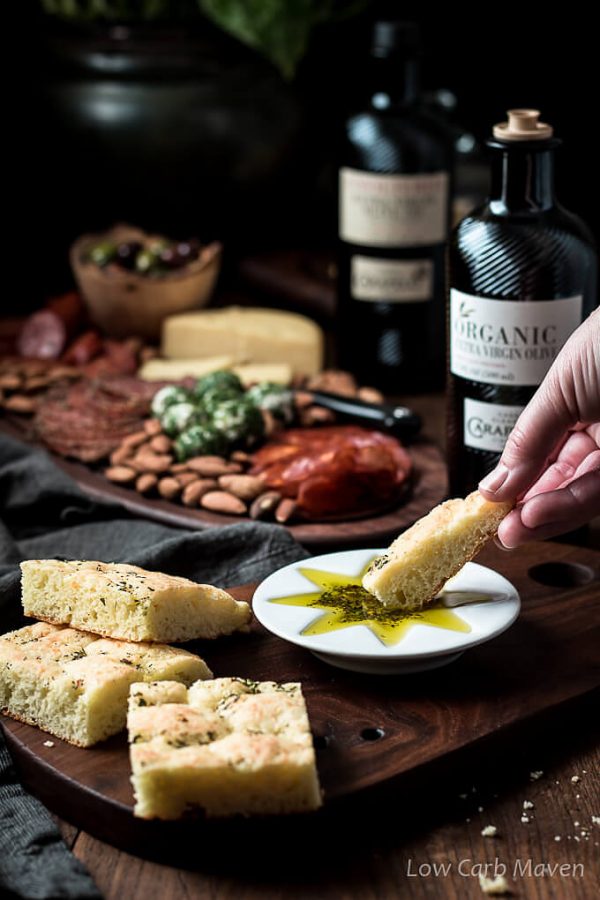 Herbed Focaccia With Olive Oil Dipping Sauce
Have you ever been to Whole Foods Market? I love that store. The closest one to me is over an hour away in fabulous La Jolla, but we don't mind the trip. We make a day of it browsing upscale boutiques and galleries, dining alfresco, and visiting the seals at Children's Cove. It makes for a fun and relaxing day.
We don't make it to Whole Foods often, but the sheer variety of fresh high quality products they carry is second to none. It's where I go to purchase specialty items for an intimate gathering with friends or a nice piece of sustainably caught fish. And who am I kidding, the store is gorgeous! I enjoy walking around and looking at the sheer volume and variety of goods.
As a person who watches her carb intake, walking past the artisan breads section at Whole Foods is particularly difficult! Luckily, I enjoy making my own breads at home from natural wholesome low carb ingredients like almond flour, which I use in this delicious herbed focaccia recipe.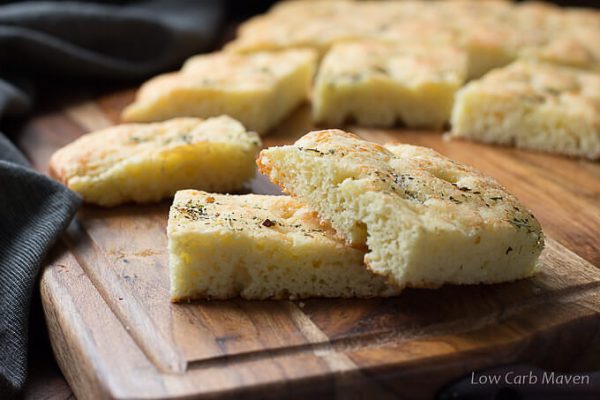 Good quality olive oil makes great tasting focaccia, so I was thrilled to find Carapelli® Extra Virgin Olive Oil at Whole Foods in the cooking aisle. The striking bottle drew me in, but I really love that it's organic and non-GMO. I grabbed their Unfiltered Extra Virgin Olive Oil, too.
Onto the recipe for this delicious gluten free low carb focaccia made with almond flour…
We've all been to nice Italian restaurants and enjoyed eating focaccia with an olive oil dipping sauce. I love how the nooks and crannies in the bread hold onto the olive oil and spices like tiny spoons, delivering the perfect bite! My almond flour focaccia has the same nooks and crannies and this dipping sauce rivals any restaurant style olive oil dipping sauce.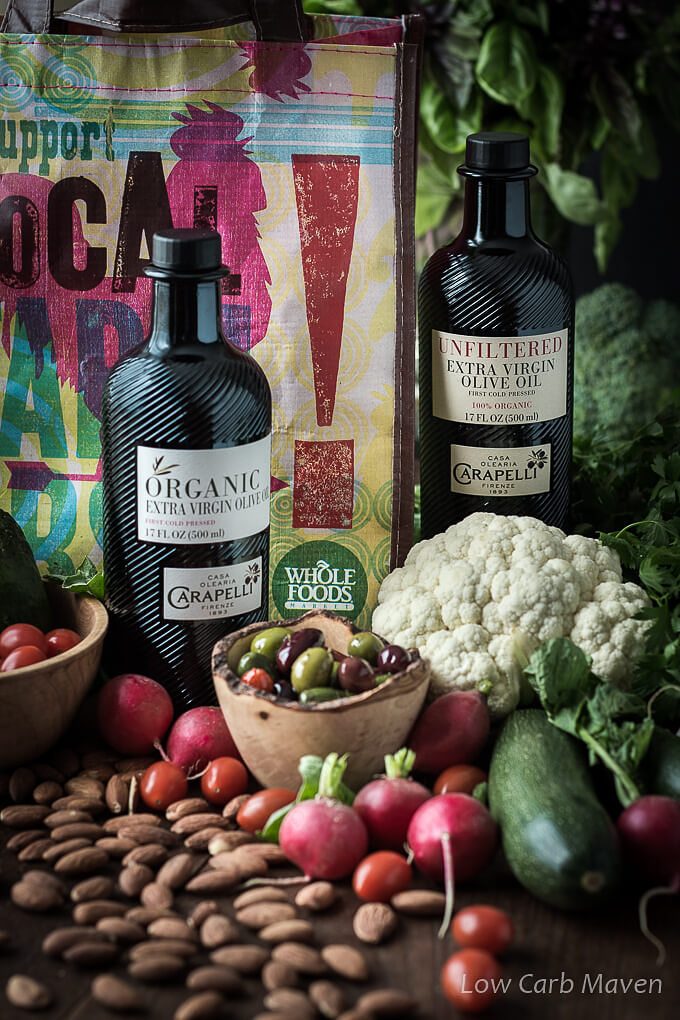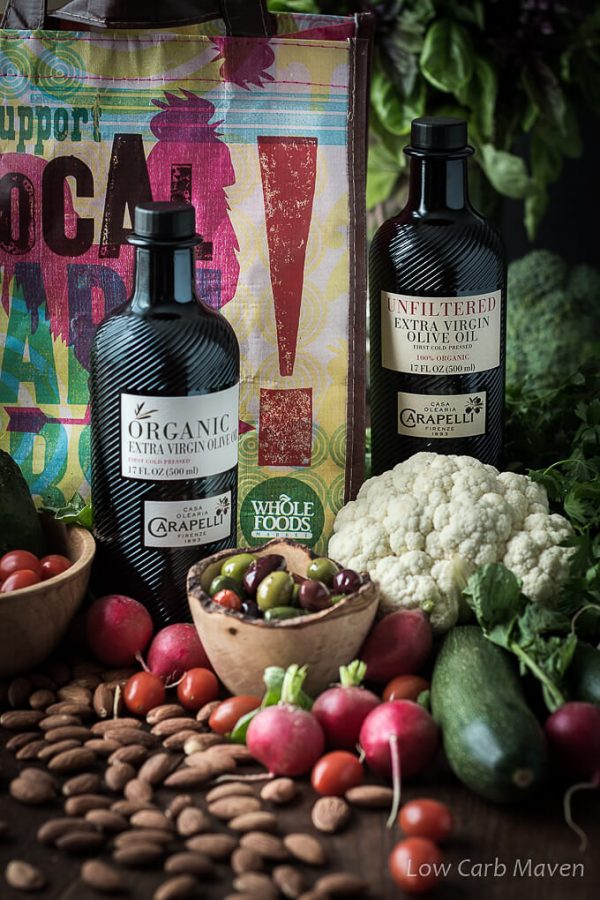 It's near impossible to replicate the stretch and texture gluten gives traditional bread doughs, but this recipe comes pretty close. Not only is it as delicious as a traditional focaccia recipe, I'd argue it's healthier, too. It's the perfect low carb bread for those of us looking for gluten-free alternatives. You'll be proud to serve this recipe to family and friends as a pre-dinner appetizer, at a wine party, or even an olive oil tasting (more on that later).
The recipe is simple and only requires 6 ingredients; Mozzarella cheese, cream cheese, eggs, leavening, salt, and almond flour.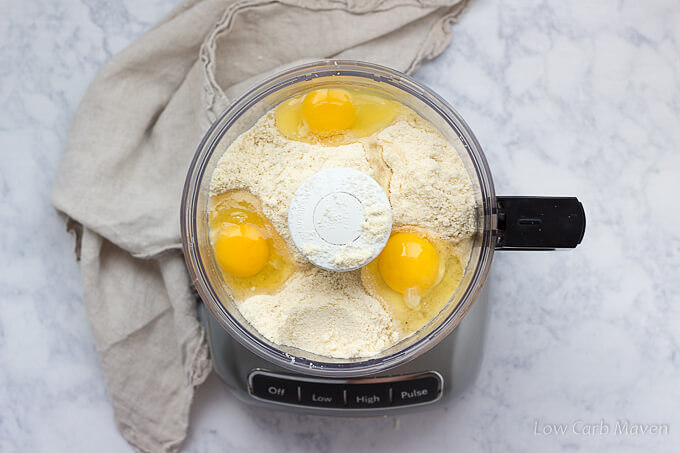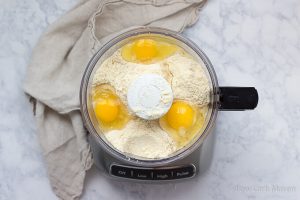 The ingredients are combined in a food processor to make a dough.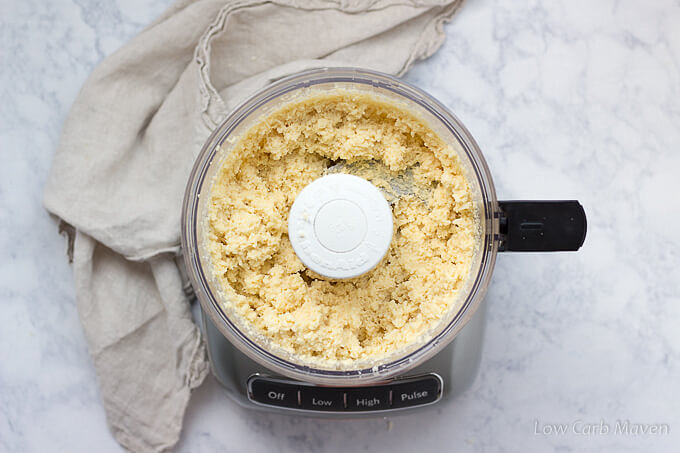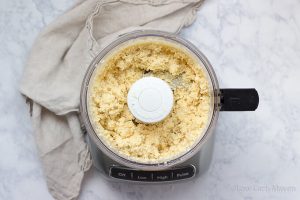 Then the focaccia dough is spread onto a parchment lined pan. Don't forget to dimple the dough. Spoon just a little olive oil dipping sauce over the top – it doesn't need much.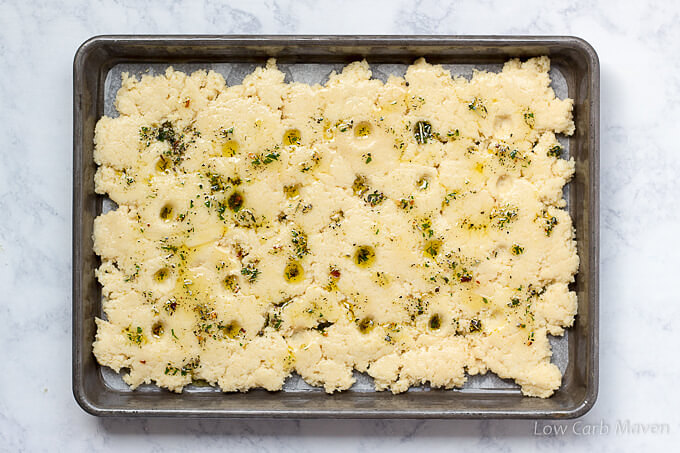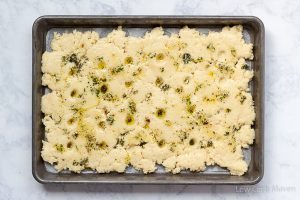 Bake, cool, cut and enjoy!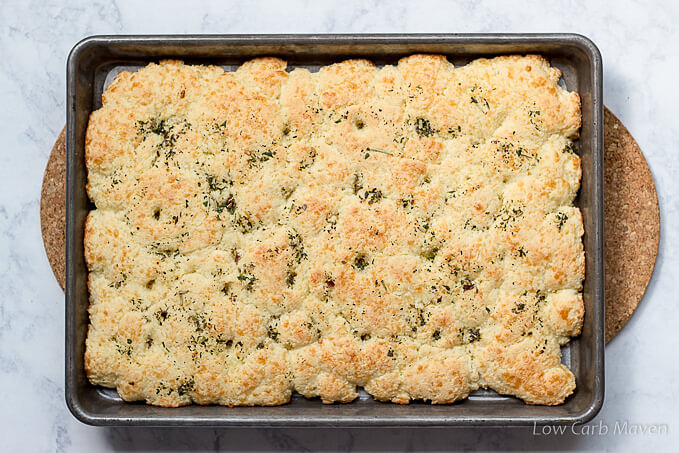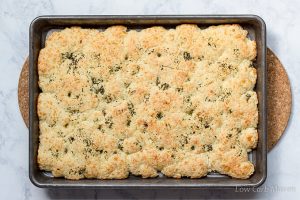 The bread is soft in texture with lots of little holes.
I divided my focaccia into fourths from top-to-bottom and into thirds across lengthwise, yielding 12 pieces. Cutting each piece into three, results in the perfect size for dipping into the olive oil sauce.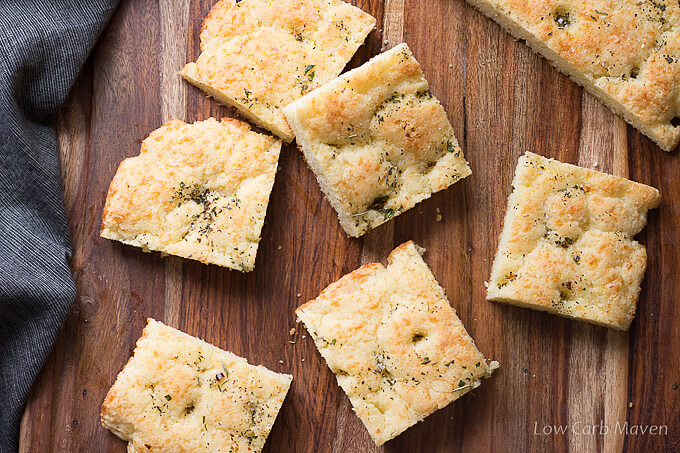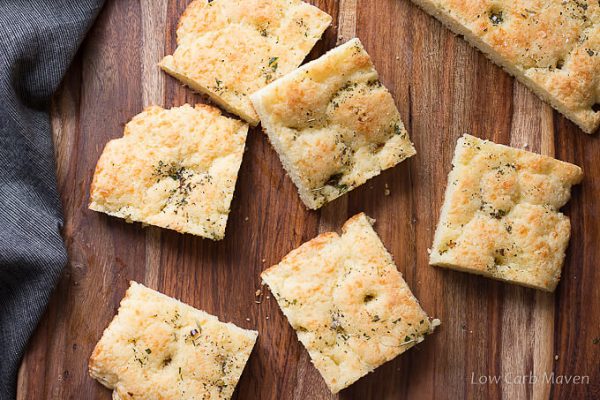 The herbed focaccia with olive oil dipping sauce was the highpoint for our small low carb soiree. I placed a variety of specialty meats, cheeses, and olives on a medium-sized cutting board, filling in with almonds. Half of the focaccia pieces were sliced horizontally for open-faced-sandwiches. The other half were sliced into thirds to make rectangular pieces perfect for dipping into the flavorful olive oil.
Serve the split focaccia with a beautiful sandwich-spread for the sandwiches along with a nice vegetable tray with selected low carb vegetables and a low carb dip. Or, the dipping sauce can be drizzled over the bread in lieu of a spread. The focaccia and dipping sauce, a charcuterie board, and a vegetable tray made for the perfect afternoon lunch.
P.S. The olive oil dipping sauce also makes a great sauce for grilled vegetables or a marinade for bocconcine (small balls of fresh mozzarella). Also, try it drizzled over caprese salad!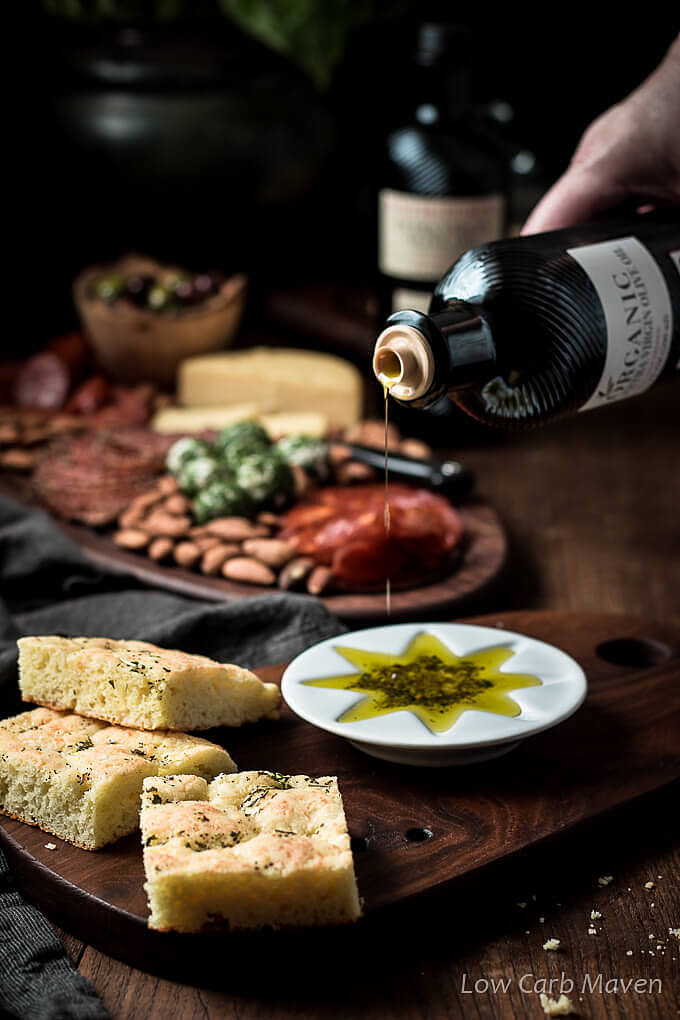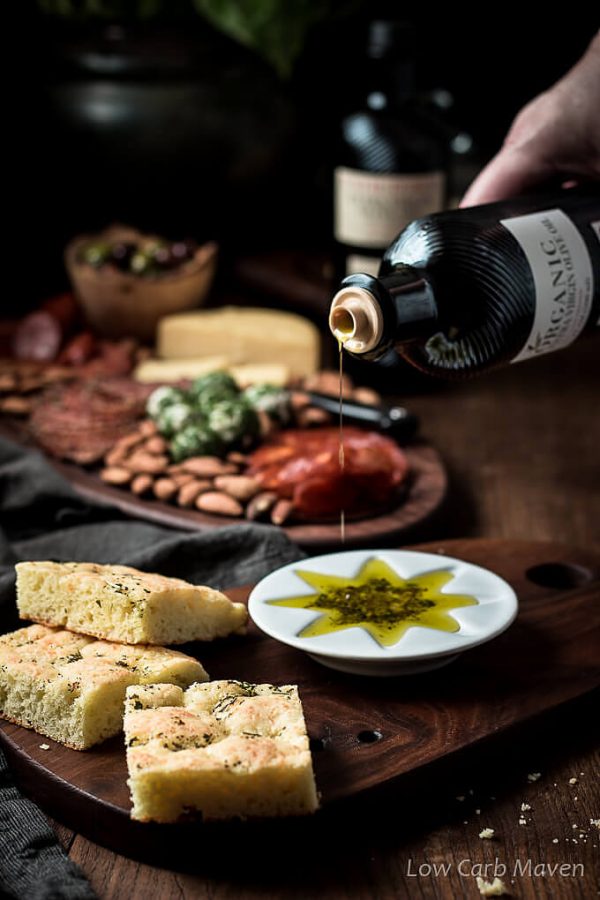 JUST FOR FUN: I live in a grape producing area of California. Wine tasting with friends is a popular pastime, but so is olive oil tasting. Yes, olive oil tasting. Like grapes, olive varieties have their own distinct flavors and are blended to bring out certain flavor characteristics. You can host your own olive oil tasting party at home and it's lower in carbs than a wine tasting! Make sure to serve this bread and select good quality organic extra virgin olive oil like Carapelli®.
Visit Carapelliusa.com for more great ideas and recipes using their organic extra virgin olive oils.
Gluten free Low Carb Focaccia with Olive Oil Dipping Sauce is 3 Net Carbs Per Serving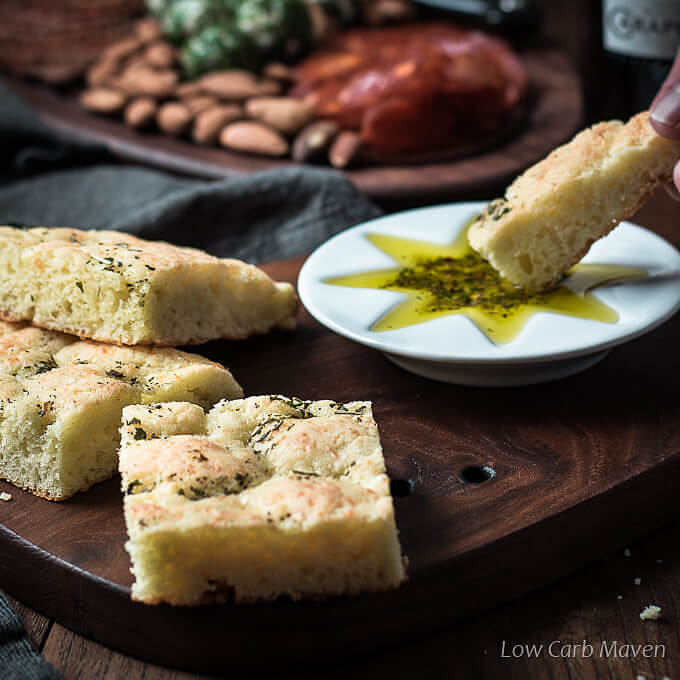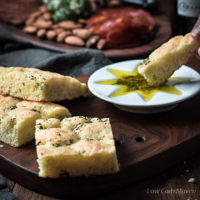 Gluten Free Low Carb Focaccia With Olive Oil Dipping Sauce
This simple gluten free low carb focaccia is perfect for small gatherings. The nooks and crannies hold onto a delicious olive oil dipping sauce like little spoons, delivering the perfect bite!
Print
Pin
Rate
Ingredients
Herbed Almond Flour Focaccia
2

cups

part-skim shredded mozzarella cheese

2

ouces

cream cheese

2

cups

almond flour

1

tbsp

baking powder

1/8

tsp

salt

3

large

eggs

1-2

tbsp

olive oil dipping sauce (below)
Olive Oil Dipping Sauce
2/3

cup

Carapelli® Organic Extra Virgin Olive Oil

2

tbsp

grated Parmesan Cheese

1

tbsp

fresh minced parsely

2

tsp

fresh minced rosemary

1 1/2

tsp

dried Italian Seasoning

1/4

tsp

red pepper flakes

1/8

tsp

salt

1/8

tsp

pepper
Instructions
Preparation:
Preheat oven to 400 degrees and position rack to middle of oven. Trace the bottom of a quarter sheet pan (roughly 9″ x 13″) onto a piece of parchment paper and cut out. Spoon 1 teaspoon of olive oil from the dipping sauce (just the oil) into the baking sheet and spread the oil on the entire inside surface. Place the parchment in the bottom of the pan.

Method:
Put the ingredients for the focaccia into the bowl of a food processor in order. Process the ingredients until the form a sticky dough.

Scrape the dough into the baking sheet. With oiled fingers pull pieces of dough to distribute evenly in the pan (it will stick to your fingers). Don't worry about having small bare spots. Lightly oil a piece of waxed paper and lay it over the dough. Press very gently to spread the dough. Dimple it with your fingertips by pressing them gently into the dough, leaving depressions. Stir the dipping sauce and dribble a few spoons over the top of the dough.



Bake:
Place into oven. Put 5-6 ice cubes into the bottom of the oven – the released steam helps the bread rise. Bake for 12-18 minutes or until the top is lightly browned. Remove from the oven and let cool for 10 minutes before gently removing from the pan to a cooling rack to cool. Cut into 12 pieces (read post to see how I cut mine).
Olive Oil Dipping Sauce:
Combine all of the ingredients for the dipping sauce in a small jar. Pour the Carapelli® Extra Virgin Olive Oil over the top and stir. Let sit overnight on the counter for best flavor. Use within a week. See post for ideas on other uses.
Notes
NOTE: Nutritional info is for 1 piece (1/12 th) of the almond flour focaccia and assuming 2 teaspoons of the olive oil dipping sauce.
Nutrition Facts
Gluten Free Low Carb Focaccia With Olive Oil Dipping Sauce
Amount Per Serving
Calories 287
Calories from Fat 234
% Daily Value*
Fat 26g40%
Carbohydrates 4g1%
Protein 11g22%
* Percent Daily Values are based on a 2000 calorie diet.
Nutrition
Calories:
287
kcal
|
Carbohydrates:
4
g
|
Protein:
11
g
|
Fat:
26
g
|
Fiber:
1
g