Teriyaki sauce, the beloved salty-sweet soy sauce condiment flavored with ginger and garlic, makes a great marinade or glaze for meats, seafood and vegetables. This easy recipe is sugar-free, wheat-free and can be made soy-free with coconut aminos.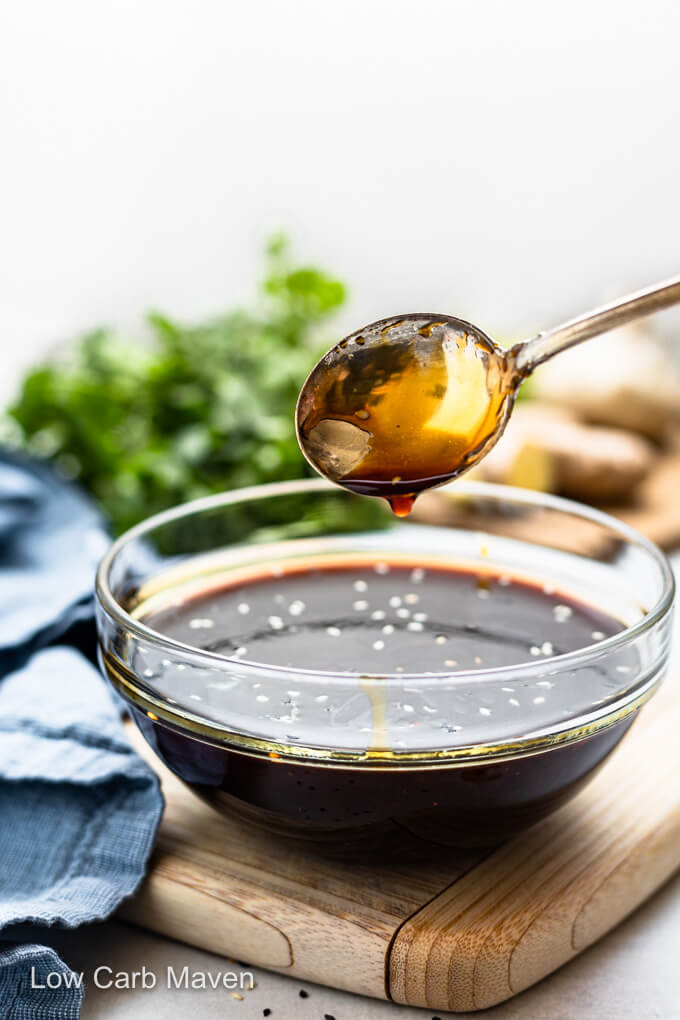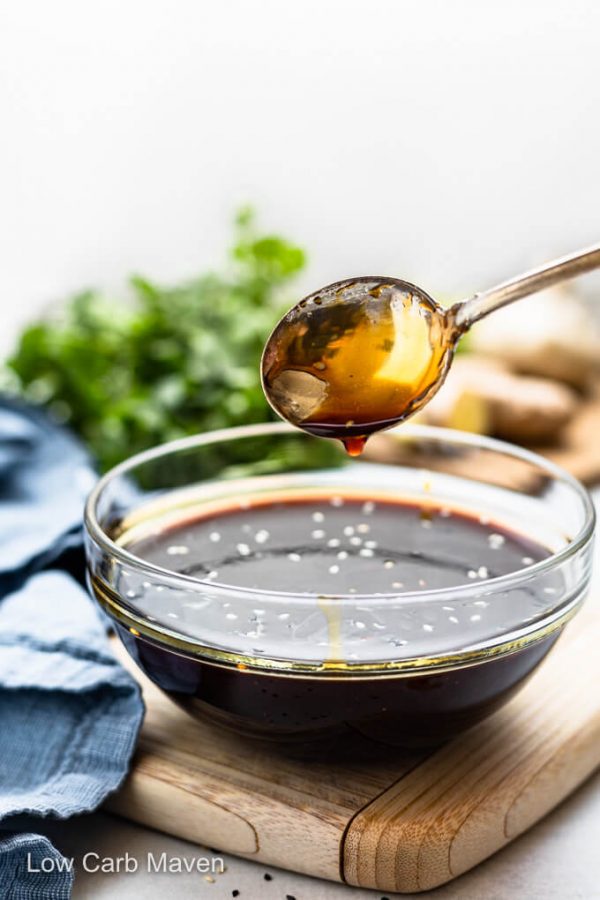 THIS POST INCLUDES AFFILIATE LINKS TO SHARE THE THINGS I LOVE.
(As a participant in the Amazon Affiliates Program, LCM earns small commissions on qualifying purchases made through links.)
Ten years ago, when I began cooking low carb recipes for my keto diet, I decided I could pay a lot of money for specialty condiments or make my own. I'm talking about you keto BBQ sauce!
This easy keto teriyaki sauce recipe is more affordable than buying a pre-made sauce on-line. And although I prefer using fresh ginger and garlic, subbing dried garlic and ground ginger works too.
Plus the recipe allows for generous tweaking so you can make it your own!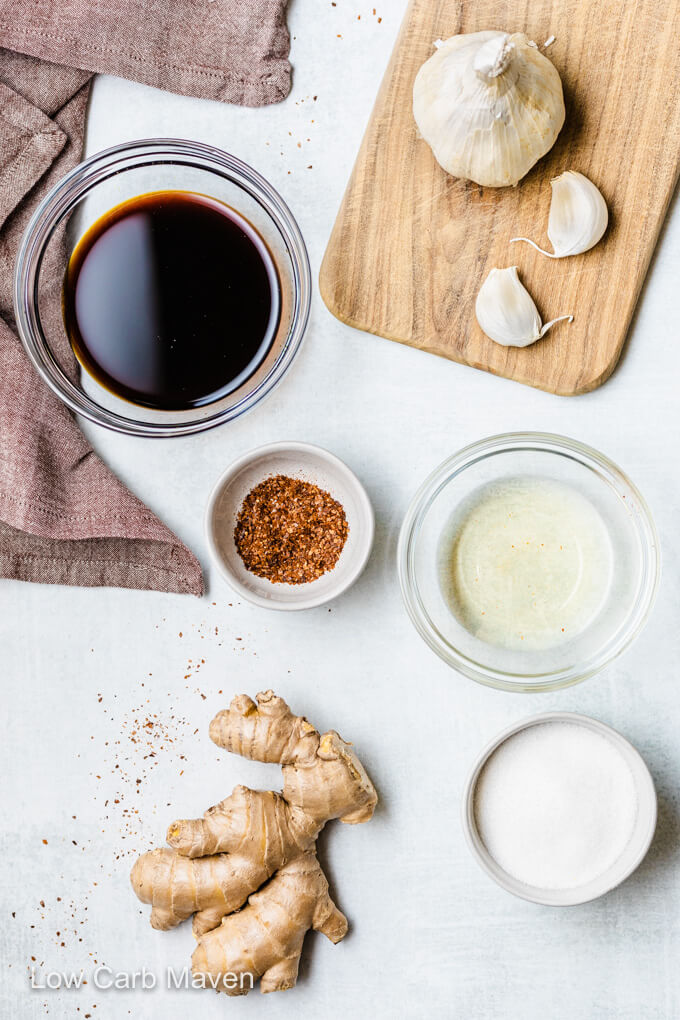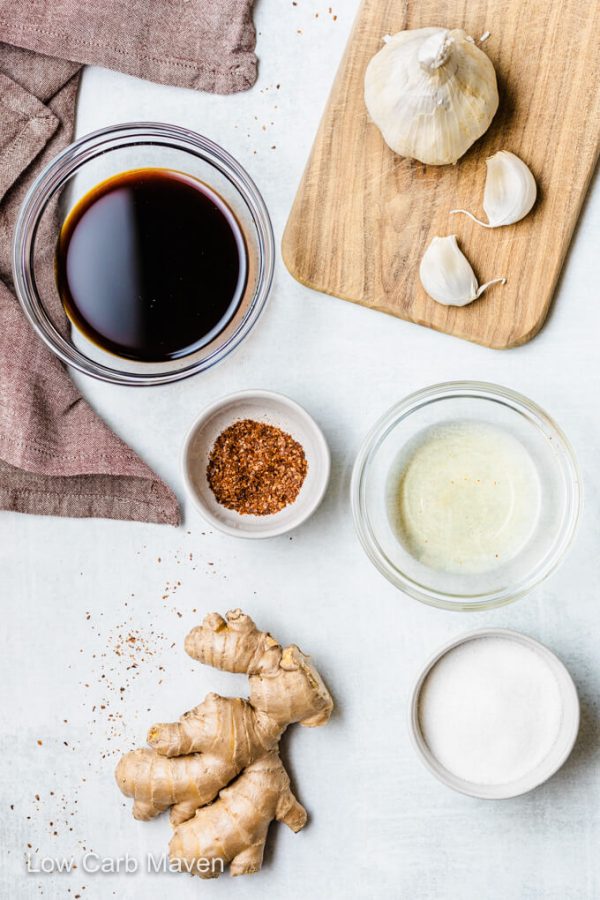 How To Make Sugar-free, Gluten-free, Soy-free Teriyaki Sauce
This keto teriyaki sauce is a great low carb alternative to store bought, which is full of sugar. And since I use a good low carb sugar substitute, it's a virtually sugar-free teriyaki sauce recipe. Through trial and error I found that the best keto sugar sub for this sauce is an Allulose/ Monk fruit blend.
I prefer allulose to an erythritol based sweetener in this recipe because it gets sticky like sugar when reduced but doesn't recrystallize like erythritol. It also has a nice clean flavor. I tried a popular brown sugar sub but it had a strange maple-like flavor that didn't jive with the sauce.
To make this a gluten-free teriyaki sauce, I use Tamari which is wheat-free. However, using coconut aminos instead of Tamari makes a soy-free teriyaki sauce that is also sugar-free and gluten-free, so it ticks all the boxes for those with food allergies.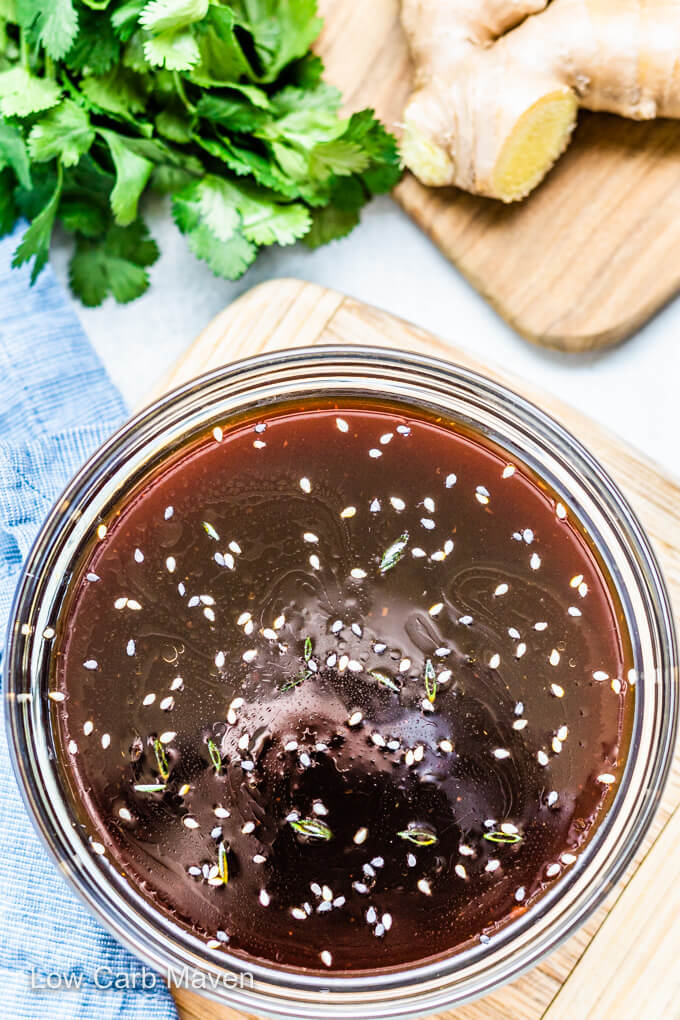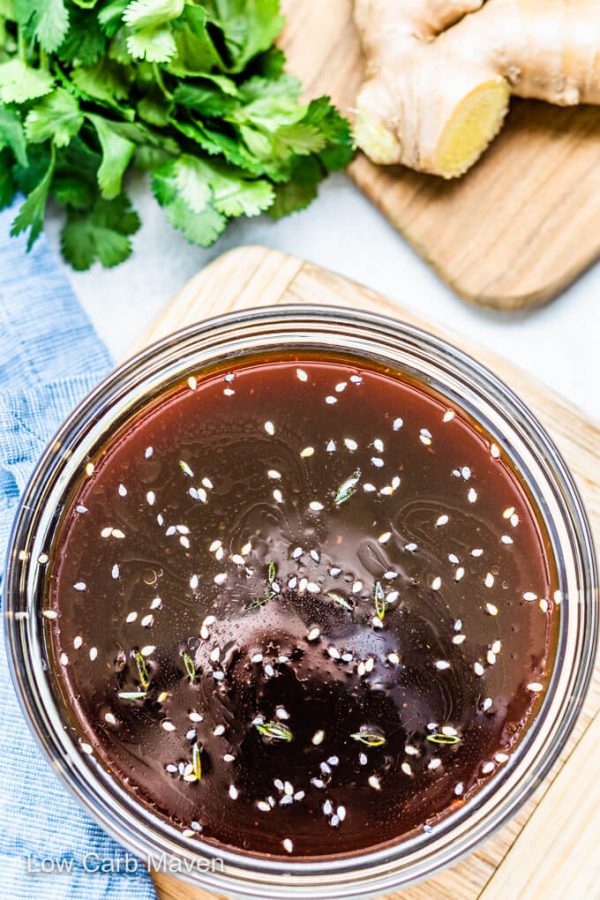 How to Use Teriyaki As A Marinade
Unthickened, this recipe works well as a marinade. Sturdy meats like chicken, beef, pork, tuna or swordfish should be marinated overnight for best flavor. Glaze more delicate proteins like seafood and fish just prior to cooking and again after cooking.
NOTE: To make the flavor a little stronger (for beef), you can increase the soy sauce by 2 tablespoons or decrease the water by ¼ cup.
How To Thicken Keto Teriyaki Sauce
There are two ways to thicken the sauce so it clings to food surfaces. My favorite way is to use a small amount of arrowroot powder. But before anyone gets upset and turns me into the "keto police" hear me out then make the best decision for you. [Xanthan gum (1/2 tsp.) and arrowroot powder (1 tsp.) each have a total carb count of 2 grams. ]
To Thicken with Xanthan Gum: You can use xanthan gum to thicken teriyaki sauce, but it dulls the flavor and makes it feel slippery. Make sure to mix it into the sweetener before adding it to the pot or it will clump. I suggest using ½ teaspoon. (1/2 teaspoon of xanthan gum has 2 Total Carbs and zero Net Carbs.)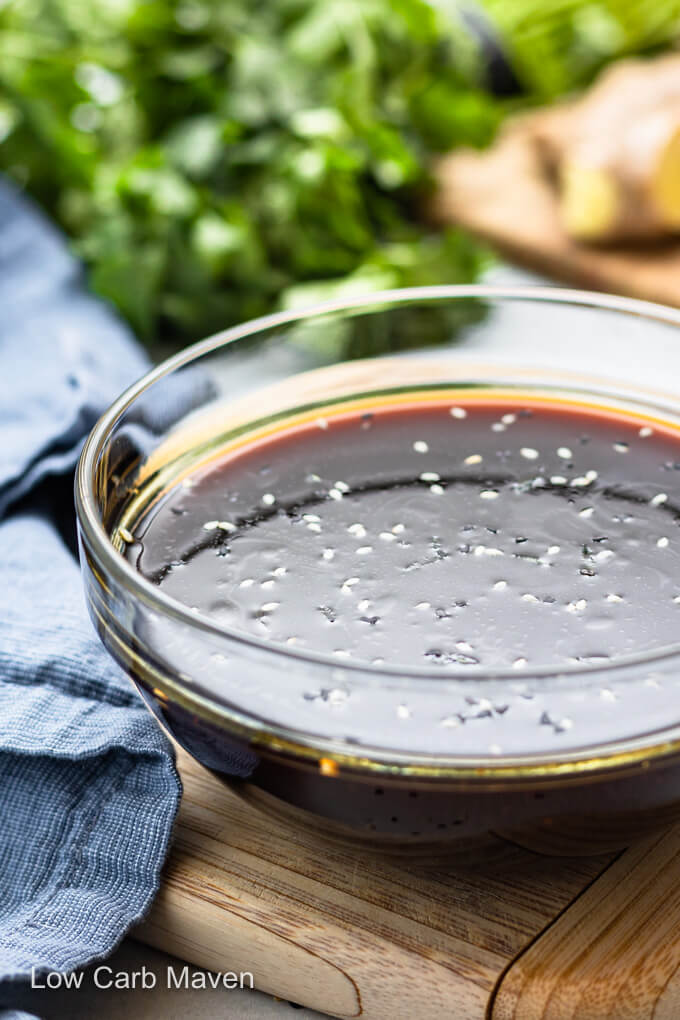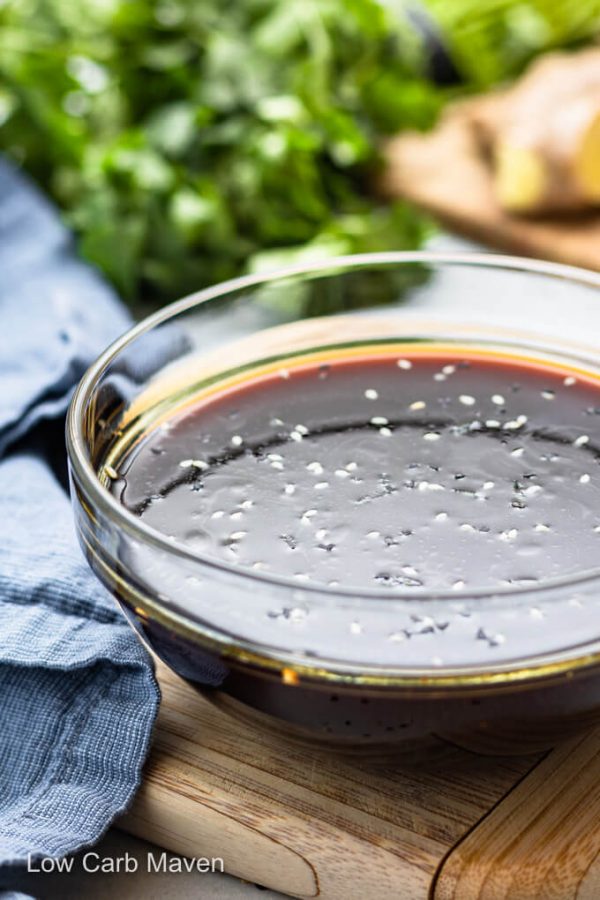 To Thicken Arrowroot Powder (or cornstarch): Make a slurry with 1 teaspoon of arrowroot powder mixed into 2 tsps of water. While adding it to the sauce, whisk well, as it will thicken quickly. Arrowroot powder does not dull flavor. (1 teaspoon of arrowroot powder is 2 Total Carbs and 2 Net Carbs.)
NOTE: Arrowroot powder is technically not keto, but since such small amounts are used, the amount of carbs it contributes to a recipe is tiny when taken in the context of a whole recipe or meal. Since no other sugars are used in this recipe, it is definitely a keto teriyaki sauce recipe.
Tweaks to Make it Your Own!
1 tsp toasted sesame oil (or to taste)
1/4 teaspoon red pepper flakes
1 tsp red chili oil
1 tsp chili garlic paste or Sriracha
1/4 tsp Chinese 5 spice
Sesame seeds
Chopped scallions
Keto Teriyaki Recipe Ideas:
Keto Grilled Teriyaki Salmon
Teriyaki Chicken Kabob
Teriyaki Shrimp Kabobs
Teriyaki Chicken Stir Fry
Teriyaki Shrimp Broccoli Stir Fry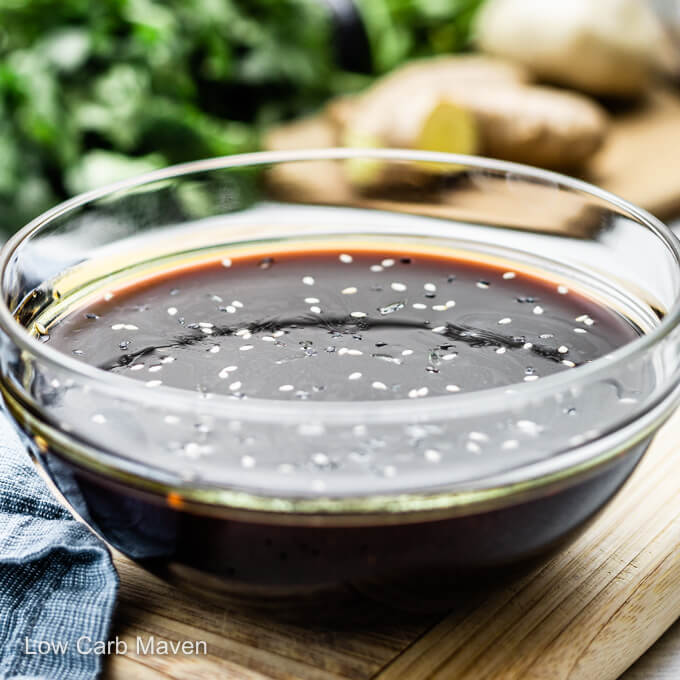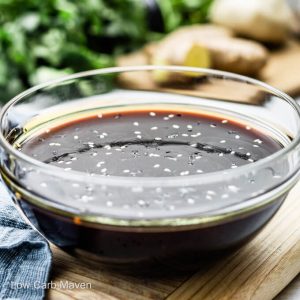 Keto Teriyaki Sauce
This salty-sweet condiment flavored with ginger and garlic, makes a great marinade or glaze for meats, seafood and vegetables. This keto recipe is sugar-free, wheat-free and can be made soy-free with coconut aminos.
Print
Pin
Rate
Equipment
small pot

measuring spoons and cups

whisk

small bowl
Instructions
***BEFORE YOU BEGIN!
Decide if you are using Xanthan Gum or Arrowroot Powder to thicken the sauce. XANTHAN GUM: Mix the Xanthan Gum into the sweetener or it will clump. ARROWROOT POWDER: Make a slurry of 1 tsp Arrowroot Powder to 2 tsp of water. This is added at the end.
Procedure
Add the first 5 ingredients into a small pot or sauce pan over medium-high heat and bring to a boil. Whisk well and turn the heat down to medium-low or low and simmer for 5 minutes.

Add the arrowroot slurry and simmer for 1 minute more. (If using xanthan gum, it should be mixed into the sweetener in the previous step so it doesn't clump.)

Taste and adjust sweetness. Pour the sauce through a strainer, pushing gently on the solids to extract flavor. Cool. (If using as a marinade, don't strain.)

To adjust flavor: If it tastes good but needs a little something and you don't know what, add 1-2 very small pinches of salt. If that doesn't do it, a squirt of lime juice is nice.
MAKES 1 CUP OF KETO TERIYAKI SAUCE WITTH 16 SERVINGS OF 1 TABLESPOON EACH.
Notes
* Allulose (with monk fruit added to make it equal in sweetness to sugar) is the best choice for this recipe because it gets slightly sticky like sugar and doesn't recrystallize like erythritol.
**I LOVE ginger-garlic paste and use it in all my Chinese, Thai, and Indian cooking. It's amazing! If you don't have it or aren't interested in purchasing some, grate fresh garlic and fresh ginger on a microplane grater – 2 teaspoons each! -OR- use 1/2 tsp dried ground ginger and 1/4 tsp garlic powder.  
-I did not include the nutritional information for the ginger and garlic as it was strained out of the sauce.
Nutrition
Serving:
1
tbsp
|
Calories:
4
kcal
|
Carbohydrates:
0.29
g
|
Protein:
0.5
g
|
Sodium:
245
mg
|
Potassium:
1
mg
|
Sugar:
0.01
g