A rich creamy ketogenic cheesecake with a luscious raspberry swirl. This sugar-free recipe results in the perfect cheesecake for low carb diets.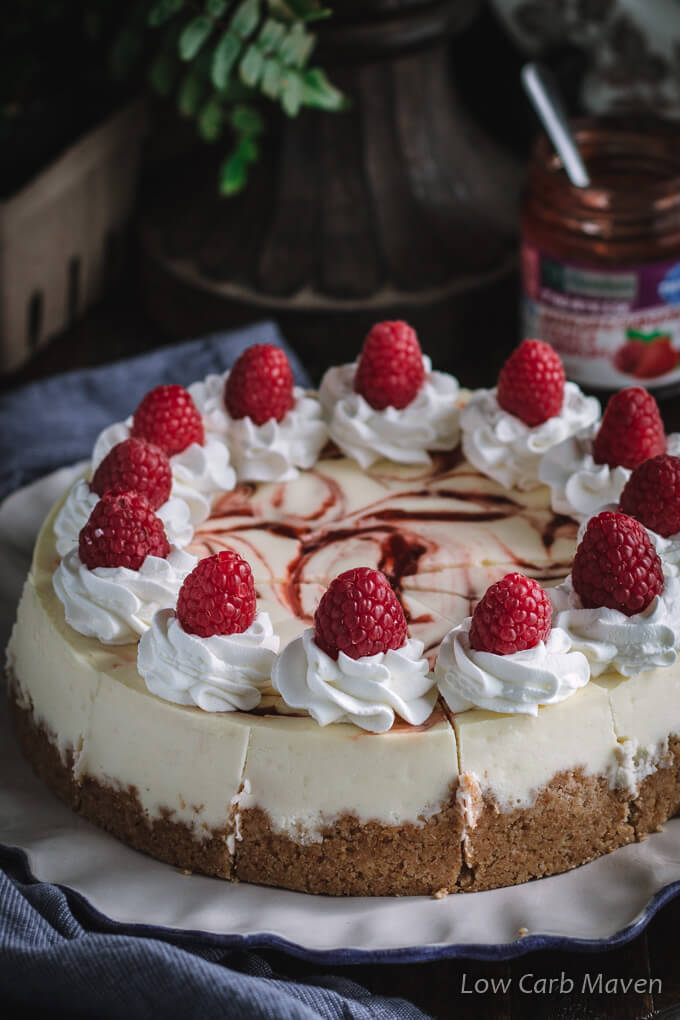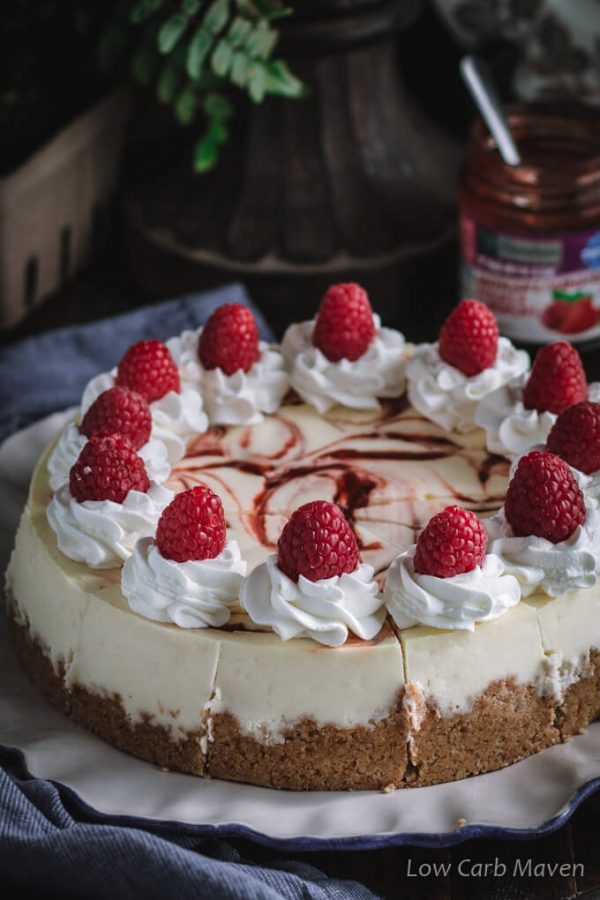 [This post is proudly partnered with Sukrin USA, my favorite shop for low-carb, zero calorie sweeteners, low-carb GF flours and bread mixes, and delicious low carb milk chocolates.]
Tis the season for outrageously delicious desserts!
For me, the Winter holidays are always a happy time; a festive season filled with music, good food, and gatherings. It's also a time of temptation for dieters. It's hard to pass up colorful trays layered with cookies, candies, and other treats commonly found in breakrooms and at parties.
What does an empowered dieter do? Make their own low carb desserts and treats, of course! I highly recommend sharing this raspberry swirl cheesecake with co-workers, friends and family. It's a recipe everyone will enjoy!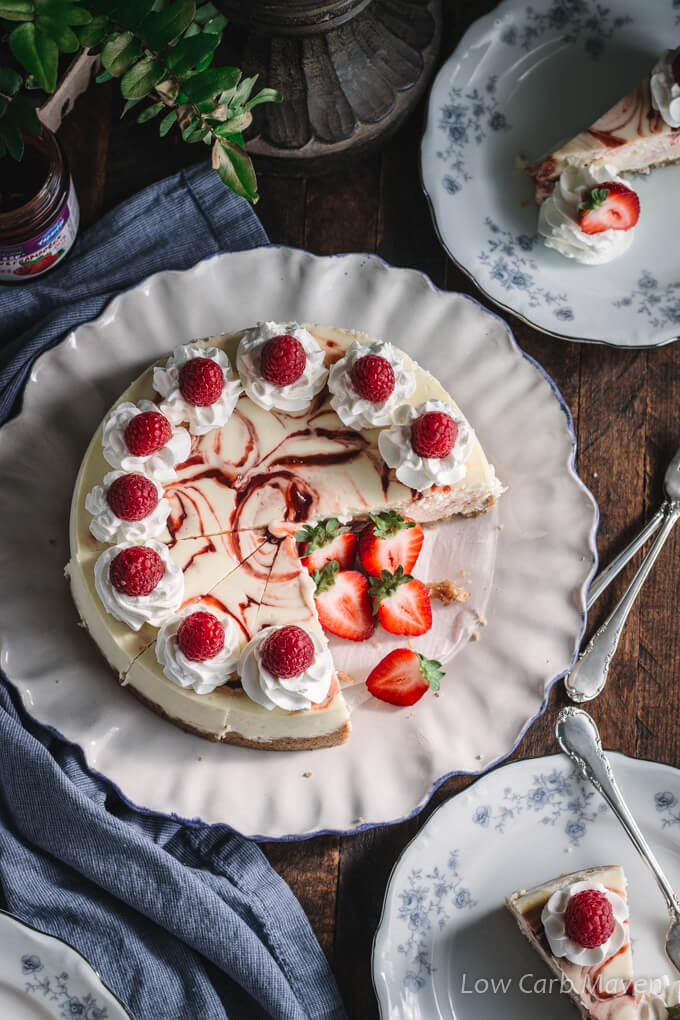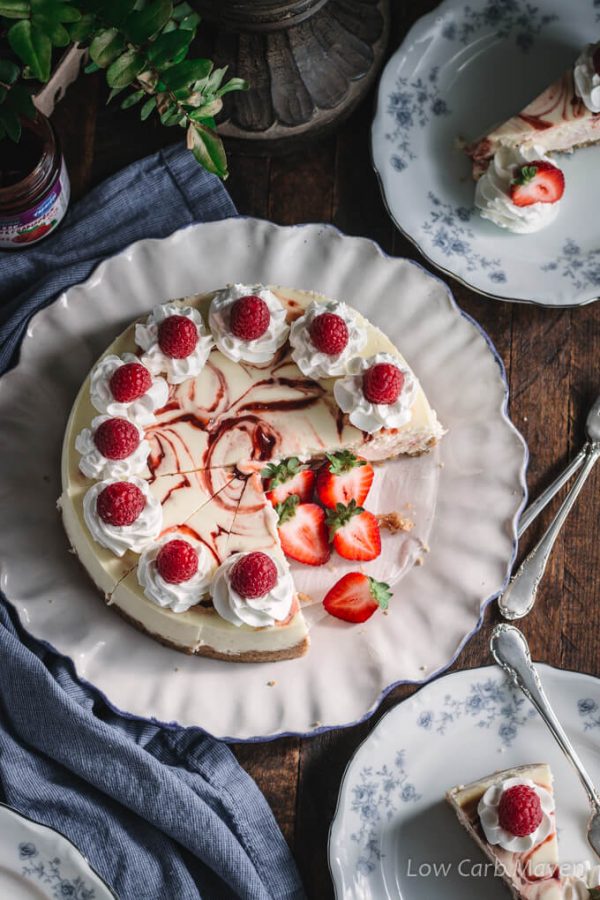 Keto Raspberry Swirl Cheesecake
Cheesecake is a favorite of those following a low carb or keto diet. Since the bodies of low carb and keto dieters run on fat instead of sugar, a modest slice of sugar-free cheesecake can actually help fuel bodies and contribute to weight loss. Yay! This is really great since sugar laden desserts raise blood sugar, wreaking havoc on carb sensitive individuals and diabetics alike.
Cheesecake is a popular dessert – especially for gatherings and holidays. They're easy to make and always impressive. I love that the texture of cheesecake can range from light and airy, to super creamy, to dense, depending upon the recipe. They can be flavored many ways, baked tall or short, made savory or sweet, and even made crustless. This cheesecake recipe features a strawberry-raspberry swirl made with Sukrin's no-sugar-added strawberry-raspberry jam and it tastes amazing!
For those who can't get Sukrin products, try using my sugar-free strawberry jam, raspberry jam, or blueberry chia jam recipes.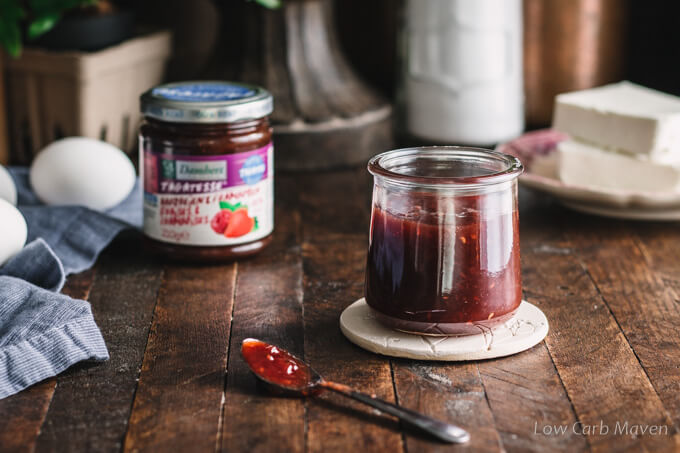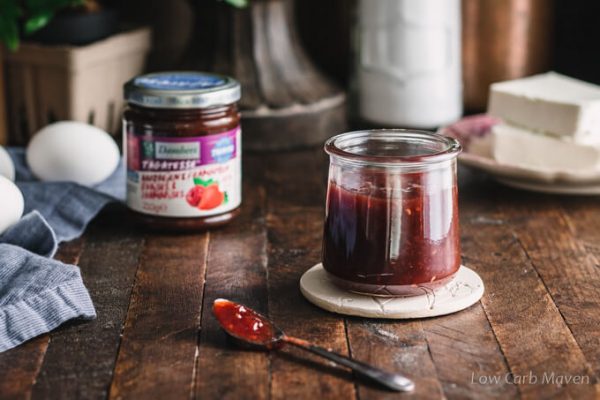 Making a Traditional Cheesecake
A traditional cheesecake recipe consists of a crumb base, cream cheese, eggs, and sweetener. To make the cheesecake crust, butter is added to crushed cookies, crackers or toasted bread crumbs. The crumb mixture is pressed into a prepared springform pan or cheesecake pan with a removable base. Leftover cake or cake crumbs can also be used, and if moist, no butter is needed.
Count on 1 egg per 8 ounces of cream cheese. The cheesecake pan is covered in foil and then the cheesecake is baked in a water bath, much like a custard. Most cheesecakes are baked for 1 hour to 90 minutes. Some recipes call for leaving the cheesecake in the oven until it cools completely.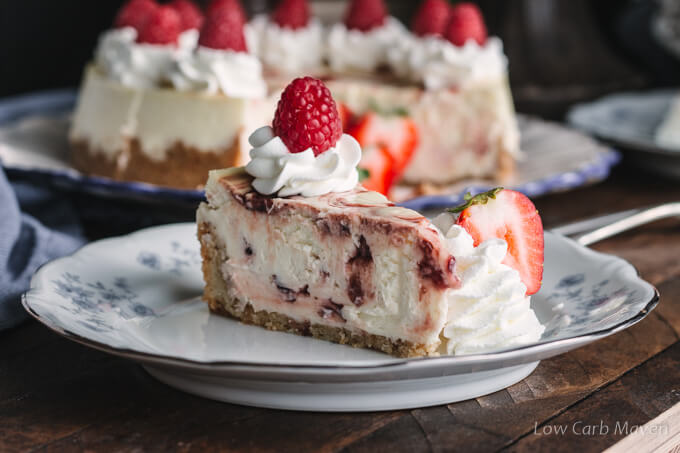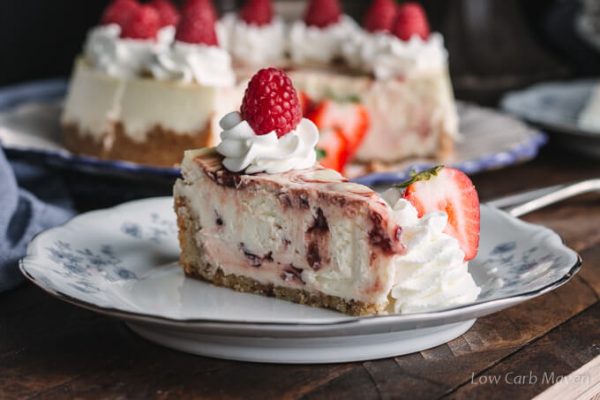 Making sugar-free cheesecake & low carb keto cheesecakes
As I mentioned above, low carb cheesecakes are a Keto dieters dream. They are made much the same as regular cheesecakes except that a low carb sugar alternative (usually sugar-free erythritol blend) is subbed for the sugar. Cheesecake crusts are made from nut or seed flours and melted butter or coconut oil. Sometimes they are made crustless like my Nana's Cheese Pie, which cooks in a pie plate.
Why Do Cheesecakes Crack?
There are many theories as to why a cheesecake may crack, and many more about how to prevent them. Temperature and humidity each play a part, as does whipping too much air into the batter. Some people say a water-bath will prevent cracks and others caution against rapid cooling.
I've learned over the years that sometimes cracks happen! Cracks are only cosmetic and easily disguised with a clever topping. This strawberry raspberry swirl cheesecake cracked each time I made it. Adding jam to the cracks rendered them invisible.
Keto Swirl Cheesecake
To make this delicious keto swirl cheesecake, I pre-baked my almond flour crust until it browned slightly. The flavor of toasted nuts is much nicer than raw. Using room temperature cream cheese and eggs is important. Leave them on the counter for at least 3 hours.
Incorporating the sweetener (Sukrin :1) and cream cheese in my stand mixer with the paddle attachment at the lowest speed was best. Alternately, I used my hand mixer on the lowest speed possible. Then, I added the sour cream. Lastly, I added gently beaten eggs, one at a time, mixing until they were just incorporated and scraping the sides of the bowl well.
To Create The Swirl
To swirl the jam, I added half of the cheesecake batter to the crust. Next, with a small spoon and using 1/2 of the jam, I made a spiral of small dollops. I swirled the dollops with a larger spoon. Then, I repeated the same process for the top of the cheesecake. After baking and cooling, any cracks were filled with leftover Sukrin jam.
DELICIOUS!
To see a list of available low carb products and sugar-free recipes, visit Sukrin USA on-line. Give them a follow on Facebook to be alerted to seasonal sales.
This amazing keto cheesecake with raspberry swirl is 5 net carbs per serving.
[This recipe and post contain affiliate links. A purchase through a link may result in a small consideration for me at no additional charge to you.]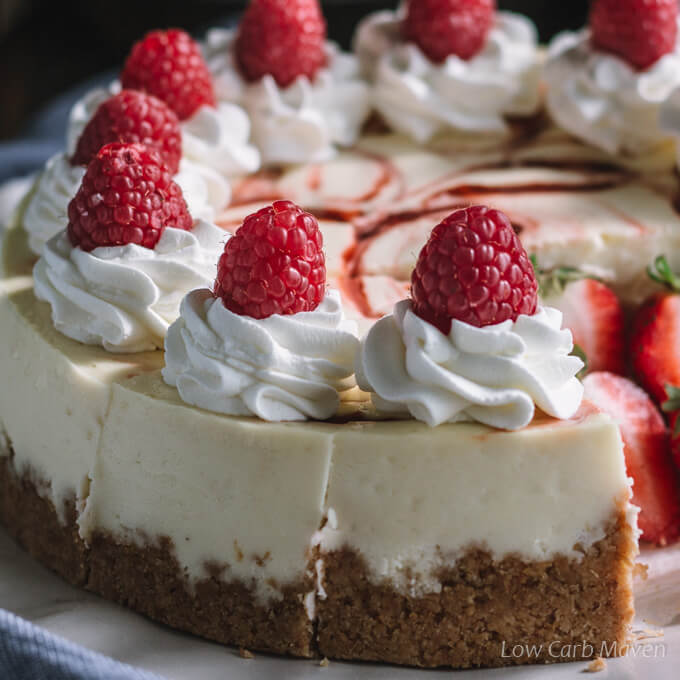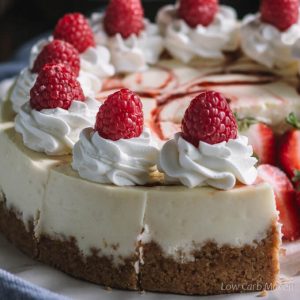 Keto Cheesecake with Raspberry Swirl
A rich creamy ketogenic cheesecake with a luscious raspberry swirl. This sugar-free recipe results in the perfect cheesecake for low carb diets.
Print
Pin
Rate
Ingredients
Low Carb Cheesecake Crust (or your favorite crust)
Keto Cheesecake Base
24

oz

full fat cream cheese

3/4

cup

low carb sugar

(or Swerve Granulated)

1/2

cup

sour cream

1

tsp

vanilla

1/2

tsp

stevia glycerite

3

large

eggs, slightly beaten (separately)

2

drops

red food coloring

(optional but makes the jam brighter in color)

1/2

cup

Sukrin Strawberry Raspberry Jam

(or your favorite no added sugar jam)
Topping
3/4

cup

heavy cream

3

tbsp

low carb sugar

(or Swerve Granulated)

12

fresh raspberries
Instructions
Preparation:
Preheat oven to 350 degrees F and place rack to middle position. Spray an 8-inch springform pan or cheesecake pan with baking spray and line the bottom with parchment. Have a larger pan in-which the cheesecake pan fits, ready to use as a water bath. Heat a tea kettle of water. Mix the food coloring into the jam if using. Melt butter.
Low Carb Cheesecake Crust:
Add all of the dry ingredients for the crust in a small bowl and mix thoroughly with a fork. Add the melted butter and blend thoroughly. The mixture should hold its shape when squeezed gently in your hand. If not add 1 more tbsp of melted butter.

Firmly press the crust into the bottom of the cheesecake pan and partly up the sides. I place a piece of waxed paper over the crust and press firmly with a flat bottomed glass.

Bake the crust for 15 minutes or until it begins to brown lightly. Remove from the oven and let cool while making the cheesecake batter. BEFORE ADDING THE BATTER TO THE CRUST, MAKE SURE TO LINE THE OUTSIDE OF THE PAN WITH TWO LARGE PIECES OF ALUMINUM FOIL.
Keto Cheesecake Batter:
Add the softened cream cheese to a stand mixer fitted with a paddle attachment. Add the 3/4 cup of Sukrin :1, 1/2 tsp stevia glycerite and vanilla. Mix on lowest speed until smooth. Scrape down the bowl and beaters and mix again to incorporate any unmixed cream cheese.

Add the sour cream and mix again on low. Gently beat one egg in a small bowl and add it to the cream cheese mixture until just incorporated. Repeat for each egg. Scrape down the bowl and mix once more. Remove the paddle and scrape down the bowl.
Procedure:
Make sure the pan has been wrapped carefully with foil before beginning! Spoon half of the cheesecake batter into the prepared cheesecake crust. With a small spoon, dollop half of the jam in a spiral pattern over the top of the batter. Swirl with a larger spoon. Clean off spoon. Repeat with the remaining cheesecake batter and jam.

Place the cheesecake into the larger pan and place onto the oven rack. Add the hot water and enough cool water to the pan to fill halfway up the sides of the cheesecake pan, if possible.
Bake:
Bake the cheesecake for 1 hour and 20 minutes. The middle should still be jiggly, and the sides set. Using a different size pan will result in a longer or shorter cooking time. Turn the oven off. Prop the door open with a wooden spoon, and let the cheesecake sit undisturbed for 20 minutes.

Remove the cheesecake from the oven and let cool completely before covering in cling film and refrigerating – best if chilled overnight!
Serve:
Before serving, fill any cracks with jam. Whip the cream with the sweetener. Serve the cheesecake with whipped cream and a raspberry. Serves 12.
Notes
* I like the ground golden flax and protein powder in this recipe because it makes the crust taste a little more like graham crackers. 
Nutrition Facts
Keto Cheesecake with Raspberry Swirl
Amount Per Serving
Calories 416
Calories from Fat 351
% Daily Value*
Fat 39g60%
Carbohydrates 6g2%
Protein 11g22%
* Percent Daily Values are based on a 2000 calorie diet.
Nutrition
Calories:
416
kcal
|
Carbohydrates:
6
g
|
Protein:
11
g
|
Fat:
39
g
|
Fiber:
1
g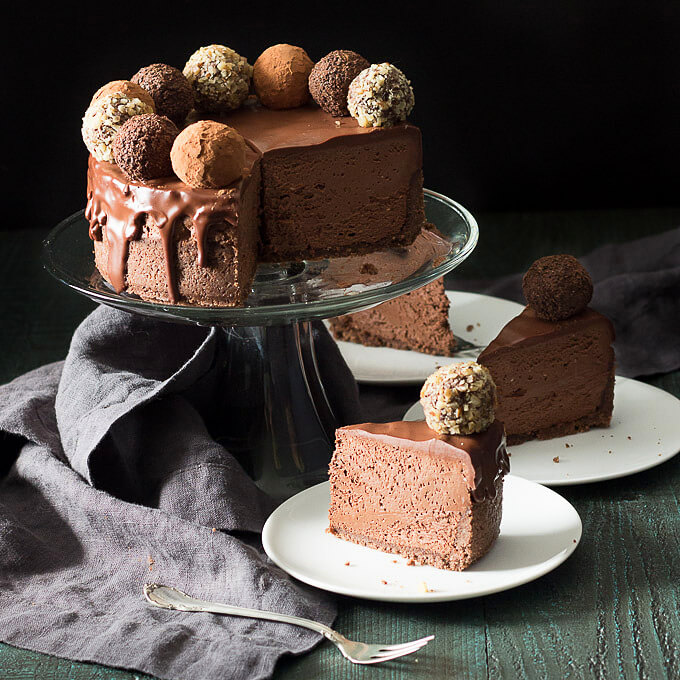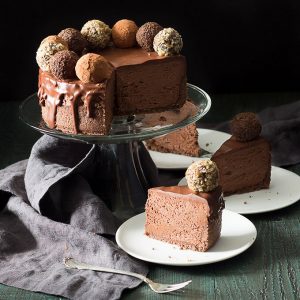 Low Carb Chocolate Truffle Cheesecake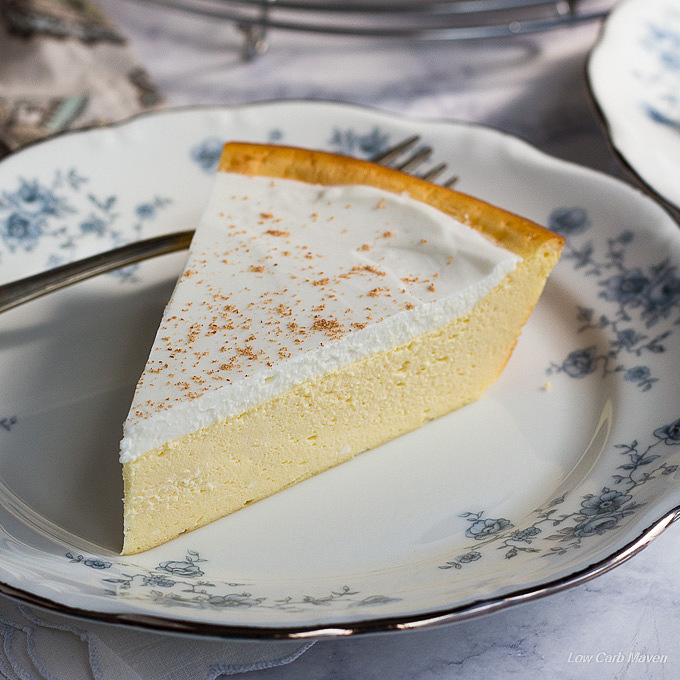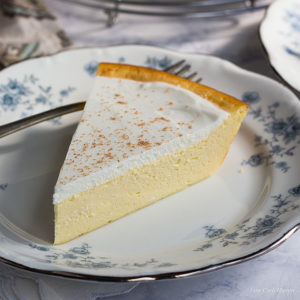 Nana's Cheese Pie – Crustless Cheesecake (low carb, keto)