These delicious sugar-free nutella swirl muffins feature a moist low carb almond flour muffin base made in the blender. They're perfect for any ketogenic diet.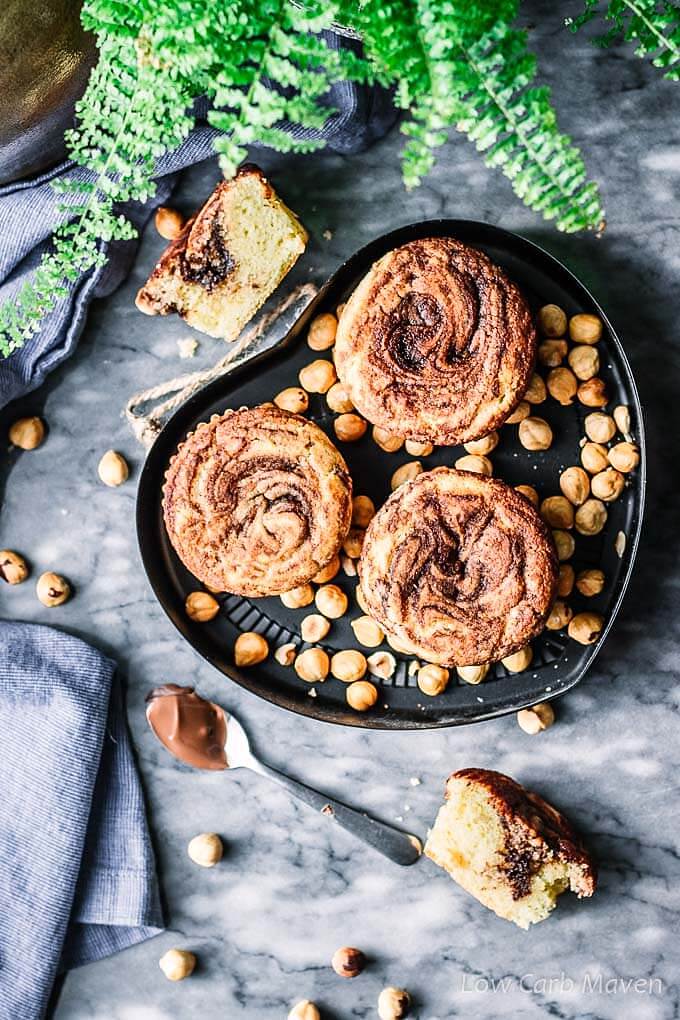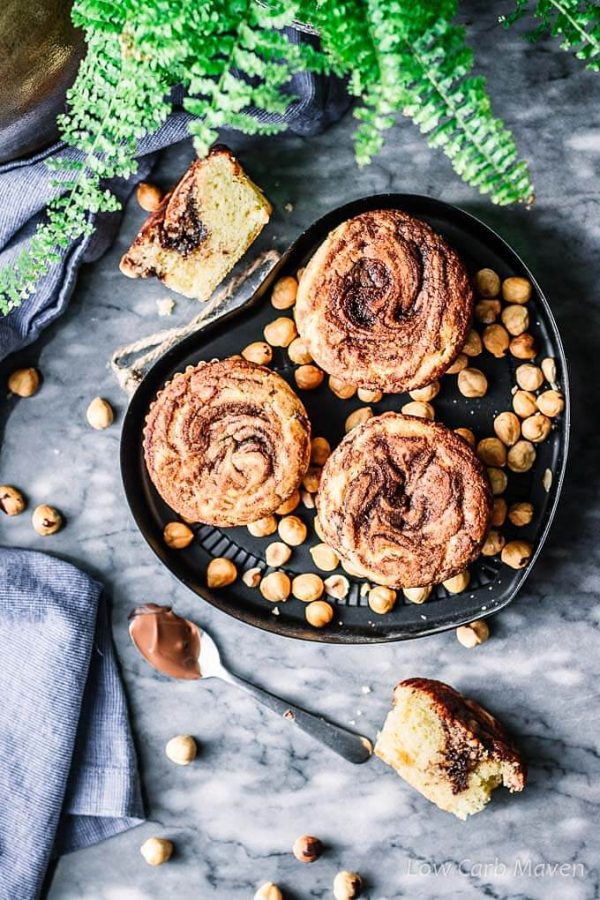 This recipe is partnered with Sukrin USA, Europe's leading brand for natural origin, non GMO low carb sweeteners, nut flours, bread mixes and chocolates. All thoughts and opinions are my own.
There's nothing like a warm keto muffin straight from the oven. I like mine slathered with a pat of butter and accompanied with a hot cup of coffee. When I started my low carb diet 9 years ago, I thought delicious baked goods were a thing of the past. Luckily, we can still indulge in delicious low carb muffins and sugar-free quick bread recipes.
We are so fortunate to have access to nutritious low carb baking ingredients. Can you imagine your keto diet without nut flours or natural low carb sweeteners? They turn the occasional treat into a guiltless pleasure, like chocolate hazelnut truffles or these keto muffins with sugar-free nutella swirl.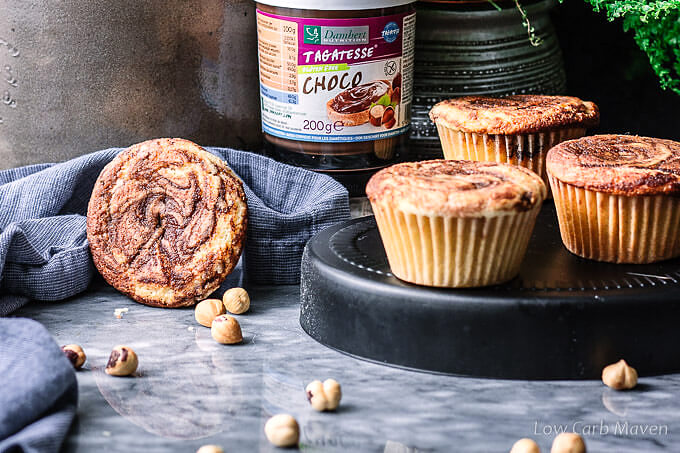 Sugar-free Nutella Swirl Muffins (Keto, Low Carb)
I've always been crazy about Nutella and was shocked when I found out how much sugar it contained. I began making my own sugar-free Nutella about 9 years ago. Homemade nutella is delicious, but without a high-powered blender it's a bit of a chore. I also have to order the hazelnuts online since I can't find them in my local grocery stores.
For my busy life, buying a jar of delicious ready-made sugar-free chocolate hazelnut spread is more convenient than making homemade. I particularly like this Belgian brand, sweetened with Tagatesse, from Sukrin USA. I can think of all kinds of scrumptious things I want to make with it! Can't you? For starters, I'm swirling it into these amazing sgugar-free nutella swirl muffins.
I don't have a fancy blender so it did take some initial coaxing to get the batter to blend. I had to pop air bubbles that formed at the bottom of the carafe several times. But, my patience won out because blending aerates the batter resulting in a nice light texture. After testing these the 6th time I worked out the best way to get this keto muffin batter going!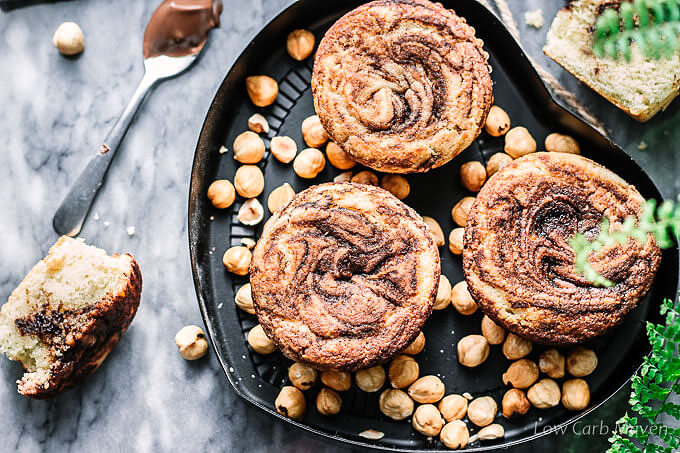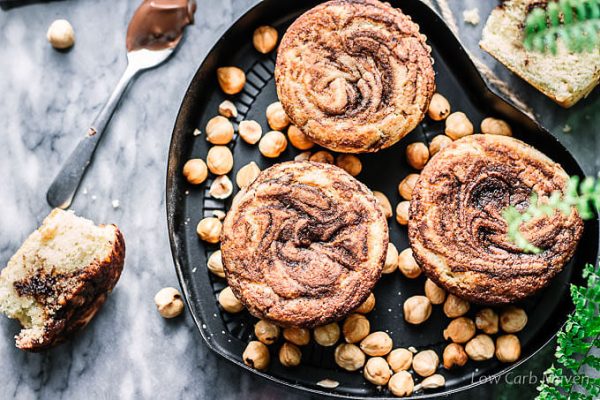 I used 1 teaspoon of the Sugar-free Chocolate Hazelnut Spread per muffin – any more than that and the muffins don't cook through. This is equal to 2 tablespoons or 1 serving (2 net carbs) split among 6 cupcakes. I think it's the perfect amount. My kids went bonkers for these!
If you're looking for the perfect for Fall treat to enjoy with a cup of coffee or tea, give this easy recipe a try!
Visit Sukrin USA online to see their complete product list and for more recipe ideas follow Sukrin USA on Facebook.
These delicious Sugar-free Nutella Swirl Muffins are 5 net carbs per muffin.
[This recipe contains affiliate links. Purchases made through a link may result in my earning a small consideration at no additional expense to you.]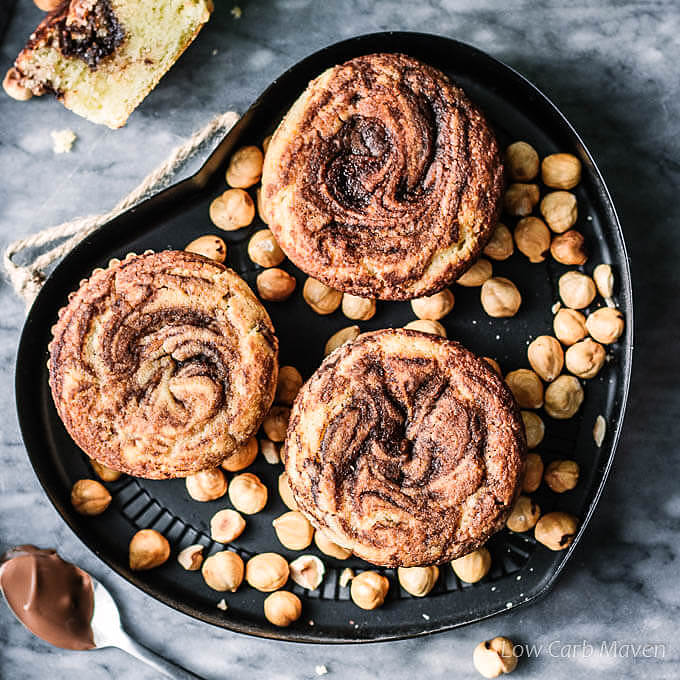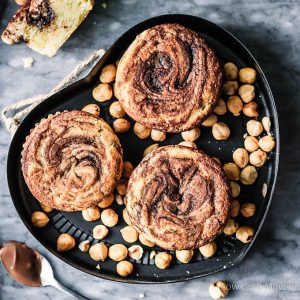 Sugar-free Nutella Swirl Muffins (keto, low carb)
These delicious sugar-free nutella swirl muffins feature a moist low carb almond flour muffin base made in the blender. They're perfect for any ketogenic diet.
Print
Pin
Rate
Instructions
Preparation:
Preheat oven to 350 degrees F and place rack to the middle position. Line 6 regular sized muffin wells with parchment liners. Warm the Sukrin Chocolate Hazelnut Spread in the microwave for 20-30 seconds or until it is easy to drizzle from a teaspoon.
Method:
[NOTE: I have a 15 year old Oster blender, so these directions are perfect for me.] Put the the wet ingredients into the blender. Then put the dry ingredients into the blender. Turn the blender on low and blend. Remove the lid and help the process out with a spatula. Turn up to medium low and blend for 20 seconds or until the batter is smooth and nicely aerated.

Divide the muffin batter between 6 muffin wells, filling 3/4 full. Drizzle 1 teaspoon of the Sukrin Chocolate Hazelnut Spread over each muffin and swirl/mix with a toothpick.
Bake:
Bake for 25-35 minutes or until the tops of the muffins are firm and springy to the touch but still sound moist. Let cool for 5 minutes in the muffin tin then remove to a cooling rack. Refrigerate in an airtight container for 7-10 days or keep on the counter for up to 5 days.

Make 6 muffins at 5 net carbs each.
Notes
The protein powder helps the muffins keep their shape and not collapse in the middle once the hazelnut spread is added. I did not use it in the muffins in the pictures and you can see a dip where they collapsed a bit. They are still delicious, but are better with the protein powder. I'll leave the choice up to you.
Nutrition Facts
Sugar-free Nutella Swirl Muffins (keto, low carb)
Amount Per Serving
Calories 255
Calories from Fat 198
% Daily Value*
Fat 22g34%
Carbohydrates 6g2%
Protein 9g18%
* Percent Daily Values are based on a 2000 calorie diet.
Nutrition
Calories:
255
kcal
|
Carbohydrates:
6
g
|
Protein:
9
g
|
Fat:
22
g
|
Fiber:
1
g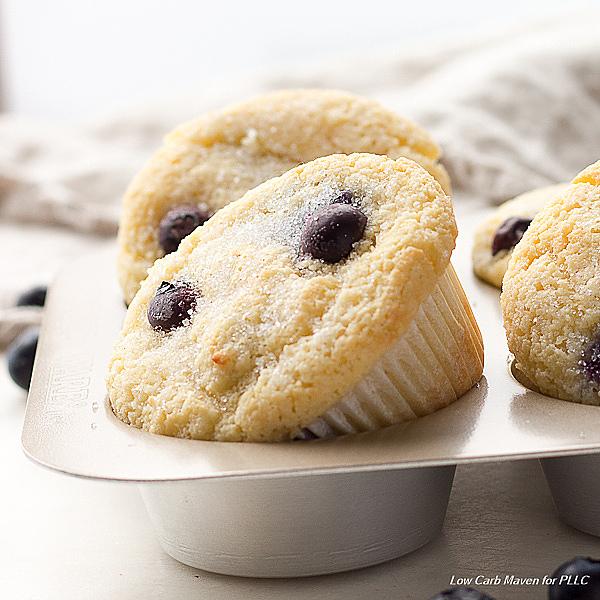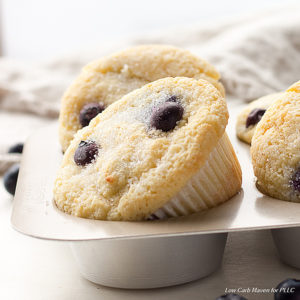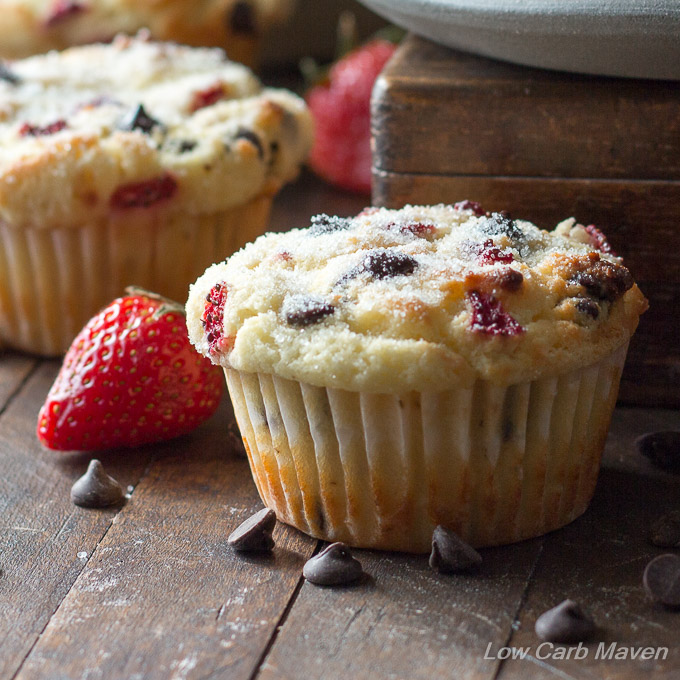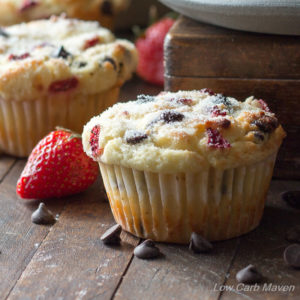 Low Carb Chocolate Chip Muffins with Strawberries