This is a really good Low Carb Granola made from wholesome seeds and nuts. It's completely sugar-free and perfect for a gluten-free or ketogenic diet. Dairy-free and Paleo Option.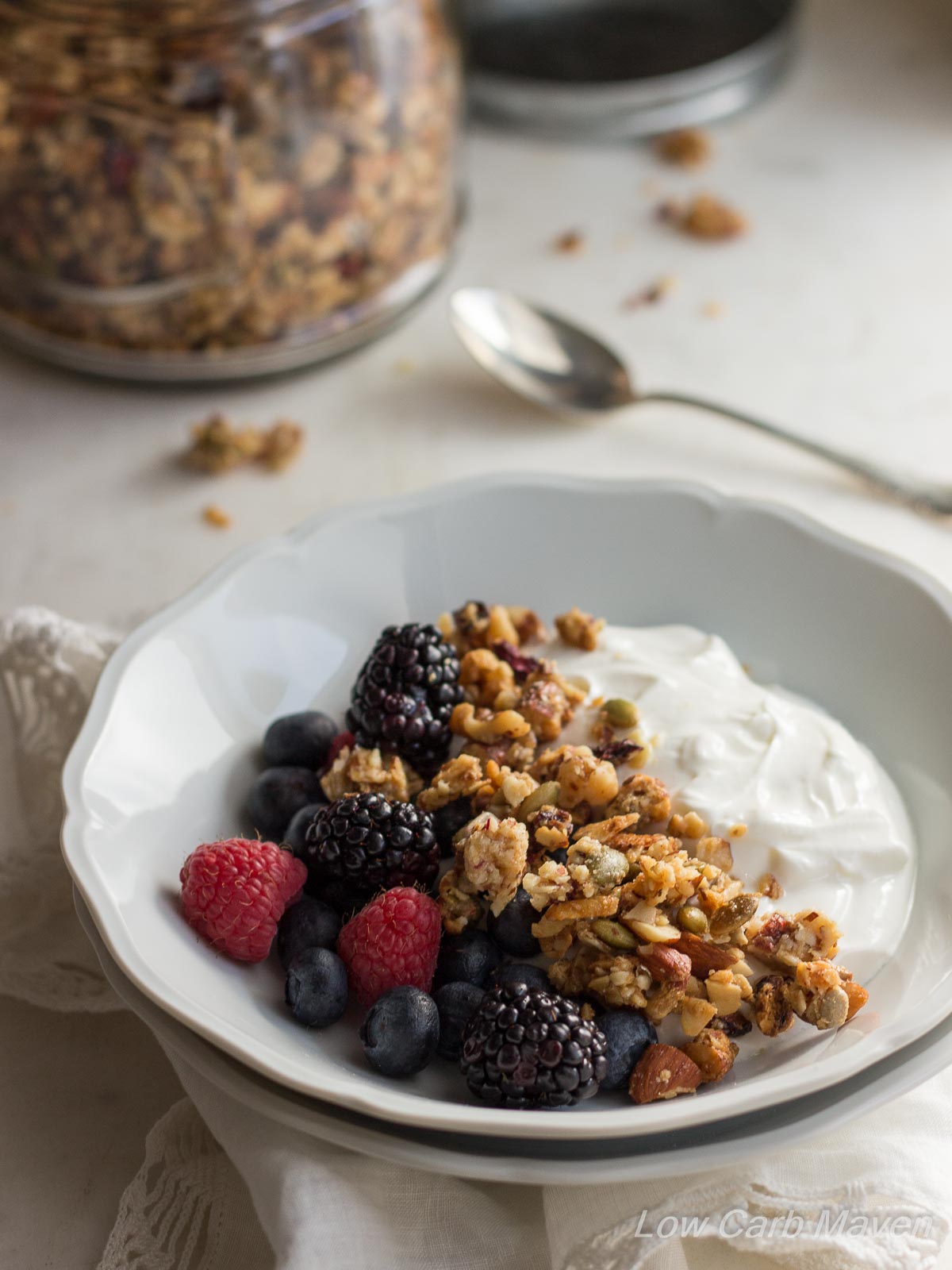 I was a child of the 70's when granola was all the rage. I remember my mother baking large sheet pans of granola for my father to enjoy for breakfast or as a snack to fuel him on long bike rides.
Made from natural ingredients like oats, nuts, seeds, dried fruit, butter, and honey, it was especially popular with 1960 – 70's hippies who were exploring introspection and personal health, vegetarianism, growing organic foods, and being kinder to the environment: all this long before the word "granola" became a moniker.
Eighty years before granola became a popular health food, a Swiss physician named Maximilian Bircher-Benner was also contemplating the interrelationship between environment, people, and improved health. He thought that eating foods "touched by the sun" was better for our health than eating meat and dairy. Believing that a significant portion of the human diet should be consumed as raw fruits and vegetables, he developed a recipe for a breakfast porridge containing oats, nuts, and ground raw apples -the original recipe for Bircher Muesli.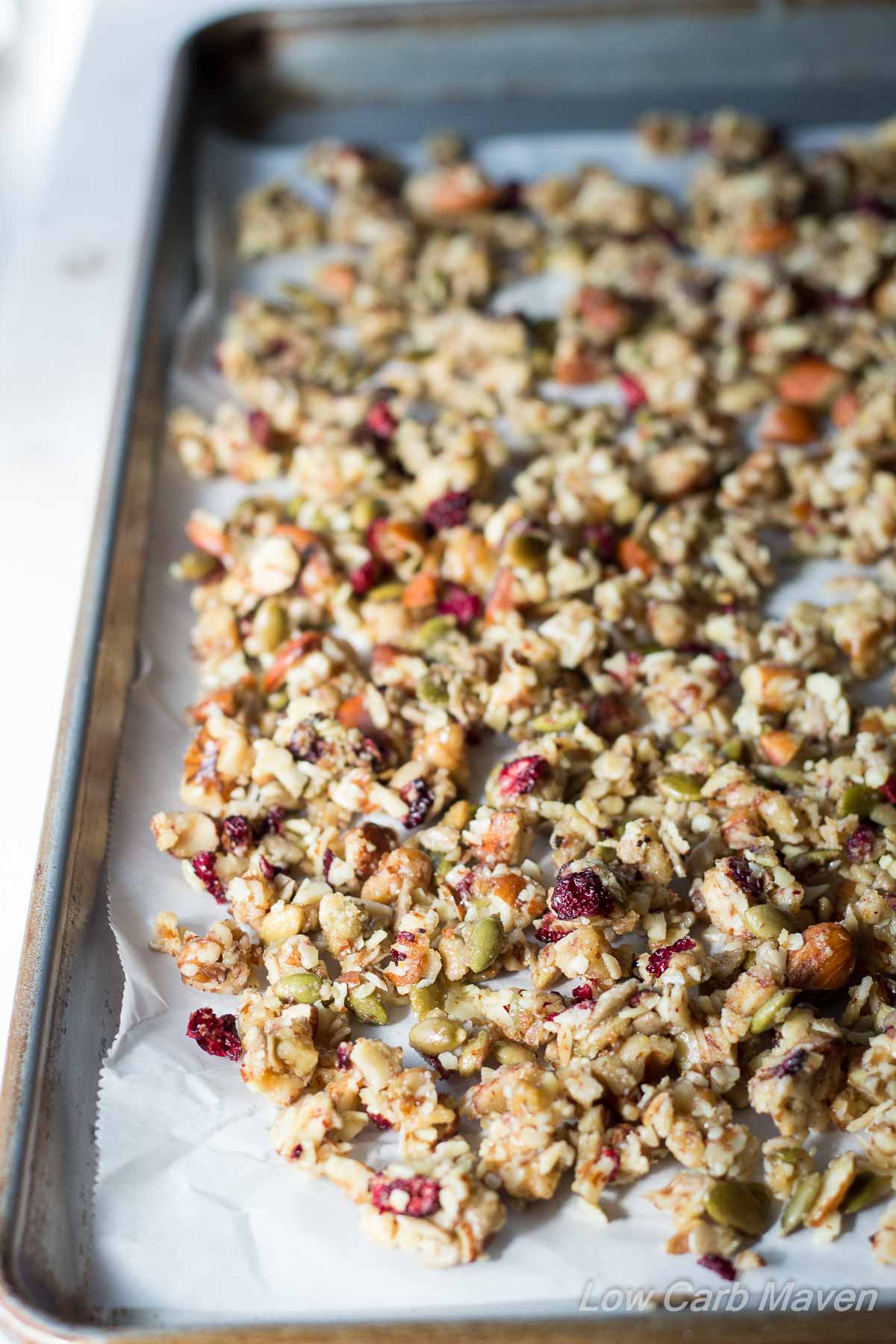 Today, the ingredients of muesli closely resemble that of granola, the difference being that granola is baked while muesli typically is not. Incidentally, whether one eats muesli or granola one is consuming quite a bit of carbs. Although often thought of as the ultimate health food, granola – especially commercially produced granola, is chock-full of carbohydrates and sugars.
This low carb granola is a healthier alternative to those who miss their beloved breakfast cereal and are watching their carbs. It's made entirely from nuts and seeds with the option for adding unsweetened dried cranberries or unsweetened dried apples per your preference. Personally, I enjoy eating it with a small portion of Greek yogurt and a few fresh berries. I think this low carb granola makes the perfect breakfast or light afternoon snack with almond milk, or a great topping for yogurt, chia seed pudding, or ice cream. It is soooooo goood!
If you are looking for other breakfast option, try the Coconut Flour Porridge, Low Carb Almond Porridge with Berries, Macadamia Berry Blast Granola, Low Carb Chocolate Smoothie Bowl, Spinach Bacon & Onion Crustless Quiche
This filling and wholesome Low Carb Granola is 6 net carbs per 1/2 cup serving.
[This recipe contains affiliate links]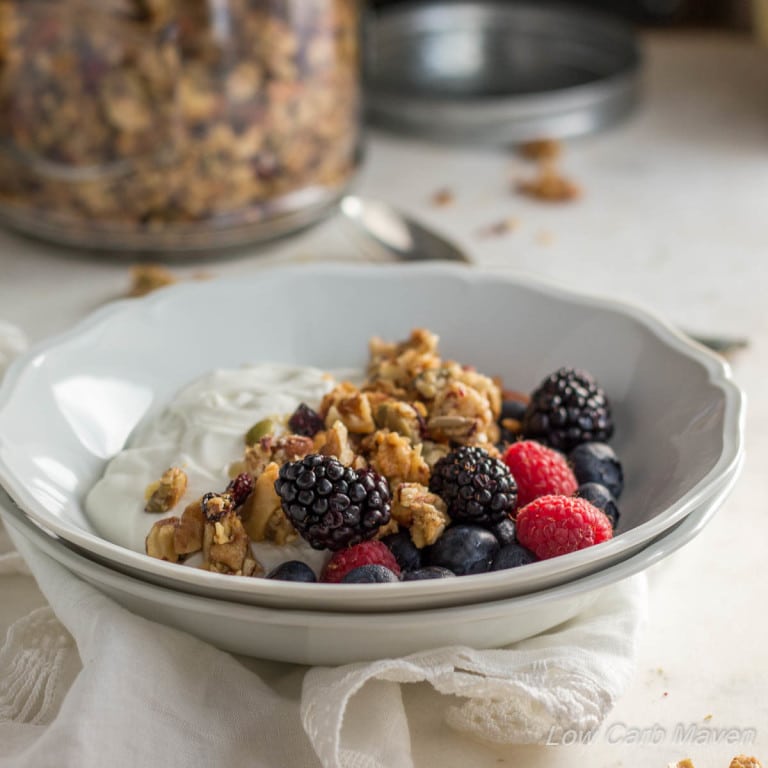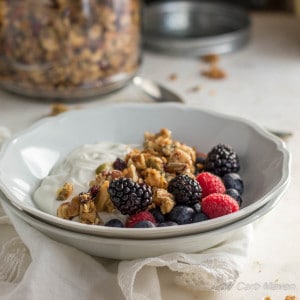 Really Good Low Carb Granola
An easy to make and great tasting low carb granola made from wholesome seeds and nuts.
Print
Pin
Rate
Ingredients
1/2

cup

walnuts, roughly chopped

(2 oz/56.7 g)

1/2

cup

whole almonds, roughly chopped

(2.5 oz/70.9 g)

1/2

cup

sliced almonds, chopped to resemble oats

(2 oz,/56.7 g)

1/3

cup

whole pumpkin seeds

(1.75 oz/49.6 g)

1/3

cup

whole sunflower seeds

(1/75 oz/49.6 g)

1/4

cup

Bob's Red Mill ground golden flax meal

(1 oz/56/7g)

1/4

cup

unsweetened dried cranberries

1/4

cup

Sukrin Clear or Gold Fiber Syrup

(Vitafiber Fiber Yum, yacon syrup, or honey)

1

tablespoon

butter

or ghee or melted coconut oil

1

tablespoon

low carb powdered sugar

or powdered Swerve – omit if using honey

pinch or two of salt

1/2 – 1

teaspoon

of cinnamon

optional
Instructions
Preheat the oven to 350 and position the rack to the middle of the oven. Line a large sheet pan with a piece of parchment.

Chop the nuts that need chopping.

Add all of the nuts, seeds, flax, and dried fruit if using, to a medium bowl and mix. Measure and pour the Sukrin Clear Fiber Syrup (Vitafiber, Fiber Yum or honey) over the nuts and seeds and mix thoroughly. Add the melted butter (or ghee or coconut oil) and mix again. Add a pinch or two of salt and the tablespoon of Sukrin Melis (or powdered Swerve) and mix one more time.

Distribute the low carb granola mixture evenly on the prepared sheet pan and bake until fragrant and slightly golden in color – about 15 minutes. Remove from the oven, stir and cool completely and break up large clumps before storing in an airtight container.

Makes 4 cups with 12, 1/3 cup (40 g) servings. Each serving is 3.62 net carbs per serving.
Notes
Nutrition Facts
Really Good Low Carb Granola
Amount Per Serving (40 g)
Calories 178
Calories from Fat 140
% Daily Value*
Fat 15.53g24%
Sodium 14mg1%
Carbohydrates 12.42g4%
Protein 6.2g12%
* Percent Daily Values are based on a 2000 calorie diet.
Nutrition
Serving:
40
g
|
Calories:
178
kcal
|
Carbohydrates:
12.42
g
|
Protein:
6.2
g
|
Fat:
15.53
g
|
Monounsaturated Fat:
8
g
|
Sodium:
14
mg
|
Fiber:
8.8
g
|
Sugar:
1.66
g
Macadamia Granola – Berry Blast! (low carb, keto)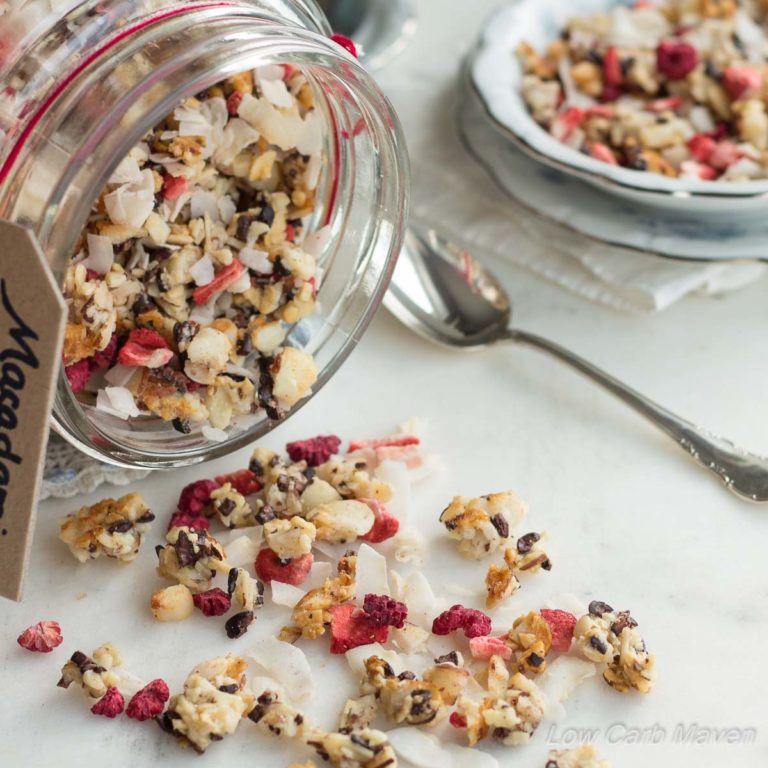 Coconut Flour Porridge (paleo, low carb, keto)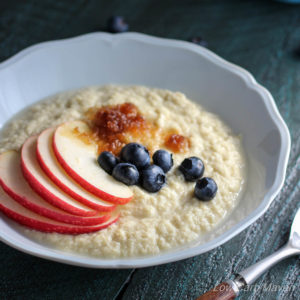 Zucchini Bread – Coconut Flour (low carb, keto)