Made with low carb and gluten-free ingredients, this Crispy Low Carb Egg Plant Rounds recipe make a great snack, a fun side, or a satisfying meal for any ketogenic diet.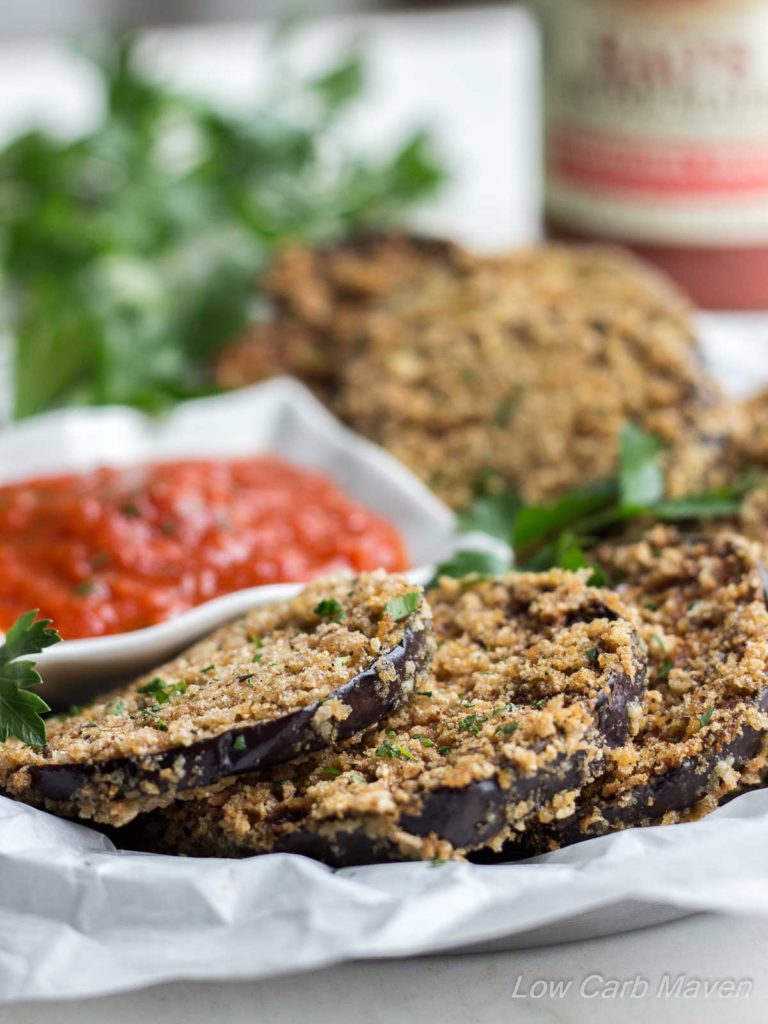 Well, hi there! Happy Monday.
I don't know if I mentioned it, but I injured my back two weekend ago. Don't worry, I'm all better now, but I was in bed for a few days and got really behind last week. It was all I could do to test, to shoot, and to post those delicious vanilla buttermilk cupcakes on Friday. Which we all have enjoyed every day since!
I saved 4 of the cupcakes for dessert last night — It was my birthday and we each enjoyed a cupcake with a candle! I turned out the lights and we all took turns making wishes. It was nice. By the way, thanks for all of the Birthday Wishes. I really appreciate it!
As I said, I'm behind in work so I did a lot of recipe testing on Saturday and Sunday. To keep the kids out of my hair, my husband took the kids to Target to "get mommy a birthday present", but we all know that was code for "let's get out of the house!"
While they were gone, I made this crispy eggplant rounds recipe. And, ate some crispy eggplant rounds. And made more crispy eggplant rounds to share with my family. They were great!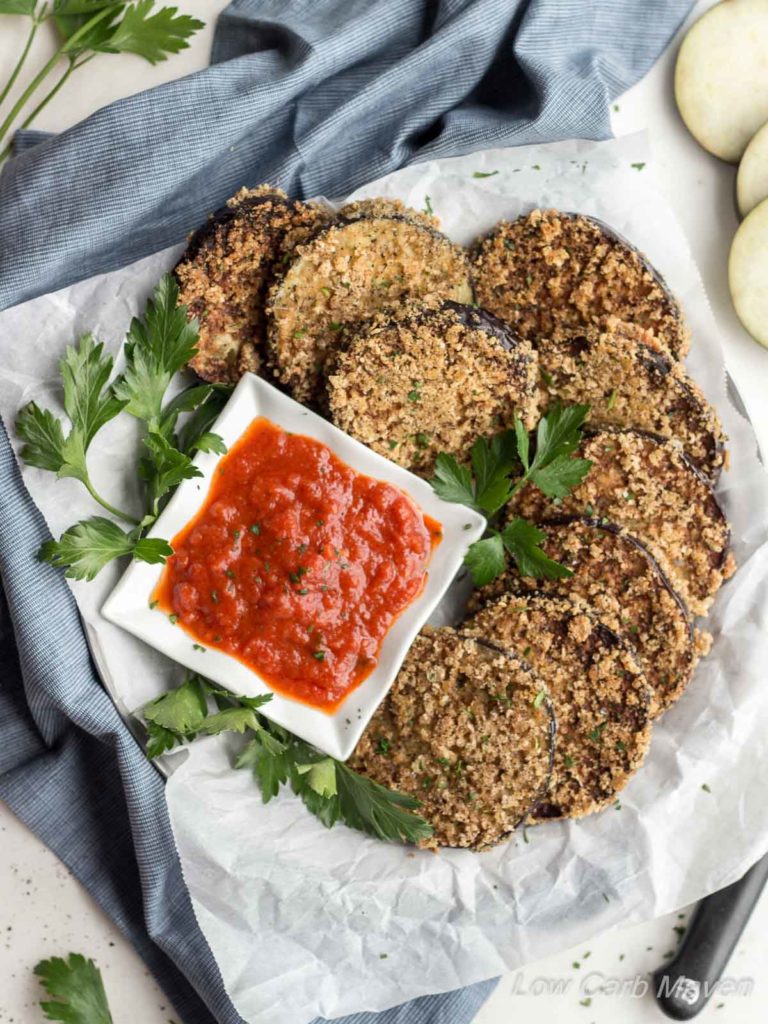 What I like about this eggplant rounds recipe —  apart from the fact that it's darn right delicious, is that it delivers quite a bit of protein with each serving. It's also easy to make and doesn't require any special ingredients – well except for the pork rinds.
The pork rinds deliver mucho flavor and a nice crispy crunch which is helped along with the Parmesan cheese. It's the same coating I used on the popular low carb Skillet Chicken Parmesan – remember the picture with all of the stringy cheese? Yum!
I have some exciting news and an exciting post I'm publishing on Thursday. I'm doing my first ever sponsored post and the recipe is just absolutely amazing. I should know…. we've had it for dinner 4 nights in a row with a variation here and a variation there! Fifth time's a charm? I hope so!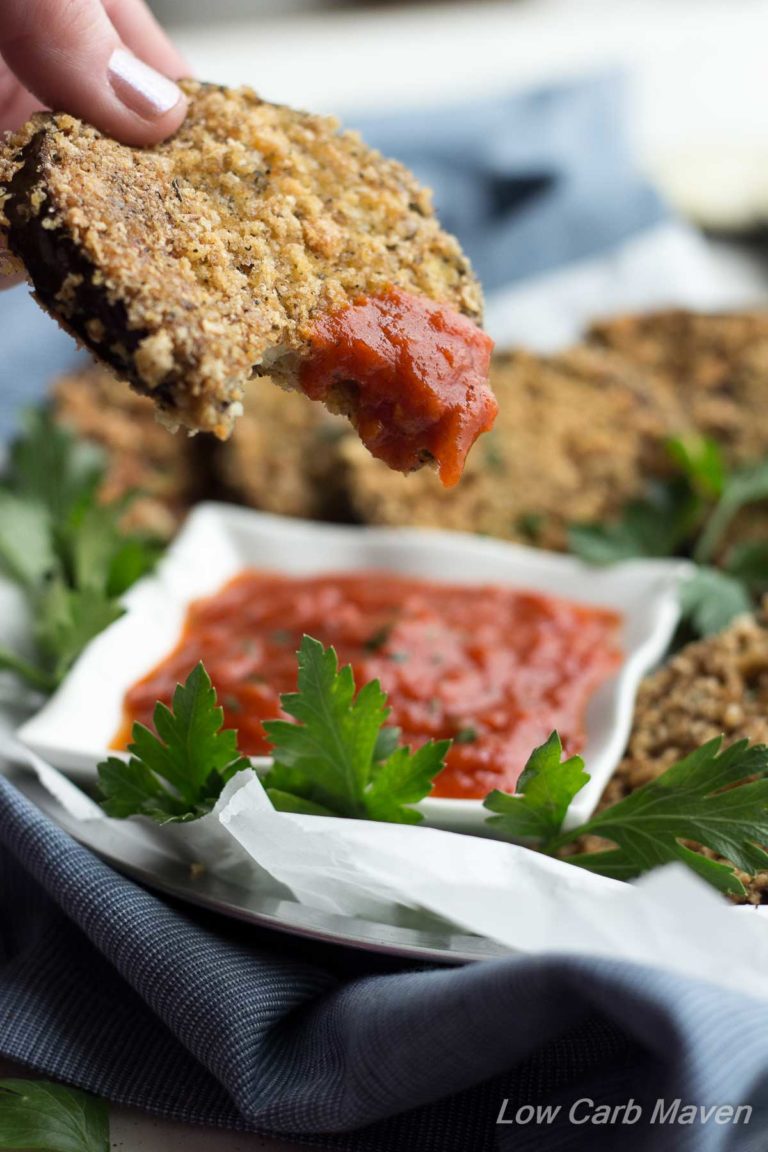 Okay. This post was a little long and included a few too many pictures in it so let's get to the recipe, shall we?
EXTRA INFO: If you cook these crispy eggplant rounds in a cast iron skillet like I did, you will need the full 2 tablespoons of oil and maybe a little more. If you use a non-stick pan (I love the Green Pan), then you will not need the whole 2 tablespoons of oil. If you use a long, two-burner griddle pan (I have this Calphalon griddle, but want this AWESOME looking cast iron griddle), you may be able to cook all of the crispy eggplant rounds at once. Nice!
Want more crispy thing? Try the Zucchini Fritters or the Cauliflower Fritters!
HOUSEKEEPING: Don't forget to Follow Low Carb Maven on Facebook and set it up to "see first". If you don't, then Facebook decides what to show you. You should do this for all of your favorite sites!
This Low Carb Crispy Eggplant Rounds Recipe are 6 net carbs per serving!
[This post and recipe contain affiliate links.]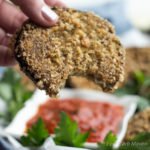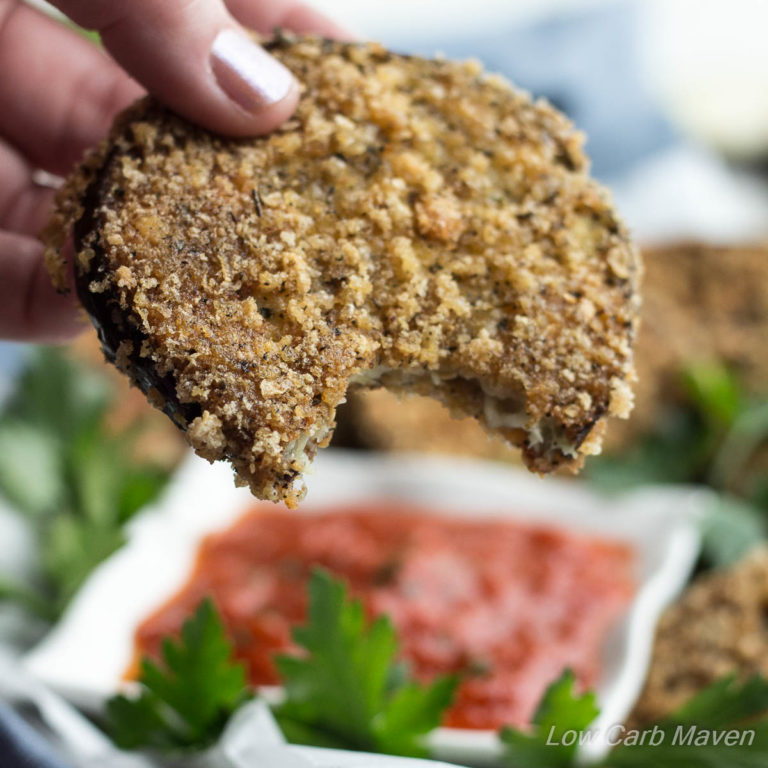 The Best Low Carb Eggplant Rounds Recipe (Crispy)
Made with low carb and gluten-free ingredients, these Crispy Low Carb Egg Plant Rounds make a great snack, a fun side, or a satisfying meal for any ketogenic diet.
Ingredients
1

pound

eggplant

cut crosswise into 1 cm - 1/2 inch rounds, 453.6 g

1

cup

crushed pork rinds

1 oz/ 28.35 g

1/2

cup

grated Parmesan cheese

1 oz/ 28.35 g

1

teaspoon

dried oregano

1

teaspoon

dried basil

1/2

teaspoon

salt

1/4

teaspoon

granulated garlic

1/4

teaspoon

onion powder

1/4

teaspoon

pepper

2

large

eggs,

beaten

2

tablespoons

olive oil
Instructions
Prep: Slice the eggplant into 10-12 rounds. Crack the eggs in a shallow bowl (cereal or soup bowl) large enough to hold an eggplant round and scramble with a fork. Mix the pork rinds, cheese, and seasoning together in another shallow bowl. Ready a small sheet pan.

Procedure: Pick up a round with a fork and flip it back and forth in the egg until completely covered. Pick up with a fork and let the egg run off. Place into the crumb mixture and cover the top with crumbs. Press the crumbs onto the top. Then, flip the round over with the fork and do this again. Lift the eggplant round out and shake off the excess crumbs. Lay on a sheet pan. Repeat the process on all of the rounds. You should have enough for 10-12 rounds depending on how big they are.

Cook: Heat an iron skillet or a non-stick pan over medium high heat. Alternately, you can use a big pancake skillet and fit all on the skillet at once. When hot, add the oil (you will need much less oil with the non-stick skillet). When the oil is hot, add 3-4 round to the pan and let cook for 3 minutes per side. Remove to a paper towel to drain then to a cooling rack. As you go, you may need to add a little more oil to the skillet or adjust the heat down just a bit. The eggplant will be brown and very crispy. Serve with tomato sauce, spicy mayo or eat as is!
Recipe Notes
Serves 4 people at 2-3 pieces each. 
Nutrition Facts
The Best Low Carb Eggplant Rounds Recipe (Crispy)
Amount Per Serving
Calories 280
Calories from Fat 180
% Daily Value*
Total Fat 20g 31%
Total Carbohydrates 9g 3%
Protein 17g 34%
* Percent Daily Values are based on a 2000 calorie diet.
Signup for my Newsletter
Subscribe to get our recipies by email.