Try Keto Krate snack subscription service for 5-8 great low carb sugar-free snacks delivered to your door every month. Check out this month's Review and products.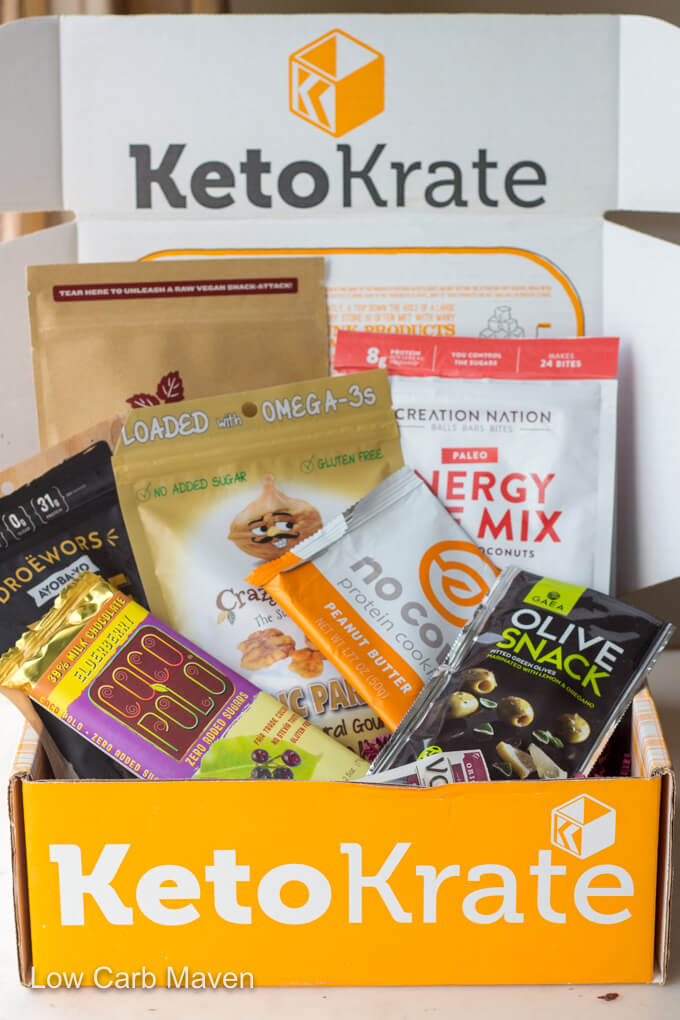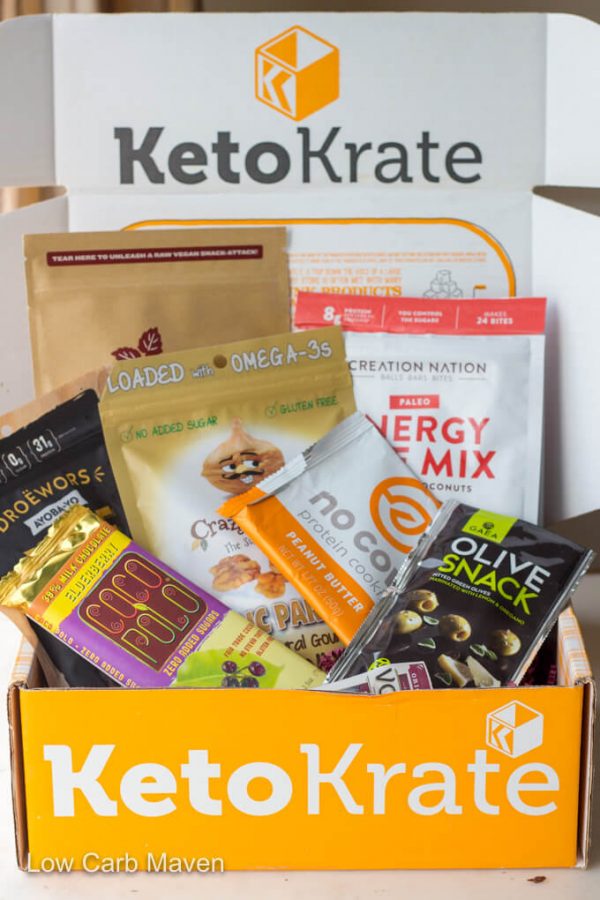 (This post contains affiliate links. Purchasing through a link will result in my earning a small consideration at no additional cost to you. This helps me maintain the site and continue to provide free recipes.)
Subscribe to Keto Krate and receive 6-8 low carb keto approved snacks (& $20 of discount codes) delivered right to your door. The products range from savory or sweet snacks, protein bars, breakfast items, drinks, dressings, flavorings and sweet treats. None of the products contain maltitol – your blood sugar and tummy will thank you for that one!
Keto Krate procures the best low carb keto snacks and delivers them to your front door. This supports start-up and small business by spreading the word of new products. I like that
If you are a bonafied new product junkie or are searching for new keto snacks, then this is for you! It's a great way to sample new low carb and keto products. Keto Krate is the perfect gift for those people in your life who are hard to buy for – we all have someone like that in our families, right?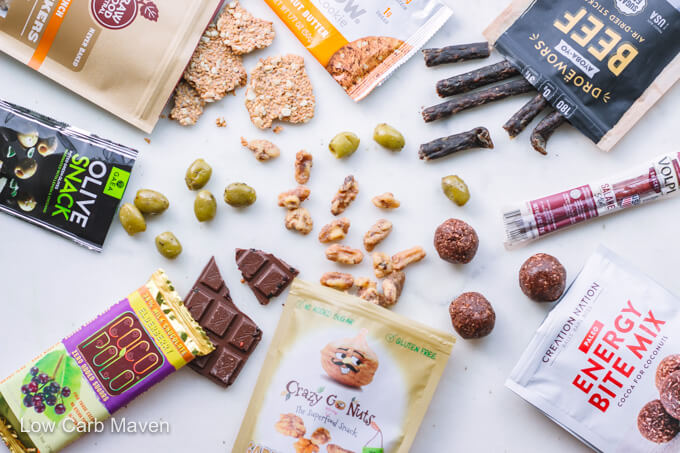 March Keto Krate Review and Products
Now Cow Peanut Butter Protein Cookie – A large soft cookie with a great cookie texture and peanut butter flavor was a tasty and filling snack.
Grazy Go Nuts Garlic Parmesan Walnuts – Subtle flavors of garlic and Parmesan cheese made these savory walnuts the perfect salad topping.
Creation Nation Paleo Energy Bite Mix – Although I liked the ingredients and ease of preparation, I found this product very salty and they were hard as rocks the next day. I litteraly couldn't eat them. Perhaps it was because I made them with coconut oil and Sukrin Fiber Syrup. Maybe the instructions including nut butter yields a softer product, but I suggest using an unsalted variety.
Ayoba-Yo Droewors Hand Crafted Beef Sticks are one of my favorite jerky products. I also love their Bilitong product. My son and I flip a coin for the last one!
Moca Butter Burnbutter – A tasty on-the-go peanut butter product with added avocado and MCT oils. This product is best enjoyed cool. If it gets overly warm, it's a little messy.
CocoPolo Real Elderberry Fruit Milk Chocolate – CocoPole never disappoints with their chocolate. I loved the bright pop of fruit in this sugar-free milk chocolate bar. Many sugar-free chocolate bars are dark chocolate to keep carbs to a minimum, it's nice to have the occasional sugar-free milk chocolate bar on occasion.
Volpi Chorizo Salame Stix is a full flavored meat stick. Keto Krate shares some of the best meat sticks on the market and this variety did not disappoint.
Raw Food Central Cashew Crunch Flax Crackers – I have become a big fan of flax crackers and this was a stellar flavor. I loved the mild-sweet flavor of the cashews balanced by the more earthy flavor of flax. The crackers are very crunchy with just a slight slippery feeling from the flax. I loved them.
GAEA Rosemary Olives – Olives make a flavorful keto snack. The fat helps keep hunger at bay while the extra salt helps with hydration. If you are craving something sweet, a good briny olive can counteract those cravings. I would eat these olives every day if I could!
If you are interested in purchasing a subscription to Keto Krate,
sign up in the side bar or click the words "Keto Krate" above.