Keto honey mustard is a rich, creamy low carb sauce perfect for dipping or dressing a salad. Whip up this quick and easy sauce in minutes.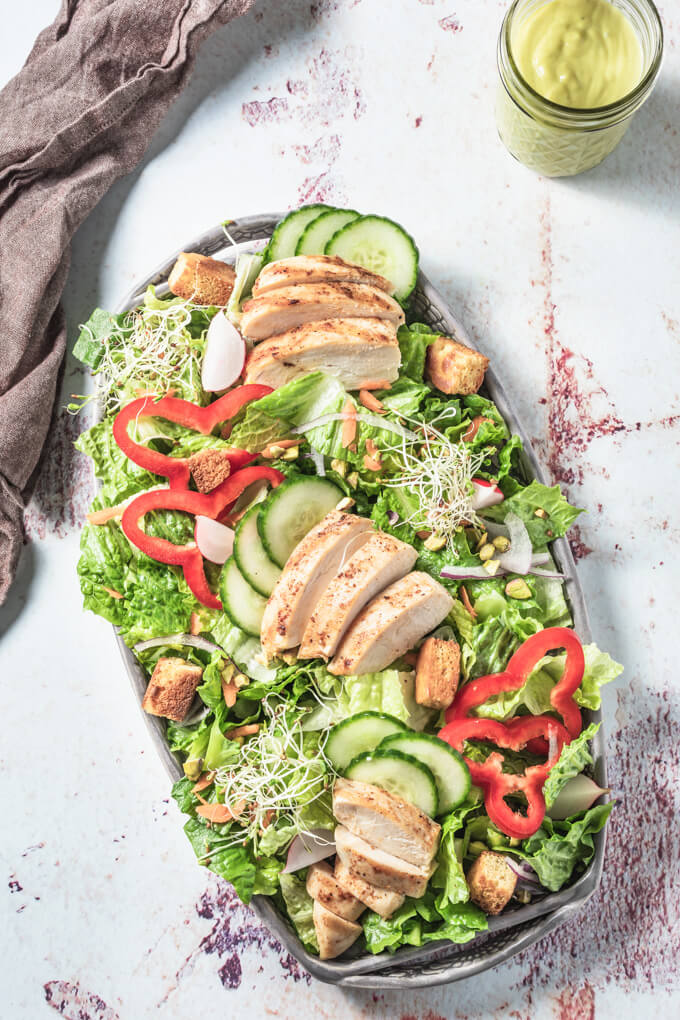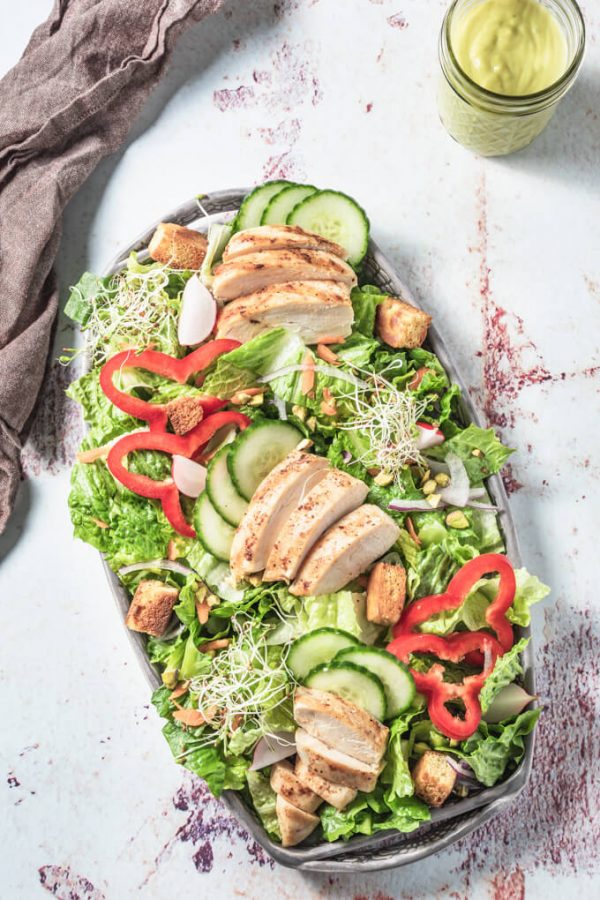 THIS POST INCLUDES AFFILIATE LINKS TO SHARE THE THINGS I LOVE.
Honey mustard sauce is one of those condiments that seems out of reach when following a low carb or keto diet to lose weight. Good news! You no longer have to feel deprived with this keto honey mustard dressing in your low carb arsenal.
Is Honey mustard dressing healthy?
Mustard by itself is a low-calorie, low carb condiment that is also low in sugar and unhealthy fats. It's rich in vitamins and minerals and can help lower bad cholesterol. Two tablespoons of mustard contains roughly 18 calories, 1.8 grams of carbohydrates and one gram of protein.
Traditional honey mustard dressing is not quite as forgiving. The culprit? Honey, of course. When watching your carb intake, it's important to remember that even natural forms of sugar can have as many carbs as, if not more than, regular sugar.
So how do we recreate the sweetness of honey mustard without actually using honey? By using a good low carb sugar alternatives like Sukrin, Swerve or Lakanto. Stevia Glycerite, a concentrated viscous liquid form of stevia with little bitterness, works well too.
I've found over time that powdered sweeteners perform much better than granulated because they melt better and resist forming large erythritol crystals if the dressing sits for more than a week. You can find some of these sugar-free sweeteners in your local grocery or health food store or buy them on Amazon.
Why I Love Honey Mustard
People who love honey mustard love it with a passion. Personally, I adore it. It's the perfect combination of sweet and tangy with a creamy, velvety texture. It's versatile as both a low carb dipping sauce for chicken nuggets, chicken tenders, chicken strips or chicken wings or as a salad dressing drizzled over a simple grilled chicken salad.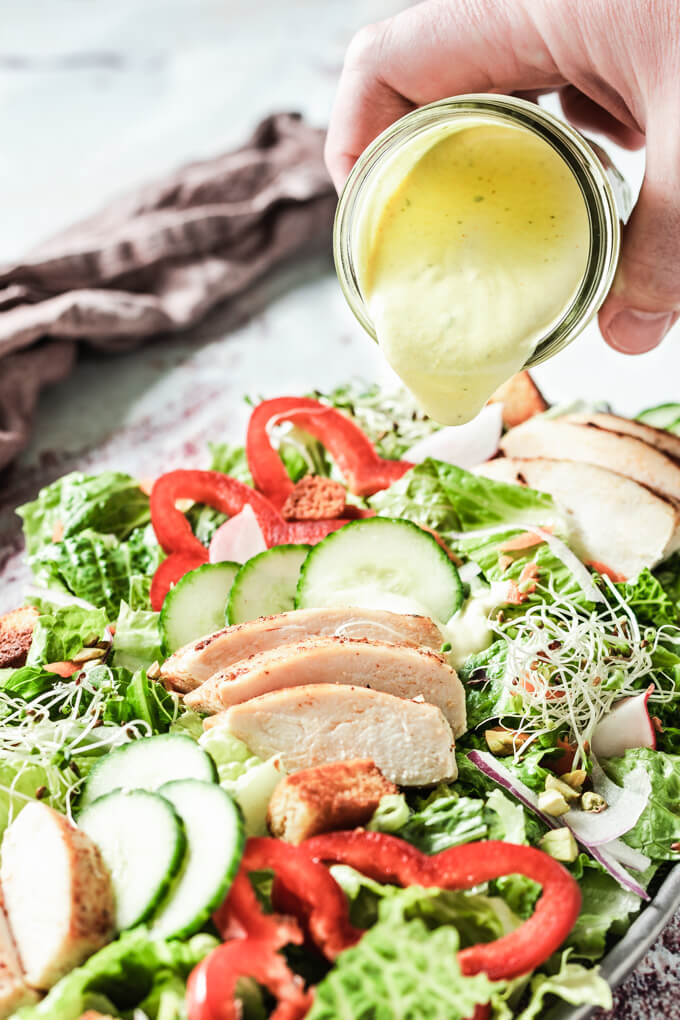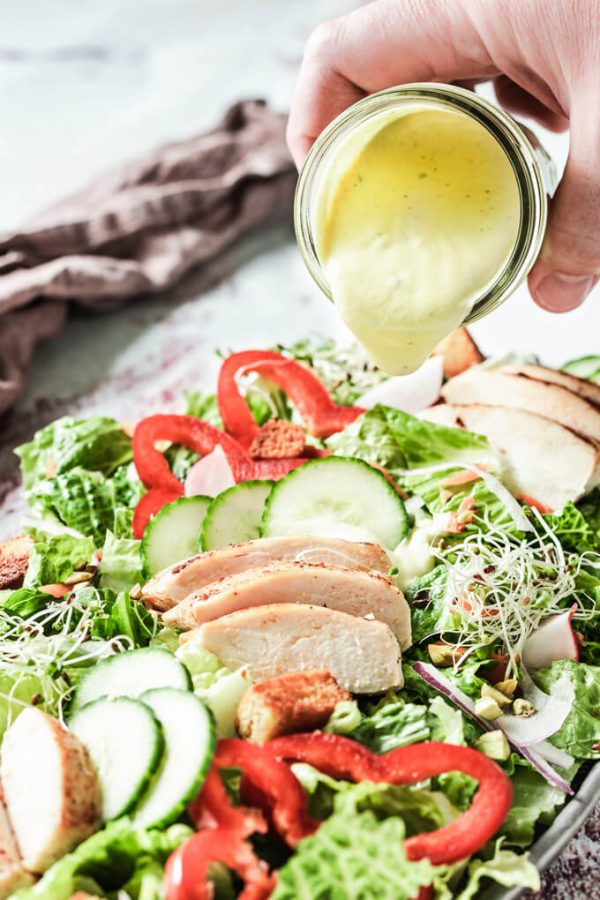 Homemade Keto Honey Mustard Recipe
Low carb honey mustard dressing is quick and easy to prepare. You'll have it whipped up in no time. Start by measuring real mayonnaise into a small mixing bowl. Opt for full-fat products that are labeled "real mayonnaise," which are made of vegetable oil, vinegar, egg yolks, and lemon juice. Stay away from products labeled "salad dressing," which contain more sugar.
Combine the mayonnaise with any kind of mustard you like. I prefer Dijon mustard or a combination of Dijon and yellow mustard. Whisk the mayonnaise and mustard together until smooth. Next, whisk in the cream. You could also use almond milk if you have a dairy allergy.
Although this dressing tastes pretty decent with just three ingredients, adding some flavor in the form of onion powder, garlic powder, cayenne, and tarragon or dill works magic. A splash of fresh lemon juice or white vinegar adds extra tang. While low carb honey mustard can be served immediately, it will thicken overnight in the fridge and the flavor will deepen.
Does honey mustard dressing need to be refrigerated?
Because keto honey mustard dressing contains dairy and mayonnaise, it should be stored in a clean, airtight container and placed in the refrigerator within two hours. It will keep in the refrigerator for up to 10 days.
If you don't feel like making your own keto honey mustard dressing and want to try some already made, check out Walden Farms Near Zero Honey Mustard Dressing or Skinny Girl Honey Mustard Salad Dressing. Both are available on Amazon.
Looking for more low carb salad dressing options? Lemony Caesar Dressing is a delicious way to liven up any salad or as a dipping sauce for veggies.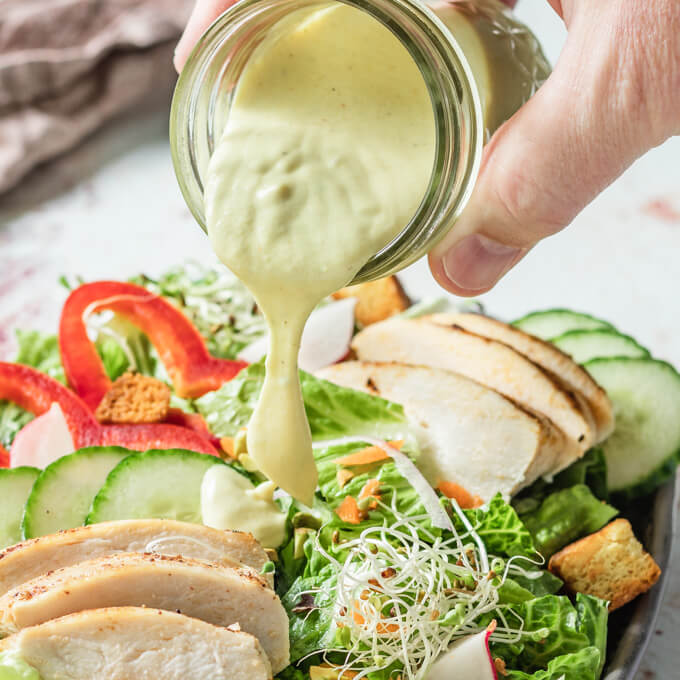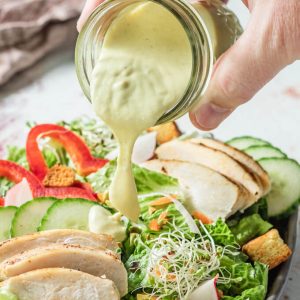 Keto Honey Mustard Dressing / Dipping Sauce
Keto honey mustard is a rich, creamy low carb sauce perfect for dipping or dressing a salad. Whip up this quick and easy sauce in minutes.
Print
Pin
Rate
Ingredients
3/4

cup

mayonnaise

1/2

cup

Dijon Mustard

1/4

cup

heavy cream

(or almond milk)

3

tbsp

low carb powdered sugar

(Swerve Confections or Lakanto Confectioners)

1

tbsp

lemon juice

(or white vinegar)

1/4

tsp

granulated garlic powder

1/4

tsp

onion powder

1/4

tsp

dried tarragon, rubbed between fingers

(or dill)

1/8

tsp

cayenne pepper

salt and pepper to taste
Instructions
Method:
Measure mayonnaise and mustard into a small bowl and whisk together.

Whisk in the cream (or almond milk) a little at a time.

Add the vinegar and the remaining ingredients.

Taste to adjust seasonings and thin to desired consistency. It will thicken more overnight in the fridge and the flavor will deepen.

Store in a clean, airtight container in the refrigerator for up to 10 days.

Makes 1 1/4 cups, with 1/4 cup per serving.

NOTE: I count this dressing as 1 net carb per serving because of the mustard, which is a ground seed.
Nutrition
Calories:
248
kcal
|
Carbohydrates:
0.11
g
|
Fat:
26.4
g
|
Sodium:
192
mg