There's no tastier way to break my morning fast than with a delicious cup of keto coffee with butter and MCT oil. Banish hunger and enjoy increased energy and mental focus with each delicious cup of butter coffee. Read on to discover how drinking fat coffee can support your low carb keto diet. Does it do what it promises? YES!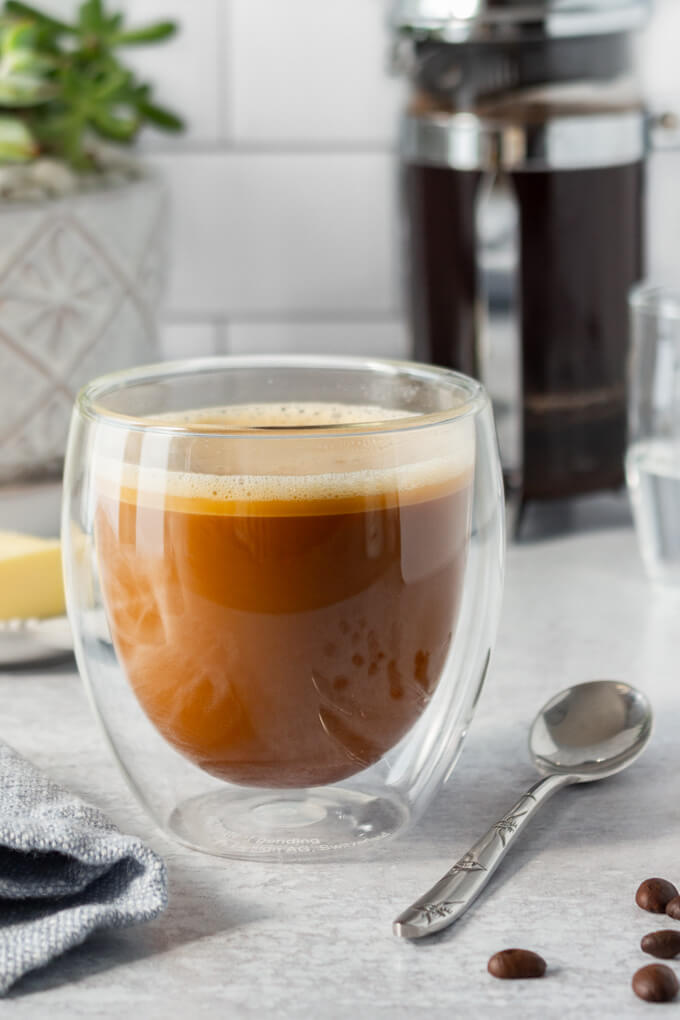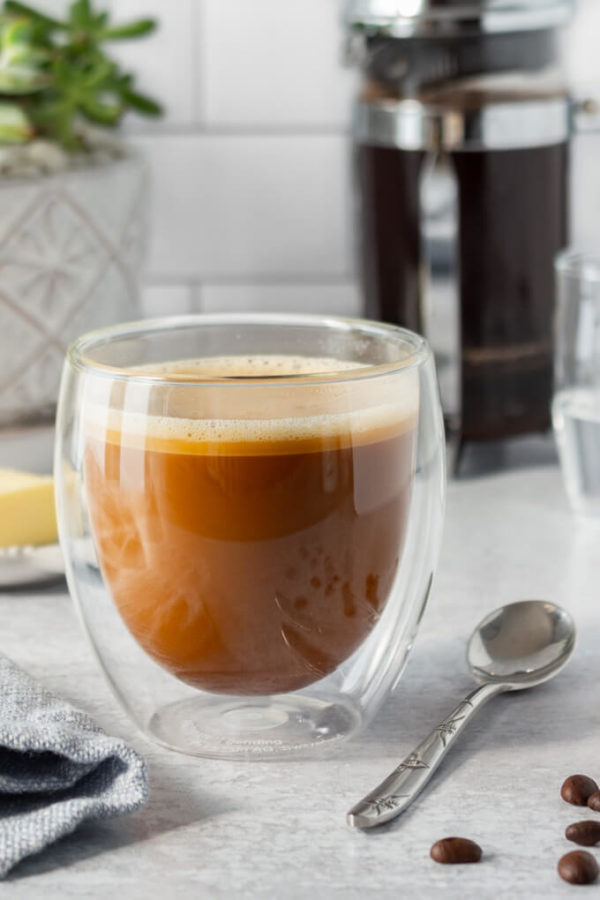 THIS POST INCLUDES AFFILIATE LINKS TO SHARE THE THINGS I LOVE.
What is Keto Coffee & Why Drink Coffee with Butter?
Keto coffee (also known as butter coffee and bulletproof coffee) combines coffee and fats to support weight loss for those following low carb diets. Caffeine stimulates mental focus (1), medium chain fatty acids supply energy and encourage fat burning (2), and grass-fed butter provides vital omega 3's.
Medium chain fatty acids, found in coconut oil, convert easily into ketones (3). Ketones are everything! In the absence of carbs (glucose), ketones fuel our brains and body, suppress appetite, and help us lose weight by burning fat (4). Grass-fed butter provides additional fat to curb appetite and contains Omega 3 fats which reduce inflammation and protect brain health. Butter also provides creaminess and body to coffee.
In its beginning, keto coffee was simply coffee with spoonful of coconut oil stirred into it. Later, it improved with the popular bulletproof coffee recipe from Dave Asprey, founder of Bulletproof.com. He's credited for combining grass-fed butter and pure MCT oil with coffee and blending them together. Blending emulsifies the fats into the coffee producing a delicious latte-like drink complete with foamy top.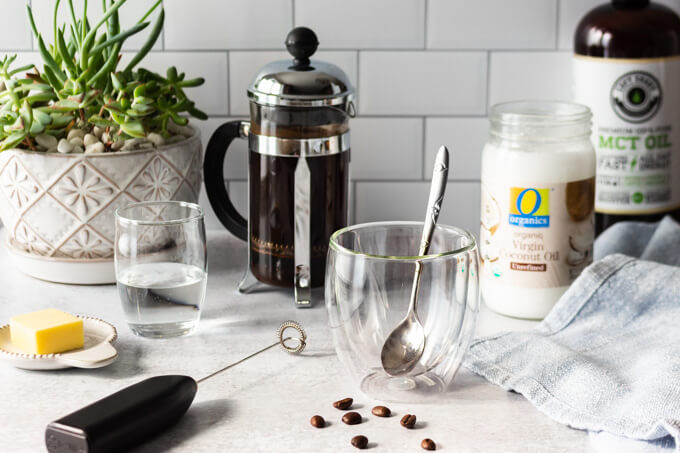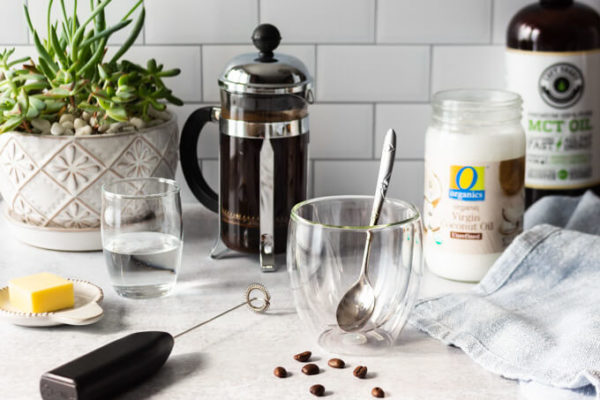 How to Make Keto Coffee With Butter (Bulletproof coffee)
Making keto coffee is easy and consists of three easy steps:
BREW 6-8 ounces of coffee your favorite way. I have a French press pot and a Keurig coffee machine, but trendy pour-over coffee makers and drip machines work equally well.
BOOST your coffee by adding equal amounts of grass-fed butter and MCT oil (or coconut oil). Start with 1 teaspoon each and work your way up to 1 tablespoon. I find that adding the fats to my mug before pouring in the hot liquid helps them melt better. Don't want to fool with butter and oil? Try adding heavy cream and exogenous ketones to your coffee for instant energy and focus. My favorite flavor is chocolate raspberry.
BLEND. Blending the fats into the coffee with an electric milk frother emulsifies the fat into the liquid. This produces a cup of coffee with nice body very similar in taste and texture to a latte complete with foam. It's utterly delicious.
Helpful Ideas
SIMPLE HACK! Crunched for time in the morning? Blend equal parts softened butter and softened coconut oil with a spatula or melt them and stir thoroughly. Place mixture into silicone fat bomb molds and refrigerate. Pop the solid fat out of the molds and store in an airtight container or bag in the refrigerator. Put one or two cubes in your coffee mug, pour hot coffee over, and blend.
NOT A COFFEE FAN? MAKE KETO TEA! Bulletproof your favorite tea with butter and MCT oil and experience the same benefits! I love this Creamy Bulletproof Matcha Latte recipe.
KETO COFFEE CREAMERS are awesome! Make your own instant keto coffee, flavored liquid keto coffee creamer (like Coffee Mate) or your own instant sugar free coffee creamer!
ALLERGIC TO DAIRY? Try cocoa butter in place of butter and full-fat coconut milk for heavy cream.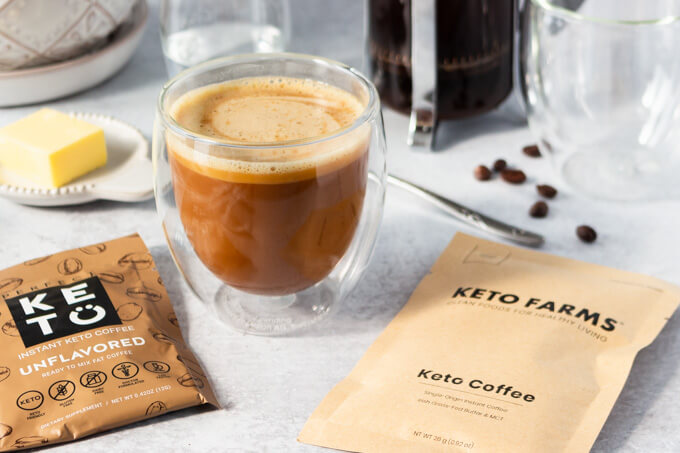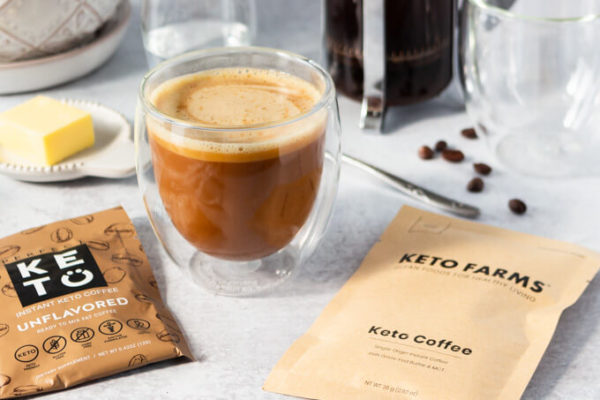 Where to Buy Keto Coffee to Enjoy On-the-go
Indulge your morning ritual on business trips and vacations with single serve packets of keto coffee or MCT oil. I buy mine online from Amazon, where they have several varieties available.
Two companies I like for instant keto coffee packets are Perfect Keto and Tokalau MCT Coffee. Just add hot water, stir and enjoy. Don't forget your milk frother!
Another option to try are these handy packets of Bulletproof Brain Octane or MCT oil packets from FBOMB. Make sure to pack them in a heavy-weight zippered bag when packing them in your suitcase!
Butter Coffee FAQ's
What is butter coffee? Butter coffee is another name for keto coffee in which butter is added for richness and to boost fat.
Why put butter in coffee? Butter is delicious and provides a rich, creamy texture when blended into a cup of coffee.
What does butter in your coffee do? Adding butter to coffee provides a rich taste and creaminess when blended into coffee. Butter also provides a small amount of omega 3's which are often lacking in the standard American diet.
How much butter should you put in your coffee? How much butter in coffee depends on you. Most people add 1 teaspoon to 1 tablespoon of grass-fed butter or ghee to their keto coffee.
How much butter do I need for bulletproof coffee? Again, the amount of butter you add to your bulletproof coffee is up to you. Most people add equal amounts of butter and coconut oil or MCT oil. Start with 1 teaspoon of each, then gradually increase up to 1 tablespoon each per a 6-8 ounce cup of coffee to make bulletproof coffee.
How many times a day can I drink Keto coffee? It's best to drink keto coffee in the morning to break your fast, then have your next meal in the afternoon. Those who exercise vigorously in the morning use keto coffee as a pre-workout fuel. People who engage in intermittent fasting commonly have 1-2 cups of keto coffee in the morning, then fast until dinnertime.
Does butter in your coffee break your fast? Yes. Consuming more than 20 calories will break a fast.
Now, you have all the information you need to make a delicious cup keto coffee just the way you like it. Enjoy!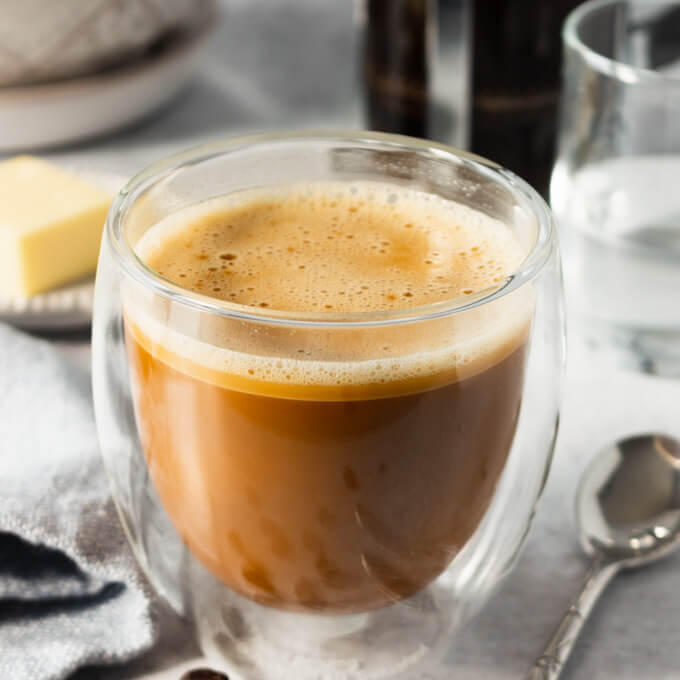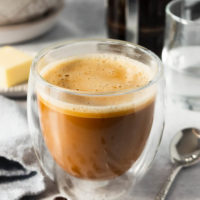 Creamy Keto Coffee with Butter (keto coffee with MCT oil)
Butter and MCT oil combine with coffee to make a creamy latte-like drink complete with foam. Banish hunger and enjoy increased energy and mental focus with each delicious cup of keto coffee.
Print
Pin
Rate
Equipment
coffee maker

Electric Milk Frother
Ingredients
6-8

ounces

Fresh brewed coffee

2

tsp

Grass-fed butter

(or ghee)

2

tsp

MCT oil

(or coconut oil)

1

tbsp

Heavy cream

Low carb sugar

to taste
Instructions
Measure butter, MCT oil (or coconut oil) and cream into a coffee cup.

Pour 6-8 ounces of freshly brewed coffee into cup.

Blend ingredients with an electric milk frother until combined and a rich foam appears on top. Alternately, use an immersion blender, stand blender, or magic bullet.

Sweeten to taste. Best enjoyed while hot.

Makes 1 keto coffee at ZERO NET CARBS.
Notes
This is how I like my keto coffee. You may add more butter, MCT oil or heavy cream to your taste. Additionally, flavor your coffee with flavor extracts, sugar-free Torani or Skinny Syrups, or spices. Sweeten with a low carb sugar substitute like erythritol, xylitol, stevia, or monk fruit. 
Nutrition
Serving:
1
cup of coffee
|
Calories:
204
kcal
|
Carbohydrates:
0.01
g
|
Protein:
0.36
g
|
Fat:
23.15
g
|
Cholesterol:
40
mg
|
Sodium:
11
mg
|
Sugar:
0.01
g