This moist and delicious keto chocolate mug cake is the perfect size for one. Made with almond flour and cocoa, it has a perfect cake texture.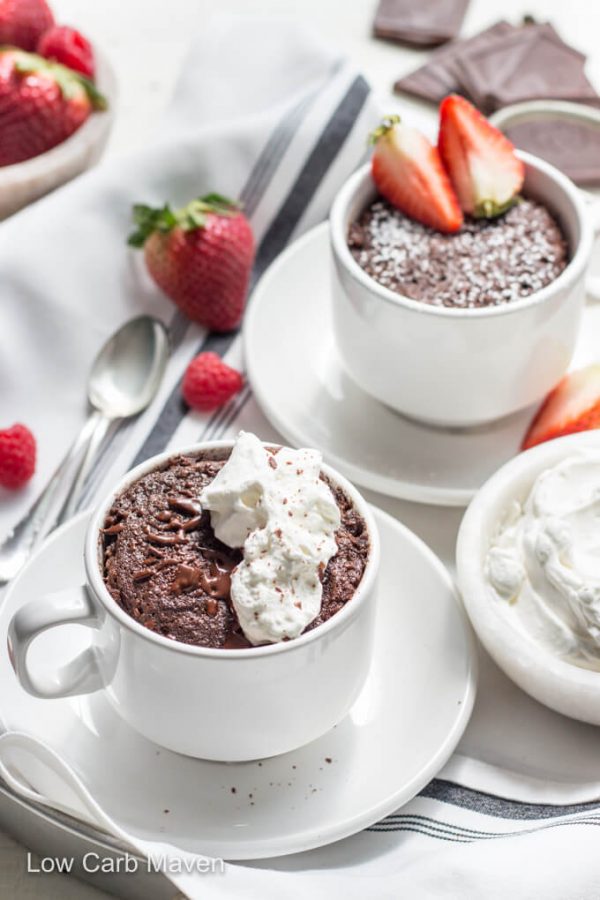 If you're a woman, you probably understand what I'm about to say, but sometimes I could literally go-out-of-my-mind for something chocolate. It doesn't matter what it is – a chocolate smoothie, a chocolate cookie, a chocolate truffle, or a piece of chocolate cake.
When this chocolate craving hits, I don't want to get out 12 ingredients and wait 40 minutes for a keto cake to bake. I want something fast and delicious and NOW! But, it has to be a single serving cake because, Lord knows, I would eat a whole cake if it was available. (Okay, so that was an exaggeration, but not by much!)
Keto Chocolate Mug Cake
My chocolate craving buster of choice is this keto chocolate mug cake. It's super easy and the texture and taste is like the real thing – we're talking a real chocolate cake in a mug!
I like to use cute ½ pint wide mouth mason jars for my cakes because I LOVE THEM. They are the perfect size for this 6 oz (volume) chocolate mini cake, but a small cappuccino cup works, too.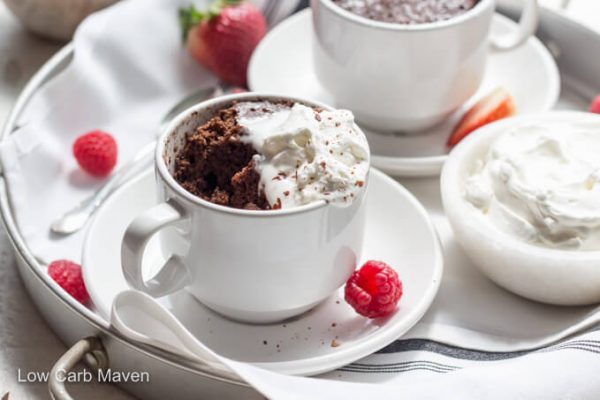 The fact that the chocolate cake cooks in just 50-60 seconds is even more attractive. There's no excuse to go out and grab a snack from somewhere else when you can make this at a moments notice.
And because keto mug cakes are a single serving, I could literally eat a whole cake and not feel guilty about it. Something this delicious is the perfect cheat.
I know many of you are into "cheat days". While some of you go off-plan, I think it's fun finding something on-plan that tastes great and kills that chocolate craving.
Next level keto chocolate mug cake!
To take this cake to the next level try some of these ideas.
add a few berries to the batter
add 1/16-1/8th teaspoon flavoring extract to the batter
put a spoonful of sugar-free jelly in the center of the batter
place a small square of dark chocolate in the middle of the batter before cooking
put a spoonful of sugar-free chocolate hazelnut spread in the center of the batter
top with sugar-free homemade hot fudge or store bought sugar-free chocolate sauce
top with whipped cream or whipped coconut cream
sprinkle cinnamon, cocoa powder, powdered sweetener or grated chocolate on top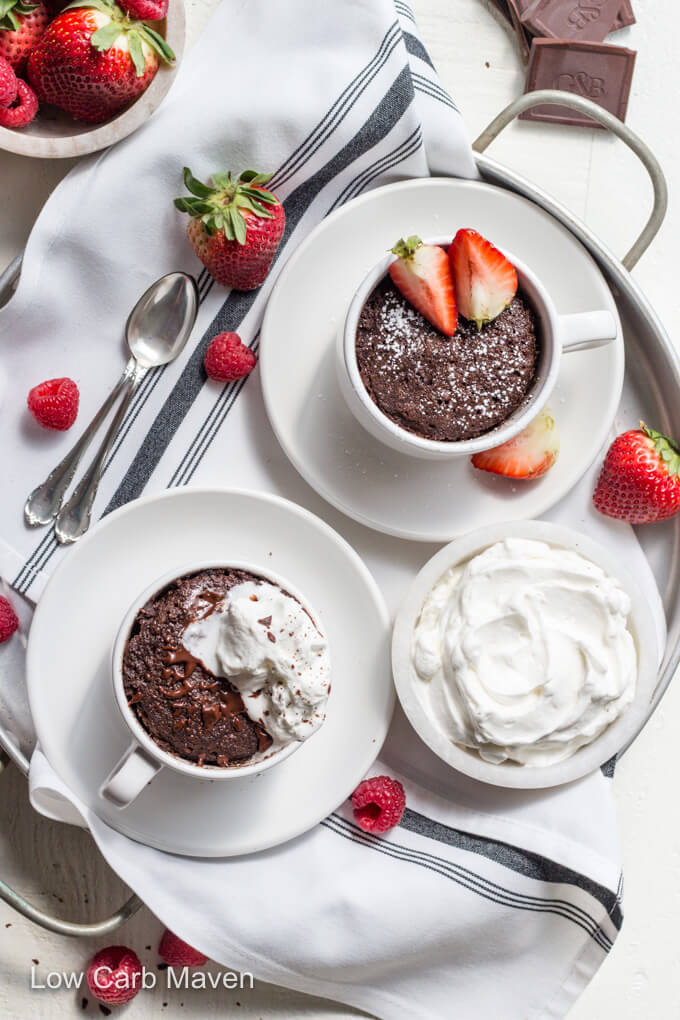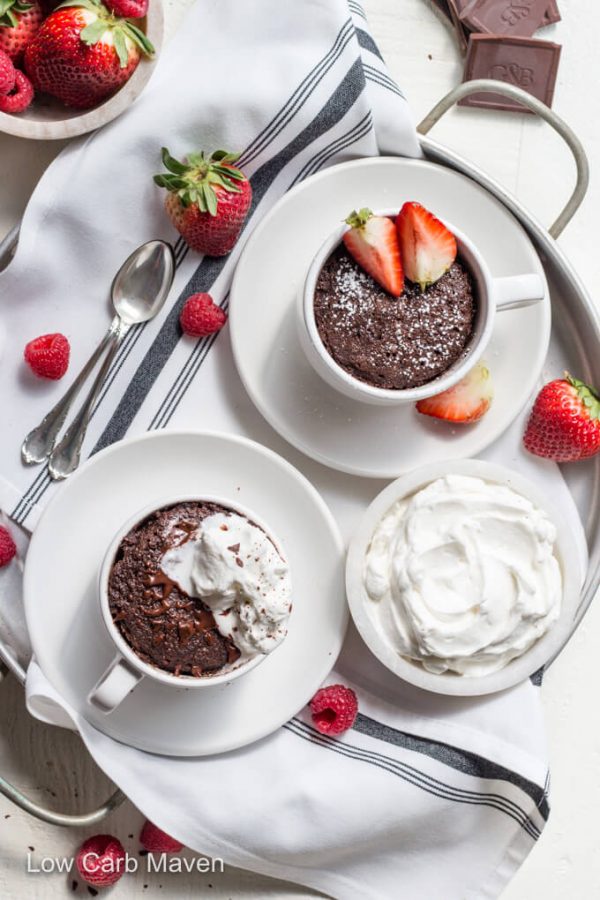 Why this keto chocolate mug cake is different:
Most mug cakes call for a whole egg. While this is efficient, it produces really dense and tough cakes. It took me about 15 tries to get this recipe just where I want it in taste and texture. The secret is using just the yolk and some mayonnaise. The yolk adds structure to the cake and the mayo makes it nice and moist.
This recipe works very well as a peanut butter mug cake, too. Make sure to see the peanut flour mug cake recipe I did for Sukrin USA.
What to do with that leftover egg white!
So now you have a leftover egg white. What do you do with it? Add it to another baking recipe, add it to the egg when making homemade mayonnaise, Whip it and fold into cream cheese clouds, or add it to your morning eggs.
-OR- Wait for it….. save it to make another mug cake. A single egg white works in this recipe, too.
Egg whites freeze really beautifully. I freeze three at a time so I always know how many are in any container I pull from the freezer. They are especially great in psyllium bread recipes or in buttercream frosting.
This easy Keto Chocolate Mug Cake is 3 net carbs per cake.
[Post and recipe may contain affiliate links. Purchasing through a link may result in my earning a small consideration at no extra cost to you.]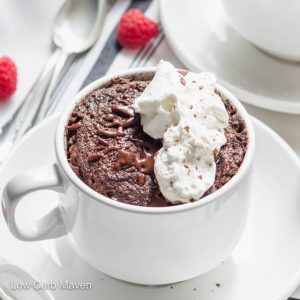 Keto Chocolate Mug Cake
This moist and delicious keto chocolate mug cake is the perfect size for one. Its taste and texture is just like a real cake! It's also dairy-free, gluten-free and sugar-free.
Print
Pin
Rate
Instructions
CAUTION:
Be very careful using only stevia to sweeten chocolate baked goods. The bitter compounds in stevia and the bitter compounds in chocolate have a synergistic effect, making your treat terribly bitter!
Preparation:
Fluff up the almond flour with a whisk before measuring and SIFT THE COCOA POWDER BEFORE MEASURING. (I sift any cocoa powder I buy and keep it in an air-tight container. This breaks apart any lumps for more accurate measuring. Using compacted cocoa results in using more cocoa and a bitter cake.)
Method:
Measure the dry ingredients into a mug or jelly jar and mix completely with a fork.

Add the mayonnaise, egg yolk, and water, stirring completely making sure to get it all from the bottom. Let batter sit 1-2 minutes.

Microwave for 50 seconds, depending on your microwave. 3 Net Carbs.

NOTE: Although the texture is a little different, 1 large egg white can be used instead of the large egg yolk, solving the problem of a leftover egg white.
Notes
TIP: To have this recipe ready at your fingertips, measure the dry ingredients into a small lidded jar. When you are ready to have your cake stir the yolk, water, and mayo to the dry mix and cook. (I often have several jars of this mix ready to go in the pantry!).
Nutrition
Calories:
272
kcal
|
Carbohydrates:
7
g
|
Protein:
9
g
|
Fat:
23
g
|
Fiber:
4
g