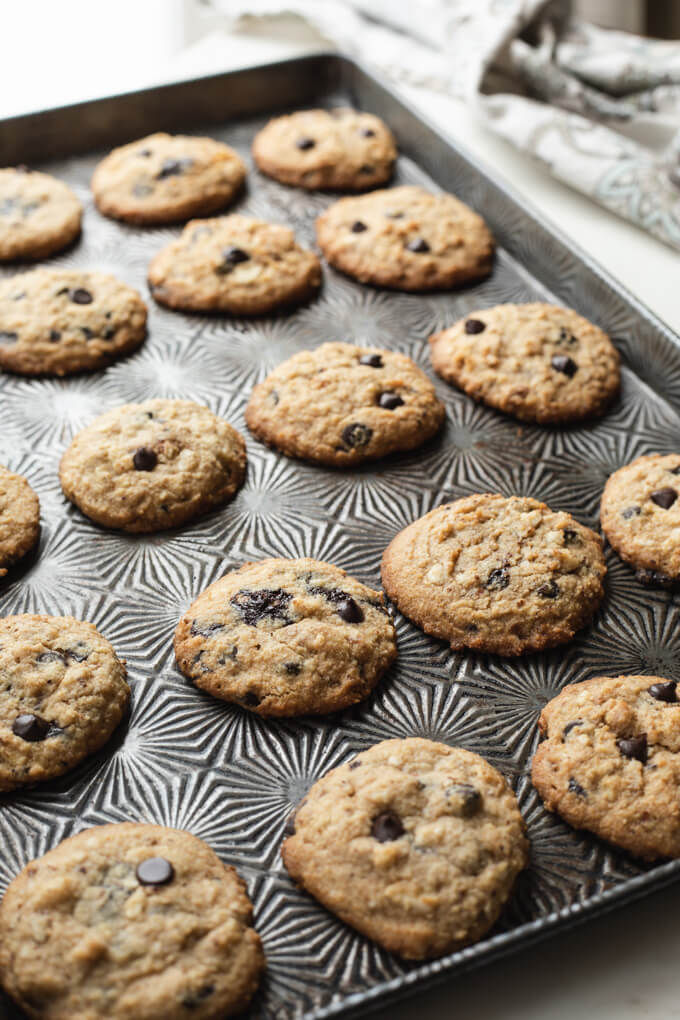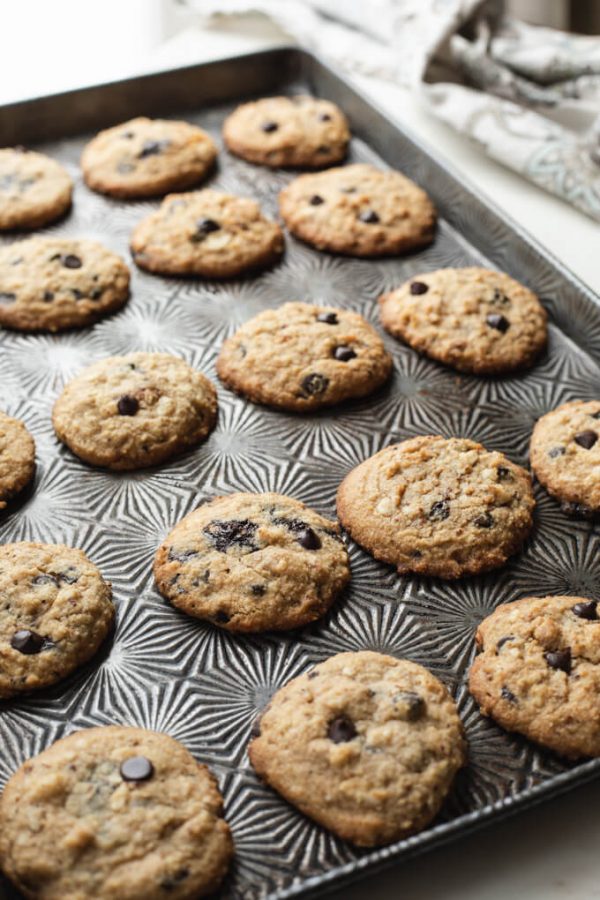 These keto chocolate chip cookies are the real deal! Lightly sweet almond flour cookies with walnuts and dark chocolate boast a true cookie texture. A great low carb treat!

THIS POST CONTAINS AFFILIATE LINKS TO THE PRODUCTS I LOVE!
My father is a professed cookie monster, and I am definitely my father's daughter in that regard! So, making a cookie that I actually want to eat is important. I don't know about you, but I just couldn't live in a world without low carb keto cookies!
Some of my favorite low carb keto cookie recipes are my Sugar-Free "Oatmeal" Cookies which have the look and texture of a real oatmeal cookie. I also love the Low Carb Chocolate Cookies with Sesame Seeds which have a nice crispy texture and the taste of a rich chocolatey brownie! And who can say no to Low Carb Peanut Butter Cookies? Not me!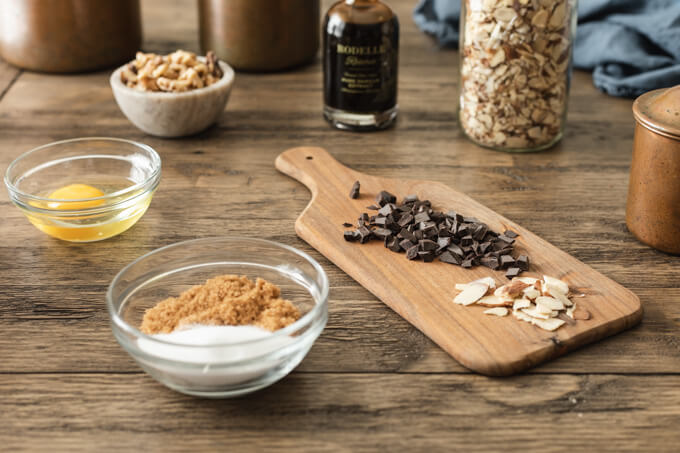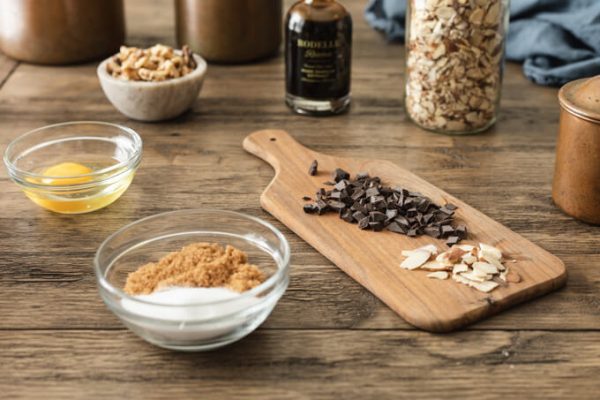 Low Carb and Keto Cookies
One thing that's hard to get right in low carb baking is that perfect cookie texture. Most low carb cookies are cake-like or so crumbly that they fall apart when you take a bite. Sometimes, they are overly dry and taste like sawdust!
The reasons for less than perfect keto cookies are the limits of low carb flours and the absence of sugar. Luckily, there are a variety of supplemental ingredients and techniques that can aid us in achieving a pleasing cookie texture.
Not everyone is willing to buy extra ingredients – they want to keep things as simple as they can. That's cool. But there are those of use who love to bake and develop recipes that are as close to the real deal as possible. We love the challenge of bending ingredients to our will!
I worked on this keto chocolate chip cookie recipe many times to get it just right. I didn't want the batter to spread too thin and burn. Instead, I aimed for a crispy exterior and more chewy center. I got what I wanted!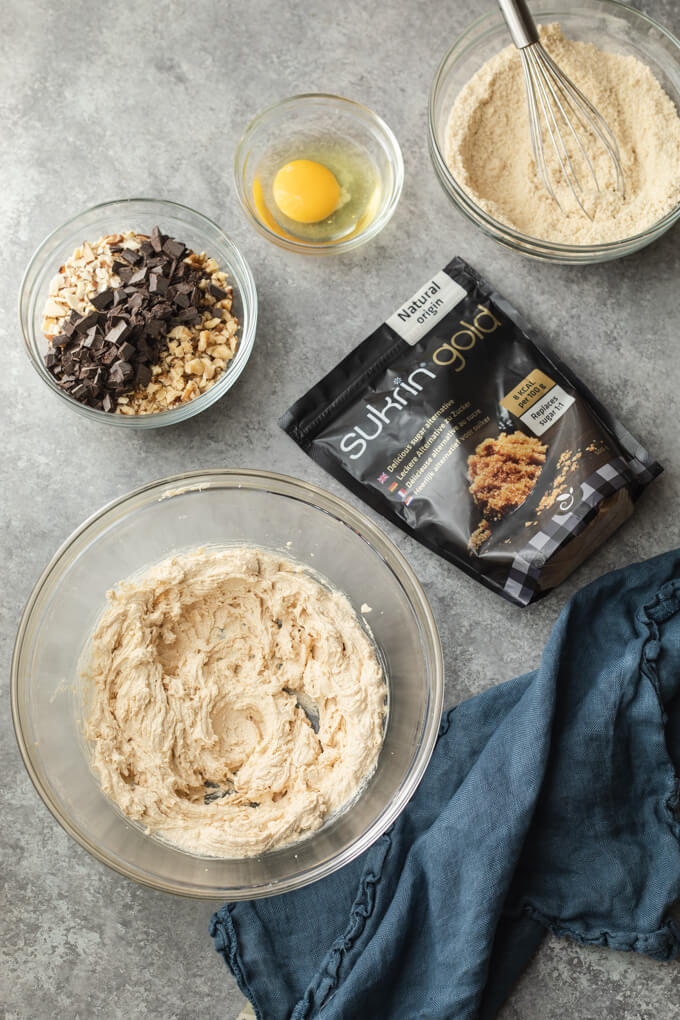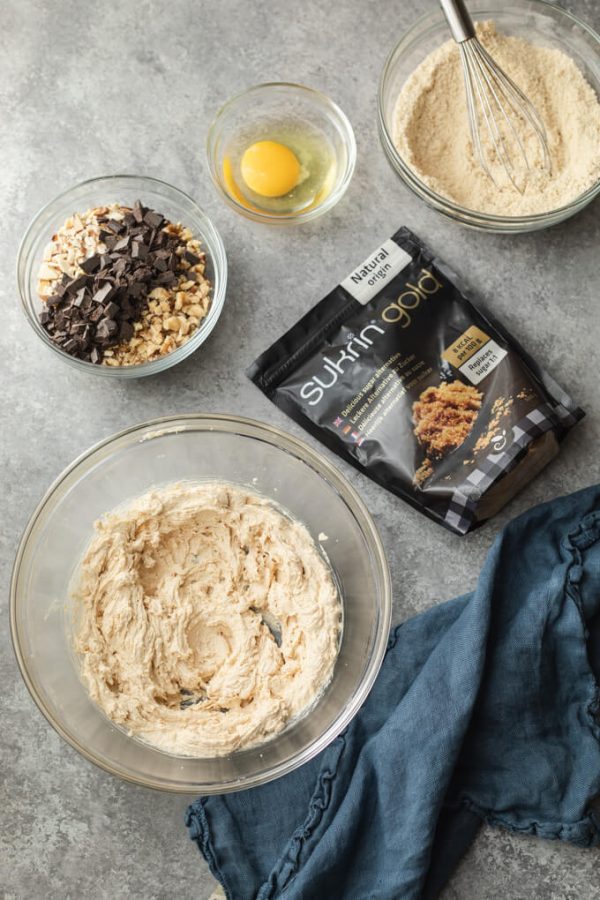 Keto Chocolate Chip Cookies
As with traditional chocolate chip cookie recipes, creaming the butter and vanilla extract with the low carb sugar alternative is key. Creaming is an important step for low carb cookies (and cakes) because it introduces thousands of tiny bubbles into the batter. Alternative flours are heavier and need all of the help they can get!
Whisk the dry ingredients together and beat them into the butter mixture. Add the egg, mixing thoroughly. Finally, mix in the chocolate and sliced almonds.
For a completely sugar-free chocolate chip recipe use Lily's Sugar Free Chocolate Chips or Sukrin's Puur Noir Chocolate found at Sukrin USA. I like really dark chocolate and chopped up half a bar of Ghirardelli Intense Dark Moonlight Mystique. I only did this to add a little variation in the texture and appearance of the cookies.
If you don't like chocolate, try adding chopped strawberries or blueberries. I came across this keto blueberry cookie the other day.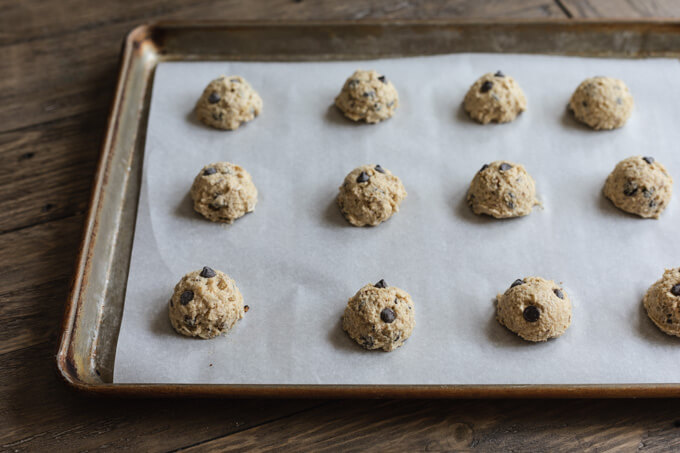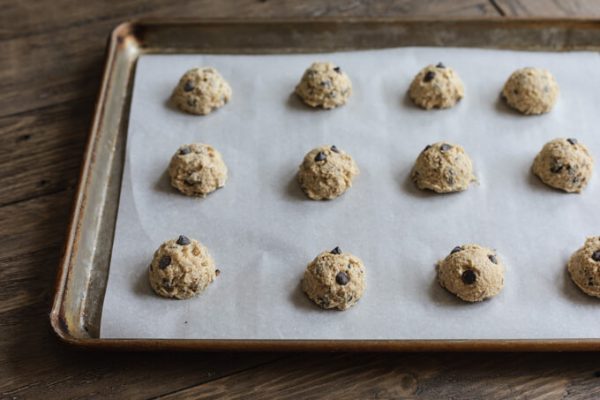 Notes About These Keto Chocolate Chip Cookies
Ingredients
I used a small amount of oat fiber in this recipe. I feel oat fiber gives a nice almost-like-flour flavor to the dough and enhances the texture of the cookies. You can sub coconut flour for the oat fiber, but it will change the flavor and may slightly affect texture.
Of course no chocolate chip cookie would taste right without a good low carb brown sugar substitute!
I LOVE Sukrin Gold Brown Sugar Alternative – it's my favorite and tastes exactly like brown sugar. I use it in all of my holiday baking. I'm convinced it's why my Low Carb Pumpkin Bread is to die for and my Maple Walnut Scones are so good. And, it makes a great Sugar-free Caramel Sauce!
Sliced almonds help prevent the chocolate chip cookies from spreading out too much. I discovered this trick while working on my sugar-free oatmeal cookie recipe. Omit the sliced almonds if you want the cookies thinner.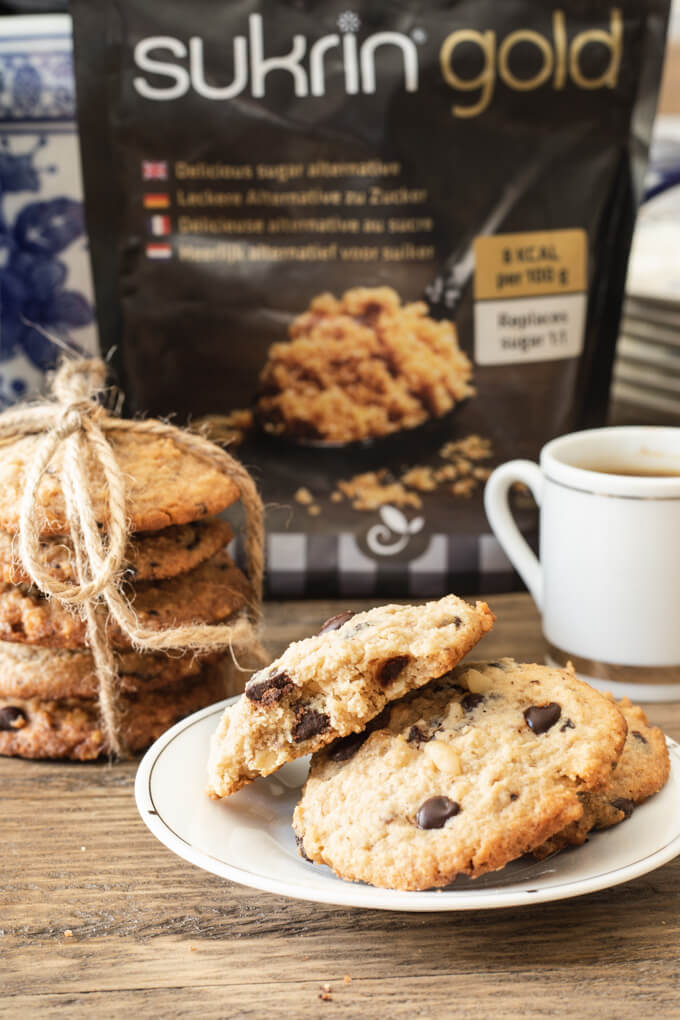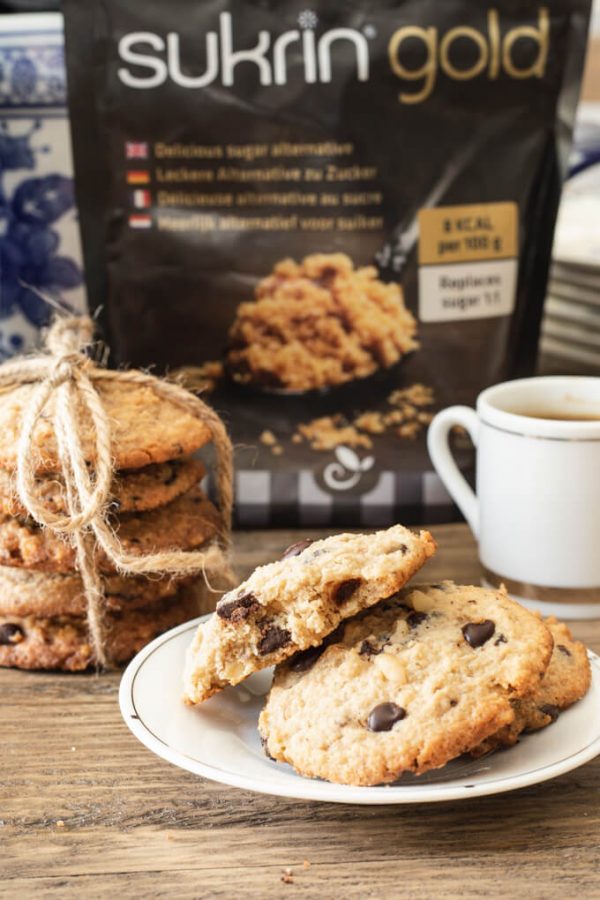 Baking
The baking temperature and time listed in the recipe is what worked for the ingredients as listed on a professional quality aluminum half sheet lined with parchment. I have standard sized gas oven. You may need to adjust the temperature and time to suit your oven, especially if you have a smaller electric wall oven.
Storing
Store these keto chocolate chip cookies in an airtight container and keep them on the counter for a week or in the refrigerator for two weeks. If kept on the counter they will be softer, and if refrigerated, they will be more crisp. Freeze baked cookies in a plastic zipper bag and thaw in the refrigerator. Heating them a few seconds in the microwave makes them soft.
Freezing
Does the dough freeze? Yes, the dough freezes beautifully. Thaw in the fridge before using. I have not baked pre-formed frozen cookies. I recommend that you leave the dough on the counter to warm up a bit before portioning and baking. The amount of fats in the cookies makes refrigerated dough very firm. Scooping cold dough compacts it causing a lower yield and cookies that do not spread.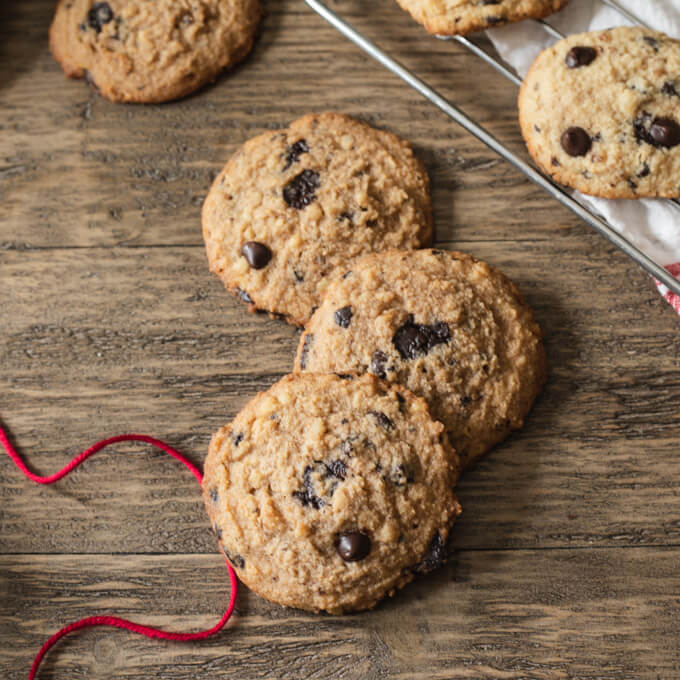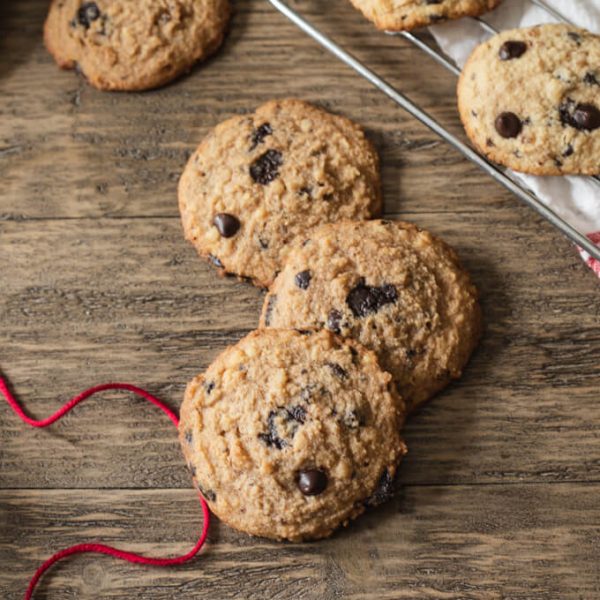 Portioning
If you don't have a cookie scoop, then you are missing out. I absolutely love my cookie scoop. I find that a 2 tablespoon cookie scoop is perfect. It makes portioning dough fast and easy and I love how each cookie is almost the same size. Much easier for keeping track of carbs.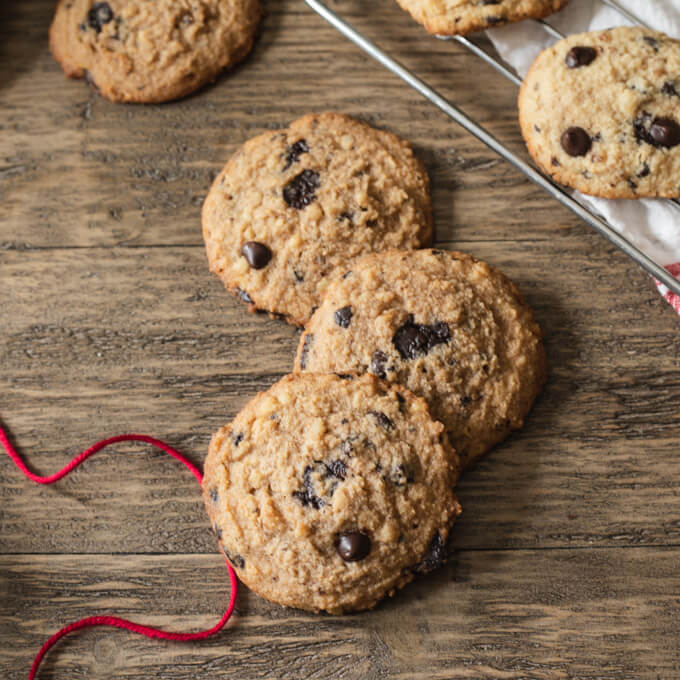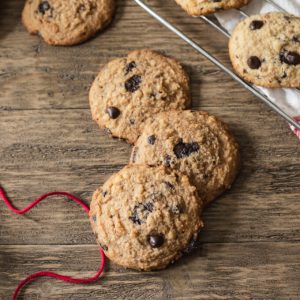 Keto Chocolate Chip Cookies
These keto chocolate chip cookies are the real deal! Lightly sweet almond flour cookies with walnuts and dark chocolate boast a true cookie texture.
Print
Pin
Rate
Ingredients
1/2

cup

unsalted butter, softened

1/3

cup

Low carb brown sugar

(Sukrin Gold, Swerve Brown, Laknto Golden)

1/4

cup

low carb sugar

(low carb granulated sugar replacement)

2

tsp

vanilla extract

1

cup

almond flour

(3.4 oz/95 g)

2

tbsp

oat fiber

(10 g)(or use 2-3 tbsp coconut flour)

2

tsp

beef gelatin

1/2

tsp

salt

1/4

tsp

baking soda

1

large

egg

2/3

cup

sliced almonds

(2 oz/56 g)

1/2

cup

walnut pieces

(2 oz/56 g)

1/2

cup

Lily's Chocolate Chips
Instructions
Preparation:
Preheat oven to 340 degrees F and place rack in the middle position. Line 1-2 baking sheets with parchment paper. Chop the almonds to resemble the texture of oats. Chop walnuts into small pieces about the size of the chocolate chips. Measure and mix the almond flour, oat fiber, gelatin, salt, and baking soda into a smallish bowl and whisk together.
Method:
Cream the butter with the vanilla, low carb brown sugar, and Sukrin :1 (brown and white sugar replacements) until light and fluffy; about 1-1 1/2 minutes.

Add all of the previously mixed dry ingredients and beat until completely incorporated. Scrape the bowl.

Thoroughly beat in the egg, then add the nuts and chocolate chips. Scrape down the bowl and make sure the ingredients are equally distributed.
Bake:
Portion the dough with a 1 1/2-2 tbsp dough scoop, or use a regular spoon, and space about 2 inches apart on the baking sheet. The dough portion should be the size of a whole walnut. I get 12 portions on one standard sized cookie sheet (half-sheet pan).

Bake for 6 minutes, remove pan from the oven and give it a few firm taps on the counter or stove to help flatten the cookies. Return to the oven for 6-8 more minutes. Let cool for at least 5 minutes before removing to a cooling rack. Each cookie is 1 net carb.
NOTE:
I get 24 cookies per batch. The nutritional info assumes 20 cookies, taking into account that people have different equipment at home. Ovens vary so adjust the oven temperature or cooking time per your oven.

Enjoy cookies after they have completely cooled and have firmed up. I keep them in the refrigerator because they tend to get soft if left on the counter. They can be frozen.

To determine the net carbs in Lily's Chocolate Chips: total carbs – fiber – sugar alcohols. Divide this total net carbs by how many cookies.
Notes
Nutrition Facts
Keto Chocolate Chip Cookies
Amount Per Serving (1 cookie)
Calories 104
Calories from Fat 93
% Daily Value*
Fat 10.3g16%
Cholesterol 12mg4%
Sodium 48mg2%
Potassium 46mg1%
Carbohydrates 2g1%
Protein 2.4g5%
Vitamin A 2850IU57%
Calcium 439mg44%
Iron 8mg44%
* Percent Daily Values are based on a 2000 calorie diet.
Nutrition
Serving:
1
cookie
|
Calories:
104
kcal
|
Carbohydrates:
2
g
|
Protein:
2.4
g
|
Fat:
10.3
g
|
Cholesterol:
12
mg
|
Sodium:
48
mg
|
Potassium:
46
mg
|
Fiber:
1
g
|
Sugar:
0.41
g
|
Vitamin A:
2850
IU
|
Calcium:
439
mg
|
Iron:
8
mg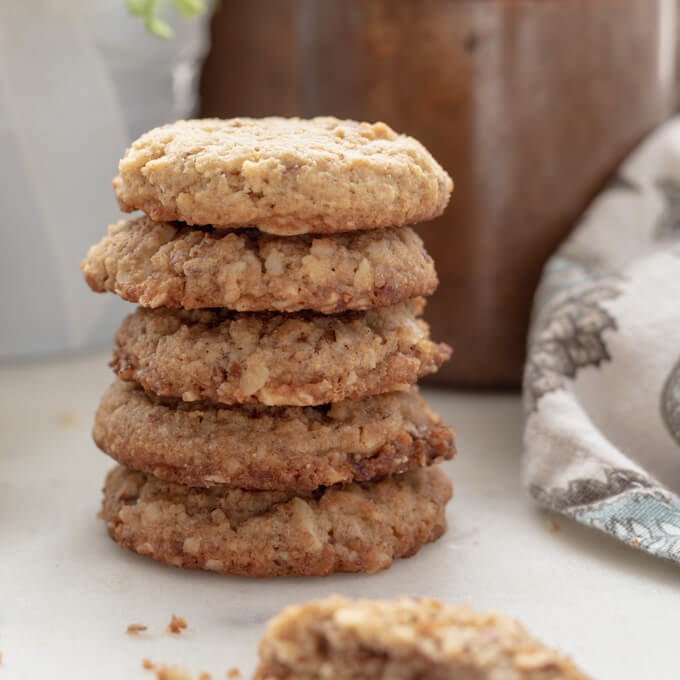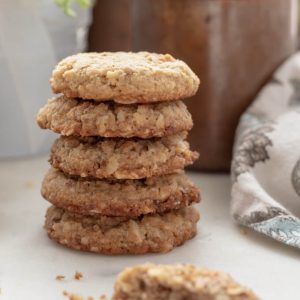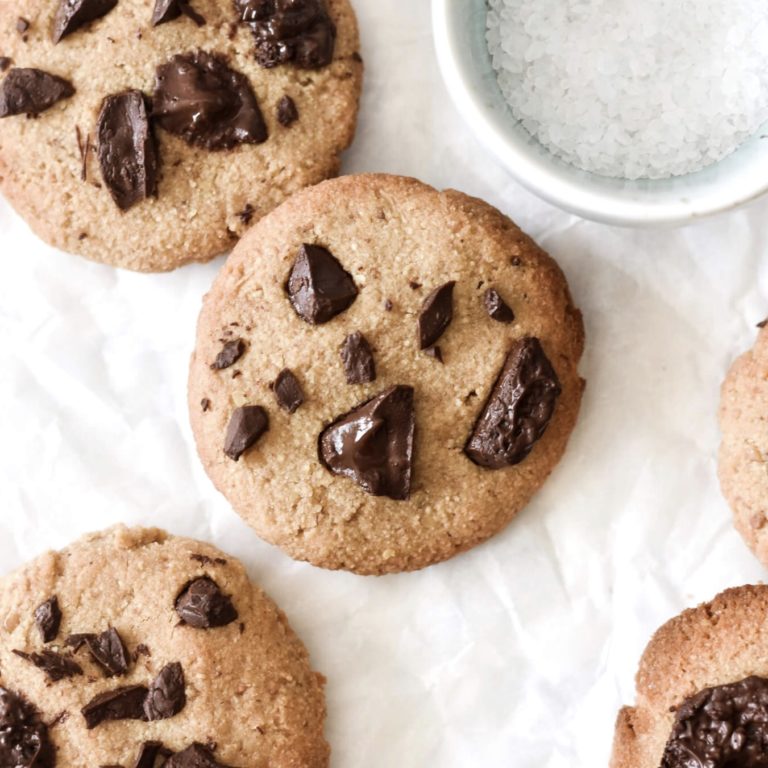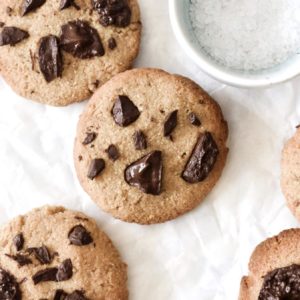 Coconut Flour Chocolate Chip Cookies (keto, vegan)