Keto chia pudding is a filling, dairy free alternative to yogurt. This creamy coconut milk pudding is a delicious make ahead breakfast option.
Do you get tired of eggs? I do. Sometimes I miss foods, like overnight oats and other things that I can eat on the go. This keto chia pudding is a great low carb breakfast that keeps me going until lunch. Making it the day before gives me that grab and go option.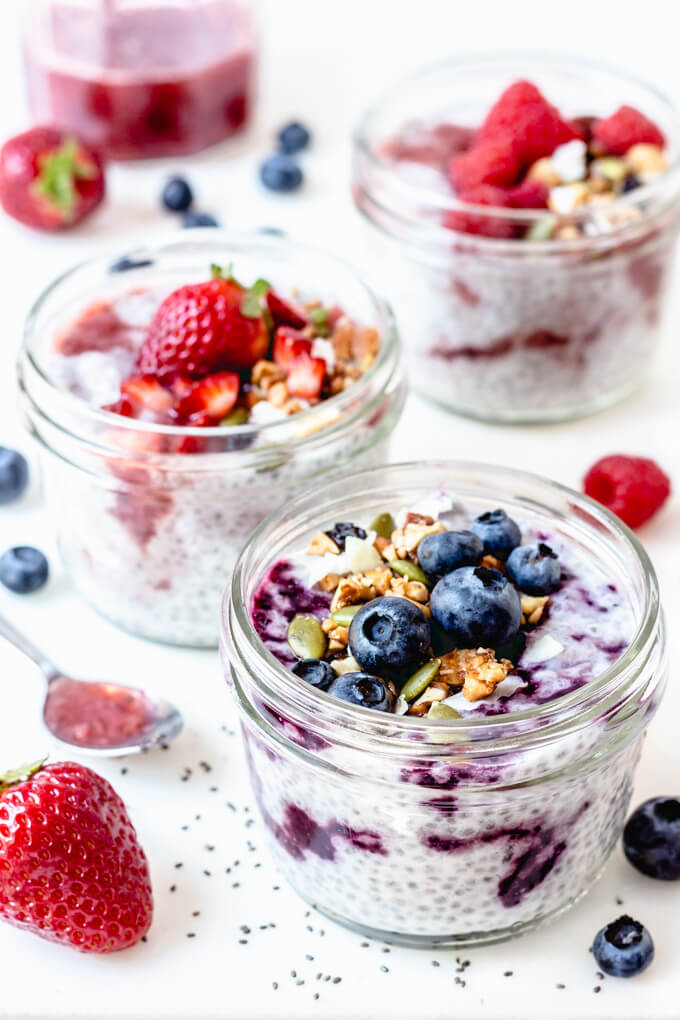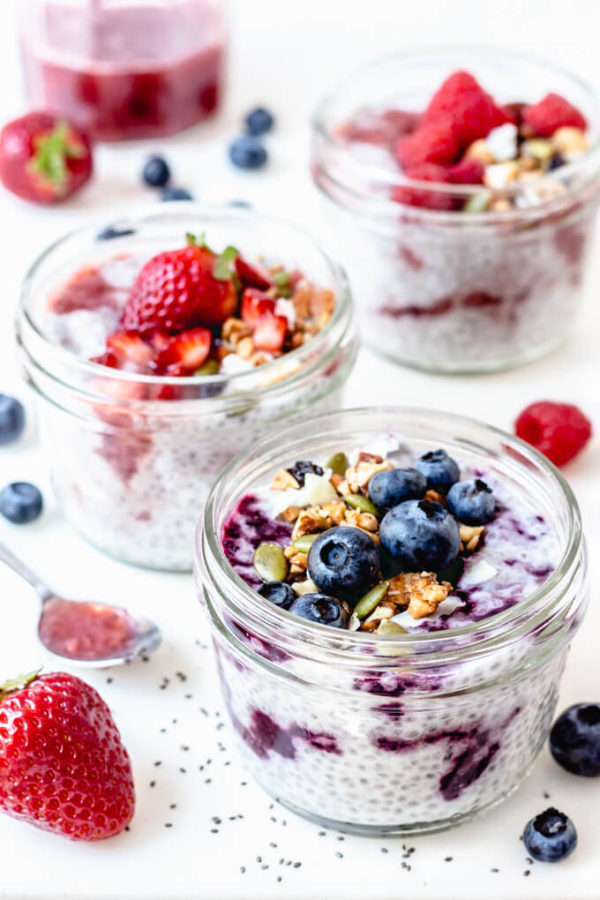 THIS POST INCLUDES AFFILIATE LINKS TO SHARE THE THINGS I LOVE.
The Amazing Chia Seed
Did you know that one tablespoon of chia seeds has 4 g carbs and 4 g fiber? That means chia seeds have a net carb of ZERO! Fiber keeps our low carb bodies happy and our tummies full. But the fact that they contain heart healthy omega 3's, protein and calcium is a big bonus.
If you've never had chia pudding before you're probably wondering, what does chia pudding taste like? Since chia seeds are neutral in flavor they take on the flavor of the ingredients with which they are mixed. Chia seeds do provide additional texture, so a little chewing is required.
Its texture is similar to that of tapioca pudding, but not as thick or as firm. As chia seeds absorb moisture they soften and swell, developing a gel-like outer coating. This makes chia seeds an excellent thickening agent for puddings and easy homemade jams like this low carb blueberry jam. Additionally, many vegan recipes use chia seeds as an egg replacer.
NOTE: Make sure to soak chia seeds in liquid or blend them in liquid before consuming. The seeds absorb a lot of liquid and stick together. They do this in the digestive system, too, if eaten raw and dry. No one wants an obstruction!
How to make the most delicious keto chia pudding with coconut milk
Making keto coconut pudding is easy. Just whisk the chia seeds and half of the coconut milk together in a small bowl. Add your flavorings, sweeten to taste and mix again. I use stevia glycerite to sweeten my pudding because isn't bitter like other stevia brands.
Refrigerate the mixture and stir well after 30 minutes to prevent the chia seeds from clumping together at the bottom of the bowl. Then, let it sit in the fridge overnight. From this point, I portion into single serve glass jars.
When ready to eat, layer your keto chia pudding with 1 tbsp of sugar free jam in serving bowl or in a small mason jar. Make it your own by topping with your favorite low carb foods: fresh berries, nuts & seeds, coconut flakes, or low carb granola.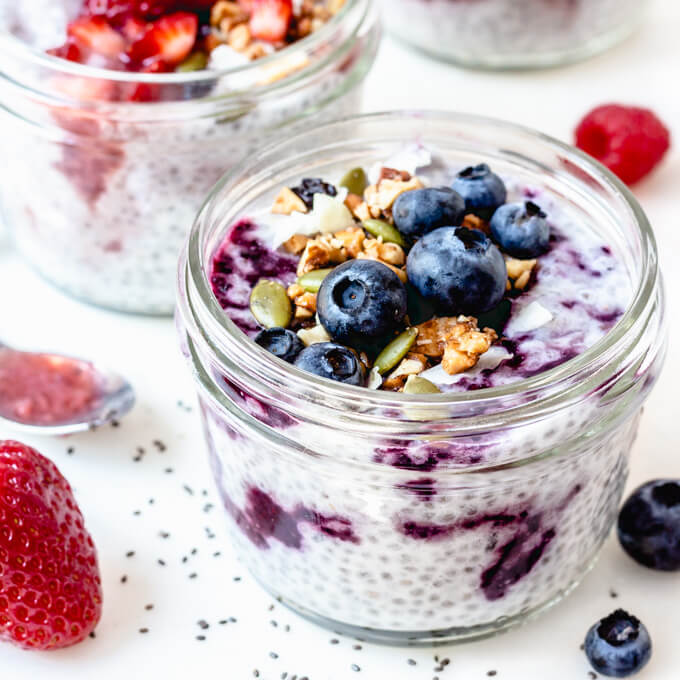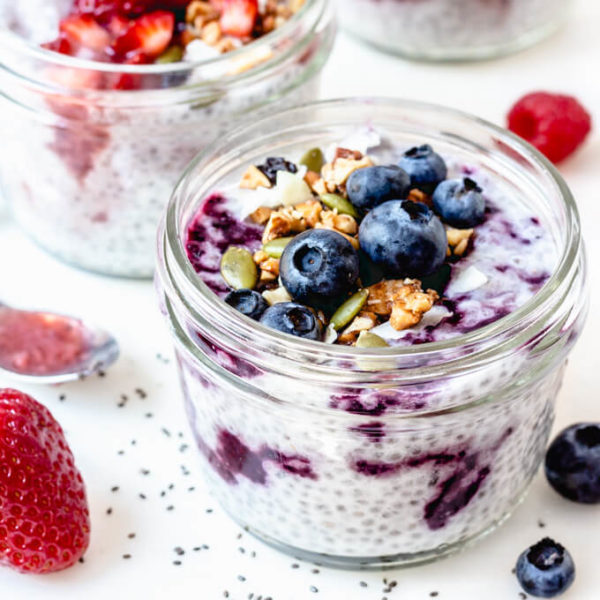 Keto Chia Pudding: Convenient and Customizable!
Keto coconut chia pudding makes a great low carb breakfast. I love that it is convenient and customizable. Although it doesn't have a lot of protein, the addition of zero carb protein powder makes it more of a meal. (See below for more ways to customize.)
I like chia pudding is made with full fat coconut milk. Coconut milk contains medium chain fatty acids (think MCT). Medium chain fatty acids are great for low carb diets because they are more likely to be used as energy than stored as fat. But feel free to use your favorite low carb milk instead.
CONVENIENCE
Aside from the health benefits, convenience is what I love best about this keto chia pudding. Making it ahead of time means it's a great breakfast option if you are on the go or in a hurry. I often make it on a Sunday, put it in grab and go containers and my meal prep for the week is done. And, it's so easy to customize!
CUSTOMIZEABLE
As I mentioned, chia pudding takes on the flavor of the ingredients with which it is mixed, so it's easy to flavor many ways. A little flavoring extract or flavored low carb syrups makes things fun. Try some of these ideas.
Adding cocoa powder to the pudding makes a great keto chocolate chia pudding, but adding keto jam is my favorite. I make my own keto jams with fresh or frozen fruit and low carb sweetener but store bought stevia sweetened jam works, too.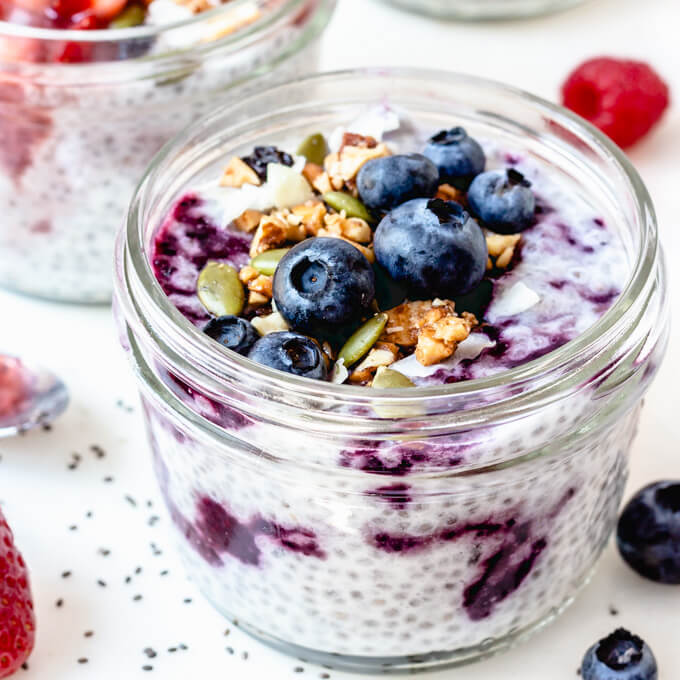 Creamy Keto Chia Pudding
Keto chia pudding is a filling, dairy free yogurt alternative. This creamy coconut milk pudding is a fast make ahead low carb breakfast for rushed mornings.
Print
Pin
Rate
Ingredients
3

tbsp

Black chia seeds

1

cup

Coconut milk

full-fat

1/4

tsp

Vanilla extract

1

dash

Salt

2

tbsp

Sugar-free jam

see post for recipe links

1/4-1/2

tsp

Stevia glycerite

or liquid sweetener of choice
Instructions
Whisk the chia seeds and ½ cup of coconut milk in a small bowl.

Add the vanilla, salt and the remaining coconut milk, whisking together. Sweeten to taste with your favorite liquid sweetener.

Refrigerate and stir well after 30 minutes to prevent the chia seeds from clumping together at the bottom of the bowl. Refrigerate overnight.

Layer the thickened chia pudding with 1 tbsp of sugar free jam (recipe links in post) in serving bowl or in a small portable jar. Stores up to 5 days in the refrigerator.

Serves two at 3.85 g net carbs per serving.
Notes
NOTE: 1. if using a granulated sweetener, dissolve it completely in the coconut milk prior to mixing with the chia seeds or it won't dissolve completely. 2. Use vegan jam to make this chia pudding vegan.
Nutrition
Serving:
1
pudding
|
Calories:
258
kcal
|
Carbohydrates:
8.15
g
|
Protein:
3.66
g
|
Fat:
18
g
|
Sodium:
72
mg
|
Fiber:
4.3
g
|
Sugar:
1.72
g