Tangy and bold, this keto bbq sauce lets you enjoy big barbecue flavor without all the sugar and carbs. This low carb, keto vinegar based barbecue sauce is perfect for burgers, pulled pork, and chicken.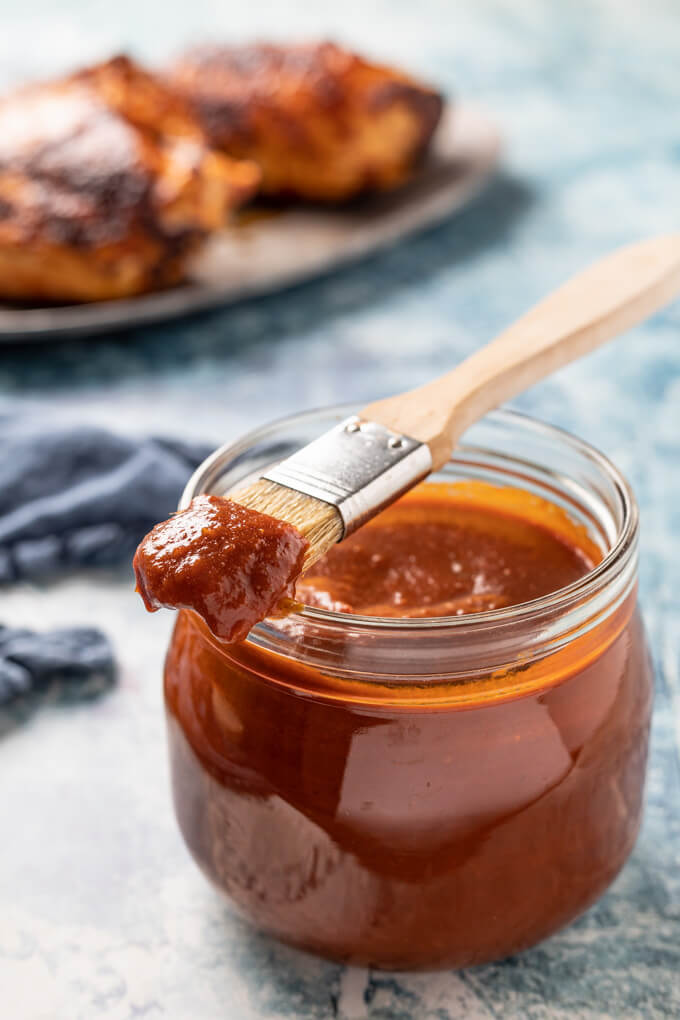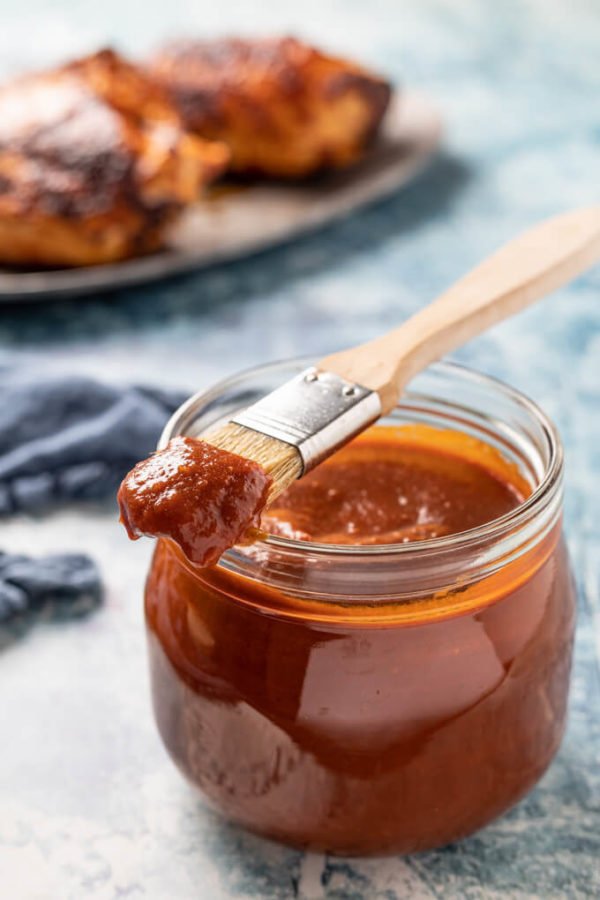 THIS POST INCLUDES AFFILIATE LINKS TO SHARE THE THINGS I LOVE.
Summer is here – grilling and smoking season is on! Going low carb doesn't mean you can't enjoy your favorite grilled meats and burgers. Just be smart and avoid overly processed store bought barbecue sauces which are often full of sugars and NOT keto friendly.
Enjoy your killer burgers, juicy smoked chicken leg quarters, and pulled pork with this sugar-free BBQ sauce. It's so delicious you'll want to mop every last drop of it up with a piece of low carb cornbread.
And since it's not sugar based, this low carb barbecue sauce adds great flavor to grilled meats without burning. Expect a bold tangy-sweet taste up front bolstered with onion and garlic, finishing with a gentle heat on the back of the tongue.
Traditional BBQ Sauce Recipes
Traditional barbecue sauce varies from region to region. Most recipes include tomato paste, vinegar, or mayonnaise. Some recipes include a combination of the three. In addition to a tomato paste, vinegar, or mayonnaise base, barbecue sauces rely on a blend of spices to flavor them.
Common spices found in BBQ sauce include garlic, onion powder, mustard, liquid smoke and black pepper. There's also a lot of sugar. You'll find white or brown sugar, coconut sugar, honey, molasses, maple syrup, and jams in nearly every bbq sauce recipe. None of these ingredients are low carb or keto friendly.
This bold and tangy keto BBQ sauce is a cross between the tomato paste and vinegar barbecue sauces popular in western North Carolina and the bolder, thicker Kansas City style. Unlike either of these styles, my barbecue sauce recipe has no added sugar – except what's naturally in the tomato, onion, and garlic.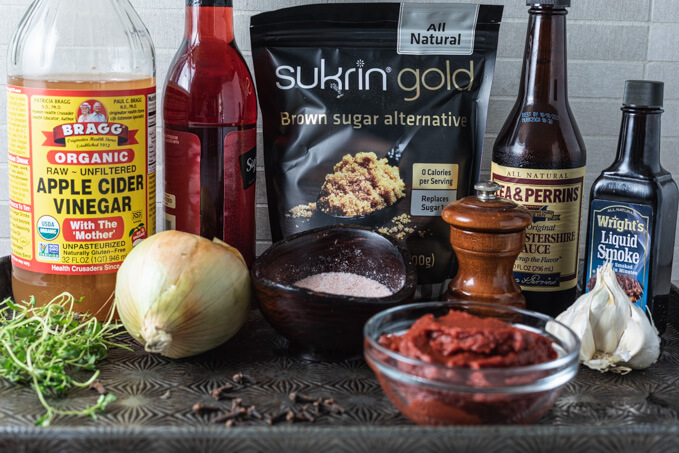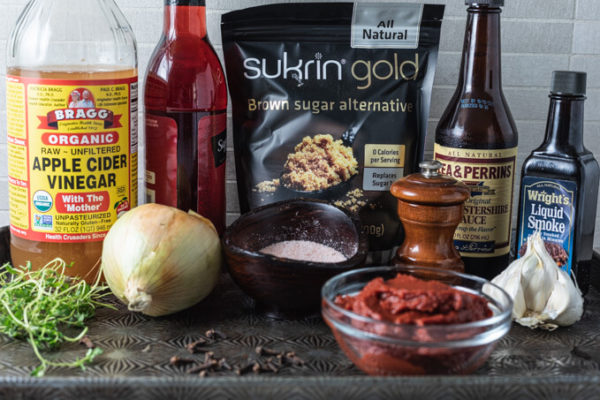 BBQ SAUCE WITHOUT ADDED SUGARS
QUESTION: "How can I get that big sweet and spicy barbecue sauce taste without any sugar?"
ANSWER: Use a natural low carb sweetener like erythritol, xylitol, stevia, monk fruit or a combination of any of the above. Many commercial barbecue sauces use liquid Sucralose to sweeten their products. If that's okay with you, look for EZ-Sweetz liquid drops, but avoid aspartame which changes chemical composition when it heats up and loses sweetness.
I use a low carb erythritol/stevia based sweetener. Erythritol has zero calories. The body doesn't process it so it leaves the body in the same chemical composition as it arrived. This means it contributes zero carbs to your dietary intake.
Want to know more about sugar-free sweeteners? Read my article about the best low carb sweeteners and then how to choose the best sweetener for you in this article.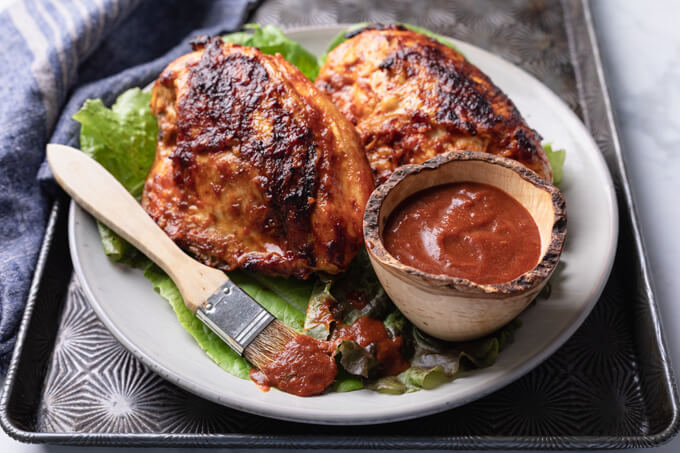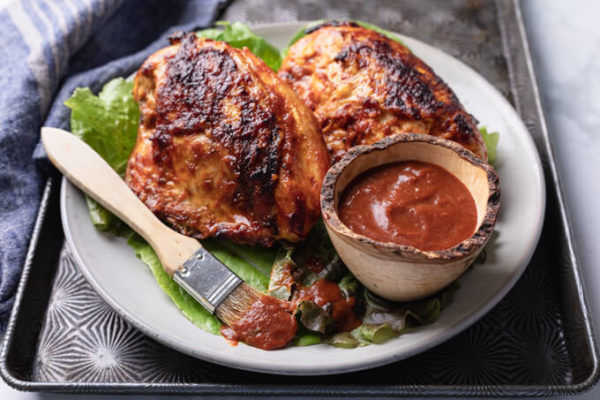 SUGAR-FREE BBQ SAUCE INGREDIENTS
You probably have the ingredients for this keto BBQ sauce in your pantry and spice cabinet. Tomato paste, apple cider vinegar, red wine vinegar, brown sugar substitute, onion and garlic compose the base flavors of the sauce. Worcestershire sauce, ground chipotle pepper, dried thyme, clove, liquid smoke (hickory) and lots of black pepper provide a smokey/peppery flavor and a mild heat.
Finishing the bbq sauce with butter rounds out the flavor by mellowing the vinegar and helps the sauce spread across the surface of the meat. To apply, use a dedicated barbecue basting brush so you don't ruin your pastry brushes!
Customize it to suit your taste!
Everyone has their own idea of how a good BBQ sauce should taste. Some prefer a sweet sauce while others like it savory. Some like a thick sauce while others like it thin. And some like a tangy or spicy bbq sauce while others want it mild or less peppery. Below are a few ideas how to make this your own.
Try these tasty ideas:
Sub smoked paprika for the chipotle pepper
Add dried mustard powder or prepared mustard
Sub cinnamon or Chinese 5 spice for the clove
Use all cider vinegar for less tang
Use all red wine vinegar for more tang
Add a little chile powder, cumin, instant espresso or cocoa powder
Make it sweeter by adding your favorite sweetener to taste
Simmer longer for a thicker sauce or less time for a thinner sauce
My favorite brown sugar substitute is SUKRIN GOLD. Don't have it? Try Swerve Brown Sugar, Lakanto Golden or my homemade low carb brown sugar recipe.
For convenience, make this barbecue sauce ahead and store it in an airtight container in the fridge. Just be sure it's cooled to room temperature before doing so. The flavor mellows after refrigeration so taste to adjust the seasonings if needed.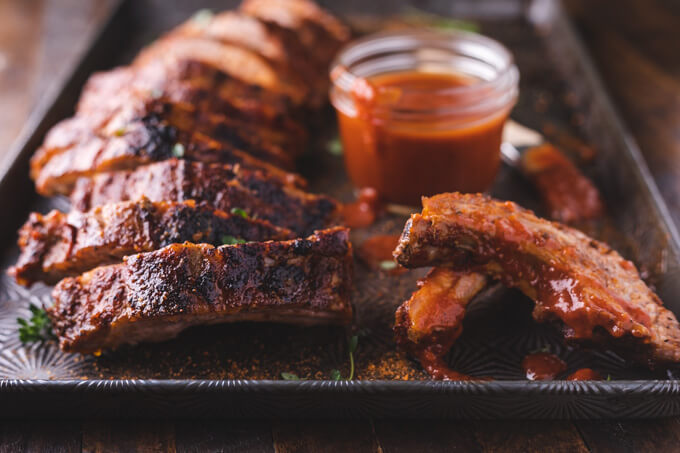 Enjoy this tasty keto sauce on: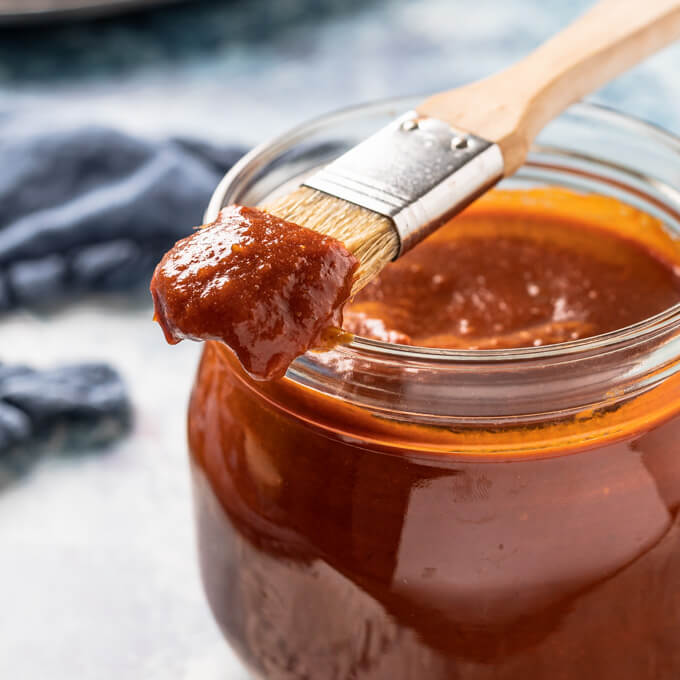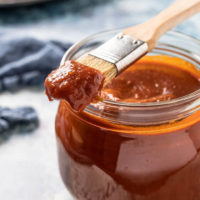 Tangy, Bold Keto BBQ Sauce
This keto bbq sauce delivers a bold tangy-sweet taste up front bolstered with onion and garlic, then finishes with a gentle heat on the back of the tongue. No added sugars!
Print
Pin
Rate
Ingredients
6

oz

tomato paste (in a 6 oz can)

(170 g)

2

cans

water (use the tomato paste can)

(12 oz/ 340 g)

1/2

can

apple cider vinegar (use the can to measure)

(3 oz/ 85 g)

1/2

can

red wine vinegar (use the can to measure)

(3 oz/ 85 g)

1/3

cup

Low carb brown sugar

1/2

cup

diced onion

(2 oz/ 57 g)

1

tsp

minced garlic

(1 large clove)

1/8

tsp

ground cloves

1/2

tsp

dried thyme

3/4

tsp

ground chipotle pepper

1

tsp

Hickory Liquid Smoke

2

tsp

Worcestershire sauce

1/4

tsp

salt

1/2

tsp

freshly ground black pepper

4

tbsp

butter

(to be added after cooking)
Instructions
Add the first 10 ingredients into a medium saucepan and simmer for 45 minutes (or longer if you prefer a thicker sauce).

Measure the remaining ingredients into the BBQ sauce and blend with a stick blender (or use a blender) until smooth. Taste and adjust seasonings. Taste the next day and adjust further as it will mellow upon cooling. This results in a tangy sauce. (SEE BELOW FOR A VARIATION.)

Cool completely, pour into a clean air tight container, and refrigerate up to 10 days.

VARIATION: Saute the onions and garlic in 1 tbsp butter until softened, then add the rest of the ingredients. Add the remaining butter after cooking. This results in a more mellow flavored sauce.

Makes 2 1/2 – 3 cups. Serving size is 2 tbsp and is 1 net carb per serving.
Nutrition
Calories:
28
kcal
|
Carbohydrates:
1.6
g
|
Protein:
0.33
g
|
Fat:
2.3
g
|
Fiber:
0.6
g
|
Sugar:
1.1
g