So you've started a low carb Keto diet, congrats! The key to keto diet success is to meal plan and prep ahead. Set yourself up for success on your new Keto Diet and save time & money, shop less, have less waste, and keep track of your macros by beginning new habits and planning in advance.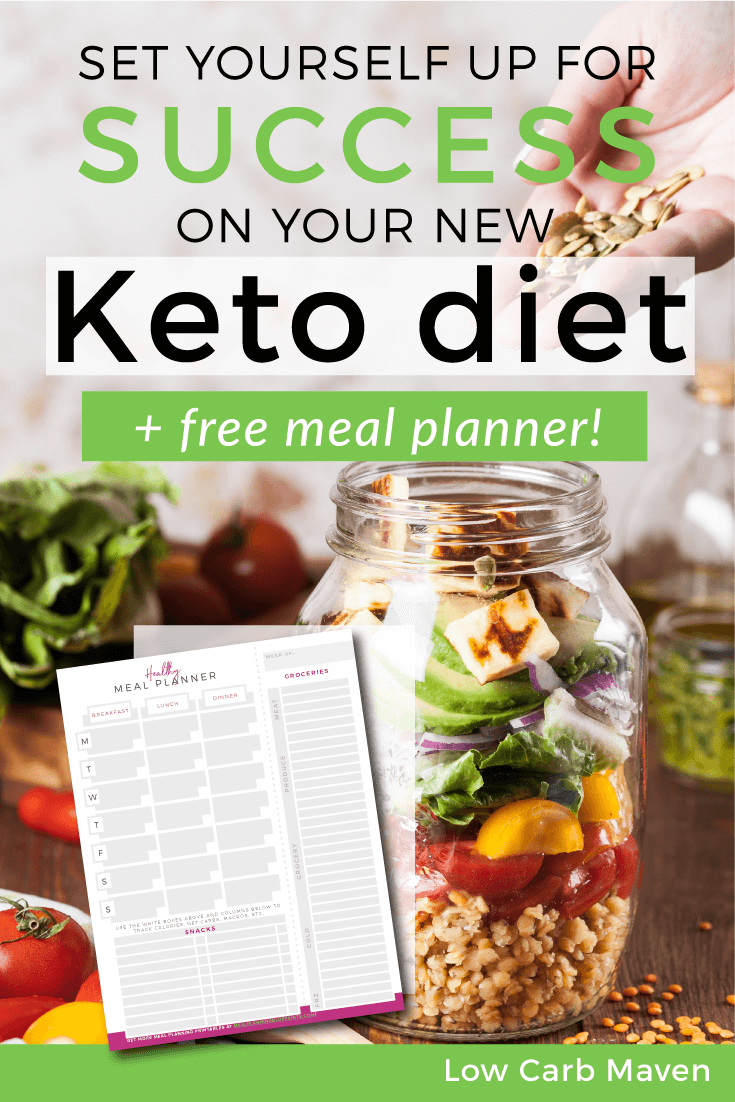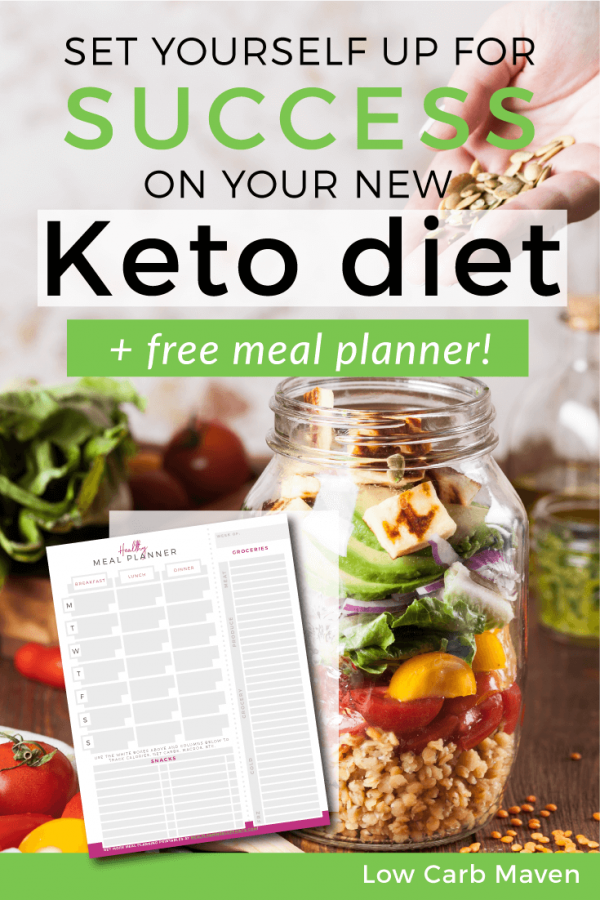 [This post contains affiliate links. Purchasing through a link may result in my earning a small consideration.]
How to set yourself up for success on your new Keto Diet
I'd bet my bulletproof coffee you're here because you really want to stick to your new healthy lifestyle. Planning and prepping ahead will be your best friend.
I'm the first to admit, when I start something new I go ALL out.
"I'm going to become a runner." —> map out a 3 mile circle from the house, buy new running shoes and a tracking device that goes in said shoes (this was before FitBit's time…), a new pretty health journal, etc.
"I'm going to read more books" —> make giant book list for the entire year, order 5 books and another pretty journal to take notes, unplug the TV from my bedroom, etc. You get the idea.
Seriously. I did those things. So I get it, we want to just "be there" already. But I'm learning it's the small steps that we take over and over again that will get us there before we know it.
Habits.
Small Steps.
Routines.
Rhythms.
I've been reading this amazing (yet simple!) book The Compound Effect which is teaching me exactly how little steps will make a big impact.
So here are some small steps and habits to set yourself up for Keto diet success:
10 Healthy habits to help your new Keto diet succeed:
1 Remove temptation
Get it out of the house! Have a talk with your family members if you have to so they can be supportive. If it's unrealistic to completely remove it from the house, put those tempting snacks somewhere you won't see them on a regular basis! If it's in the fridge, try a solid colored plastic shoe box so you can't easily see the contents.
2 Pre-portion. pre-portion. pre-portion
Keep snacks pre-portioned, especially ones that are easy to overeat like nuts, seeds, pork rinds, etc. Some more snack ideas: beef or turkey sticks, sandwich meat (1 carb or less per serving), cheese, fresh vegetables, deviled eggs, yogurt.
3 Create a list of your favorites
When you're hungry and stressed out over being hungry, your mind will inevitably draw a blank. If you have a list of Keto-approved snacks, it'll be that much easier to grab something you won't regret later.
4 Purchase meal prep containers
Having your meals planned and prepped ahead is THE way to succeed with your healthy lifestyle and having a dedicated set of plastic or glass containers just for your Keto meals will totally make your life easier!
5 Don't cook separate meals
If not everyone in your family is following the Keto plan, don't make individual meals. Try deconstructed meals instead so everyone can make it how they want. Think: low carb tacos, great bunless burgers, salads, keto noodle-style bowls, etc.
6 Aim for meals being 5 carbs or less
Make your math easier, and keep it simple by limiting your meals to 5 carbs each.
7 Drink green tea instead of coffee
Green tea has antioxidants that naturally reduce inflammation and has about 1/3 the amount of caffeine compared to a cup of coffee. There are so many different flavors and blends to keep it interesting! Bonus: you probably won't be tempted to add cream and sweetener to it!
8 Keep a food journal
One of the things taught in The Compound Effect is that when you want to change a habit, track it for 30 days. Tracking what you eat, how often you exercise, and even your moods throughout the day, can help you stay on target. (Kim, likes to use Fatsecret.com. Its handy pie chart is perfect for keeping track of macros at a glance)
9 Hot water with lemon
The detox effects that a hot (but not too hot) cup of lemon water has on your liver, pairs perfectly with the Keto diet. I used to be a "give me coffee" zombie in the morning and I found a cup of hot water with 1/4 lemon squeezed into it gave me the wake up I needed and the "warm cup of joe" feeling I loved.
10 Stick to the plan
Make a commitment to yourself that you're going to stick to this for X amount of days, and then you will ___ (reevaluate, set a new goal, reward yourself, etc.). No writing "forever and ever" – remember we're going for small steps here! This will help you in those moments you want to give up so you can say "I committed to myself and I only have __ days left".
So now that you have the healthy habits down, let's move on to meal planning for your new Keto diet: Learn how to set up a meal plan, brainstorm, find recipes, make shopping lists and more in the next post: The Beginner's Guide To Keto Meal Planning (coming soon).
Get your FREE PRINTABLE MEAL PLANNER when you sign up for my newsletter, below!
[mailerlite_form form_id=7]
Thank you to Elisa Giorgio from Meal Planning Blueprints for writing this helpful article on keto diet success. Her expertise is invaluable to all of us trying to succeed on our Low Carb Keto Journey! Follow her on Facebook and Instagram.