Sugar free sunflower butter makes a delicious allergen friendly alternative to peanut butter and tree nuts. This homemade sunflower seed butter is nutritious, easy to make, and keto friendly.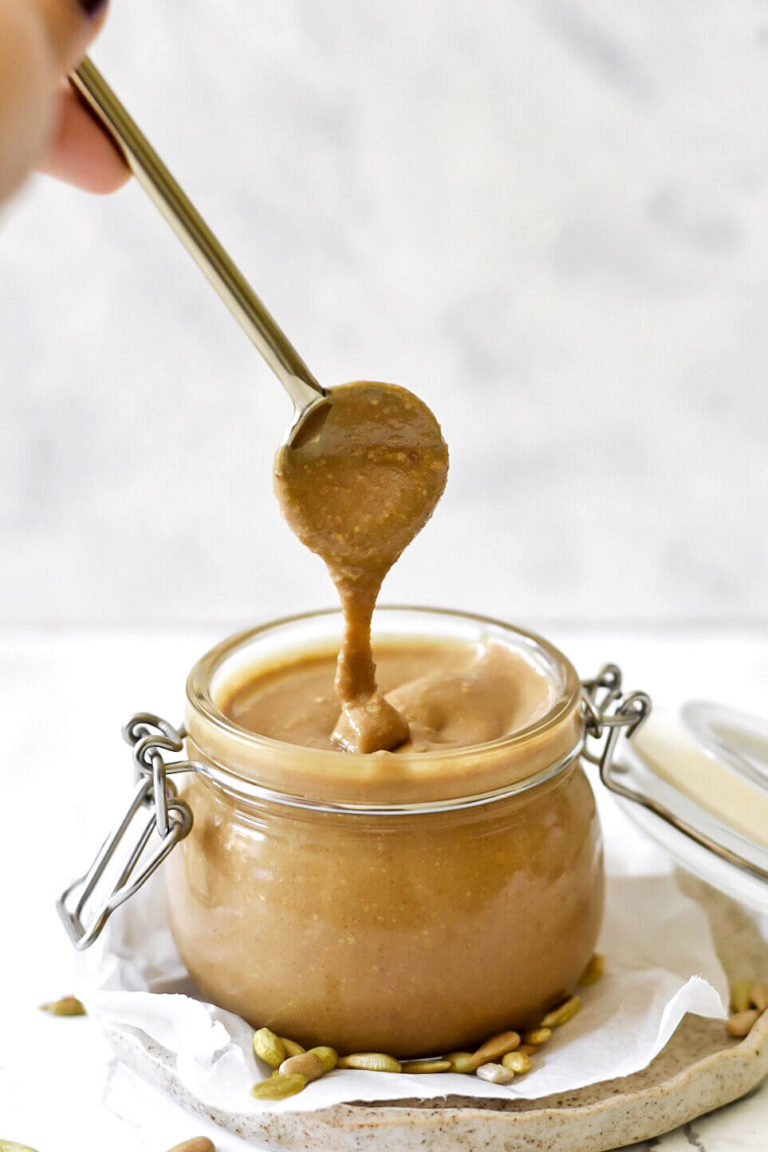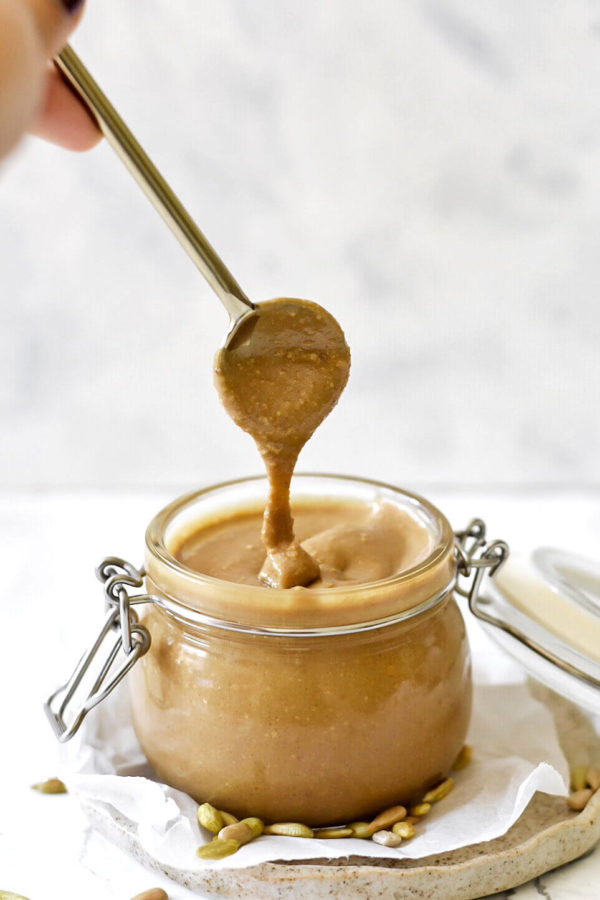 THIS POST INCLUDES AFFILIATE LINKS TO SHARE THE THINGS I LOVE.
Peanut butter is one of my favorite comfort foods. It brings back lots of memories from childhood, eating pb&j sandwiches and having after school snacks of peanut butter crackers. Fortunately, going keto doesn't mean I have to give up this creamy treat. I just use low carb bread, make my own low carb strawberry jam and sometimes my own nut and seed butters.
Unfortunately, most store bought brands of peanut butter contain added sugars. Your best bet with peanut butter is to grind your own or to carefully read the label of store bought peanut butters. Try to choose brands that don't add sugars or hydrogenated oils. One brand I like is Maranatha which I find at Costco for a good price.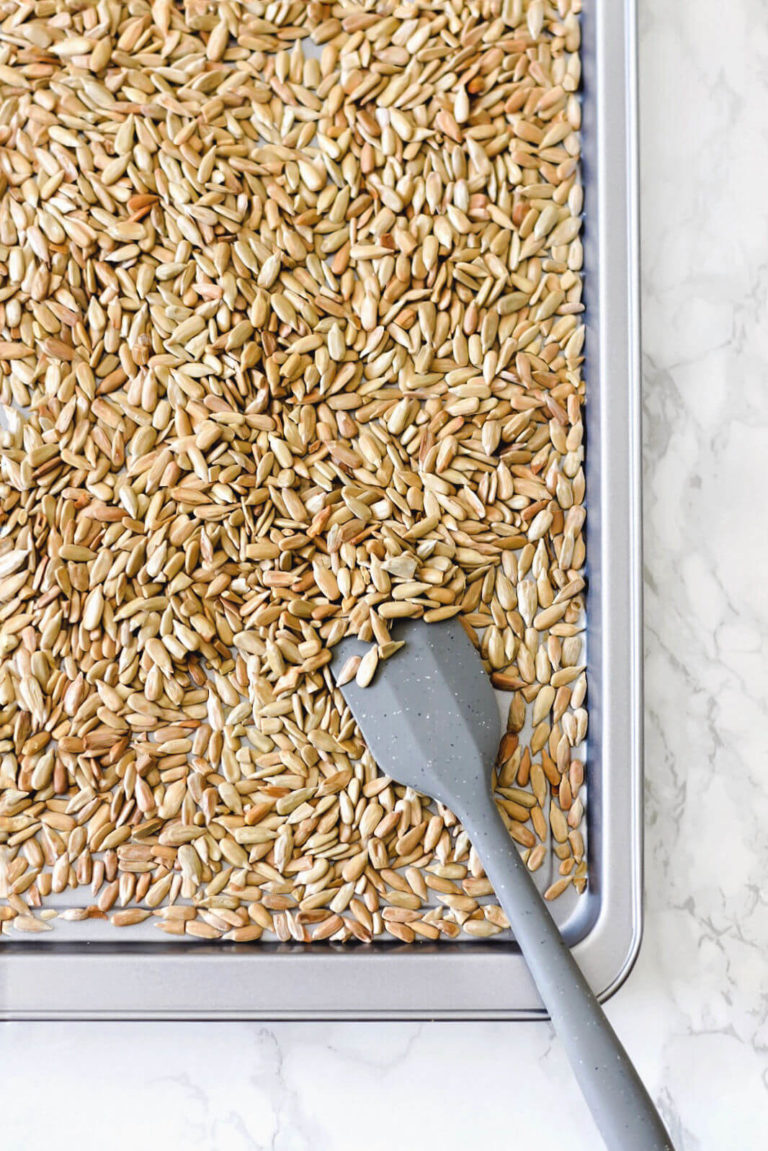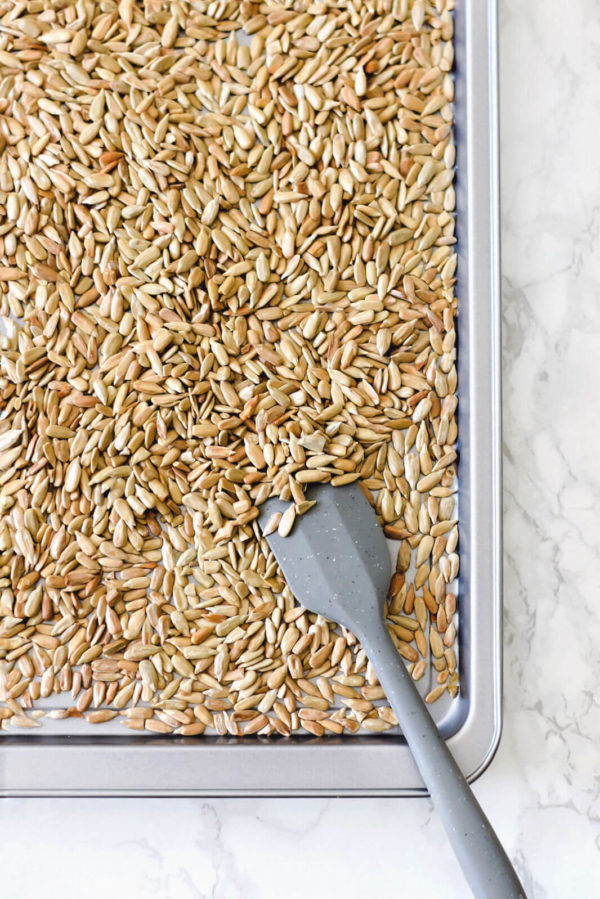 Sunflower Butter – A Great Peanut Butter Alternative
Many schools have peanut butter bans because of life threatening allergies. In fact, the Food Allergy Research and Education organization reports that about 2 kids in every classroom have an allergy to one or more foods.
Sunflower seed butter is an allergen friendly alternative to peanut butter and tree nuts. It is nutrient dense with plenty of protein and good fats. Plus, it is just as tasty on sandwiches as peanut butter, which helped my kids out when they were in elementary school.
I actually developed my sugar free sunflower butter recipe so that my kids could keep bringing a version of peanut butter and jelly sandwiches to school. I'd make a big batch of sunflower butter and low carb bread at the beginning of the week so I could make them sunflower butter and jelly sandwiches all week long.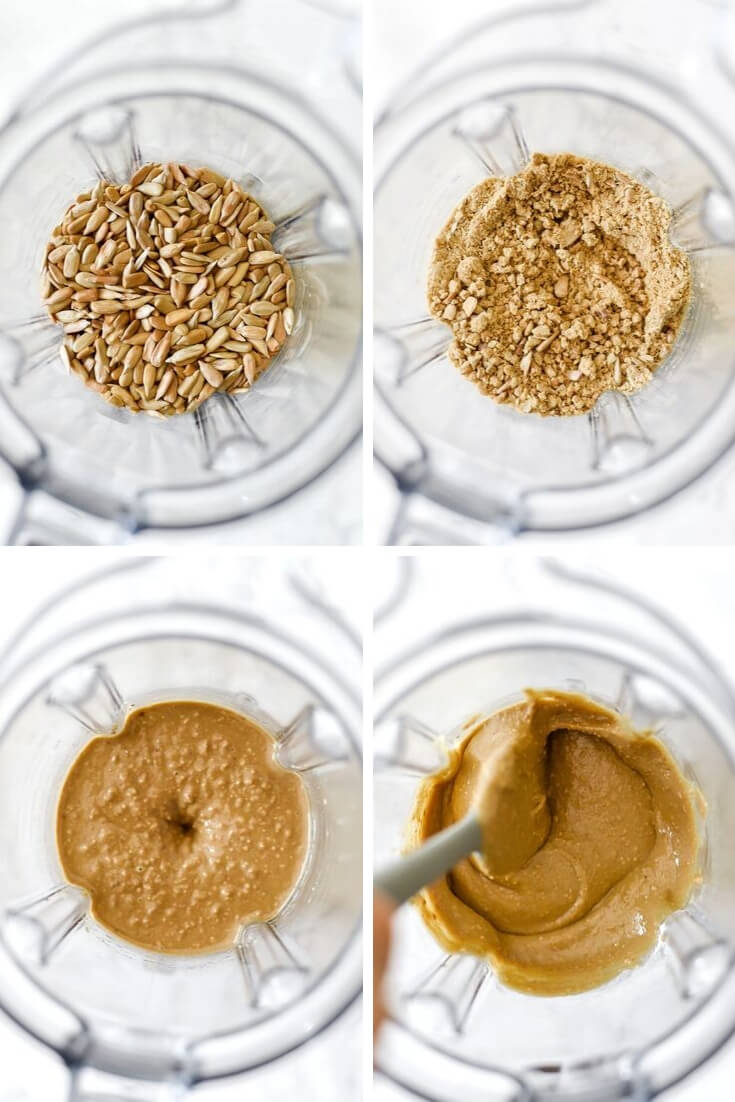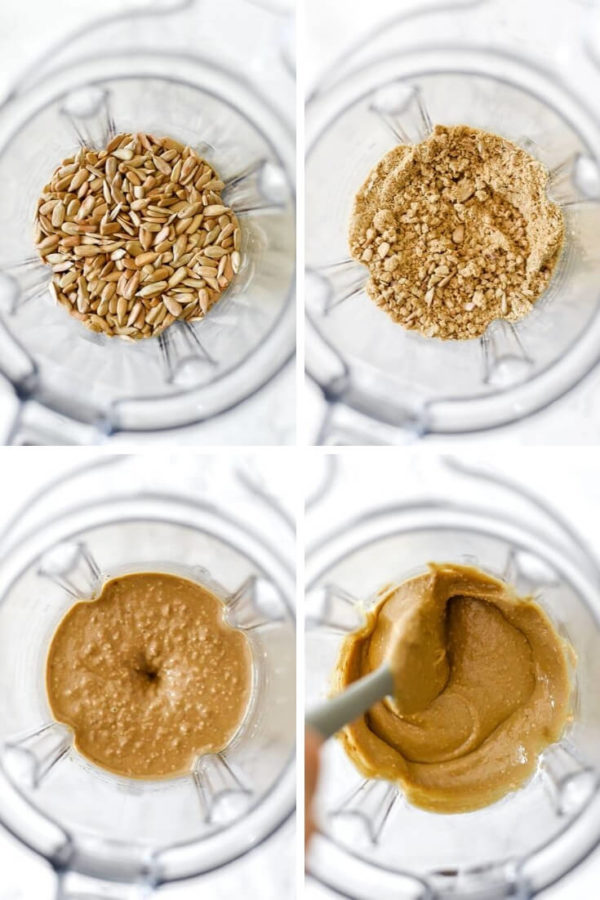 Is Sunflower Seed Butter Healthy for Low Carb Keto Diets?
Sunflower seed butter is high in fat and protein making it a healthy addition to your keto diet. And it's full of magnesium and vitamin E – an antioxidant that has been reported to have lots of benefits including slowing the aging process of your cells.
But, keep in mind that sunflower seeds (really all nuts and seeds) do contain natural carbs, so enjoy sunflower seed butter in moderation. My delicious sunflower seed butter has 1.24 grams of net carbs per each 2 tablespoon serving.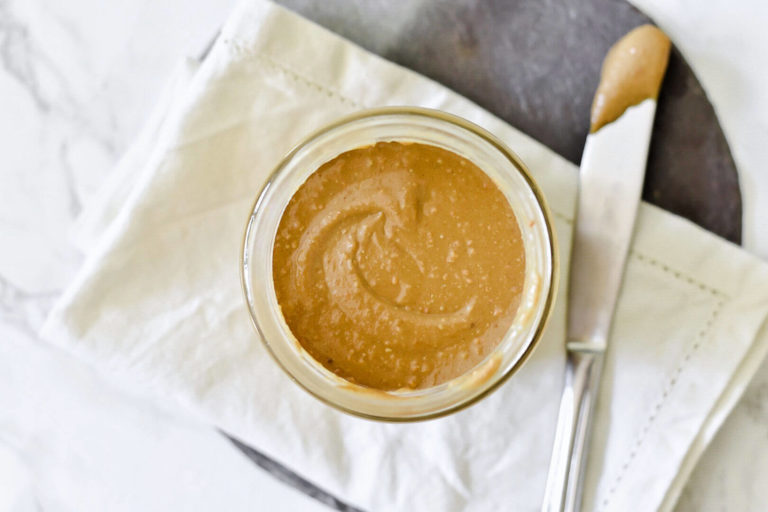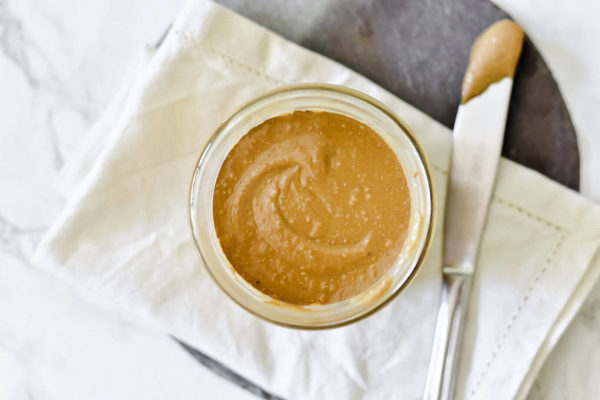 How to make Sugar Free Sunflower Butter
Homemade sunflower butter is so easy it is to make. All you need is an oven and a blender or food processor.
Making sunflower butter is also very cost effective. A jar of sunflower butter costs me around 7 dollars at a local store. But I can get bulk sunflower seeds for less than 2 dollars a pound.That's a huge savings!
To make the sunflower butter, preheat your oven to 350. While it is heating, evenly spread the sunflower seeds on a baking sheet – no need to add any oil. Make sure they are evenly spread so they cook as evenly as possible.
Bake the sunflower seeds until they are golden brown, about 8 minutes. Don't let them go too long or they will burn and become bitter. Since oven temperatures can vary greatly, adjust the heat or time accordingly based on your oven.
When the seeds are golden brown, remove them from the oven and let them cool until they are warm. Pour the seeds into a blender or food processor with ¼ teaspoon of salt. Pulse the seeds in short bursts several times until they form a powdery meal and begin to fluff up.
After the seeds appear as a fluffy meal, add the ¼ cup avocado or olive oil and blend the mixture. Stop the blender or food processor a few times while blending to push the seeds towards the middle of the blender.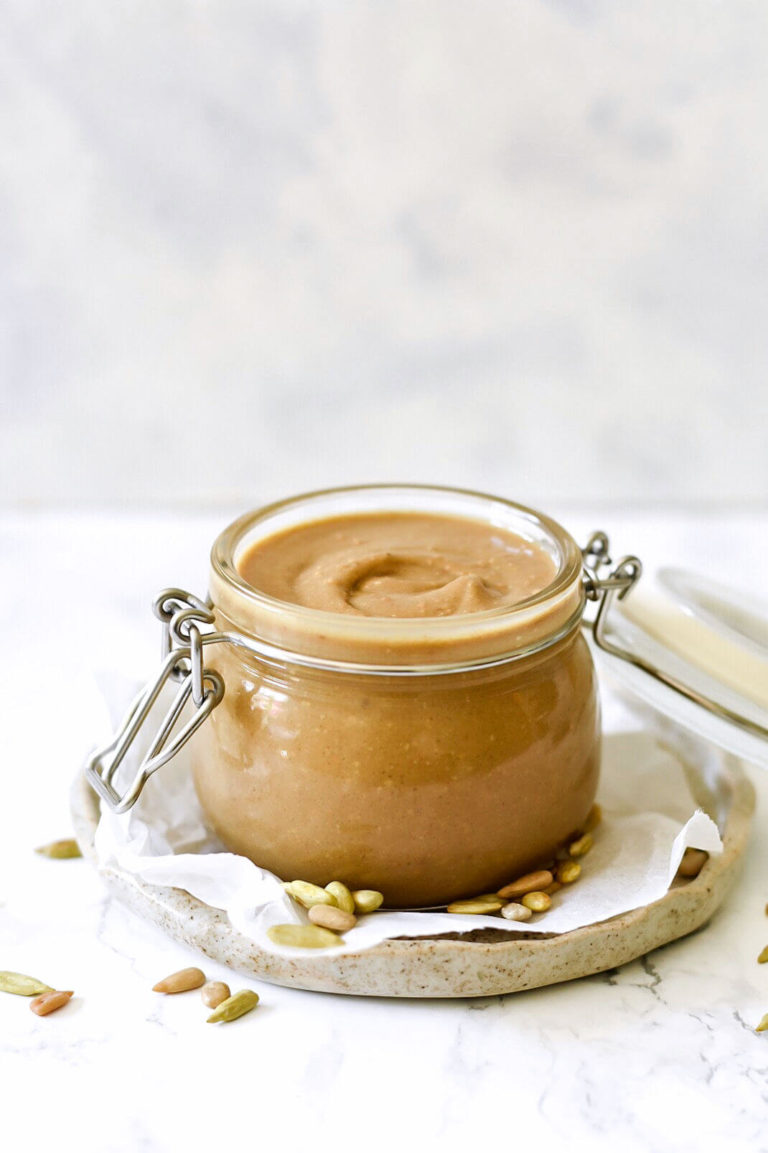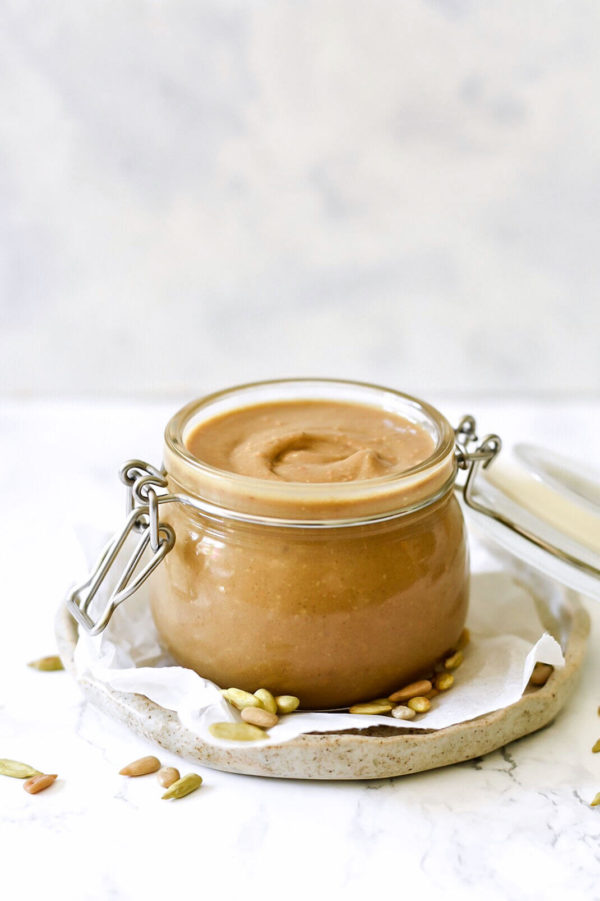 As the mixture smooths out, add the sweetener. Keep blending the seeds until they are smooth. When they are as smooth as you like, taste the sunflower seed butter checking for sweetness and saltiness.
When you have the right level of smoothness, saltiness, and sweetness for your taste, spoon the seed butter into a small airtight container. The recipe makes 1 cup and 2 tablespoons. Store the sunflower butter in the refrigerator for up to 2 weeks.
Of course, it probably won't last in your fridge for more than a few days because you can do so many delicious things with this sugar free sunflower butter. It is delicious stirred into yogurt, mixed into smoothies, made into cookies, or as a topping for low carb ice cream like this keto vanilla ice cream by my friend Katrin at Sugar Free Londoner. I dare you to try to keep it in your fridge with all those yummy uses!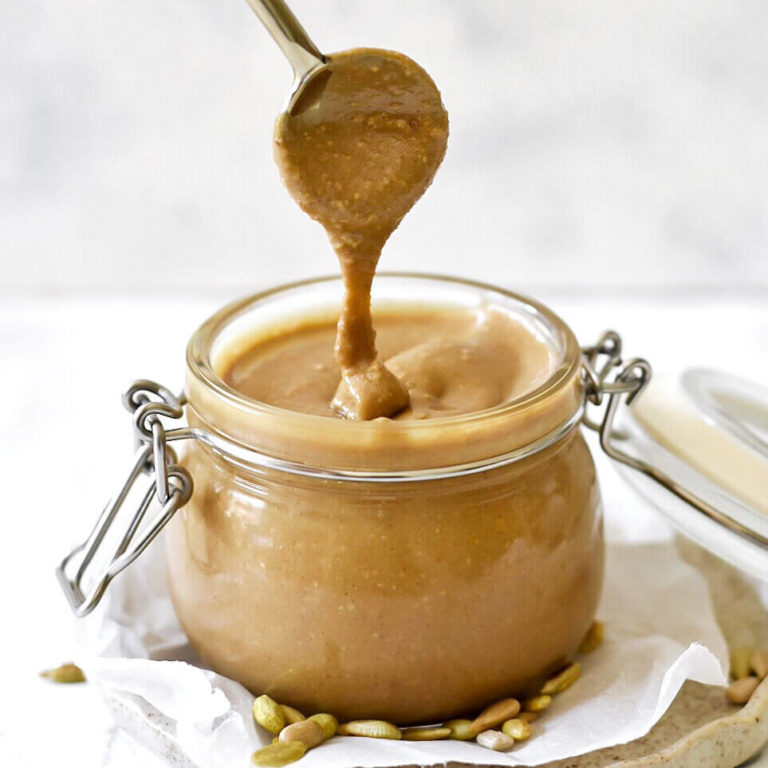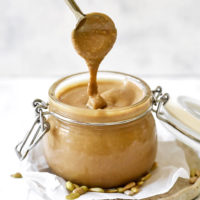 Homemade Sunflower Butter (keto, paleo)
Homemade sunflower butter is free of the junk found in store-bought nut and seed butters. Low carb sweeteners keep it sugar-free for healthy keto diets.
Print
Pin
Rate
Instructions
Preheat oven to 350 F. Spread the sunflower seeds on to a large sheet pan and toast until golden brown. Remove the sunflower seeds from the pan or they may burn and let cool until warm.

Pour toasted seeds into a blender and add the salt. Grind the sunflower seeds in short bursts until they become a powdery meal and begin to fluff up.

Add the oil and blend. Turn the blender off and push the sunflower seed meal from the outer edge of the blender towards the middle. Continue blending until it becomes more smooth.

Add the sweetener and blend until smooth.

Turn the blender off and taste to adjust sweetness and saltiness.

Spoon into a clean container and refrigerate. Refrigerate up to 2 months.

Makes 1 cup plus 2 tablespoons. Each tablespoon is 1.24g net carb.
Notes
Variation: Use Sukrin Gold or your favorite brown sugar substitute and a little cinnamon for a warm Fall flavor!
Nutrition
Calories:
98
kcal
|
Carbohydrates:
2.44
g
|
Protein:
2.85
g
|
Fat:
9.22
g
|
Sodium:
23
mg
|
Fiber:
1.2
g
|
Sugar:
0.41
g