This is the easiest and best homemade sugar-free low carb caramel sauce. It only requires a few ingredients and is ready in about 20 minutes.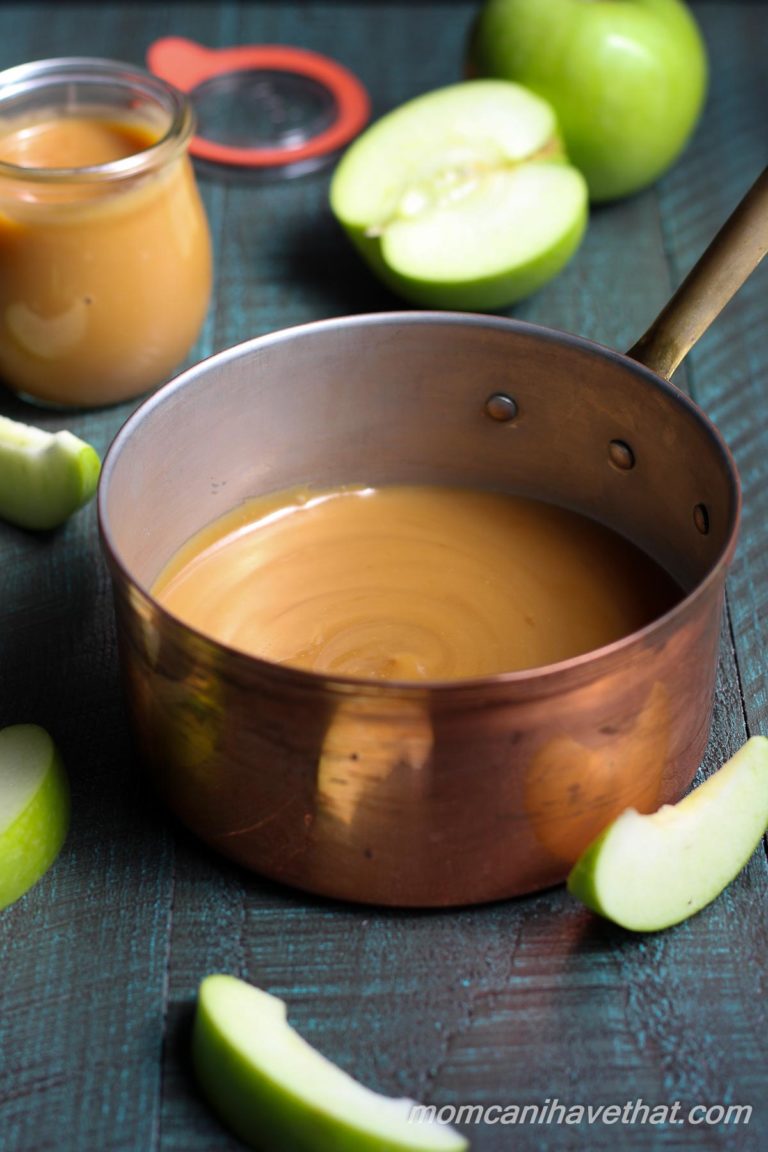 THIS POST INCLUDES AFFILIATE LINKS TO SHARE THE THINGS I LOVE.
This sugar-free low carb caramel sauce is my new favorite thing! Honest. My new fave. I would have never dreamed I could have something like this on a ketogenic diet, but I can.
Have I said yet that I love this caramel sauce? Because I really do. I could just pour it all over myself or take a bath in it. Okay, maybe not. But it is really good.
I have tried other low carb caramel sauces made with erythritol and although they tasted good, they always crystallize, harden, or became crunchy in the refrigerator. To my extreme delight, this sugar free caramel recipe did not.
It did firm up like a regular caramel sauce in the refrigerator, so I stuck it in the mic for a few seconds then stirred to get it pour-able again. (Please don't leave a comment about the evils of microwaves.)
You guys know that I like using new products and I have been playing around with Sukrin products of late. The kind folks at Sukrin USA sent me their whole product line. I'm not one to waste ingredients so I've been using them to see what they can do.
I particularly like the Sukrin Gold, Sukrin Melis and the Fiber Syrups, which I think are unique enough in their properties to warrant more playing with.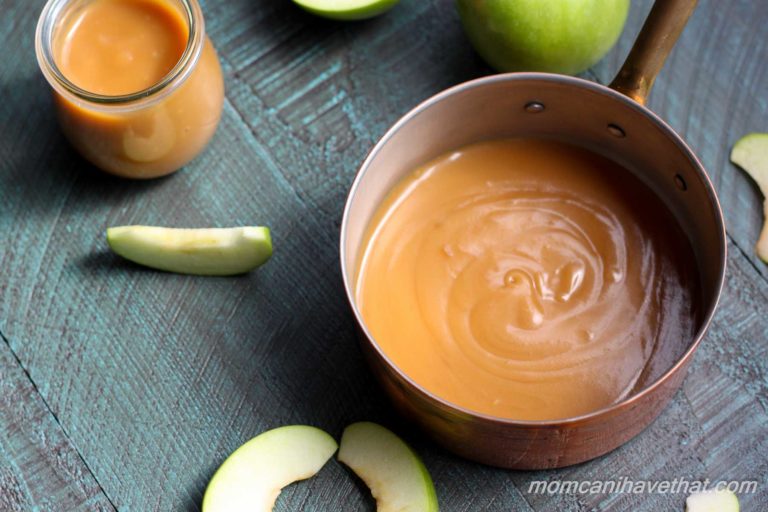 In case you are worried, I will not be using Sukrin products exclusively on the blog, but there are some recipes in which they work phenomenally well — like in this great sugar-free low carb and sugar-free caramel sauce.
And this is a real caramel sauce!!! You know, it's thick and sticky and gooey and rich and so easy to make you won't believe it. I gave some to my kids with apples and my daughter said, "Mom, this is so fancy. I feel so special." Like my kids don't have desserts and treats coming out of their ears!
I'm not going to offer subs in this recipe as I feel it just won't be the same. I always try to offer the best recipes in taste and texture that I can and sometimes that means more ingredients or no subs. I am sorry. But don't be sad, there are a ton of recipes for low carb caramel sauce on the internet that use erythritol, Toroni Syrups, honey or coconut sugar.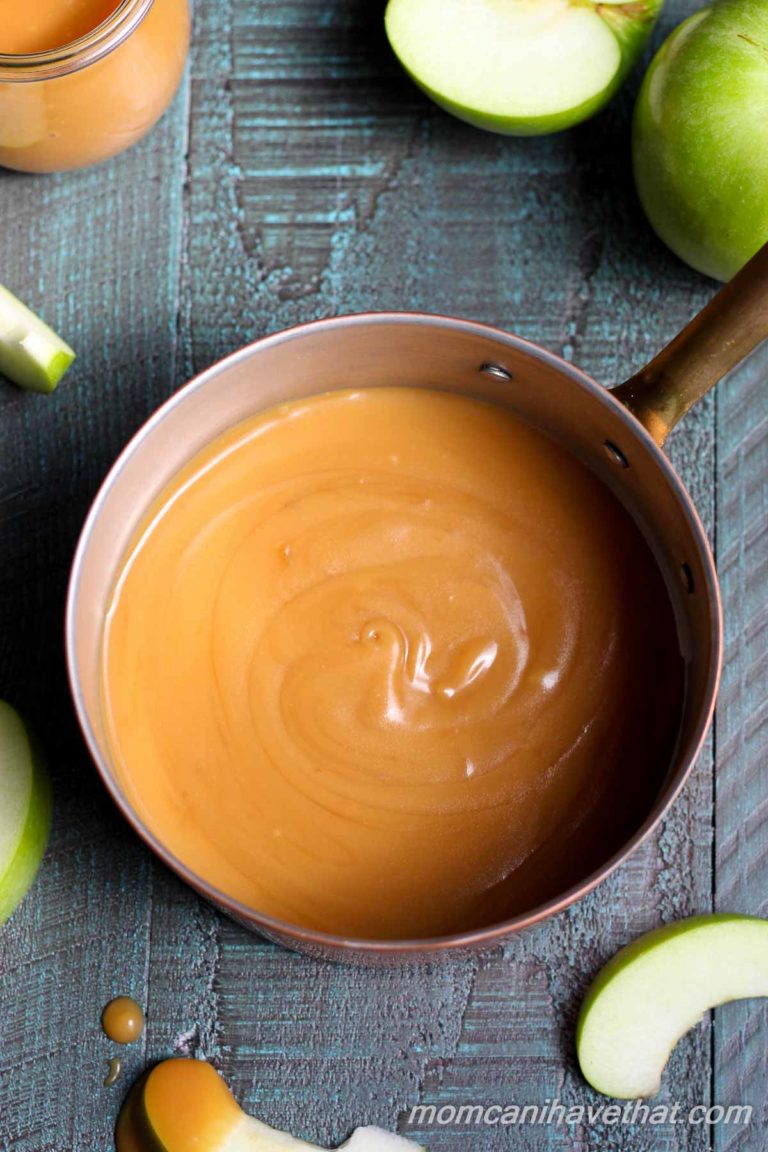 What's special about this recipe is that it can be easily scaled and it's pretty flexible. One could increase the amount of Sukrin Fiber Syrup just a bit to get a more sugary feel or perhaps use "just a touch" of 1:1 powdered sugar alternative for a little more sweetness. I usually like my desserts less sweet, but found that with-out the extra sweetness of the powdered sweetener, I could not taste the caramel on my ice cream. It needed the extra sweetness.
This caramel sauce would be so good on pancakes, ice cream, pumpkin pie or banana cream pie!
Recipes incorporating this heavenly sauce: Pecan Turtle Cheesecake Bars, Caramel Pecan Pie Squares
[NOTE] Each tablespoon of Sukrin Fiber Syrup Gold contains 30 calories, 15 grams of carbs and 14 grams of fiber resulting in 1 net carb per tablespoon.

Homemade Low Carb Caramel Sauce has 1 net carb per serving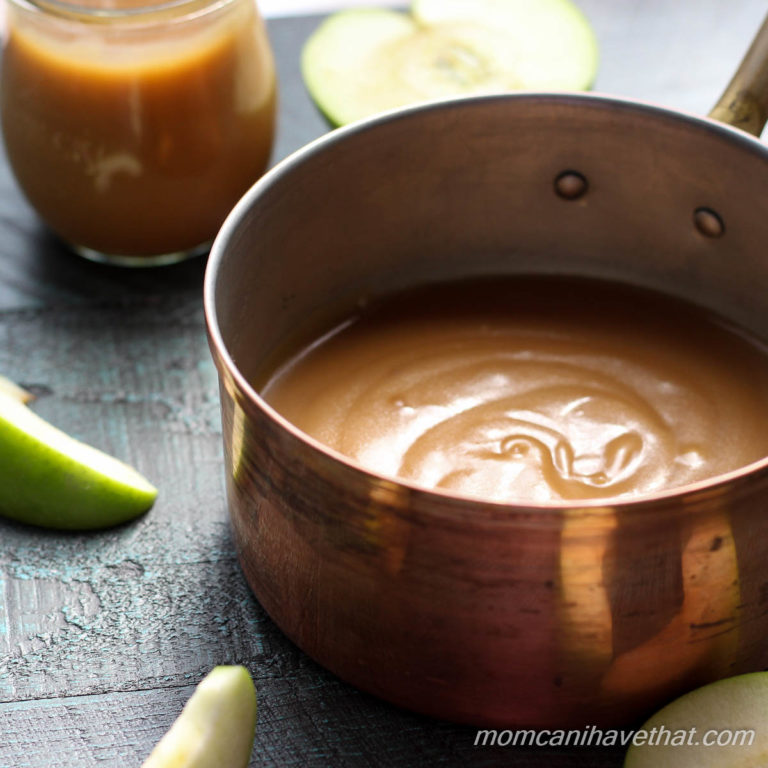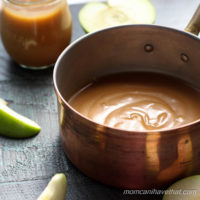 Homemade Low Carb Caramel Sauce
A sticky-sweet homemade sugar-free low carb caramel sauce. All you need is 4 ingredients and 20 minutes.
Print
Pin
Rate
Ingredients
3/4

cup

heavy cream

180 ml

1/4

cup

Sukrin Fiber Syrup Gold

80 g

2

ounces

salted butter

56.6 g

1/8

teaspoon

salt

1/4 if using unsalted butter

1/4

cup

low carb powdered sugar

30 g
Optional Ingredients*
1/2

tsp

vanilla

1

tbsp

Brandy or Spice Rum
Instructions
Measure the first three ingredients together in a small pot or saucepan and whisk over medium heat until combined. Bring it to a boil.

Watch the heat carefully and turn it down just as the caramel mixture begins to crawl up the sides of the pot. You want the mixture boiling enough that it will get thick, but not so much that it will boil over and make a mess of the stove. Just watch it for a minute and adjust the heat up and down until you find the sweet spot. Remember, it needs to be simmering pretty quickly, but not moving up the sides of the pot.

Let the mixture cook for 20 minutes.

Take the caramel off of the heat and whisk in the powdered sweetener or stevia glycerite until dissolved. *If using the vanilla and brandy, add them now and mix thoroughly.

Let cool a bit before using. Keep in a air tight container for up to two weeks. It will harden in the fridge. Warm gently in the microwave for just a few seconds.
Notes
If you want a stronger caramel flavor, add more Sukrin Fiber Syrup Gold. Another technique is to cook the Sukrin Fiber Syrup Gold by itself until it just begins to smell browned. Immediately remove from the heat add the butter, stirring it in. Then add the cream, whisk, and put the mixture back on the stove to finish cooking. It will not be as thick as the extreme heating will break it down a bit, but it will be deeper in color with a stronger caramel flavor. I doubled the batch when I did this and it is really good – just not as thick.
Nutrition Facts
Homemade Low Carb Caramel Sauce
Amount Per Serving (1 g)
Calories 139
Calories from Fat 126
% Daily Value*
Fat 14g22%
Carbohydrates 6g2%
Protein 1g2%
* Percent Daily Values are based on a 2000 calorie diet.
Nutrition
Serving:
1
g
|
Calories:
139
kcal
|
Carbohydrates:
6
g
|
Protein:
1
g
|
Fat:
14
g
|
Fiber:
5
g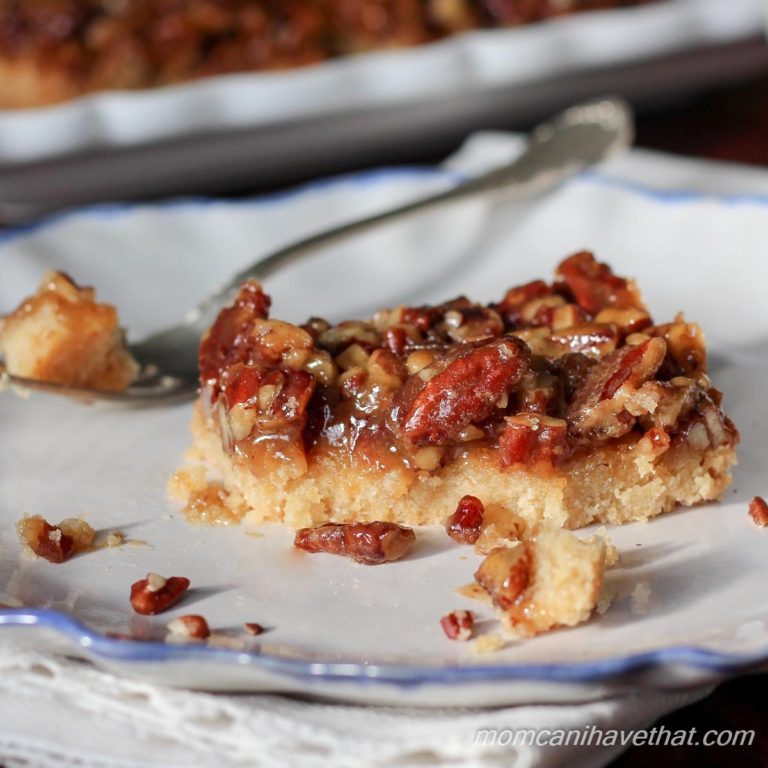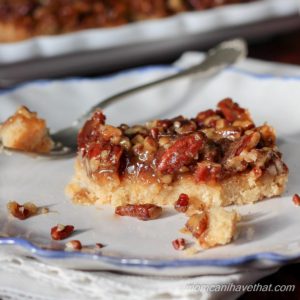 Low Carb Pecan Pie Bars (low carb, sugar-free)