An easy recipe of juicy hamburger steak and gravy featuring a brown gravy recipe with onions and mushrooms. A delicious low carb meal the whole family will love.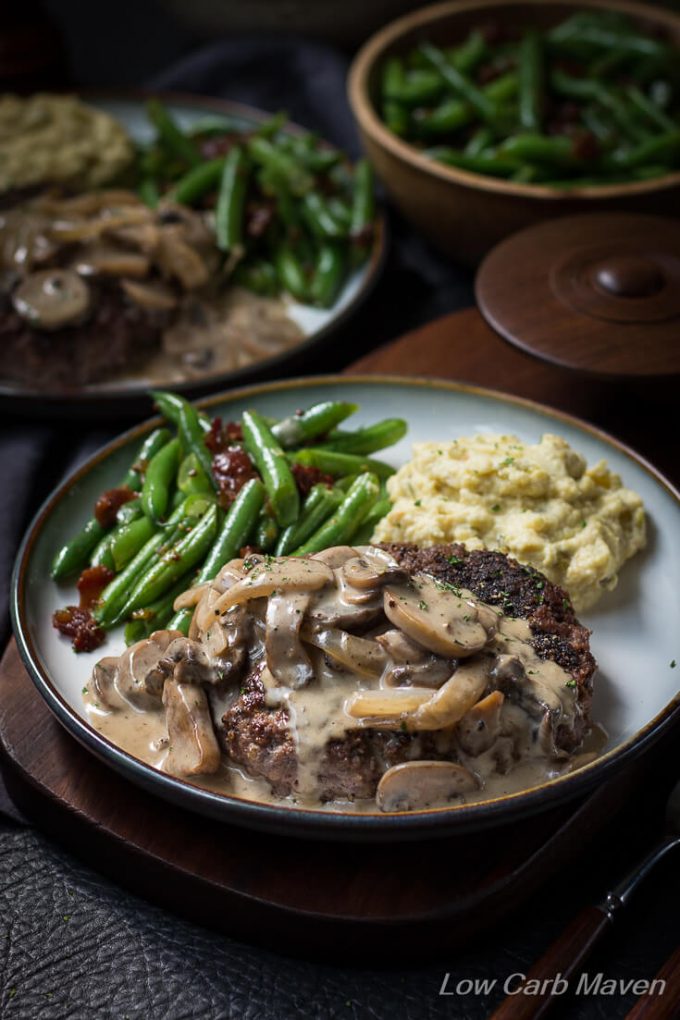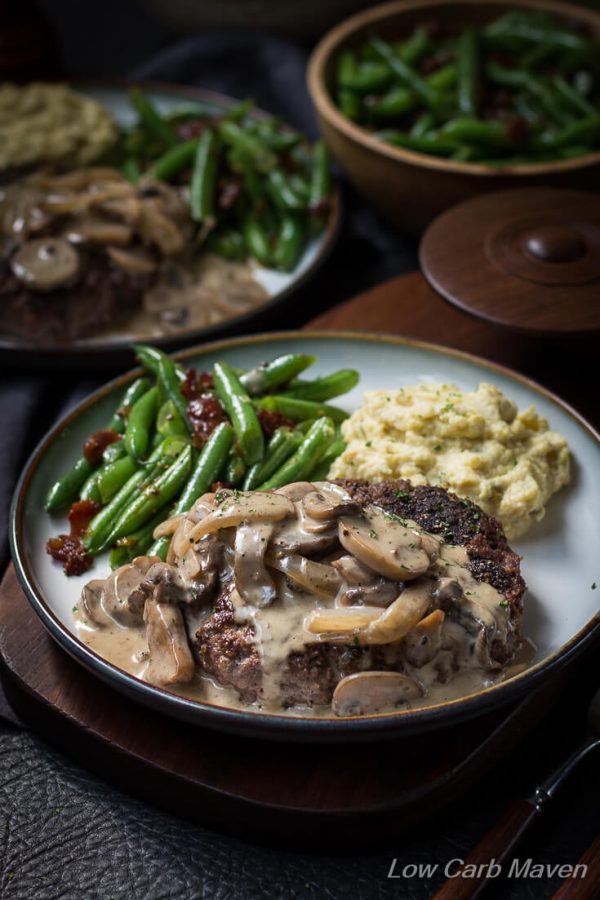 I've seen many weeknight dinner recipes take too many shortcuts and fall short on flavor. What a shame. I think eating is one of life's many pleasures and I enjoy a great tasting meal. My favorite recipes are those that combine fast and easy technique with awesome flavor. For that, I cook many of our meals in a pan, on the stove, like this popular poblano chicken recipe or a juicy filet steak with mushroom gravy.
The brown gravy recipe on this dish features onions and mushrooms and gains flavors from the browned bits (or fond) left in the pan after cooking hamburger steaks. This is simple cooking at its best.
————————————————————–
Hamburger Steak and Gravy
Hamburger steak, or Hamburg steak, has been around since the turn of the last century. It's an easy recipe of seasoned ground beef mixed with eggs and cream, shaped into patties and pan fried. Have you ever wondered how "hamburgers" got their name? Now you know – although these ingredients more resemble a meat-loaf than the hamburgers of today.
I grew up in the 70's when hamburger steak (and Salisbury steak) was a popular dinner recipe. It's an economical dish that goes beyond plain pan fried ground beef patties. Seasoning is important and using a panade (usually a paste of fresh bread and milk) ensures that the hamburger steak stays juicy and tender. I like my hamburger steak with gravy, so I dressed this up with an easy pan sauce. The result is much more than the sum of its parts.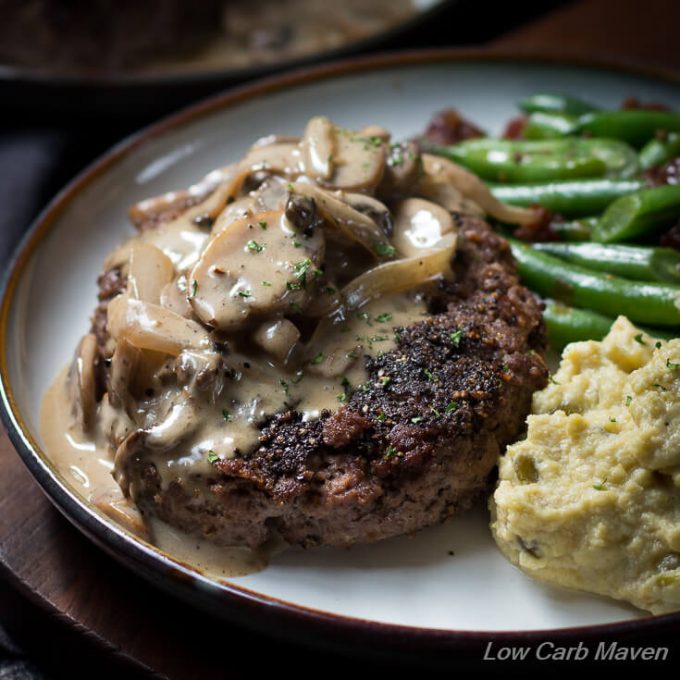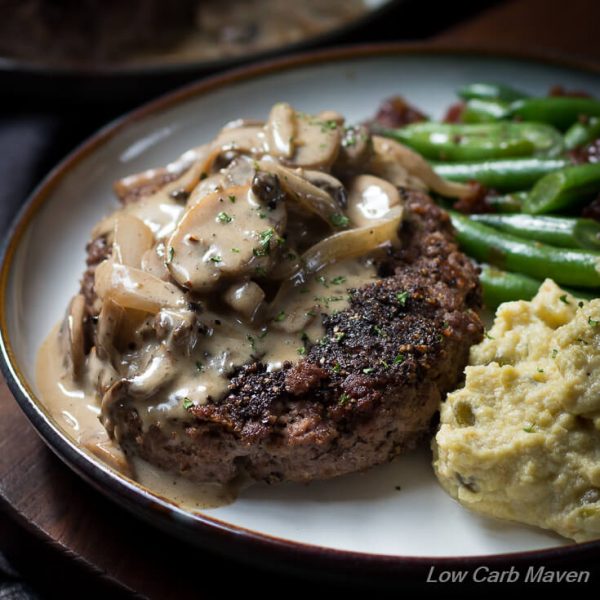 How To Make Hamburger Steak (Hamburg Steak)
Depending in which decade you were born, you may have never heard of hamburger steaks let alone know how to make hamburger steak. You'll be surprised how easy it is. Add eggs, seasonings, and cream soaked bread to ground beef. Form into large patties and cook them in a frying or saute pan. Since this is a low carb recipe, I will use a suitable low carb option for the bread in the panade.
Because I'm crazy about mushrooms, I like to serve my hamburger steak with mushroom gravy. I build on the flavor already in the pan by adding mushrooms and onions. Adding a little liquid helps deglaze the pan, and cream and butter help to thicken the sauce. The resulting beautiful brown gravy, flavored with onions and mushrooms, is ready to top any tasty hamburger steak.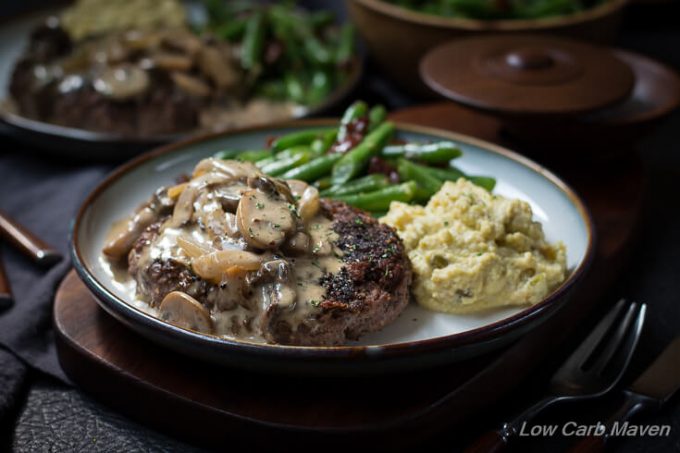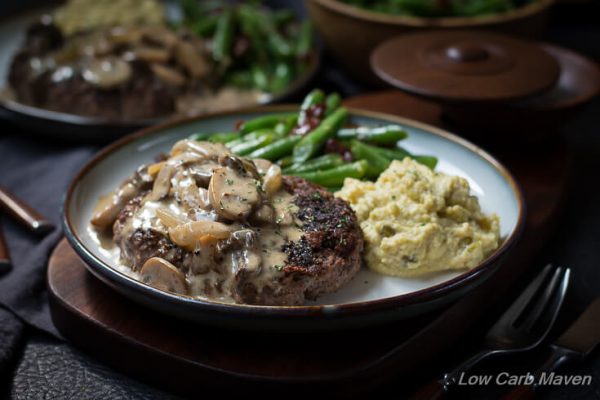 But how does it taste? Absolutely amazing! The tender juicy steaks are seasoned beautifully inside and out and have a nice peppery outer crust. The gravy is rich and flavorful with just the right amount of butter and cream to make it luxurious. It's very hard to imagine that humble ingredients like ground hamburger meat, mushrooms and onions combine to make such an upscale tasting dish. My family loved every bite!
Hamburger Steak With Gravy is 4 net carbs per serving.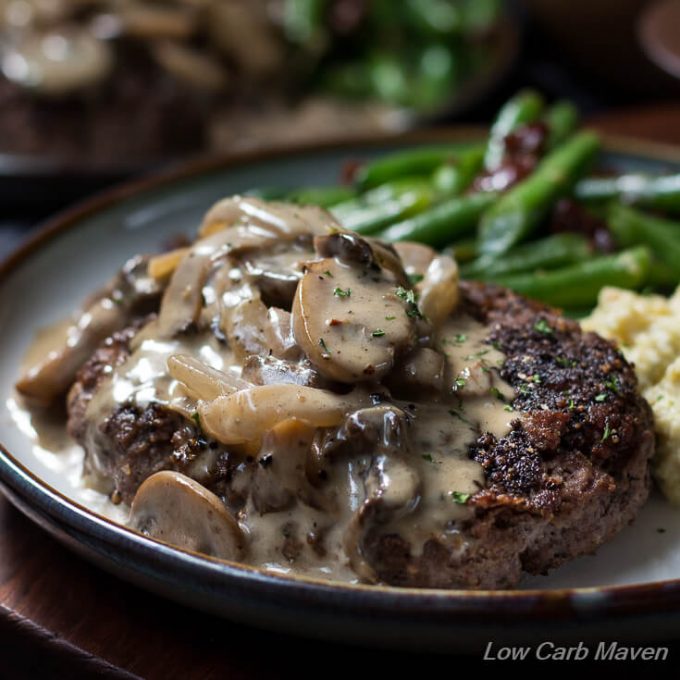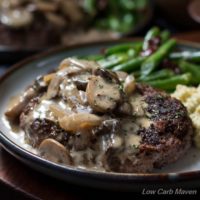 Hamburger Steak and Gravy Recipe (with Mushroom Gravy)
An easy recipe of juicy hamburger steak and gravy featuring a brown gravy recipe with onions and mushrooms. A delicious low carb meal the whole family will love.
Print
Pin
Rate
Ingredients
Hamburger Steaks
1 1/4

pounds

ground beef

(85% lean)

2

tsp

Worcestershire sauce

2

tsp

Mc Cormicks Montreal Steak Seasoning

1/4

cup

crushed pork rinds*

(or 1/4 cup breadcrumbs if not low carb)

1/4

cup

heavy cream

1

tbsp

fresh minced parsley

1

tsp

oil

salt and pepper
Mushroom and Onion Gravy Recipe
1/4

cup

diced onions

8

oz

sliced button mushrooms

1/4

cup

water

1/3

cup

heavy cream

2

tbsp

whisky (brandy,bourbon, or rum)

(optional)

1

tsp

beef base (bouillon)

1

tbsp

butter
Instructions
NOTE: There is no egg in this recipe.
Preparation:
Make a panade by soaking the pork rinds (or bread crumbs) in 1/4 cup of heavy cream until absorbed – about 10 minutes. Mince the parsley and finely dice the onions.
Method:
Add the ground beef to a medium bowl, breaking it up as you do. Sprinkle the Worcestershire sauce, steak seasoning, and parsley over the beef. Add the soaked pork rinds (or bread crumbs). Mix with a hand mixer until the ingredients are just combined.

Divide the seasoned ground beef into 4 even portions and form into patties. Season the outside with salt and a hefty amount of coarse black pepper. (Lots of pepper gives the hamburger steak a wonderful savory flavor.)
Cook:
Place a large skillet or saute pan over medium high heat. When hot, add 1-2 teaspoons of oil and swirl to coat the pan.

Add the hamburger steaks and cook for approximately 3 minutes per side. Remove the steaks from the pan and cover loosely with foil. Turn the heat down to medium.

If there is not a lot of oil left in the pan, add 1 tablespoon of butter and the mushrooms, stirring to coat all of the mushrooms. Cook for 1 minute. Stir and push the mushrooms to the sides of the pan. Spread the onions in the center of the pan and cover for 1 minute.

Add the beef base and stir. Next, add the whisky and water, stirring to bring up any browned bits that may still be stuck to the bottom of the pan. Add the heavy cream and any accumulated juices from the hamburger steaks. Bring to a fast simmer, reducing the sauce until it thickens. Stir in 1 tbsp of butter to give the sauce a nice sheen. Adjust seasoning with salt and pepper to taste.

Serve the sauce over the hamburger steaks. It's not a lot of sauce, but it's very flavorful and satisfying. Serves 4.

Alternately: After the sauce thickens add the hamburger steaks back to the pan to reheat for a few minutes. Turn the heat down to low and loosely cover with foil. Serve with sauce spooned over top.
Notes
*If you don't eat pork rinds, add the cream and 1 large egg. 
Nutrition Facts
Hamburger Steak and Gravy Recipe (with Mushroom Gravy)
Amount Per Serving
Calories 612
Calories from Fat 468
% Daily Value*
Fat 52g80%
Carbohydrates 5g2%
Protein 29g58%
* Percent Daily Values are based on a 2000 calorie diet.
Nutrition
Calories:
612
kcal
|
Carbohydrates:
5
g
|
Protein:
29
g
|
Fat:
52
g
|
Fiber:
1
g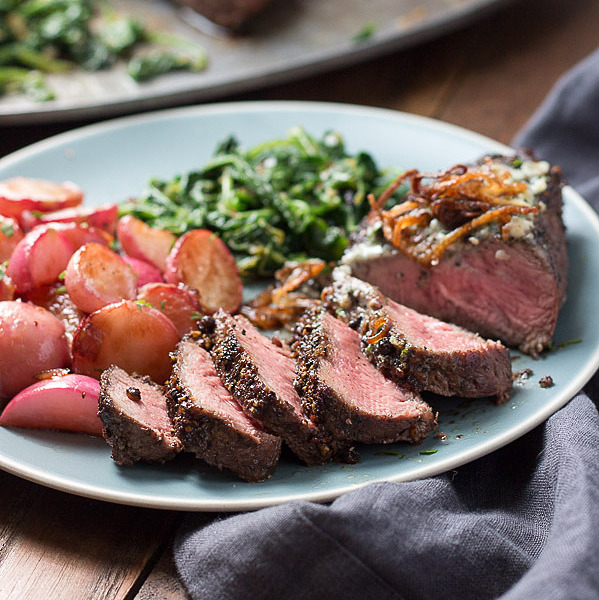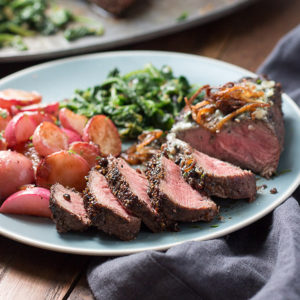 Pan Seared Flat Iron Steak Recipe with Peppercorns and Blue Cheese Compound Butter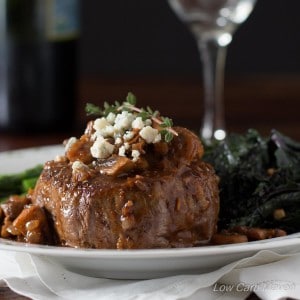 Filet Mignon with Mushroom Red Wine Sauce and Blue Cheese