This Ham & Smoked Mozzarella Hasselback Chicken is so full of flavor you won't believe it. Because it's a sheet pan dinner, it's also fast and easy! This fantastic tasting dinner is perfect for any low carb diet but was designed specifically with Atkins in mind.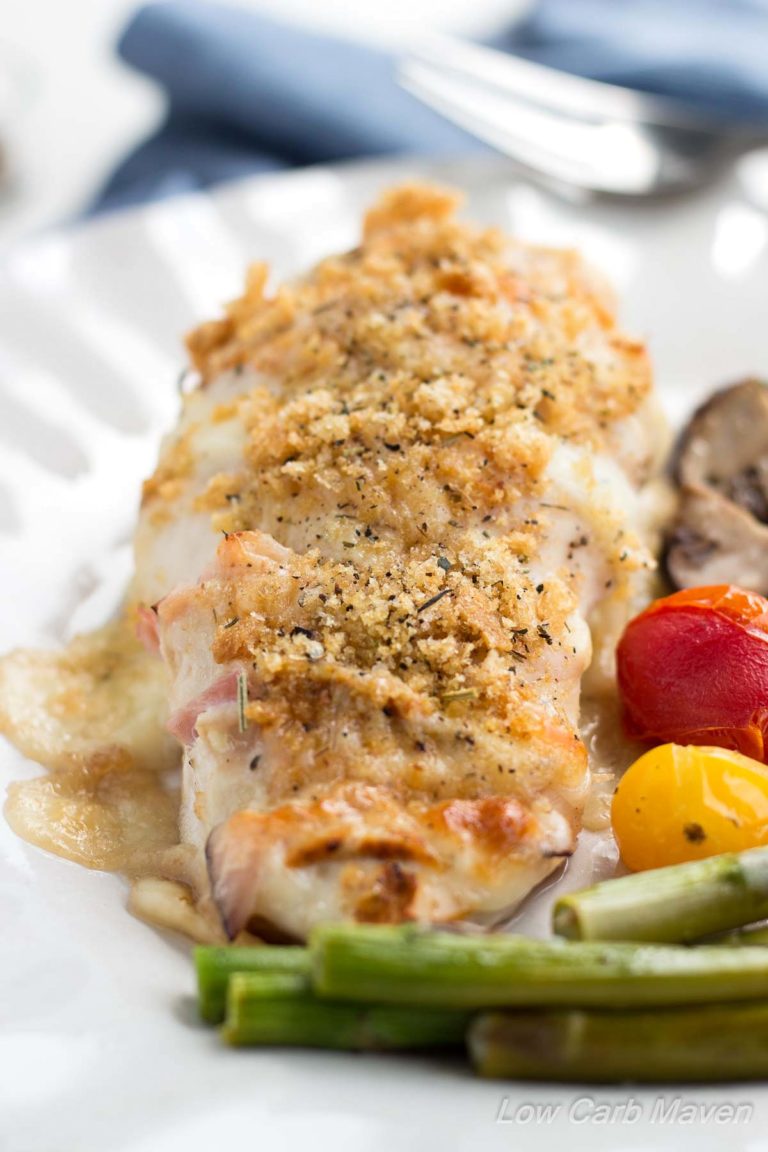 [This Post is Sponsored by Atkins Nutritionals. All statements and opinions are my own.]
Spring came early this year and although some areas have been hit with a late April Snow, the weather has been mild in Southern California. Flowers and trees are in bloom and my roses are in full flush. This is my favorite time of year – a time to rid our house and our lives of the things that don't work for us anymore; to clean, cleanse, simplify, down size, re-organize, and to put things to rights – all in the name of Spring Cleaning.
And as we look to Spring to de-clutter our homes and our lives, it's also the perfect time to cleanse our bodies with healthier food choices. I've been concentrating more on recipes that focus on whole foods and fresh vegetables as well as time saving one-dish meals. This ham & smoked mozzarella hasselback chicken is an easy sheet pan meal packed with flavor and healthy vegetables. This is low carb, clean eating at it's best!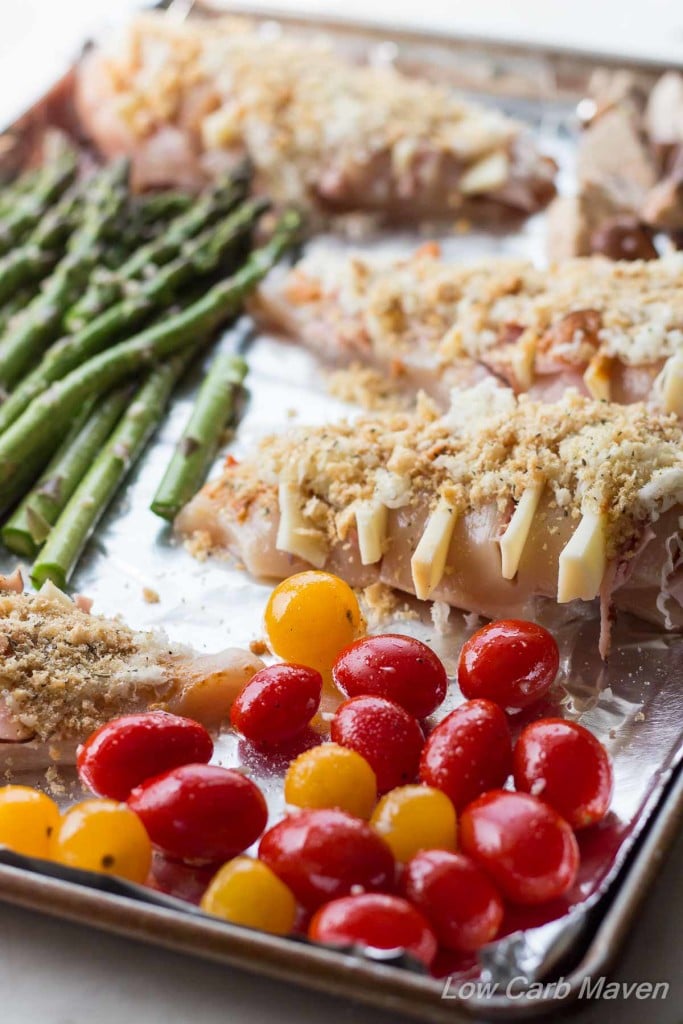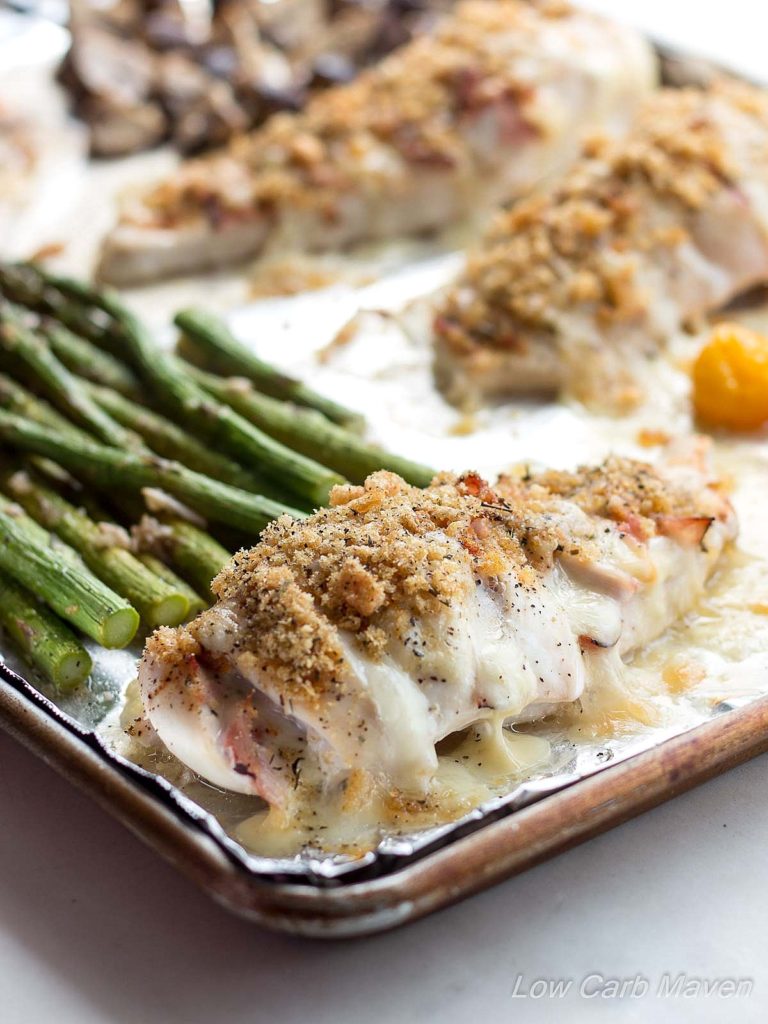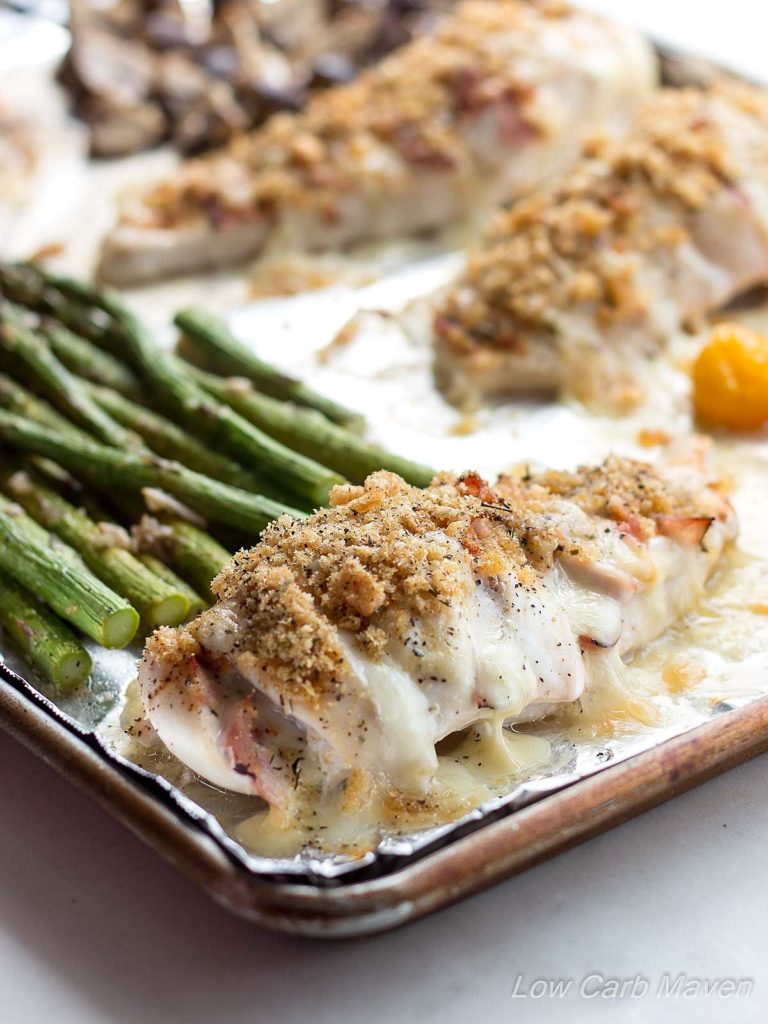 Choosing a Low carb life style is a great way to help me to stay healthy and eat clean. Unfortunately, low carb diets have endured their fair amount of diet bashing, being mislabeled as "meat and cheese diets". Luckily as more research on low carb eating comes to light, people are beginning to embrace reducing their sugar intake and watching their carbs, as well as adding more healthy fats to their meals. I have honestly never eaten more vegetables and whole foods in my life before starting Atkins 7 years ago. Instead of being restrictive, I find low carb eating on Atkins (or any low carb eating plan) an easily sustainable lifestyle choice!
After years of eating a low calorie and low fat diet, many people may not know what a low carb menu looks like. I can help you there by posting a typical day of food – or a 1 day low carb menu. I like to eat a piece of quiche for breakfast, have a salad for lunch, and a dinner that combines a protein with healthy vegetables. Let's take a look shall we?
*eat two or enjoy 1 with a side of bacon, sausage, 1/2 of an avocado or a side of veggies with butter.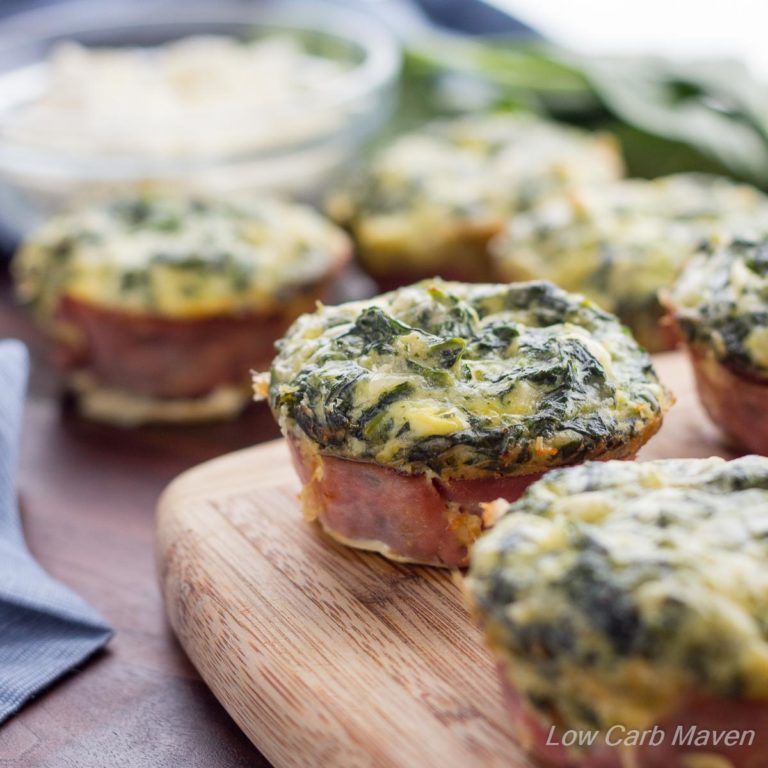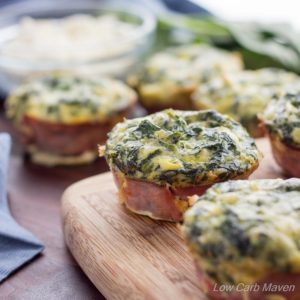 [nutritional information for 1 muffin — Calories: 148, Fat: 11g, Carbs: 3g, Fiber: 1g, Protein: 8g = 2 Net Carbs]
*Use dressing listed or your favorite low carb, full fat dressing. Need more fat? Add a little more dressing or some avocado.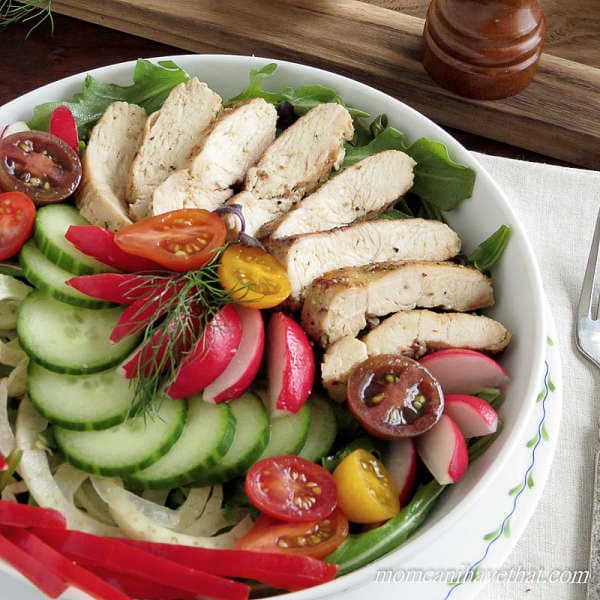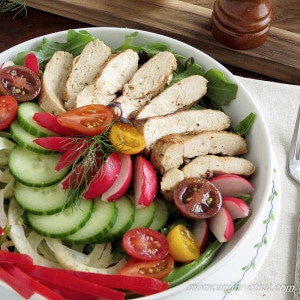 [nutritional information for whole salad — Calories: 302, Fat: 21g, Carbs: 8g, Fiber: 3g, Protein: 21g = 5 Net Carbs]
Ham & Smoked Mozzarella Hasselback Chicken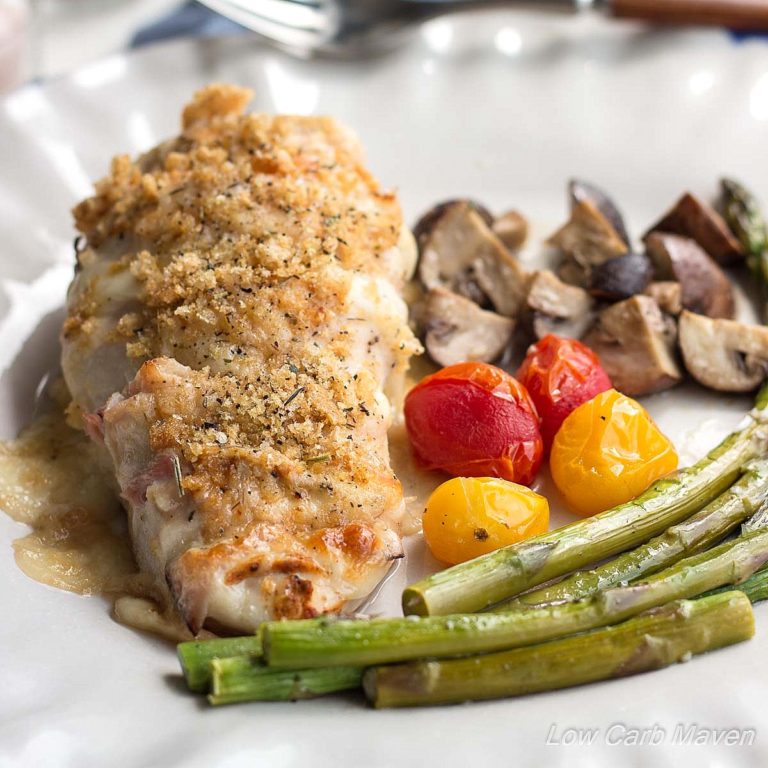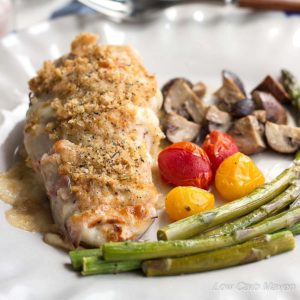 [nutritional information per serving — Calories: 336, Fat: 19g, Carbs: 9g, Fiber: 2g, Protein: 34g = 7 Net Carbs]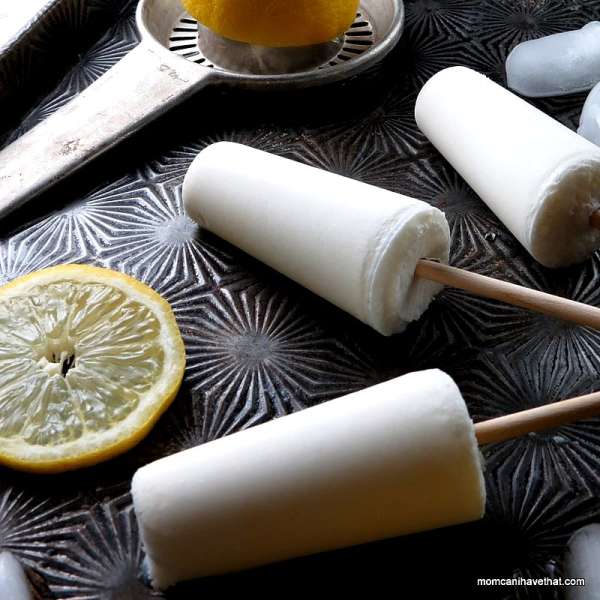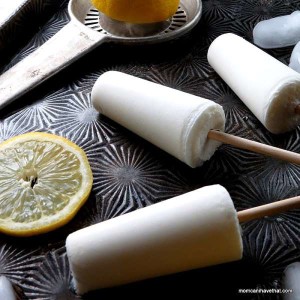 [nutritional information per popsicle — Calories: 60, Fat: 6g, Carbs; 1g, Fiber: trace, Protein: 1g, = 1 Net Carb]
I think you can agree that the calories and carbs in these three meals (and dessert) are pretty low. Even in the induction phase (the most restrictive phase) of Atkins, there is still room for a nice high-fat snack and possibly even a low carb dessert (pictured). And look at the variety of vegetables being eaten throughout the day. Would anyone ever say that a meal full of vegetables is unhealthy?
Right now, Atkins Nutritionals is hosting a fun contest with great prizes. I urge you to enter the #AtkinsSpringClean recipe contest on the Atkins Facebook Page. Just create your recipe around the "weekly ingredient" for a chance to win! One winner will be selected each week. Good luck!
TIP: To avoid turning on the oven in the Summer, cook the chicken in the toaster oven at 400 for about 30 minutes. The vegetables can be steamed together in the microwave, cooked in a frying pan, or cooked in a skillet over the grill.
This Ham & Smoked Mozzarella Hasselback Chicken sheet pan dinner is 7 net carbs per serving!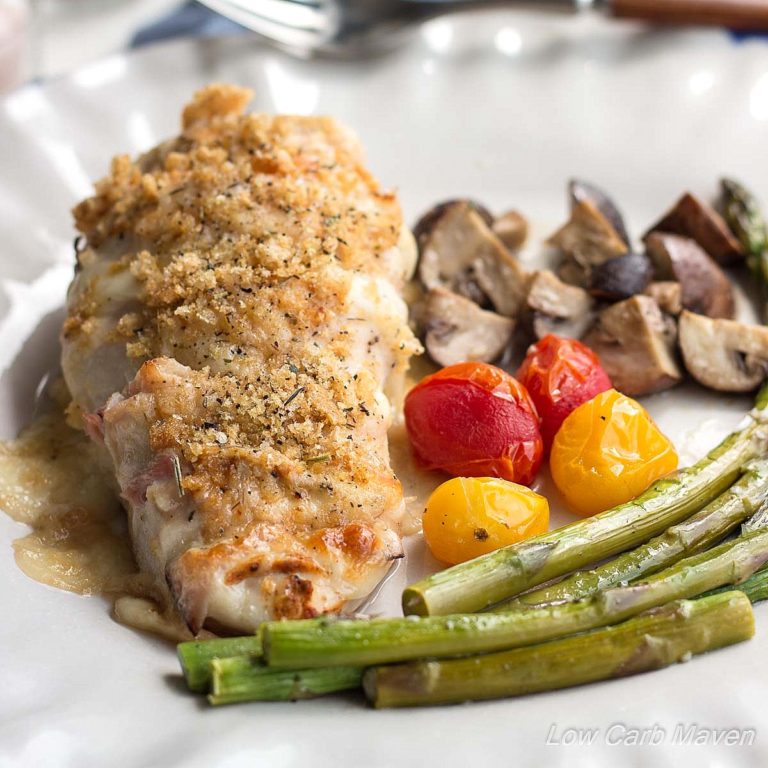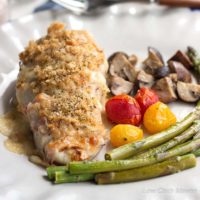 Ham & Smoked Mozzarella Hasselback Chicken
This Ham & Smoked Mozzarella Hasselback Chicken is so full of flavor you won't believe it. Because it's a sheet pan dinner, it's fast, easy, and full of healthy vegetables.
Print
Pin
Rate
Ingredients
1

pound

skinless-boneless chicken breast fillets (4)

(16 oz/ 454 g)

salt and pepper

3

ounces

deli ham,

sliced into strips (85 g)

4

ounces

smoked mozzarella cheese,

2 oz sliced thinly and 2 oz grated (113 g)

4

teaspoons

chipotle mustard or Dijon mustard

(20 ml)

1/4

cup

pork rinds

crushed, (1/4 oz/ 7 g)

1

teaspoon

Garlic And Herb Seasoning Blend,

or your favorite (5 ml)

Roasted Marinated Vegetables

8

ounces

mushrooms,

quartered or sliced (227 g)

8

ounces

asparagus

trimmed, (227 g)

8

ounces

whole cherry or grape tomatoes

(227 g)

2

tablespoons

olive oil

(30 ml)

1

tablespoon

red wine vinegar

(15 ml)

1

clove

garlic,

minced (5 g)

1/4

teaspoon

salt

1/8

teaspoon

pepper
Instructions
Prep: Preheat oven to 425 degrees and place oven rack in middle position. Line a sheet pan with foil. Mix the seasoning with the crushed pork rinds. Trim the vegetables if needed.

Marinated Vegetables: Mix the ingredients for the vegetable marinade. Put asparagus, mushrooms and tomatoes into a shallow container and toss with the marinade.

Chicken: Slice the ham into 1 centimeter – 1/2 inch strips. Thinly slice about 2 ounces of the cheese and grate the rest. Season the chicken breasts with salt and pepper on all sides. Make 6 deep cuts in each chicken breast. Stuff the strips of ham into each cut in each breast. Next, put a piece of cheese into each cut. Smear a teaspoon of mustard on each breast. Divide the shredded cheese among the chicken, sprinkling on top. Sprinkle with the seasoned pork rinds.

Sheet Pan: Arrange the chicken so that there is room for the vegetables. I grouped my asparagus together, my mushrooms together and my tomatoes together. Lightly salt and pepper the veggies and chicken on the pan.

Bake: Bake the chicken for 20-30 minutes or until the chicken is cooked through (160 degrees on an instant read thermometer).

Serve: Divide the chicken and vegetables among four plates.
Nutrition
Calories:
336
kcal
|
Carbohydrates:
9
g
|
Protein:
34
g
|
Fat:
18
g
|
Fiber:
2
g