This mild green tomato salsa is fantastic on grilled meats, eggs and all of your Mexican food favorites. So good and easy to make you'll want it on everything!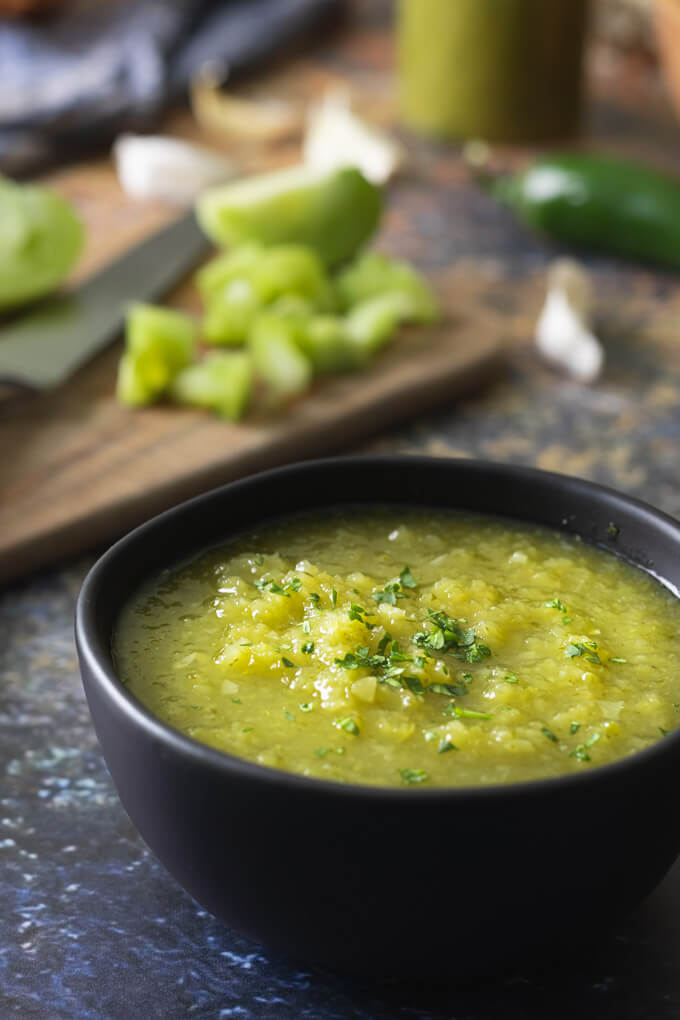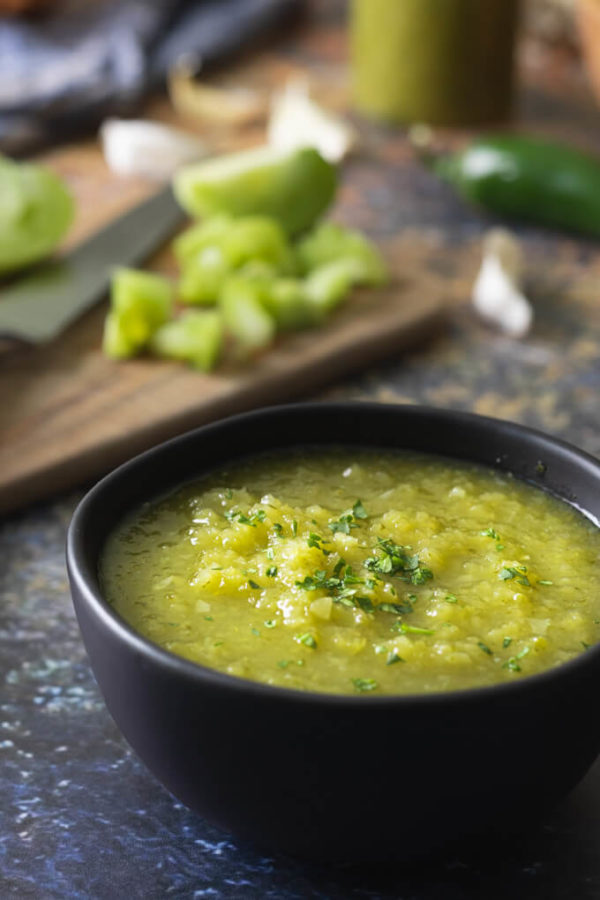 THIS POST INCLUDES AFFILIATE LINKS TO SHARE THE THINGS I LOVE.
Salsa is a required condiment in the Southwest. I eat some form of salsa almost every day. One of my favorite salsas is salsa verde.
Salsa verde is traditionally made from tomatillos, a member of the gooseberry family. The tomatillos are typically roasted to soften, then pureed with onions and garlic. A hit of acid brings balance and salt heightens flavor. Some people add cilantro, cumin or avocado to their salsa verde. It's all delicious, especially over white chicken enchiladas!
This version uses green tomatoes!
Using Green Tomatoes in Salsa
As I mentioned, traditional salsa verde recipes call for tomatillos. Cousins of tomatoes, tomatillos resemble green unripened tomatoes but are surrounded with a dry papery husk. While green tomatillos are tart and not overly juicy, if allowed to ripen to a light yellow, they sweeten and are delicious raw in salads.
Depending on where you live, it might be difficult to find tomatillos in the grocery store. If you can't find them, green tomatoes make an excellent substitute.
Like tomatillos, unripened tomatoes aren't very juicy. Eaten raw, green tomatoes may cause stomach trouble for some people, therefore it's best to cook them – like fried green tomatoes. This salsa is cooked to soften the tomatoes so they're easier to digest.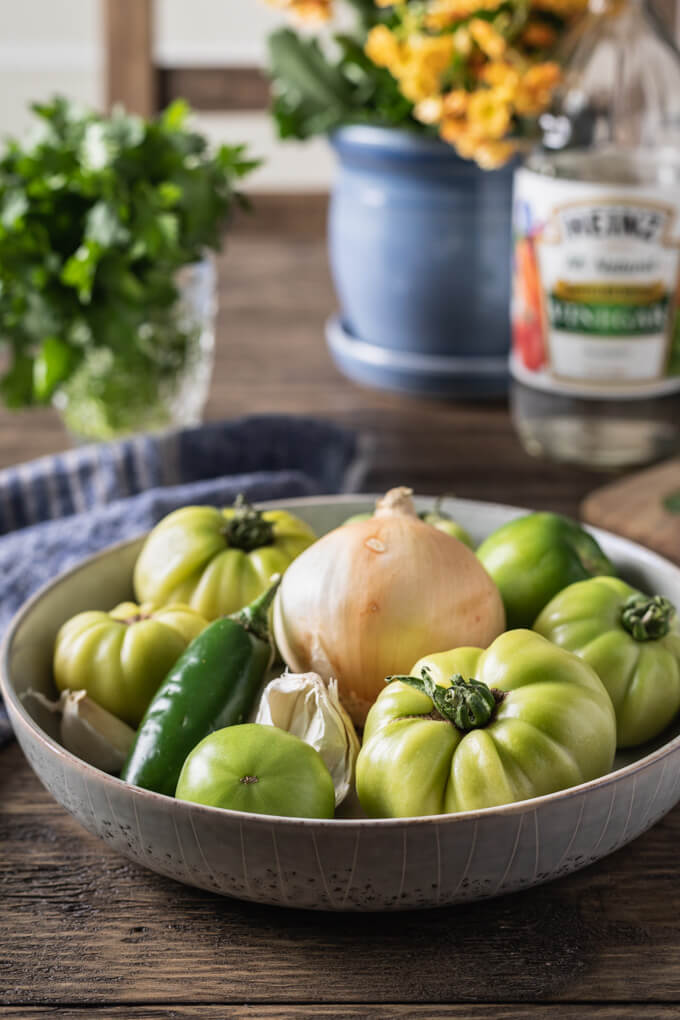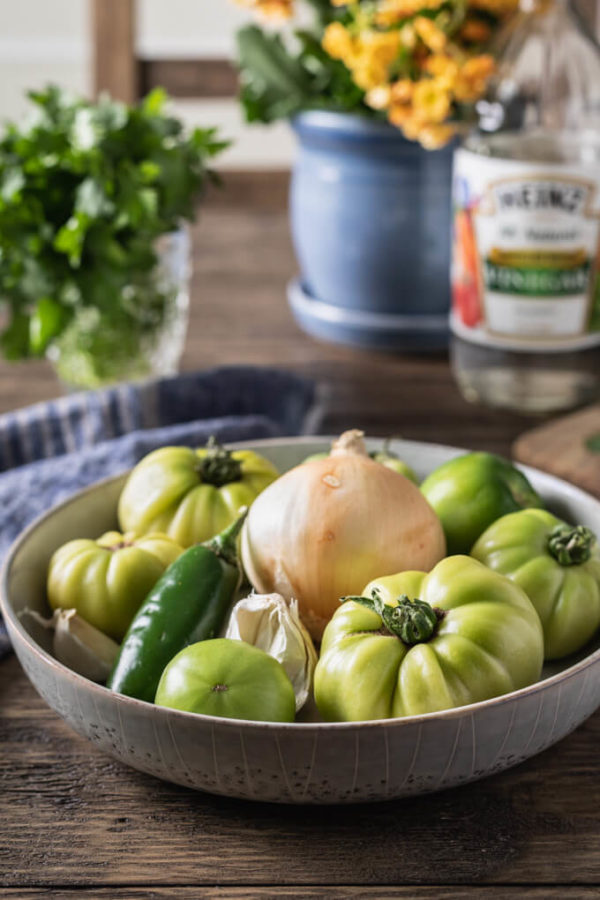 Making Green Tomato Salsa
You have a couple options to cook the green tomatoes for salsa.
FIRST OPTION:
BROIL: Cook the tomatoes (and the jalapeno) under the broiler in the oven before making the salsa. To do this, place them on a sheet pan and broil until they turn from green to olive-green and begin to brown/blacken in spots. Then, turn them over and repeat.
Place all of the ingredients in a blender and process to your desired consistency.
SECOND OPTION:
Add all of the ingredients to a food processor and process until finely chopped. Don't worry about over processing the salsa. It will not liquify. In fact, you may need to add a small amount of water to encourage the process.
If you like smoother salsa, you can pour the processed salsa into a good blender and blend until you are happy with the consistency.
SIMMER: I simmered my finished green salsa on the stovetop until the color changed from bright green to yellow green.
IMPORTANT: Let the salsa cool before serving. The flavor changes upon cooling, so make adjustments to flavor after it cools. For the best flavor let the green salsa sit overnight in the fridge, then make final adjustments to the flavor. I add just enough salt to make it taste good, a little sweetener to mellow and round out flavors and, if needed, a squeeze of lime juice for brightness.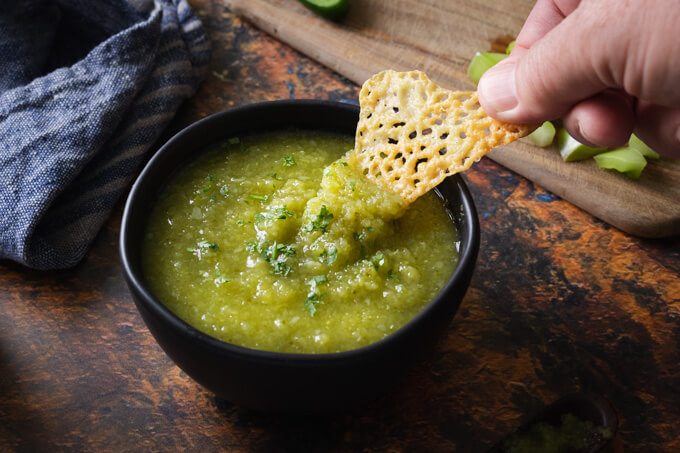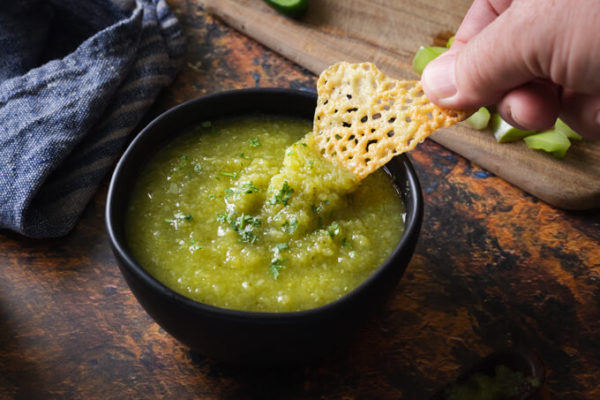 What Goes With Green Tomato Salsa?
The bright flavor makes this green tomato salsa a compliment to so many dishes. I often use this salsa verde recipe to spoon on my morning eggs. It's also fabulous spooned on top of grilled meats and seafood or even on cauliflower rice. Try it on these keto fish tacos by Keto Diet App.
Spooning this vibrant sauce over keto beef tacos or taco pie is amazing. Likewise, you could add even more flavor to this Chicken with Poblano Peppers and Cream by topping it with a spoonful of this green tomato salsa.
And while it makes a delicious compliment to so many main dishes, I'd be out of line if I didn't mention its serious snacking potential. This salsa recipe is excellent to dip low carb tortilla chips or quesadillas into, making it something you could serve up as a snack when you are watching the game.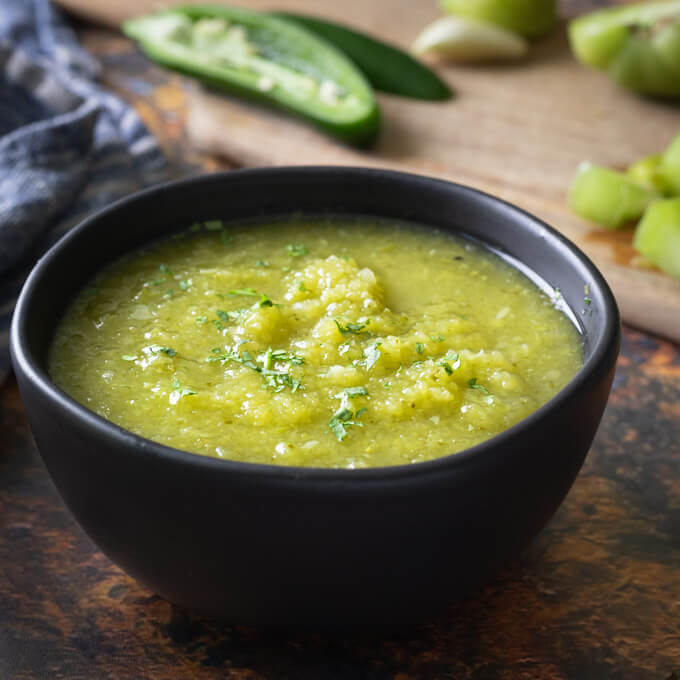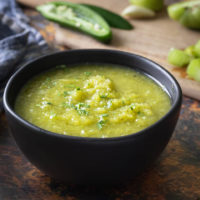 Green Tomato Salsa Verde
This mild green tomato salsa verde recipe is great on grilled meats, eggs and all your Mexican food favorites. So good and easy to make you'll want it on everything!
Print
Pin
Rate
Ingredients
1/2

pound

green tomatoes, chopped

(8 oz/ 227 g)

1/4

cup

finely chopped white onion

(1.5 oz/ 42 g)

1

serrano or jalapeno pepper, chopped

(de-seed/ de-vein for mild salsa)

1

clove

garlic

3

tbsp

white vinegar

1

tbsp

lime juice

1/2

tsp

low carb sugar

(or sweetener of choice)

1/4

tsp

salt

1/4

cup

water

2

tbsp

chopped cilantro
Instructions
Method
Add all ingredients to a food processor and process until finely chopped. It will not liquify. If desired, place into a blender and blend for a smoother consistency.

Pour salsa into a pot and bring to a simmer. Stir until the color changes from bright green to olive or yellow-green. Cool before serving.

Develops best flavor if allowed to sit overnight. To balance flavor: Add just enough salt to make it taste good, but you shouldn't taste the salt. Add sweetener to taste if it's too sour. Add lemon or lime juice to add brightness. It's best to balance flavor after it sits overnight.


Store in an airtight container in the fridge for up to two weeks.


Makes about 2 cups, 8 servings (¼ cup each). Each serving has 1.42 NET CARBS.
Broiling (optional method)
You can broil/roast the tomatoes and pepper before adding to the food processor or blender. Slice the tomatoes thickly or slice in half in small. Broil about 3-4 inches from the broiler for about 5 minutes per side or until the tomatoes turn color from bright green to yellow-green and get a few brown/black spots on them. This imparts a smoky flavor. There is no need to cook the sauce on the stove if roasting the tomatoes first. Continue with the method above.

Nutrition
Calories:
8
kcal
|
Carbohydrates:
1.82
g
|
Protein:
0.32
g
|
Fat:
0.07
g
|
Fiber:
0.4
g
|
Sugar:
0.96
g