Low carb keto chocolate banana brownies are super moist thanks to coconut milk. Almond and coconut flour make them a delicious diary-free and Paleo treat.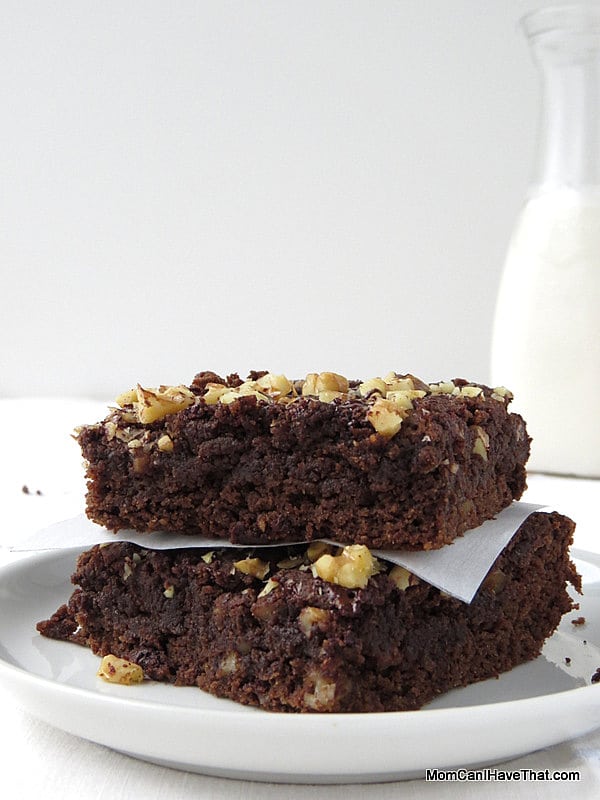 Originally, I developed this recipe to be a low carb Chocolate Banana Bread. After preparing it in mini loaf pans, as muffins, and in a regular sized loaf pan, I decided it would make amazing low carb brownies. The texture is moist and fudgy and delicious.
Don't get me wrong, the recipe works beautifully baked in loaves or as muffins, but the texture — oh, the texture! I have never eaten anything so moist in my life. To call it a chocolate banana bread or cake did not do it justice. With a texture so rich, moist and fudgy, chocolate banana brownies was perfect.
The banana flavor does not overwhelm the chocolate and the texture appears cake-like in the photos, but deceives. The first and second time I made this recipe I used my favorite mix of Bensdorp and Black Cocoa from King Arthur Flour and the color was so dark they did not photograph well.
Using regular Hershey's Cocoa resulted in the color you see pictured here, which is pretty dark. Both were good, but I preferred the flavor of my cocoa mix just a teeny bit more.
These uber-moist keto chocolate banana brownies would make the most awesome base for a sundae!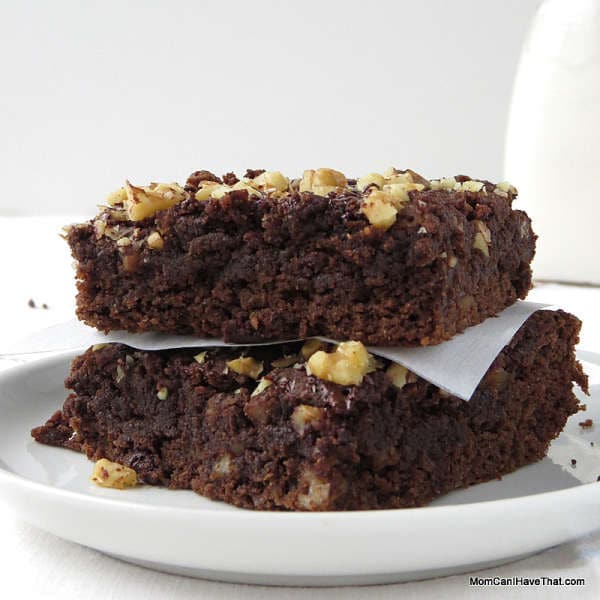 I just want to say a few things about the recipe before you run-off to make these!
[LOW CARB BAKING INFO] Low carb baking is different than regular baking. It took me several years to forget what I knew about regular baking. Once I did, my low carb, gluten-free and dairy-free recipe have become better for it.
My batters are much thicker than regular batters – this provides structure with out having to add gums and other thickeners. I use a minimal amount of Erythritol, Swerve or Xylitol. These ingredients are expensive so I use less of them and augment with Stevia Glycerite, which is a very concentrated sweetener. All of my baked goods are much less sweet than traditional items. That's how I like it. Add more sweetener per your taste. Lastly, baking is fun – enjoy!
These fudgy Low Carb Keto Chocolate Banana Brownies are 5 net carbs each
[Disclosure: This recipe contains affiliate links.]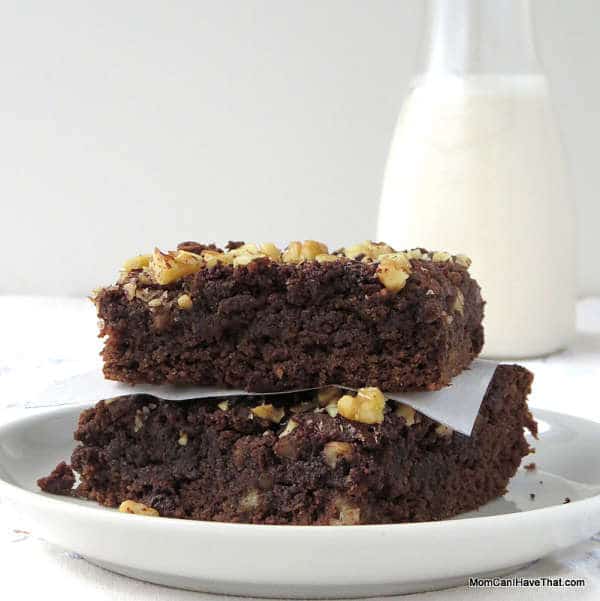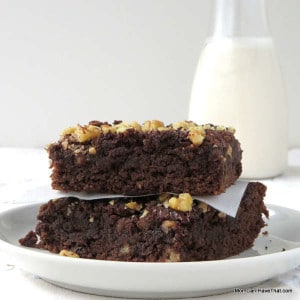 Low Carb Keto Chocolate Banana Brownies
Low Carb Keto Chocolate Banana Brownies is an out-of-this-world recipe that is not only gluten-free but dairy-free and Paleo, too. Chocolate and Bananas? Yes, please!
Print
Pin
Rate
Ingredients
Wet Ingredients
5

oz

over-ripe banana

(one medium)

1

teaspoon

vanilla

1/4

teaspoon

maple extract

1/4

teaspoon

banana extract

(or almond or chocolate)

1/2

teaspoon

stevia glycerite

3

large

eggs

1/4

cup

full fat coconut milk

1

tablespoon

vinegar
Optional Ingredients shown in photo
1/2

cup

walnuts

3

tablespoons

Lili's Sugar-free Chocolate Chips

or your favorite low sugar chocolate
Instructions
Preparation:
Preheat the oven to 350 and position the rack in the lower third of the oven. Chop the nuts.

Spray a 9 x 9 inch square metal brownie pan with cooking spray. Cut a piece of parchment paper wide enough to cover the bottom of the pan, come up the sides and drape over. Position it in the pan.
Method:
Before measuring the dry ingredients, fluff them up with a whisk to remove any lumps and sift the coco powder before measure. Lumps indicate compaction and you will end up using more than called for in the recipe.  (SEE NOTES)

Measure and add the dry ingredients to a medium bowl and whisk together until combined. Add 2/3 of the nuts, stirring them in. In a smaller bowl, mash the banana with a fork – then add the flavorings, the eggs one-by-one, the coconut milk, and vinegar mixing in between additions. Scrape into the bowl with the dry ingredients and mix with a hand mixer until completely incorporated.

With a spoon, place the batter evenly around the brownie pan. With the back of the spoon, gently distribute the batter in the pan – it is very thick and you will not be able to distribute it evenly with the spoon. Cut a piece of waxed paper and spray it with baking spray. Lay it over the batter and VERY GENTLY, with a sliding motion, use your fingers and hands to distribute the batter as evenly as you can. It just takes a minute and it won't be perfect — don't worry, it will fill-in as it cooks. Add the rest of the nuts and all of the chocolate to the top, barely pressing them into the batter.
Bake:
Place in the oven and cook for about 25 minutes. The chocolate banana brownies are ready when the top feels springy, but not soggy and wet, when lightly pressed with a finger.

Cut into 16 servings. Each brownie is 5 net carbs.
Notes
Here are some tips to avoid dry brownies:
Cocoa powder needs to be sifted. Often times when bringing it home from the store, it is caked together so tightly that one needs to scrape it out with a spoon, resulting in clumps of compacted product. This leads to using much more cocoa than a recipe calls for. I break up and sift cocoa from the store and either put it back in the same container or put it into a different air tight container. Actually, I buy good cocoa powder from King Arthur's flour (Black cocoa, and Bensdorp/red cocoa) and I mix them 1:1 or 1:2. This results in a dark and complex cocoa that tastes exactly like dark chocolate with some smokey overtones. It's what I used in this recipe and why they are so dark in color.
Again, ingredient compaction. Make sure to whisk to fluff-up any low carb flour before measuring. Almond flour and particularly coconut flour tend to form clumps. Measuring compacted ingredients leads to over-measuring and, in the case of coconut flour which absorbs so much moisture, leads to dry baked goods.
Glass baking dishes require the temperature to be lowered 20 degrees F. They take longer to heat, but also hold onto heat for a much longer period of time. This means that baked goods continues to cook for a while they cool outside of the oven. If I use a glass baking dish, I make sure to take my goodies out of the oven just before they are done. Sometimes this leads to mild sinking in the middle. I find that glass baking dishes are famous for producing baked goods with overdone sides and underdone middles.
This recipe was cooked in a large (25 year old) gas oven. I have found that electric ovens, especially smaller wall ovens, require a slight decrease in temperature or shorter cook time. I have a new electric oven and have had to adjust baking times when making recipes I had tested in my older oven.
Nutrition
Calories:
159
kcal
|
Carbohydrates:
9
g
|
Protein:
6
g
|
Fat:
12
g
|
Saturated Fat:
2
g
|
Polyunsaturated Fat:
3
g
|
Monounsaturated Fat:
6
g
|
Cholesterol:
40
mg
|
Sodium:
213
mg
|
Potassium:
225
mg
|
Fiber:
4
g
|
Vitamin A:
50
IU
|
Vitamin C:
0.8
mg
|
Calcium:
100
mg
|
Iron:
1.1
mg