A gluten free pumpkin bread recipe made with coconut flour with a taste and texture like the real thing, except it's low carb and completely sugar free!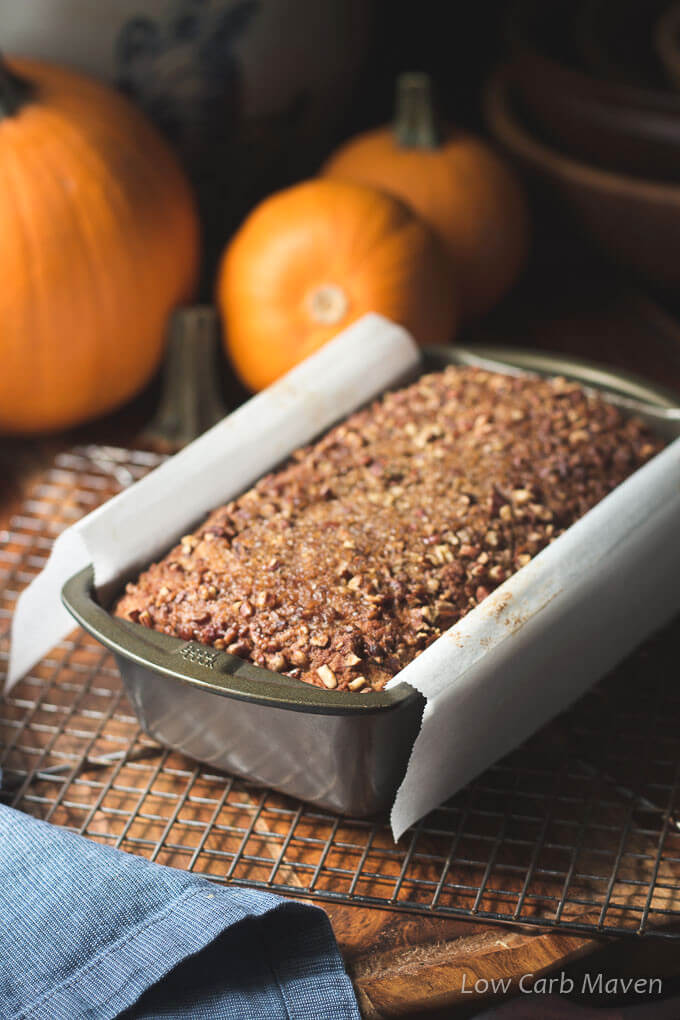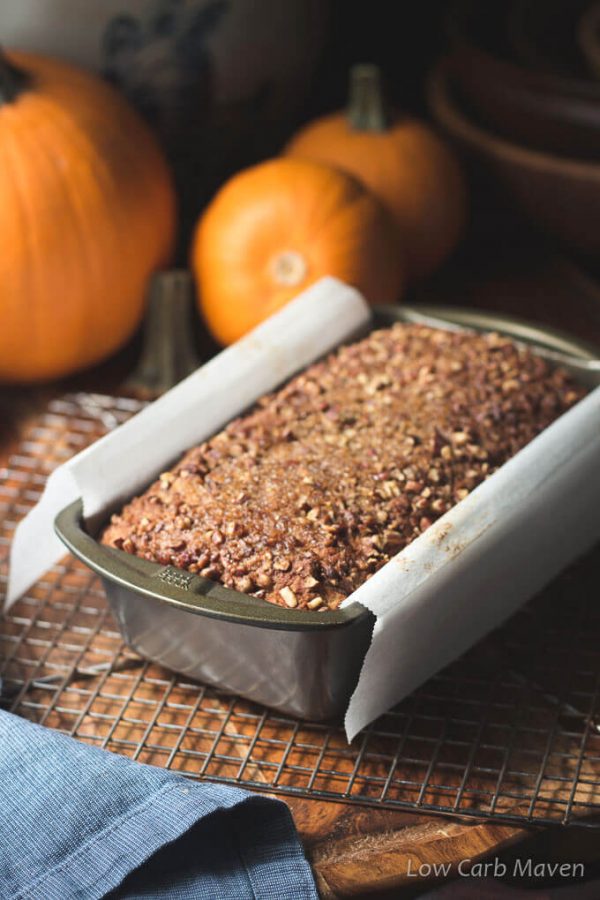 Gluten-free Pumpkin Bread Recipe
One of the best things about being on a low carb diet is how I feel being free from gluten. I never realized how bad it made me feel. We're talking brain-fog, a rumbly tummy and achy joints. Lucky for me, most low carb flours are completely gluten-free and produce delicious baked goods like this delicious gluten free pumpkin bread made with coconut flour.
Coconut flour is a byproduct of the coconut milk industry. The coconut meat is ground and soaked in water. Then it's pressed to remove its moisture and oil – or coconut milk. The spent coconut pulp is dried and ground into a fine powder. It's completely gluten-free.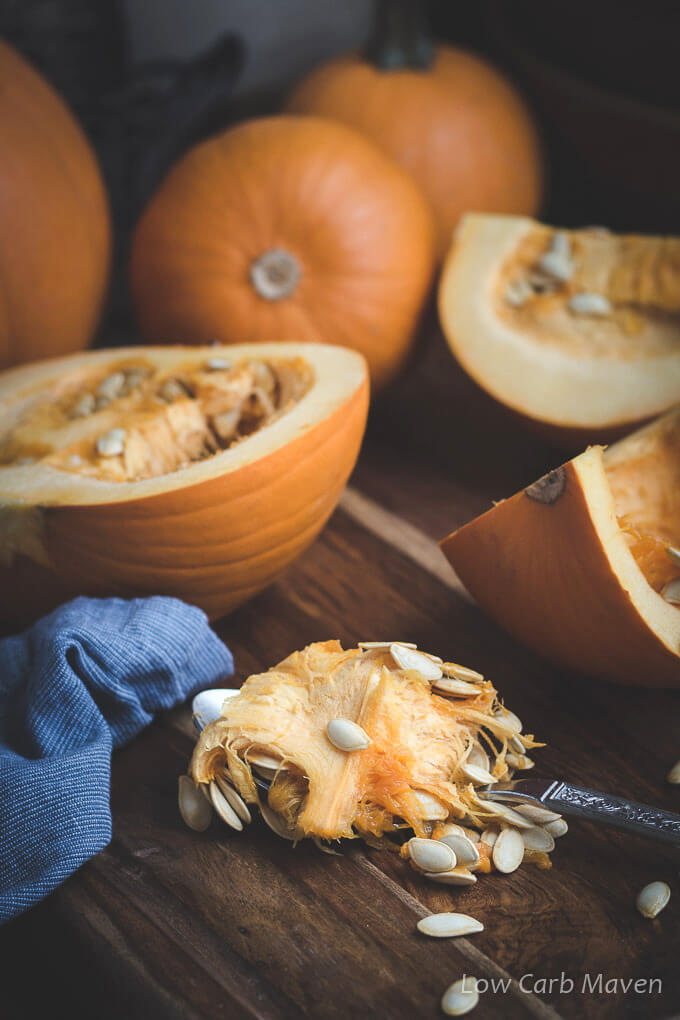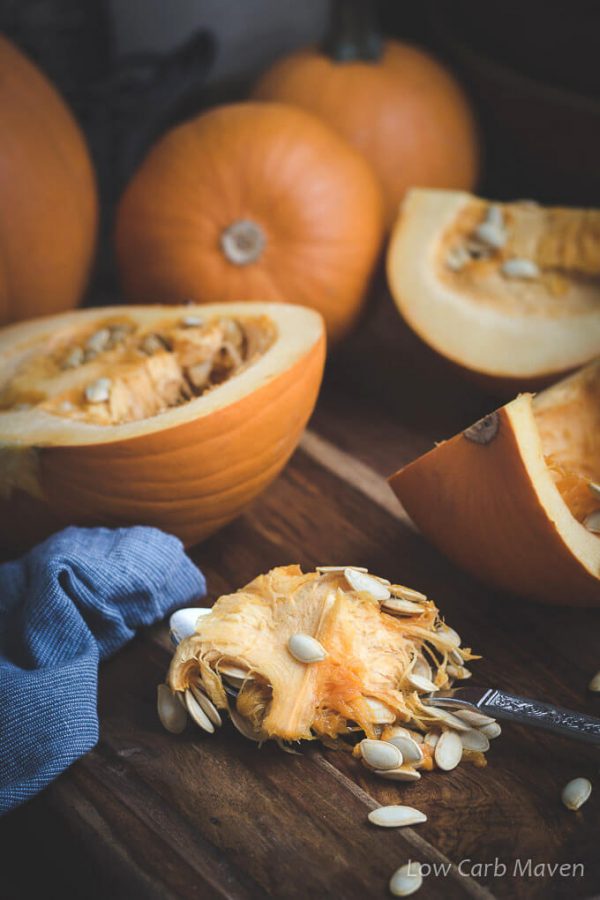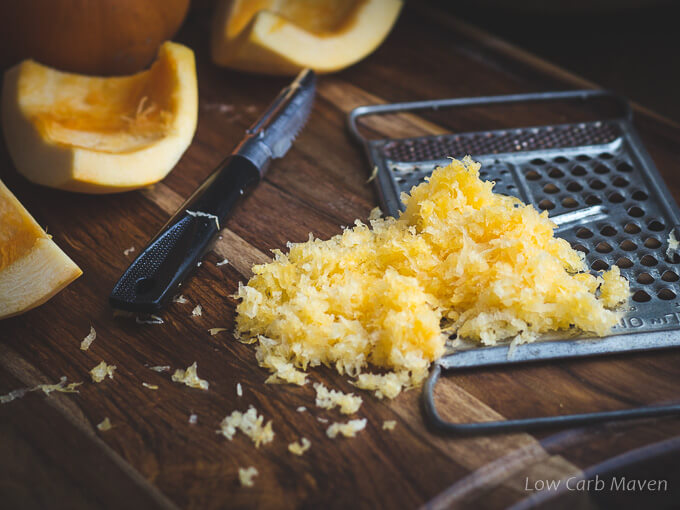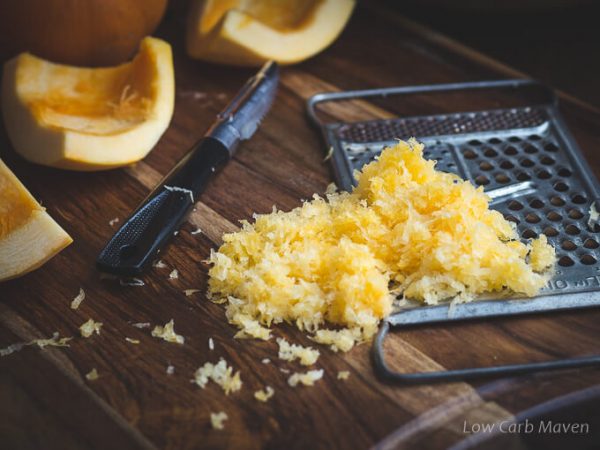 Coconut flour is one of the most misunderstood of the low carb gluten-free flours. It's astonishingly absorbent and requires more moisture, in the way of fat and eggs, to achieve the right texture. Adding too much liquid in the form of water or milk results in a rubbery and tough texture or a mushy texture that feels wet. Add too many eggs, and the batter sticks to pans and won't let go!
Luckily, I know what I am doing. I based this recipe off a similar recipe for gluten free zucchini bread which has received many great reviews. This coconut flour pumpkin bread recipe is deliciously moist and so much like regular pumpkin bread you won't believe it!
Most pumpkin bread recipes use canned pumpkin. However I have found it temperamental to work with in gluten-free and low carb recipes. I think the problem lies in its sticky and paste-like consistency. Finely grating fresh pumpkin is the absolute best way to achieve the perfect gluten-free pumpkin bread texture.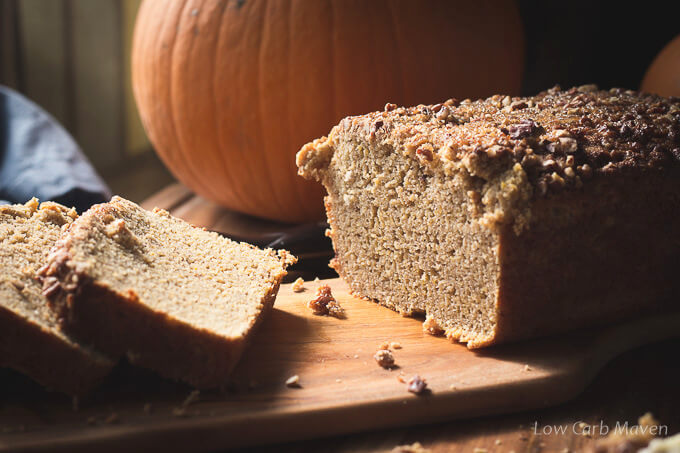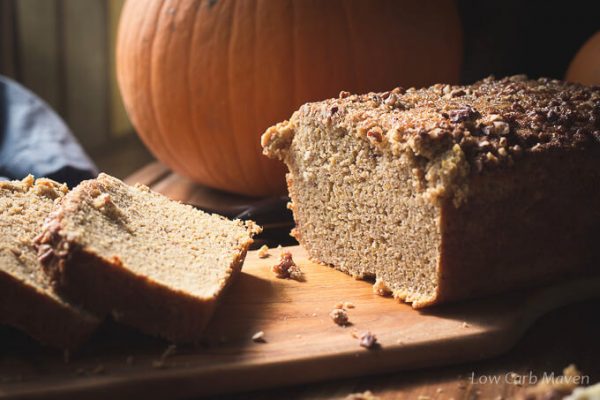 It only takes a few extra minutes to make pumpkin bread with fresh pumpkin. Remove the stem from the pumpkin with a sharp knife. Cut the pumpkin in half then quarters. Remove the seeds with a spoon. Peel the skin with a potato peeler. Grate the pumpkin on a fine-holed micro-plane grater.
The whole process of peeling and grating the pumpkin only takes 15 minutes. Refrigerate the grated pumpkin for future use for up to 5 days or freeze in 1 cup portions to be used months later.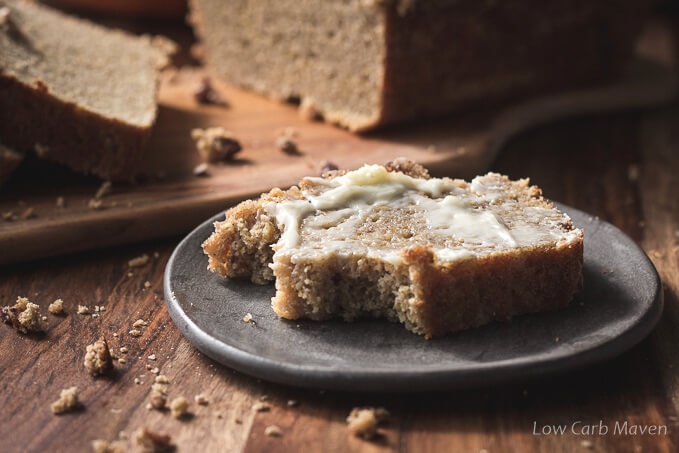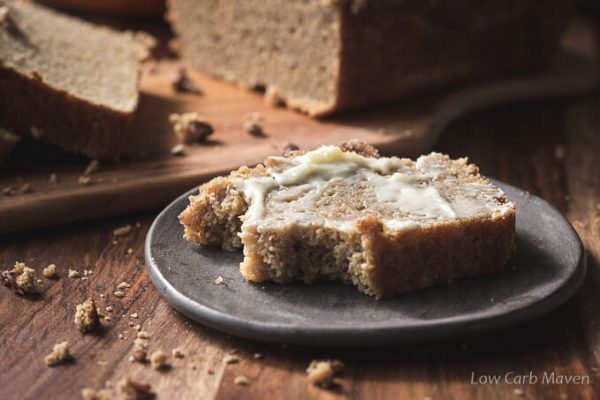 This pumpkin bread freezes beautifully so make a few loaves and keep them ready in the freezer to pull out the day before your holiday feast!
Gluten Free Pumpkin Bread is 3 net carbs per slice.
[This recipe and post may contain affiliate links. Purchasing through a link may result in my earning a small consideration at no expense to you.]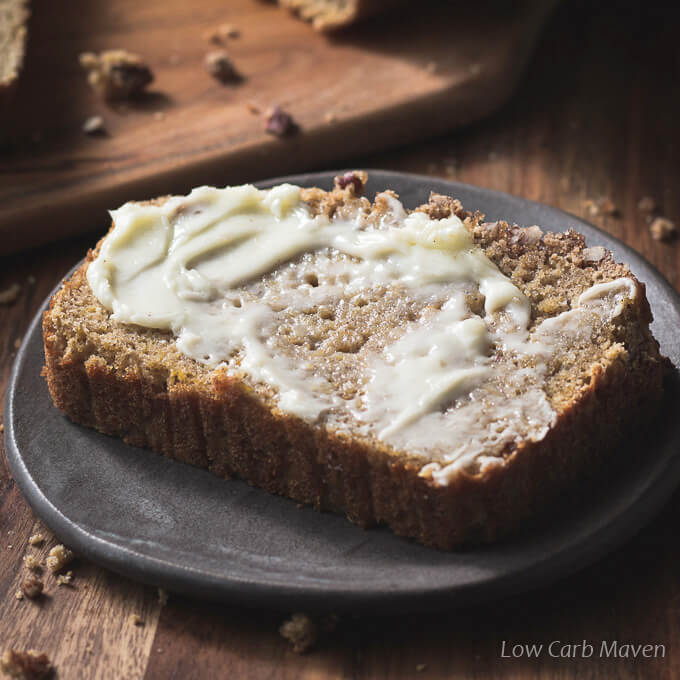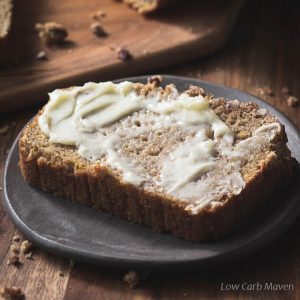 Gluten Free Pumpkin Bread Recipe (low carb)
A gluten free pumpkin bread recipe made with coconut flour with a taste and texture like the real thing, except it's low carb and completely sugar-free!
Print
Pin
Rate
Instructions
Preheat the oven to 350 degrees F and place rack into the middle of the oven. Spray an 8×4 inch loaf pan with baking spray and cut a piece of parchment to fit inside and hand over the sides of the pan (see picture). Peel pumpkin, weigh 6 ounces, then grate. (I grate and freeze the rest in 6 oz portions.)

Thoroughly mix the dry ingredients in a medium bowl.

Add the wet ingredients and grated pumpkin.

Blend with a hand mixer until fully incorporated and spoon into the prepared baking pan. Lift the pan a few inches above the counter and let it fall, knocking out any big air bubbles. Do this 2-3 times.

Sprinkle chopped pecans over the top of the bread and gently press into the batter. Sprinkle with the brown sugar substitute.

Bake for 50-60 minutes or until a toothpick inserted in the middle comes out clean, but the bread still sounds moist. Let cool in the pan for 5 minutes. Loosen the bread from the ends of the pan and lift the loaf to a cooling rack. Let cool completely.

Store in the refrigerator in a plastic bag for up to a week or freeze. Serves 12.
Notes
*To use canned pumpkin: Weigh the same amount of canned pumpkin as grated. Drain well on paper towels to remove as much moisture as you can. Proceed with the recipe. This was a tip given by a reader and I have not tried it. I do not know what the texture is like, only that the texture with grated pumpkin is spot on.
Nutrition
Calories:
169
kcal
|
Carbohydrates:
5
g
|
Protein:
7
g
|
Fat:
13
g
|
Sodium:
227
mg
|
Fiber:
2
g