This garlic herb dressing can be made in 2 minutes or less.  Low carb, gluten-free & dairy-free, it's the perfect everyday keto salad dressing.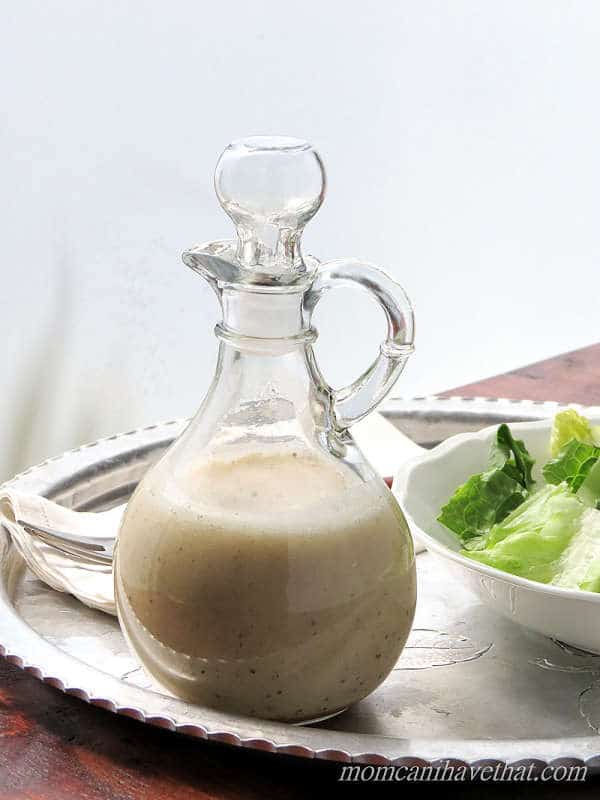 Has anyone seen the movie, Hatchi, with Richard Gere and Joan Allen? It's about a lost puppy that is found by Richard Gere's character and the special bond they share. I watched the first 30 minutes of the movie some time last year, but we decided it would be a suitable selection for "movie night" this past weekend. If you are an animal lover, you will like the movie — but have some tissues handy. If you are concerned about proving that you actually, in fact, do possess compassion and sensitivity, rent the movie — but have some tissues handy. Guys, if you are looking for a movie to get your girlfriend to snuggle into you; or Girls, if you are looking for an excuse to snuggle against your man, rent the movie (or stream it from Amazon Prime)– but have some tissues handy. I defy any one who has or has had a dog or some other beloved animal to not cry while watching this movie. I don't think it can be done. Have some tissues handy.
Anyway, back to the subject of this post, the garlic herb dressing (Vinaigrette)… Because it uses a pre-made garlic and herb seasoning blend, this salad dressing comes together in minutes. The longer it sits, the more flavorful it becomes. Its tastes great on mixed greens, vegetables, or as a marinade.
Now, I've already promised that this vinaigrette comes together very quickly. I use an immersion blender (stick blender), but a regular blender or mini food processor would work equally as well. If you are old school and like to emulsify your salad dressing by hand, maybe add a little Dijon mustard as a "cheat" to help you along.
Have you ever "lost it" during a movie? I mean in a mascara running, nose blowing, wracking sobs kinda way?
[Disclosure: This recipe contains affiliate links.]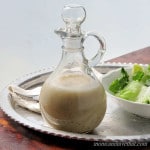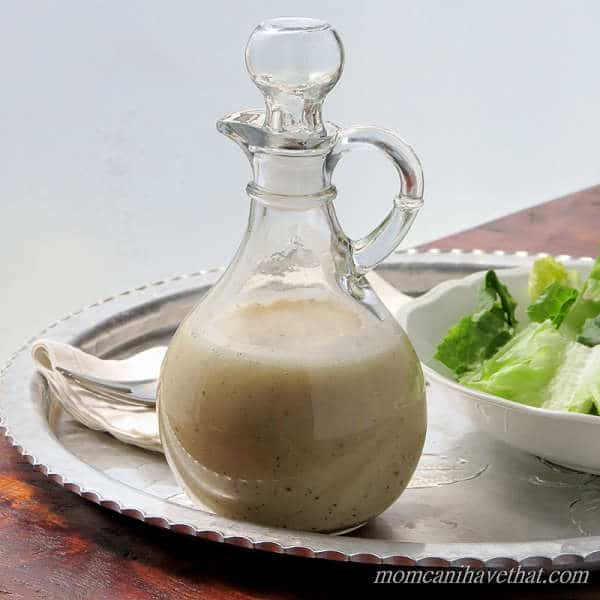 Low Carb,Gluten-Free Garlic Herb Dressing (Vinaigrette)
Garlic Herb Vinaigrette can be made in 2 minutes or less. Low carb, gluten-free & dairy-free, it's the perfect everyday salad dressing.
Ingredients
1/2

cup

light olive oil

1/4

cup

champagne vinegar

2

tablespoons

water

1

tablespoon

Garlic and Herb Seasoning Blend

1

teaspoon

powdered erythritol

1

teaspoon

lemon zest

pinch of salt

omit if using Dijon mustard
Instructions
Immersion Blender or Blender Method: Measure all of the ingredients into a bowl or into the blender carafe. Blend until emulsified. It will separate over time, but a good shake will bring it back together.

Old School Method: Add 1 teaspoon of Dijon Mustard to a bowl. If using honey, do so now and mix with the mustard. Slowly add the vinegar so that the ingredients are incorporated thoroughly. Now, almost drop by drop at first, begin adding the oil, whisking until it is "absorbed" by the vinegar mixture. We are looking for very, very, small droplets of oil floating on the surface. Once half of the oil is incorporated, it can be added a little more quickly. When emulsified, add the seasonings and sweetener. Lastly, slowly add the water. Done! And, it only took 20 minutes of constant whisking. You're a beast! Yeah! Now, show us your muscles.
Recipe Notes
Nutrition Facts
Low Carb,Gluten-Free Garlic Herb Dressing (Vinaigrette)
Amount Per Serving (2 g)
Calories 164
Calories from Fat 162
% Daily Value*
Total Fat 18g 28%
Total Carbohydrates 1g 0%
* Percent Daily Values are based on a 2000 calorie diet.
Signup for my Newsletter
Subscribe to get our recipies by email.