These fudgy keto brownies were some of the most delicious low carb chocolate brownies my family has ever had. The secret ingredient? Chia seeds!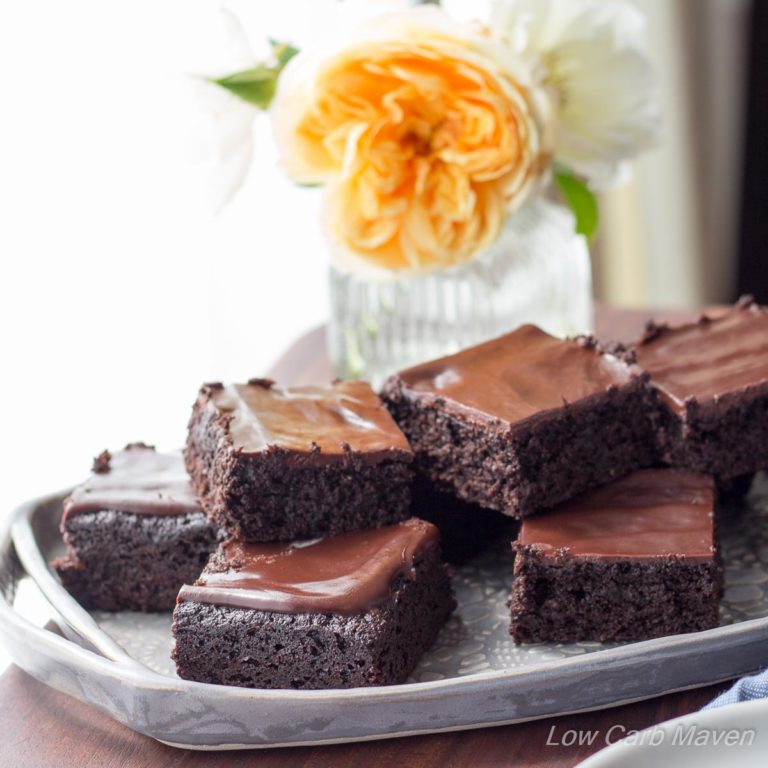 Before I begin I'd like to say that I made several recipes in The KetoDiet Cookbook (Fluffy Grain-free Sunflower Bread, Caesar Salad In A Cheese Bowl, Chicken Kiev) but the recipe my family raved about was Martina's Fudgy Grasshopper Brownie recipe – MINUS the mint filling. The recipe can be found on page 222. These were some of the best most amazing fudgy keto brownies we have had in years. If you want the recipe… jump to the end. You won't be disappointed. If you want to see what's inside The KetoDiet Cookbook, Amazon will give you a peek.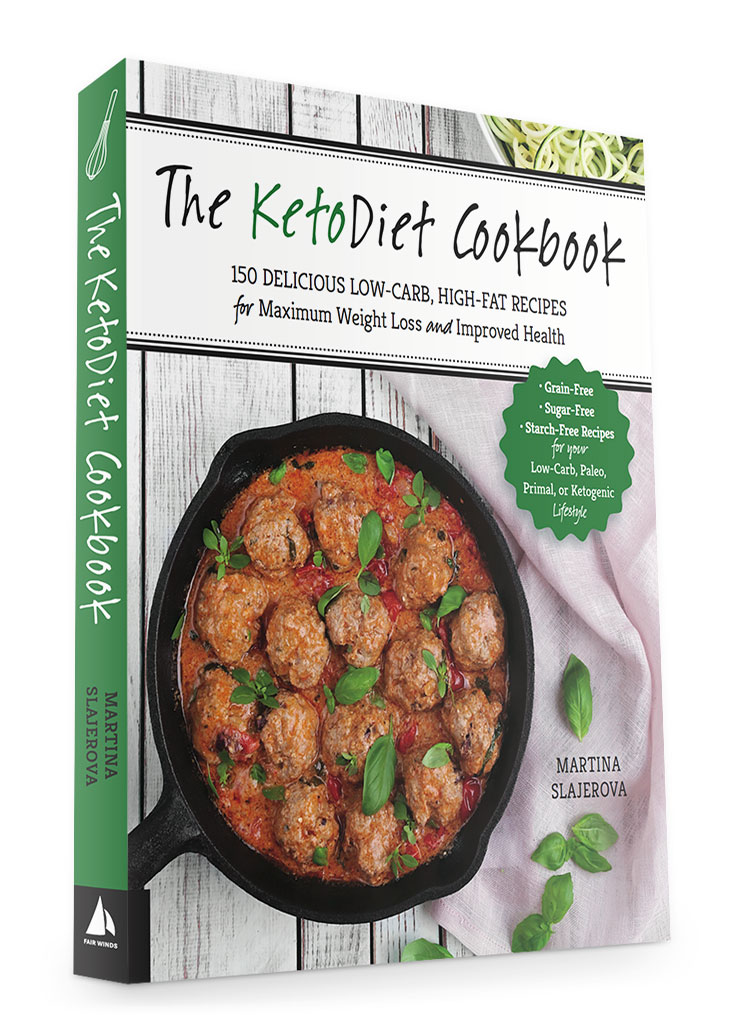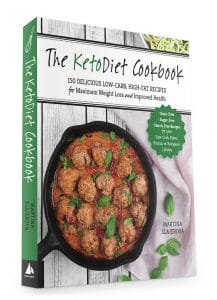 COOKBOOK REVIEW: THE KETODIET COOKBOOK
By Martina Slajerova
Published by Fair winds Press
More than 150 recipes
Martina Slajerova is the founder and author of the popular Keto Diet blog and the Keto Diet App. After being diagnosed with Hashimoto's Disease in 2011, Martina began a personal journey toward health, discovering she could help heal her body with what and how she ate. Her success, birthed a passion to help others successfully navigate and live a ketogenic lifestyle. She shares great ketogenic recipes, answers questions about the Keto lifestyle, and shares lots of helpful information on her site.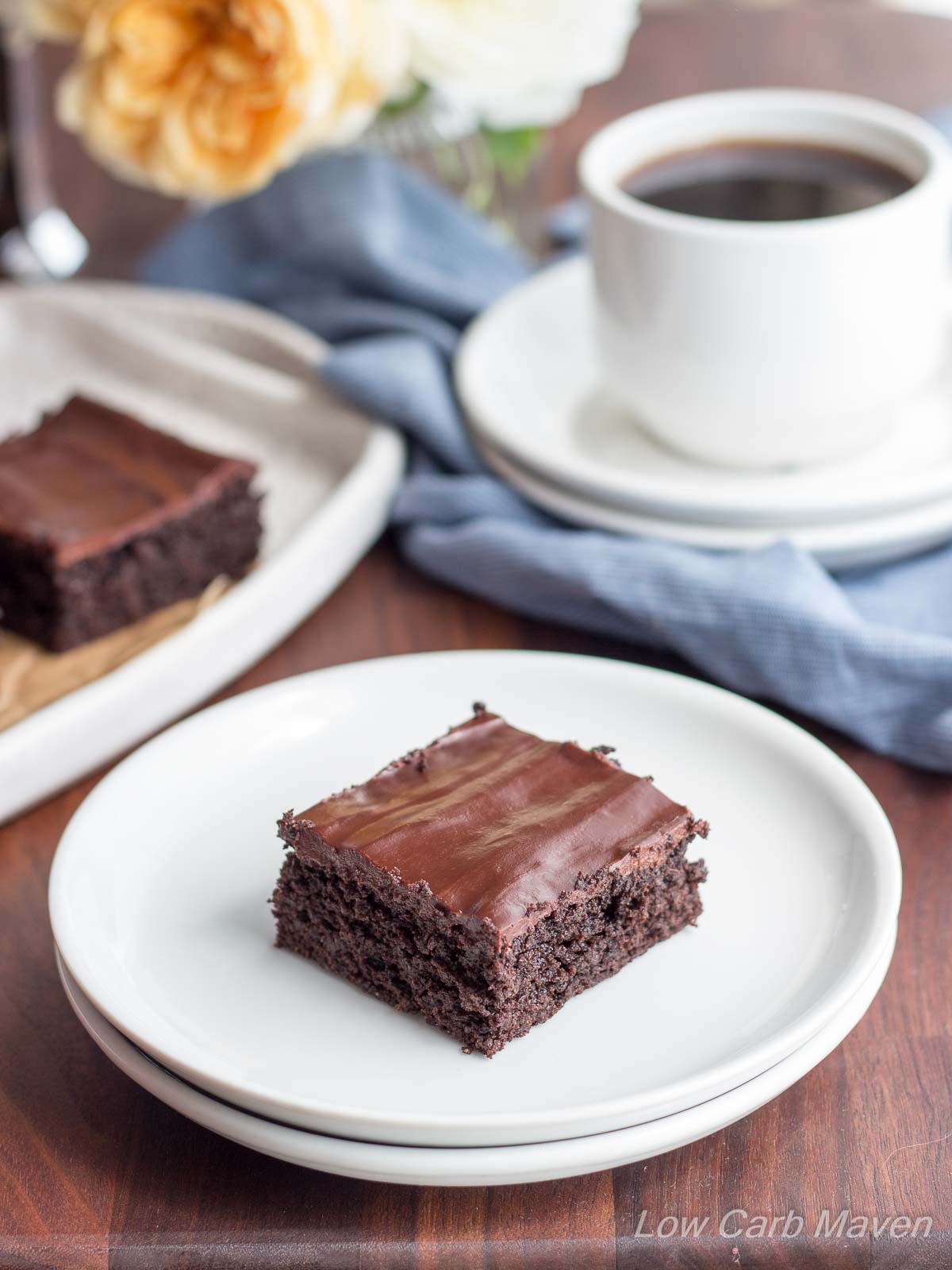 I was asked to review Martina's cookbook and received a copy for review. I was delighted to find such a large variety of easy keto recipes which are based on mostly fresh, wholesome foods without overly long lists of ingredients. The recipes are well written with easy to follow instructions.
Each recipe includes nutritional facts, a tasty accompaniment or a companion dish suggestion. Most recipes are paired with appealing photographs of artfully arranged food. The recipes are presented in standard U.S. measurements, ounces, and grams so that anyone can make them.
In her book, Martina provides a brief description of the keto diet and how it differs from the traditional SAD (standard American diet). She details the relationship between carbs and insulin, introduces the concept of ketones, then discusses macro nutrients and how they are calculated. She even includes suggestions on how one can lessen the effects of "keto flu". Also included, are food lists from which one can eat Freely, Occasionally, and those one should Avoid. Martina also discusses sweeteners suitable for a ketogenic diet and the importance of weighing ingredients.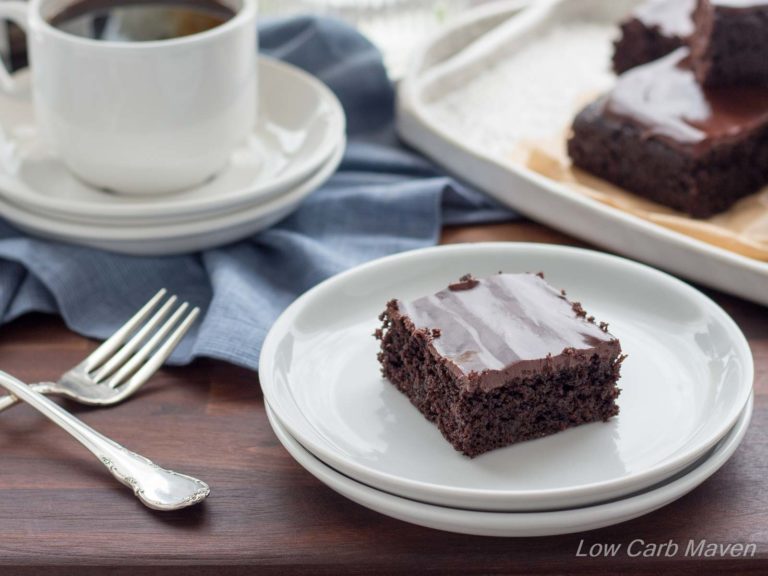 Now let's talk recipes!
Martina's recipes include low carb "basics" to replace traditional carb-heavy recipes or serve as the scaffolding upon which other recipes are built. She also includes a variety of recipes (about 150!) that can take you effortlessly from breakfast to dessert; recipes, that are easy to prepare! Martina strikes the perfect balance between offering comfort food favorites, classic dishes, and recipes with ethnic flair. When I look at her recipes I see variety — variety of ingredients, variety of cooking techniques and variety of cuisine! Simply put, her ketogenic recipes have mass appeal.
Conclusion: I loved this cookbook for its scope of subject and breadth of recipes. The information regarding the ketogenic version of low carb diets is helpful and complete without being tedious. I believe this cookbook relevant for anyone new to a ketogenic lifestyle, those who want to change-up their low carb diets, or anyone who's looking for a source for great tasting, whole foods, reliable recipes.
Now, go get that recipe!
These are absolutely delicious keto brownies! My kids loved them! They are not fudgy as the name states, but are delicious. For a true fudgy banana brownie recipe try my Chocolate Banana Bread Brownies!
These Fabulous Fudgy Keto Brownies are 4 net carbs per brownie!
This recipe includes the original recipe ingredients with the instructions written by me. Because of copyright infringement laws, I can not copy the instructions from Martina's book.
[This recipe and post contain affiliate links.]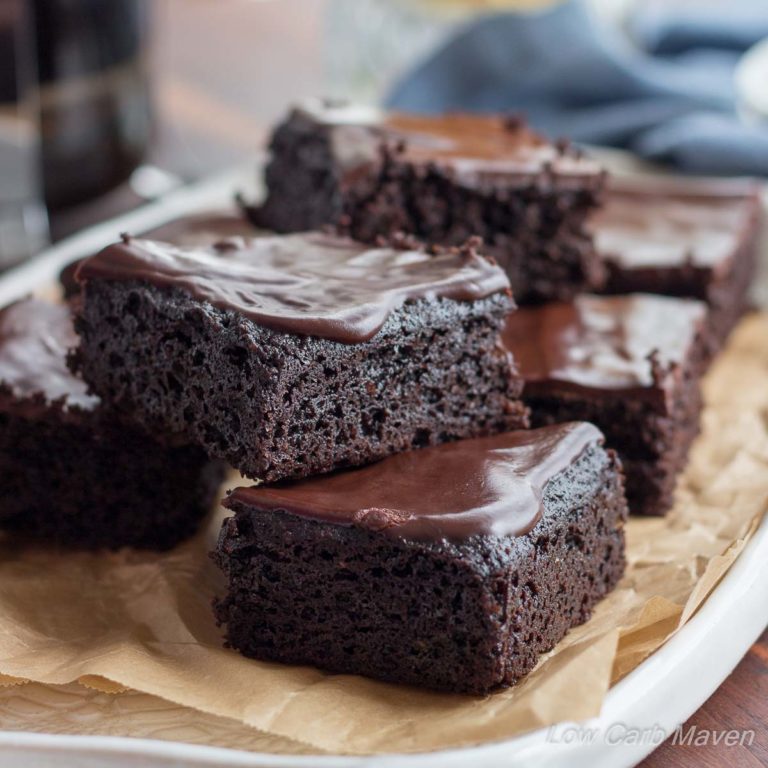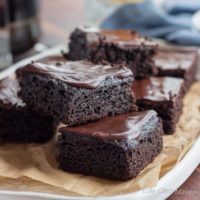 The KetoDiet Cookbook & Amazing Fudgy Keto Brownies!
These fudgy keto brownies were some of the most delicious low carb and keto brownies my family has ever had. The secret ingredient? Chia seeds!
Print
Pin
Ingredients
Brownie Layer
1

bar

(3.5 oz / 100 g) extra dark chocolate – 85 % cocoa

4 1/2

oz

(125g) butter, ghee or coconut oil

(I used butter)

3

large

eggs

15-20

drops liquid stevia

(I used 1/2 tsp Stevia Glycerite)

3/4

cup

(4.2 oz/ 120 g) erythritol,

powdered

1

cup

almond flour

(3.5 oz/ 100 g)

1/2

cup

(1.6 oz/45 g) plus 1 tablespoon cocoa powder

1/4

cup

(1.1 oz/ 30 g) ground chia seeds*

1/2

teaspoon

baking soda

1

teaspoon

cream of tartar
Chocolate Layer
1/2

bar

(1.8 oz /50 g) extra dark chocolate – 85 % cocoa

2

tablespoons

coconut oil or butter

(I used ghee)

1/4

cup

(2 fl oz/60 ml) heavy whipping cream
Instructions
Preparation:
Preheat oven to 350 F (gas mark 4) and position the rack to the middle. Spray an 8×8 square (20×20 cm) brownie pan (I used a 9×9 inch) with baking spray and line with parchment so that the bottom and two opposite sides are mostly covered. Leave the excess parchment so that you can pull the brownies out of the pan when cool.
Method:
Break the chocolate into small pieces and add it and the butter into a small bowl placed over slowly simmering water. When most of the chocolate has melted, remove the bowl and stir the chocolate.

Place the eggs, stevia and powdered erythritol into a medium bowl and mix to combine. Next beat in the chocolate. Add the dry ingredients and starting on low speed and gradually getting faster, mix until thoroughly combined. (starting on low prevents the cocoa powder from making a big cloud!)

Spread the thick brownie batter into the pan and bake for 15-20 minutes. Let it cool in the pan. When cool, run a sharp thin knife around the edge and lift the brownies out of the pan with the parchment. Don't worry if it cracks.
Chocolate Layer:
Break the chocolate into small pieces and place into a smallish bowl with the ghee, coconut oil or butter. Pour the heavy cream into a small saucepan and, over medium heat, bring it up to a simmer. Pour the hot cream over the chocolate and let it sit for a minute. Stir until combined and glossy. Let it cool a bit and thicken. Spread over the brownies and let cool in the fridge until the chocolate has hardened.

Cut and serve. Serves 16. Refrigerate any remaining brownies and enjoy at room temperature.
Notes
NOTE: For those who have Martina's book and can't find this recipe…. This is her Fudgy Grasshopper Brownie recipe on page 222. I omitted the mint layer because my family does not like mint. I'm sorry for any confusion!
*3 tablespoons of chia seeds, when ground, will equal about 1/4 cup.
It's best to under-cook the brownies for a fudgy texture.
Nutrition Facts
The KetoDiet Cookbook & Amazing Fudgy Keto Brownies!
Amount Per Serving
Calories 202
Calories from Fat 180
% Daily Value*
Fat 20g31%
Cholesterol 62mg21%
Sodium 120mg5%
Potassium 157mg4%
Carbohydrates 7g2%
Protein 4g8%
Vitamin A 350IU7%
Vitamin C 0.8mg1%
Calcium 40mg4%
Iron 1.1mg6%
* Percent Daily Values are based on a 2000 calorie diet.
Nutrition
Calories:
202
kcal
|
Carbohydrates:
7
g
|
Protein:
4
g
|
Fat:
20
g
|
Saturated Fat:
7
g
|
Polyunsaturated Fat:
1
g
|
Monounsaturated Fat:
5
g
|
Cholesterol:
62
mg
|
Sodium:
120
mg
|
Potassium:
157
mg
|
Fiber:
3
g
|
Vitamin A:
350
IU
|
Vitamin C:
0.8
mg
|
Calcium:
40
mg
|
Iron:
1.1
mg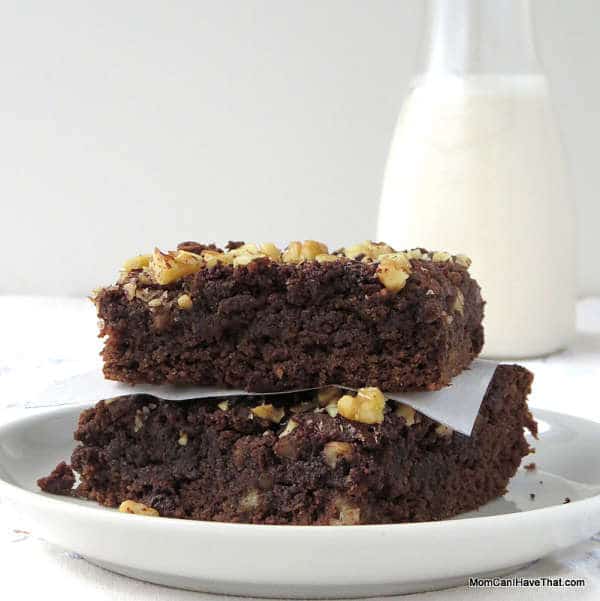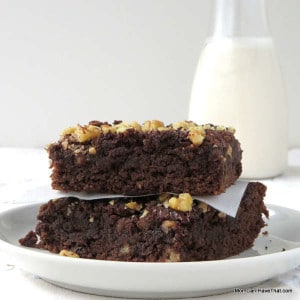 Low Carb Chocolate Banana Brownies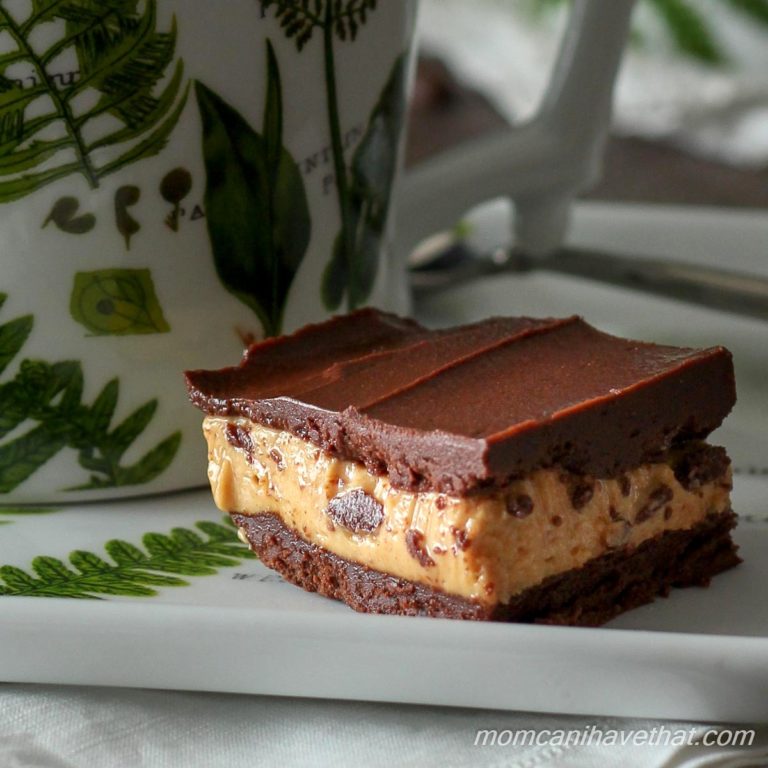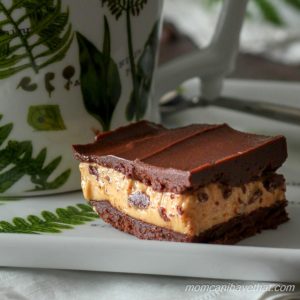 Chocolate Peanut Butter Fat bombs (Low Carb, Keto)