Tender filet mignon with garlic parmesan butter, zesty tomato sauce, and sautéed vegetables make steak pizzaiola feel new again in this great keto recipe.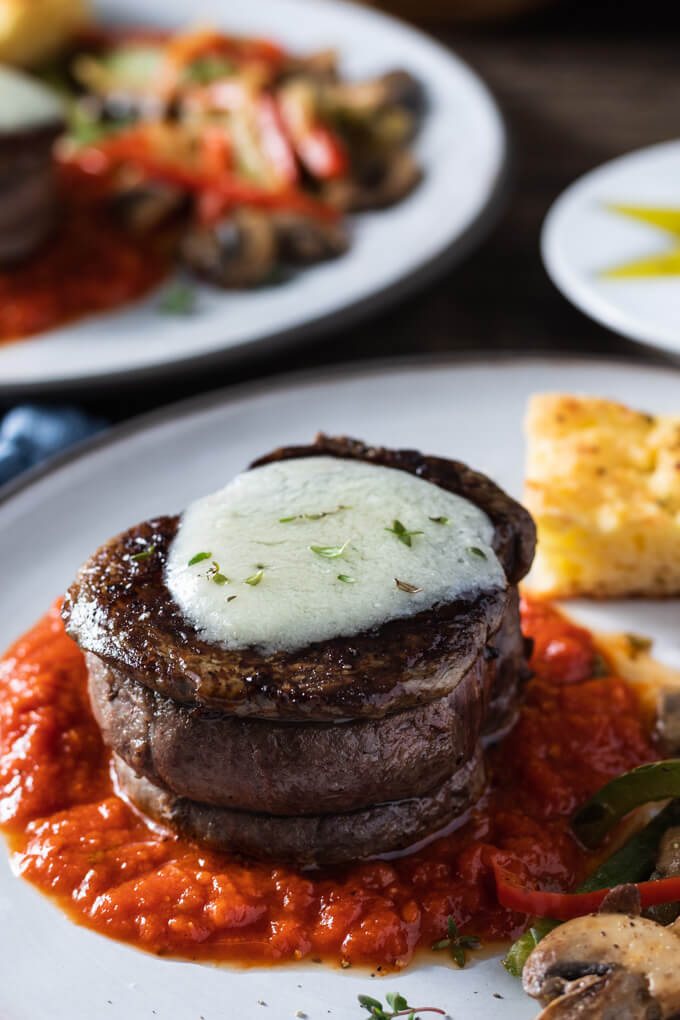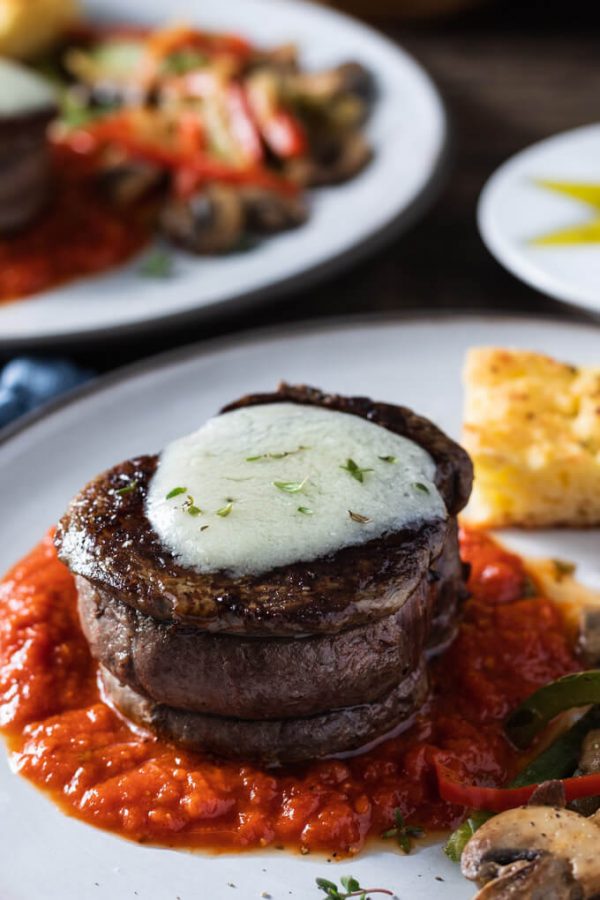 THIS POST INCLUDES AFFILIATE LINKS TO SHARE THE THINGS I LOVE.
Every year I develop a delicious steak recipe for Valentine's Day. Last year I shared a delicious Steak and Shrimp Surf and Turf menu with spinach artichoke dip. A few years ago I shared a delicious Filet Mignon with Mushroom Red Wine Sauce flavored with fresh thyme.
This year, I developed two amazing recipes instead of one: this deconstructed Filet Mignon Steak Pizzaiola and a fantastic Seared Lamb Chops with Mint Sauce and rosemary roasted rutabagas. Both are stand-out dishes sure to make your significant other stand-up and take notice!
What is Steak Pizzaiola?
Steak pizzaiola is traditionally prepared by searing a less expensive cut of beef and braising it until tender, in a tomato sauce flavored with garlic and olive oil. Many Italian-American restaurants fill-out the dish with peppers, onions, and mushrooms. To expedite the dish, restaurants pan sear a nice piece of steak (like a NY strip), then quickly finish it in house red sauce.
I, too, make my steak pizzaiola with peppers and mushrooms, but I have also seen recipes made with olives and even capers instead. Some people like to top their steak with Marinara sauce, mozzarella cheese, and pizza toppings. It's all good.
The Best Steak for Steak Pizzaiola
The best cut for braising is chuck. I love it, but make sure to cut off the extra fat. It's awesome cooked in a slow cooker or even an instant pot. But, for a quick version I think the best steak for steak pizzaiola is New York Strip or RibEye. Both have nice flavor and can stand a few minutes in the sauce before getting too tough and dry. It's best to pre-cook these steaks rare on the stove in a pan, then finish cooking them in the sauce.
Deconstructed Steak Pizzaiola
You can get all of those great tastes of this Italian-American classic by making this deconstructed version. The filet mignon is flavored by a garlic parmesan compound butter. A good quality jarred sauce like Rao's Arrabiatta is not only delicious but saves time. Thin strips of peppers and sliced mushrooms cook quickly while the steak rests. The whole meal comes together in about 30 minutes.
NOTE: Advance preparation of the vegetables makes this dish go even faster.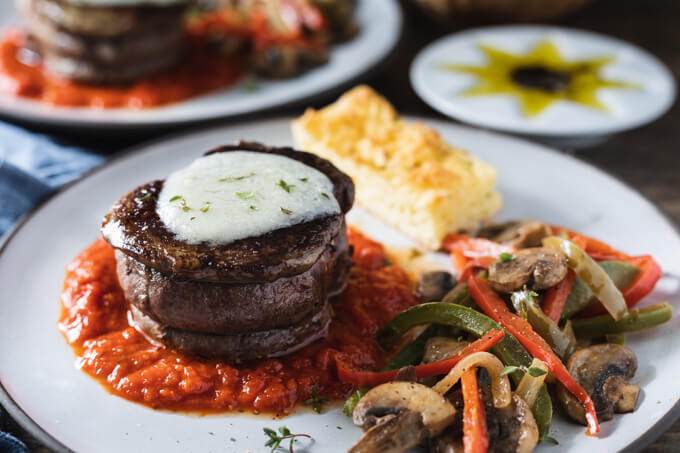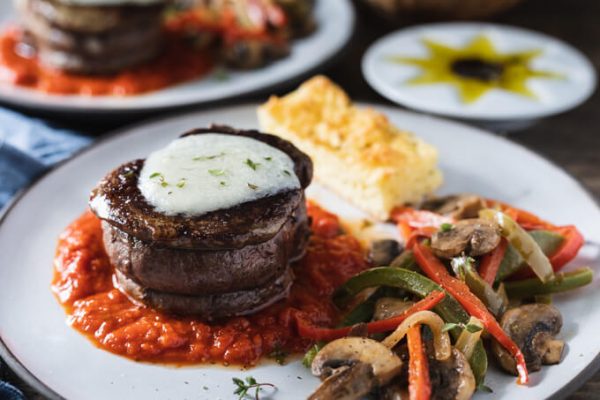 What to Serve With Steak Pizzaiola
In a restaurant, steak pizzaiola is often served with pasta. Since this is a low carb blog, I served the peppers and mushrooms that would normally be in the sauce, as the side. A nice green salad with a vinaigrette dressing rounds out the meal without providing extra carbs.
NOTE:
I suggest using an electronic oven-proof thermometer to cook your filet perfectly. If you don't have a thermometer here is a guideline. See a more detailed chart in my Filet Mignon with Mushroom Red Wine Sauce.
For 1 1/4 inch thick Filet Mignon cook at 375 F.:
Rare – 10 minutes
Medium Rare – 12 minutes
Medium – 15 minutes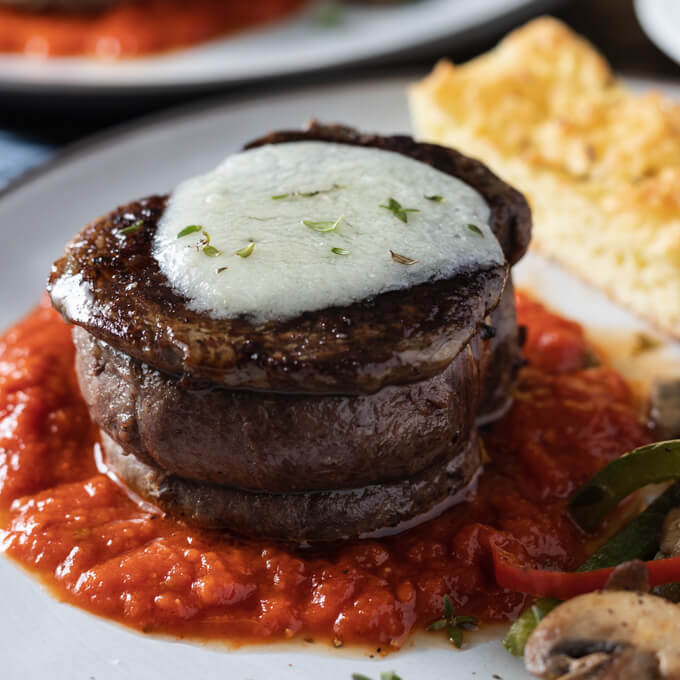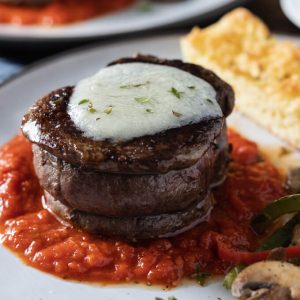 Filet Mignon Steak Pizzaiola
Tender filet mignon with garlic parmesan butter, zesty tomato sauce, and sautéed vegetables make steak pizzaiola feel new again in this great keto recipe.
Print
Pin
Rate
Ingredients
Filet Mignon Steaks
2

Filet Mignon Steaks (6 oz each)

(170 g)

1

tbsp

Olive oil, divided

Salt & pepper
Peppers and Mushrooms:
1

tbsp

Olive oil

1/2

Red bell pepper, cut into strips

(2 oz/ 56 g)

1/2

Green bell pepper, cut into strips

(2 oz/ 56 g)

1/4

cup

Onion, thinly sliced

(1 oz/ 28 g)

4

oz

Sliced mushrooms

(113 g)

2

tbsp

Dry white wine

1/4

tsp

Fresh thyme leaves
Garlic Parmesan Butter (you will have some left over)
2

oz

Unsalted butter, softened

(56 g)

2

oz

Parmesan cheese, finely grated

(use the good stuff)

1/4

tsp

Raw garlic, grated
Red Sauce
1/2

cup

Rao's Arrabiatta Sauce

(or any other low carb sauce)
Extras:
Oven safe frying pan

Electronic Meat Thermometer

(worth its weight in gold)

Fine microplane grater

(LOVE mine)
Instructions
Preparation:
Let the steaks come to room temperature for 30 minutes. If they try to spread out flat, use a piece of baking twine to gird them. (Tie it around the middle of the meat (like a belt) and made a knot.) Meanwhile slice the vegetables and make the Garlic Parmesan Butter. Preheat oven to 375 F and place rack to middle position.
Garlic Parmesan Butter:
Mix the softened butter with the grated Parmesan cheese and grated garlic until completely combined. Spoon onto a piece of cling film and shape/roll into a log, using the cling film to help. Refrigerate until needed.
Filet Mignon:
Place an oven-safe frying pan over medium high heat. Rub the entire surface of each filet mignon with some of the olive oil. Salt and pepper all sides. Remember – protein loves salt.

When the pan is hot (a drop of water will skip across the surface), add the remaining olive oil and quickly tilt the pan to distribute. Put the steaks in the pan and sear for 1 1/2 – 2 minutes (thinner steaks will take less time).

Flip the steaks and place the thermometer (set to your preferred internal temperature) into one of the steaks. Place the pan in the oven and cook until the timer goes off. Remove the steaks to a plate and tent with foil as they rest. (Don't have a thermometer, see the post.)
Peppers and Mushrooms:
Put the hot pan back on the stove over medium heat and add 1 Tbsp of olive oil, the onions, and the peppers. Saute the vegetables (stirring to prevent burning) for 2-3 minutes. Then, add the wine and mushrooms. Saute for 2-3 minutes more, stirring the fresh thyme into the vegetables at the very end. Remove to serving dish.
Sauce:
Turn off the heat and add the red sauce to the pan to warm it up and pick up residual flavors.
Plating:
Divide the sauce between two plates, making a circle. Place the steaks in the middle of the sauce. Add 1 tbsp of Parmesan butter to the top of each. Divide the vegetables between the two plates. Net Carbs Per Serving: 7.2 g

NOTE: If you enjoy larger meals, serve with a green salad. The bread in the photos is my Low Carb Focaccia recipe.
Notes
Nutrition Facts
Filet Mignon Steak Pizzaiola
Amount Per Serving
Calories 580
Calories from Fat 378
% Daily Value*
Fat 42g65%
Cholesterol 150mg50%
Sodium 1233mg54%
Carbohydrates 8.8g3%
Protein 40g80%
* Percent Daily Values are based on a 2000 calorie diet.
Nutrition
Calories:
580
kcal
|
Carbohydrates:
8.8
g
|
Protein:
40
g
|
Fat:
42
g
|
Cholesterol:
150
mg
|
Sodium:
1233
mg
|
Fiber:
1.6
g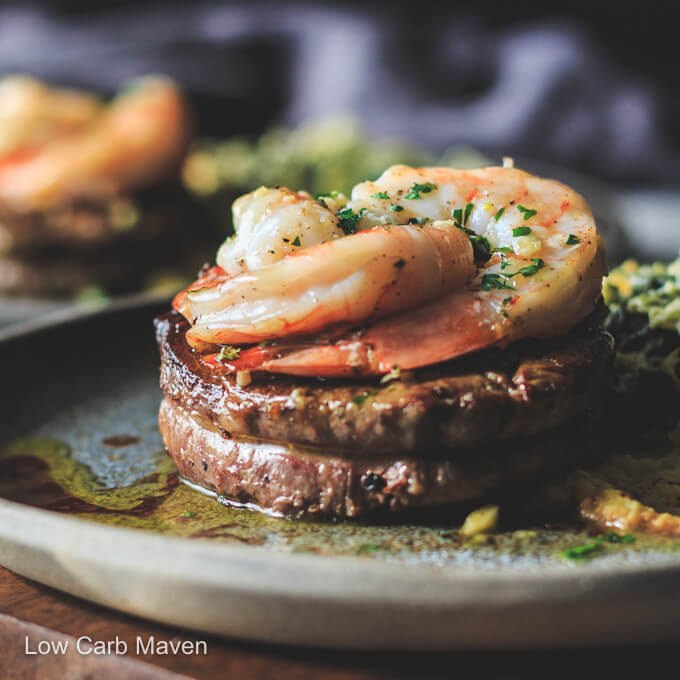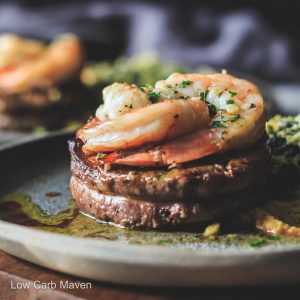 Steak and Shrimp Surf and Turf