Faux Mole Turkey Chalupas are a great way to use leftover turkey or chicken. Use my One-Carb, Gluten-Free Tortillas to keep this an easy low carb meal the whole family will enjoy.
If you are like I am, you are already thinking of ways to use some of the leftover turkey you are going to have this week. This Faux Mole Turkey Chalupa recipe just may be the thing to help you change it up.
I love Chicken Mole (pronounced mo-lay). It's one of my favorite dishes. The flavors in mole sauce are complex and earthy and simply delicious. I have made chicken mole at home many times and I always make my own mole sauce. The mole sauce you find in cans and jars at the grocery store is inferior. While true mole is not the most difficult sauce to make, it does take some time and effort and lists over 20 ingredients. It also involves soaking and grinding and blending and then simmering 2-3 varieties of dried chilies with that long list of ingredients. It is worth any exertion and every minute of time! Chef Rick Bayless won Top Chef Masters with his Oaxacan Black Mole Sauce With Braised Chicken. His recipe has close to 30 ingredients. It looks delicious! Mole Sauce is not low carb, as it is filled with several kinds of peppers, fruit and honey or sugar.
I made a quick and dirty mole sauce the other night. I'm not even sure it's legal to call it a mole sauce- there are no chilies, hence the name faux mole. It came together in 5 minutes and then I simmered it very slowly for about 20. It was perfect to have on the turkey chalupas. I think it was ingenious. The longest part of the process was collecting the spices and measuring them into the pot. Yep, this faux mole did the trick, and although it lacks the true complexity of flavor of a real mole, it was great on our turkey chalupas. It was fast and easy and full of flavor. May kids ate it up and asked for more. What more can you ask from a weekday dinner?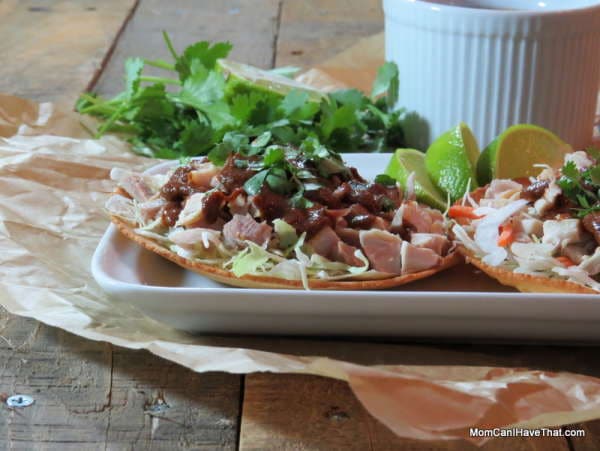 My One-Carb, Gluten-Free Tortillas make the perfect chalupa base. I used leftover tortillas that I had cooked on the griddle the night before. Then, I fried them in oil until they were golden brown and drained the chalupa shells on a paper towel. While not as crispy as corn taco or tostada shells, they are more than adequate to support your toppings and they taste really good. As I said, these were good and my kids asked for more.
If you want another fast and easy meal, try Pulled Pork Soft Tacos With Sesame Slaw.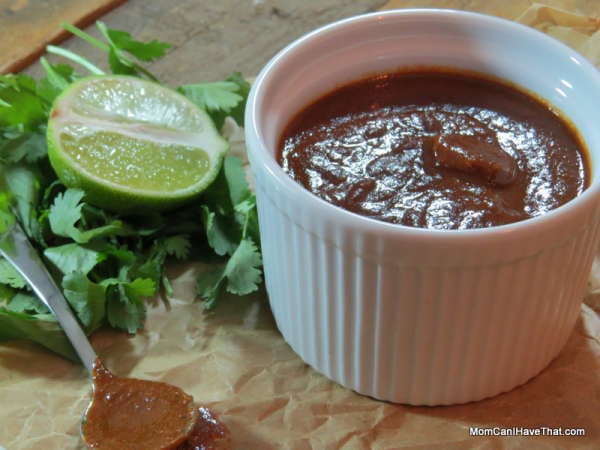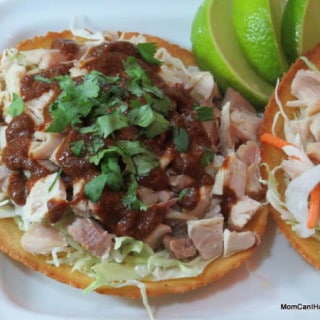 Low Carb Turkey Chalupa With Faux Mole Sauce
Faux Mole Turkey Chalupas are a great way to use left over chicken or turkey. Use my One-Carb, Gluten-Free Tortillas to keep this a low carb meal the whole family will enjoy. It makes a fast and easy week day meal.
Print
Pin
Rate
Ingredients
Faux Mole Sauce
1

cup

tomato puree

1

teaspoon

chili powder

pure ground chile powder from the Mexican section

1/2

teaspoon

cumin

1/4

teaspoon

onion powder

1/2

teaspoon

garlic powder

1/4

teaspoon

cinnamon

1/8

teaspoon

cloves

1/8

teaspoon

ground anise

1

teaspoon

cocoa powder

2

tablespoons

almond flour

1/4

teaspoon

salt

1 1/2

teaspoons

molasses

2

tablespoons

erythritol

or 1/4 teaspoon NOW Stevia Glycerite

1/2

cup

chicken broth

2

tablespoons

bacon grease
Tortilla Shells
One-Carb Gluten-Free Tortillas (cooked)
Fillings
Diced or shredded turkey

Shredded lettuce or cabbage

Other veggies you may want

Cilantro for garnish

Lime for garnish
Instructions
For the Faux Mole Sauce

: Put the tomato puree in a small sauce pan with deep sides. Add All of the ingredients and simmer gently for 20 minutes until it turns dark and thickens slightly. Adjust for salt and sweetness to your taste.

For the Chalupa Shells

: Heat enough oil in a pan to fry the tortillas. Fry until they are golden and crispy. Remove from the oil and drain on a paper towel.

To assemble the low carb chalupas

: Put a layer of shredded lettuce or cabbage on the chalupa and add any veggies you prefer. Add the turkey on top of the lettuce and veggies. Spoon a little of the Faux Mole sauce on top of the turkey and garnish with cilantro. Squeeze lime on top.
Notes
The nutritional information is for the mole sauce. The carb counts will vary depending on what you put on your chalupa. Add one net carb for each One-Carb, Gluten-Free Tortillas.
Nutrition Facts
Low Carb Turkey Chalupa With Faux Mole Sauce
Amount Per Serving (1 g)
Calories 29
Calories from Fat 18
% Daily Value*
Fat 2g3%
Carbohydrates 2g1%
Protein 1g2%
* Percent Daily Values are based on a 2000 calorie diet.
Nutrition
Serving:
1
g
|
Calories:
29
kcal
|
Carbohydrates:
2
g
|
Protein:
1
g
|
Fat:
2
g