This easy pork stir fry recipe is healthy and low carb. It comes together so fast dinner will be on the table in 15 minutes.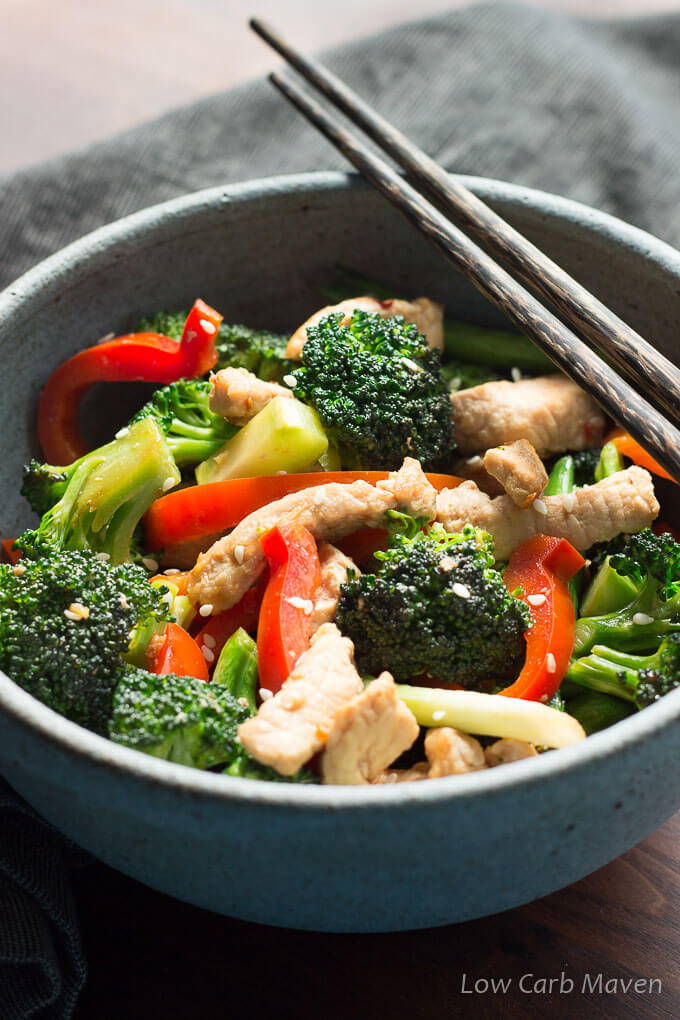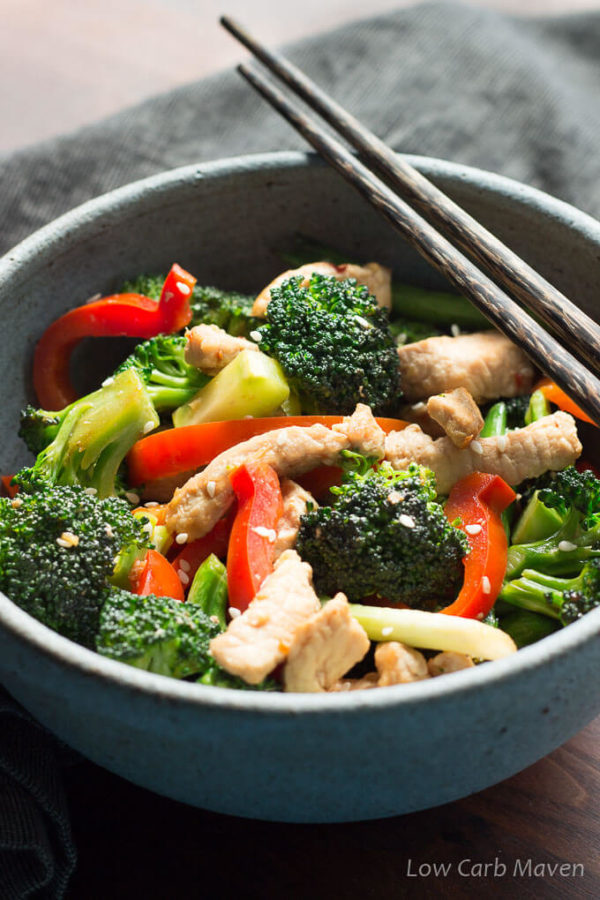 Before embarking on my low carb keto journey, ordering takeout from our favorite Chinese restaurant was a weekly occurrence. Pork dishes were some of my favorites, especially a great spicy pork stir fry!
We're lucky to have a great Chinese restaurant in our community. It serves really "clean" Chinese food. Many of the dishes served at the restaurant we recognize from our two China adoption trips. These authentic Chinese dishes are delicious and quite different from the usual Americanized Chinese takeout of overly thickened and sweetened sauces.
At home, we typically make a stir fry to use up leftover vegetables and meat at week's end – like this great ginger chicken asparagus stir fry. But for this recipe, I deliberately planned the ingredients. This easy pork stir fry to captures the taste of healthy Chinese food with a minimum of ingredients.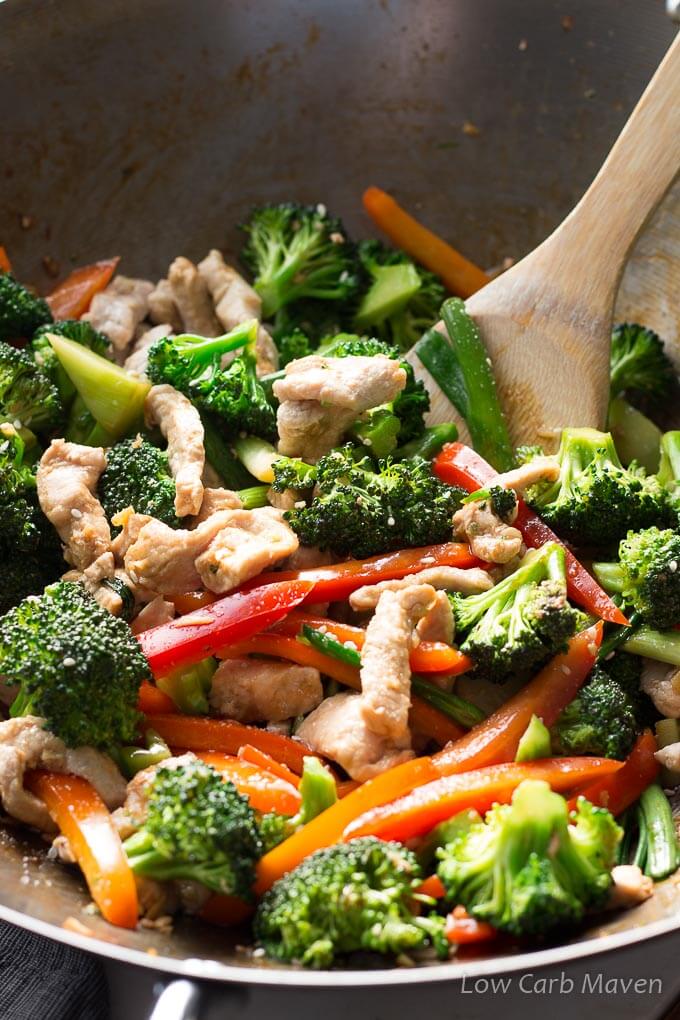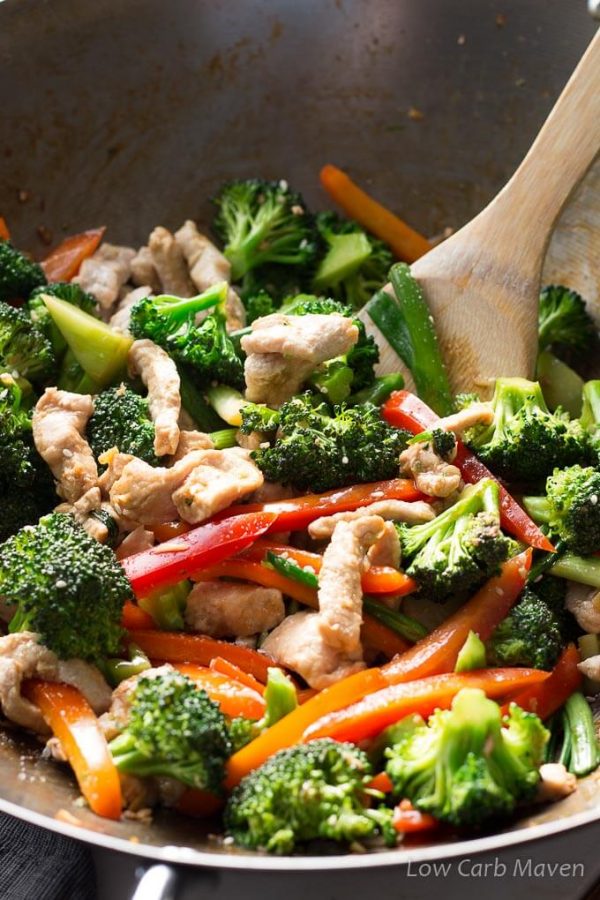 Most Chinese stir frys in the U.S are served with/or over rice, however, my family prefers to eat this dish as is – straight from the wok to our plates. You can certainly serve this pork stir fry over cauliflower rice or regular rice if you want, but just know that it has a modest amount of sauce.
I've found over the years that many stir fry recipes have very similar stir-fry sauce ingredients: cornstarch, soy sauce, oyster sauce, Shaoxing wine (or dry sherry), sugar, and sometimes broth. Desiring to keep the amount of thickener (and carbs) to a minimum, I did not add any extra liquids in this pork stir fry recipe. The result is a slightly thickened sauce concentrated in flavor. As I said above, the recipe produces a modest amount of flavorful sauce.
On the subject of cooking a stir fry, I absolutely love my carbon steel wok. It heats quickly and is virtually non-stick. It also has very faint ridges along the surface that grab onto food so that it doesn't all slide down to the middle while cooking. It's a nice feature. The down-side? It requires seasoning before use and must be maintained with a thin layer of oil to prevent rusting.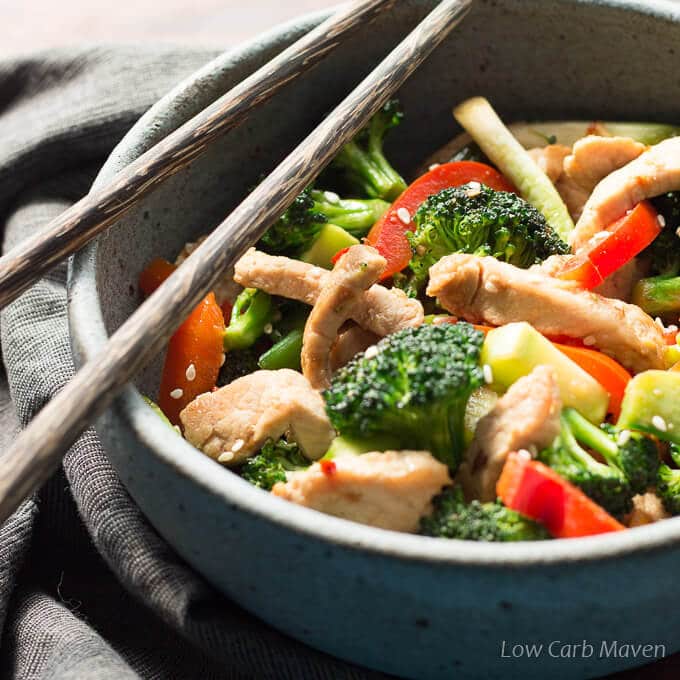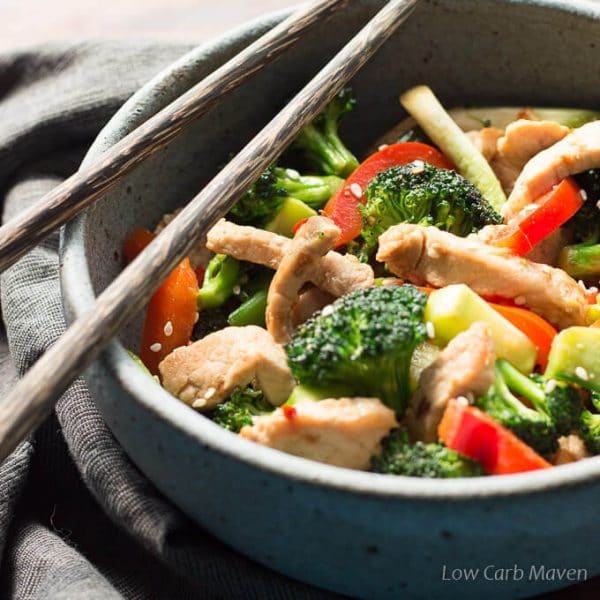 If you aren't into the maintenance of a carbon steel wok, there are many non-stick varieties available. If you've wondered where to buy a wok, I've found that Amazon has a nice selection for sale. I used this non stick Joyce Chen wok for many years before I purchased my carbon steel wok. There are also cast iron woks available as well as an electric wok one can use on the counter. My mom had one of those when I was growing up.
With a prep time of about 10 minutes and a cook time of 5, This easy pork stir-fry is the perfect weeknight meal.
Each Serving of this Chinese Pork Stir Fry is net carbs.
This post contains affiliate links.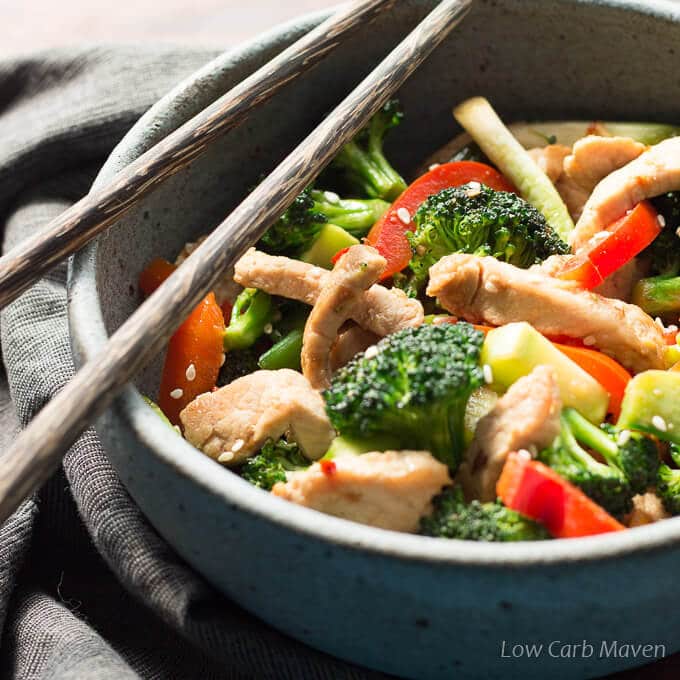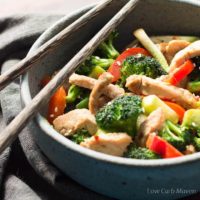 Easy Pork Stir Fry Recipe (low carb)
This easy pork stir fry recipe is healthy and low carb. It comes together so fast dinner will be on the table in 15 minutes. It's a great low carb stir fry!
Print
Pin
Rate
Ingredients
3/4

pound

pork loin, cut into thin strips

2

tablespoons

avocado or olive oil (divided)

1

tablespoon

minced fresh ginger

1

teaspoon

minced garlic

12

ounces

broccoli florets

1

red

bell pepper, cut into strips

1

bunch

green onioins (scallions), cut into 2 inch pieces

2

tablespoons

Tamari soy sauce (or coconut aminos)

1

tablespoon

extra dry sherry

1 1/2

tablespoons

low carb sugar

(or sugar or coconut sugar)

1

teaspoon

cornstarch (or arrowroot)

1

teaspoon

sesame oil
Optional Ingredients
red pepper flakes

sesame seeds
Instructions
Preparation: Mince a clove of garlic. Cut a 1 inch piece of ginger and peel the thin skin with a spoon. Mince the ginger and add it to the garlic. Cut the pork loin into thin strips and mix with 1 tbsp. oil and the ginger and garlic.

Cut the red bell pepper into strips and place into the bottom of a medium bowl. Cut the green onions (scallions) into 2 inch pieces, including some of the green stems and add them to the bowl. Cut the broccoli florets into large bite sized pieces, layering them on top.

Add the sweetener and cornstarch (arrowroot) to a small bowl and mix together. Stir in the Tamari soy sauce, dry sherry and sesame oil.

Method: Place the wok over high heat. It's ready when a drop of water skips across the surface. Add 1 tablespoon of oil and quickly tilt the wok to coat all surfaces. Pour out the remaining oil. Place the wok back onto the heat and begin adding the pork to the sides and bottom of the pan. Leave the pork undisturbed until it has cooked half way through; the bottom half will turn white. Stir the pork and cook until it is almost cooked through. Remove from the pan to the serving bow.

Dump the bowl of vegetables into the wok with the broccoli in the bottom. Cover with a lid and cook for 1 minute. Stir the vegetables and add the pork and any juices back to the pan. Stir the pork and vegetables together. Stir the stir fry sauce and pour it over the pork and vegetables. Push the pork stir fry to the sides and let the sauce boil at the bottom of the wok, stirring occasionally for several seconds until the sauce thickens.

If you would like the sauce a little thicker, remove the stir fried pork and vegetables to the serving bowl and let the sauce cook a little longer. Pour the sauce over the stir fry when it reaches your desired level of thickness. Serve.
Notes
Nutrition Facts
Easy Pork Stir Fry Recipe (low carb)
Amount Per Serving
Calories 226
Calories from Fat 108
% Daily Value*
Fat 12g18%
Carbohydrates 10g3%
Protein 19g38%
* Percent Daily Values are based on a 2000 calorie diet.
Nutrition
Calories:
226
kcal
|
Carbohydrates:
10
g
|
Protein:
19
g
|
Fat:
12
g
|
Fiber:
4
g