Gluten-free enchilada sauce is the secret to making good tasting gluten-free Enchiladas. This recipe is low carb and easy to prepare. Enjoy it on enchiladas, tacos, or your morning eggs.
THIS POST INCLUDES AFFILIATE LINKS TO SHARE THE THINGS I LOVE.
I grew up in the Southwest and one of my favorite foods was enchiladas. In Arizona and Texas, when you order enchiladas in a restaurant, it's understood that you want enchiladas with red sauce. In New Mexico, enchiladas with green sauce is available, too, and so so good. Today I'm sharing a low carb and gluten-free red enchilada sauce that is perfect on eggs, breakfast omelettes or burritos and of course… enchiladas!
Red Enchilada Sauce is the secret to making good tasting Enchiladas. Making a traditional red enchilada sauce involves re-hydrating dried chile peppers, blending them (in a blender) with chicken broth and spices, and then cooking the sauce on the stove until the flavors mingle and the sauce thickens.
There are many "quick" enchilada sauce recipes on the internet, but most involve making a roux with flour and chicken stock and ground chile powder instead of whole dried chiles . The roux thickens the sauce and helps make it smooth. The chile powder gives the sauce its distinctive flavor and saves time.
This is gluten-free enchilada sauce recipe that is easy to make and low carb. It calls for REAL GROUND CHILE POWDER and is thickened with tomato paste instead of a roux. I developed this recipe several years ago when we were following a casein-free and gluten-free diet.
For this red enchilada sauce to taste its best, make sure you use REAL GROUND CHILE POWDER. I buy it in the Mexican section of my grocery store. There are usually two to three kinds to choose from. For a more complex flavor, I mix them together.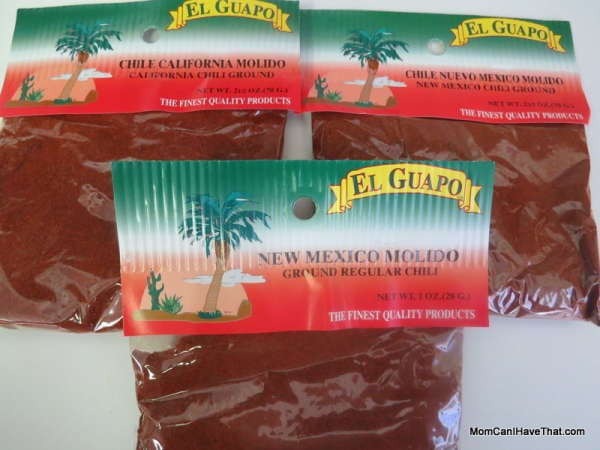 The ingredient list for this enchilada sauce is a little long, but you should have all of the ingredients in your spice cabinet. Don't worry, this recipe is very easy. Simply add the ingredients to a pan and simmer on the stove. You will want to have 1 1/2 – 2 cups of enchilada sauce at the end of cooking, so add more chicken broth (or water) to equal 1 1/2 – 2 cups if you need to. If you would like more heat, add cayenne pepper.
This low carb enchilada sauce recipe makes enough sauce for 1 batch of enchiladas (to serve eight people). If you are using it to sauce tacos or eggs, simmer and reduce the red sauce further to thicken it and concentrate the flavors. It's so good on eggs!
[NOTE:] Why are instant coffee, clove, and cinnamon listed in the ingredients? The coffee adds a smokey flavor to the sauce while the clove and cinnamon lend complexity. This is a very tasty low carb enchilada sauce.
1/4 cup of this Gluten-free Enchilada Sauce is 3 net carbs.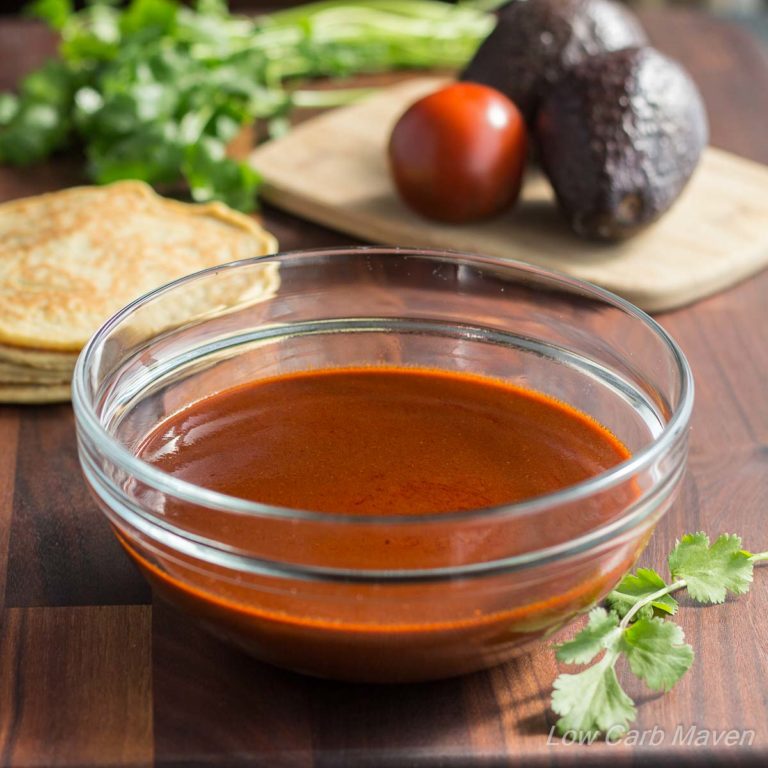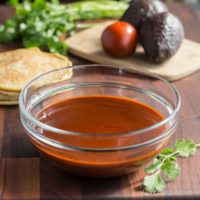 Gluten-free Enchilada Sauce (Low Carb Recipe)
Red Enchilada Sauce is the secret to making good tasting Enchiladas. This recipe is low carb, gluten-free and easy to prepare. Enjoy it on enchiladas, tacos or your morning eggs.
Print
Pin
Rate
Ingredients
3

cups

unsalted chicken broth

3

tablespoons

tomato paste

1

bay leaf

2

tbsp

pure chile powder*

1

tbsp

sweet paprika

2

teaspoons

ground cumin

1

teaspoon

dried oregano

1/2

teaspoon

salt

1/2

teaspoon

granulated garlic

1/2

teaspoon

onion powder

1/2

teaspoon

low carb sugar

(or Swerve Granulated or sugar if not low carb)

1/4

teaspoon

chipotle chile powder

1/4

teaspoon

instant coffee powder

1/16

teaspoon

ground clove

1/16

teaspoon

ground cinnamon
Instructions
Put all of the ingredients into a medium to large frying pan on medium heat.

Simmer gently, stirring occasionally, until the red enchilada sauce has reduced by one cup and there are about two cups are left. (The burner heat may need to be adjusted) The sauce will be thin but flavorful. It thickens-up in the oven as the enchiladas cook and thickens up when refrigerated. Enchilada sauce should NOT be thick like pasta sauce.
Makes approximately 2 cups. Serving size is 1/4 cup. 3 NET CARBS PER SERVING.
The enchilada sauce is what flavors the enchiladas, so taste and adjust the seasonings. If the sauce is a little bitter, add just a touch more sweetener. It will help balance the flavors, but go easy with it. Discard the bay leaf before using.
Notes
*Chiles differ in heat depending on variety. I usually buy a package of California Chile power and a package of New Mexico Chile powder and mix them together. They are more mild than other varieties. A reader mentioned that she used Ancho chile powder and it was too spicy for her children. The New Mexico and California powders seem to be fine for my children. 
Nutrition
Calories:
31
kcal
|
Carbohydrates:
4
g
|
Protein:
3
g
|
Fat:
1
g
|
Saturated Fat:
1
g
|
Sodium:
255
mg
|
Potassium:
205
mg
|
Fiber:
1
g
|
Sugar:
1
g
|
Vitamin A:
1140
IU
|
Vitamin C:
1
mg
|
Calcium:
23
mg
|
Iron:
1
mg