This Easy Lemon Caesar Dressing is the perfect low carb or keto dressing or vegetable dip.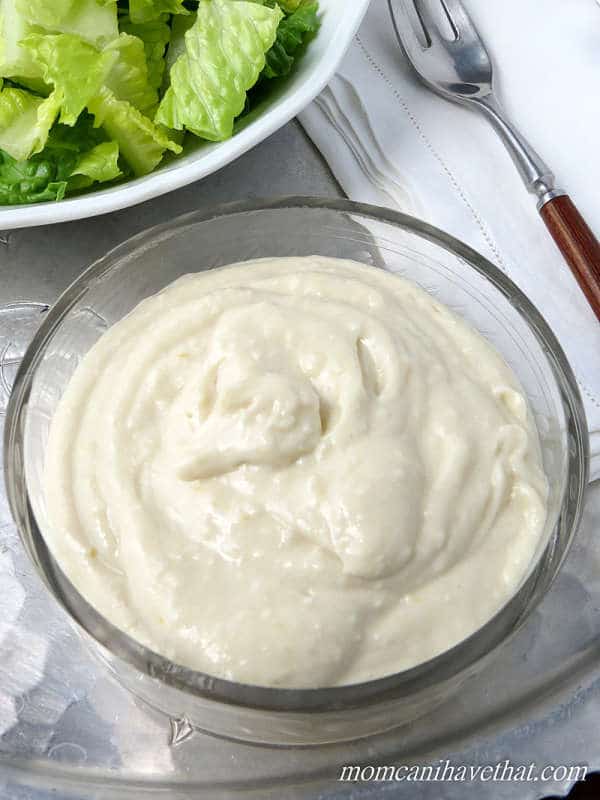 Caesar Dressing – The Best Dressing!
Caesar dressing has to be one of the best salad dressings in the world. Was that worded a little strongly? Sorry, I am just crazy about this dressing – especially since it is so much easier to prepare than the original way. Not that homemade mayonnaise is hard to make, it's not at all, but using prepared turns this dressing into a super time saver. And as a mom, I'm all about saving time.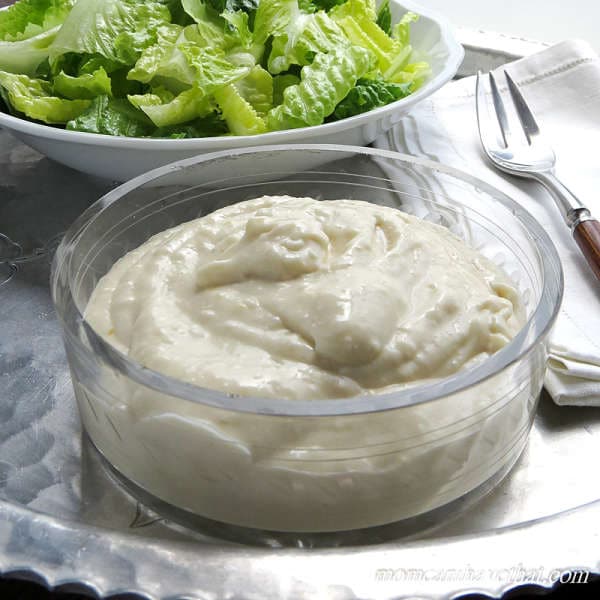 If you are squeamish about buying anchovies, I would be, too. So, I don't. I buy the anchovy paste in the tube at my local grocery store. It's on the top shelf of the tuna aisle where the canned crab and clams are. The tube makes it easy and there is no muss, fuss or fishy smell. Remember, anchovies give the Caesar Dressing it's distinctive taste. If you don't add to much, it doesn't taste fishy. That little amount will add a lot of umami flavor, or depth of flavor, much like soy sauce, Worcestershire sauce, and Parmesan cheese add something special to many dishes. After opening,  I keep that little tube in the fridge, because I've been making this easy Lemon Caesar Dressing ALL – THE – TIME! I wan't to put it on everything. Ummm… and it even tasted good on the kids french fries the other night. Is that an over share? Yeah, I actually did that and it was yummy. I would totally do it again.
This dressing isn't just great on a 2 net carb Chicken Caesar Salad, it's also great on veggies and as a dip!
If you're looking for a salad to add to your rotation, the 6 carb Cobb Salad is great!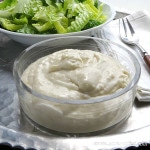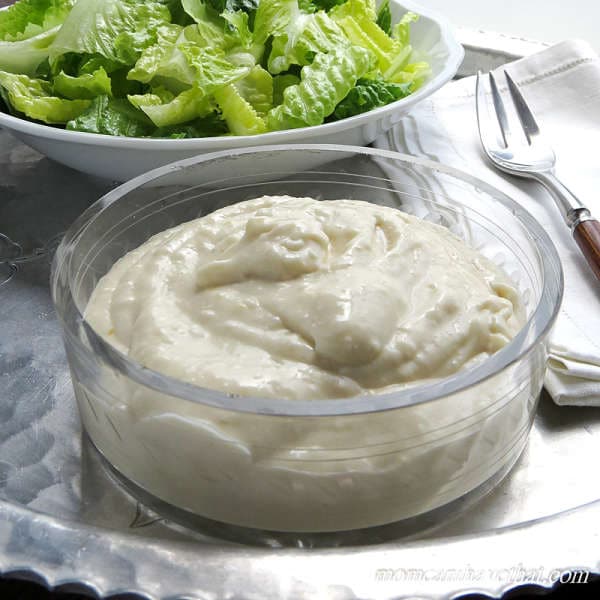 Easy Lemon Caesar Dressing
Creamy, salty, lemony and pungent with garlic, it hits all of the right places on the tongue. This Easy Lemon Caesar Dressing is the perfect low carb or keto salad dressing or vegetable dip.
Ingredients
1 1/4

teaspoons

anchovy paste

1/4

teaspoon

salt

1

clove

garlic

1

teaspoon

Dijon mustard

1

teaspoon

Worcestershire sauce

1

teaspoon

white vinegar

1

cup

mayonnaise

2

tablespoons

lemon juice

1

teaspoon

lemon zest

1/4

cup

grated Parmesan cheese
Instructions
In a two-four cup bowl, add the anchovy paste and Dijon mustard. Mix until smooth with a whisk or a fork.

On a cutting board, smash the clove of garlic with a large kitchen knife and peel. Chop the garlic a few times, then add the 1/4 teaspoon of salt. The salt will help in the process of mincing the garlic and turning it into a paste. Now, scrape the garlic together into a pile and turning the knife sideways, scrape the garlic/salt against the cutting board several times making a paste. Add the garlic paste to the bowl and blend.

Add the worcestershire and vinegar, stirring into the mixture.

Add the mayonnaise, lemon juice and lemon zest. Stir until combined.

Lastly, add the Parmesan cheese and blend.

Taste and adjust the seasoning.. The flavor of this easy Lemon Caesar Dressing develops more fully over-night and is even better the next day.
Recipe Notes
Nutrition Facts
Easy Lemon Caesar Dressing
Amount Per Serving (3 g)
Calories 213
Calories from Fat 216
% Daily Value*
Total Fat 24g 37%
Total Carbohydrates 1g 0%
Protein 2g 4%
* Percent Daily Values are based on a 2000 calorie diet.
Signup for my Newsletter
Subscribe to get our recipies by email.