This easy low carb Caesar salad dressing takes about 5 minutes to make thanks to prepared mayonnaise – no raw eggs here! Lemon is the predominant flavor in this easy to customize recipe that's perfect for salads or as a dip for vegetables.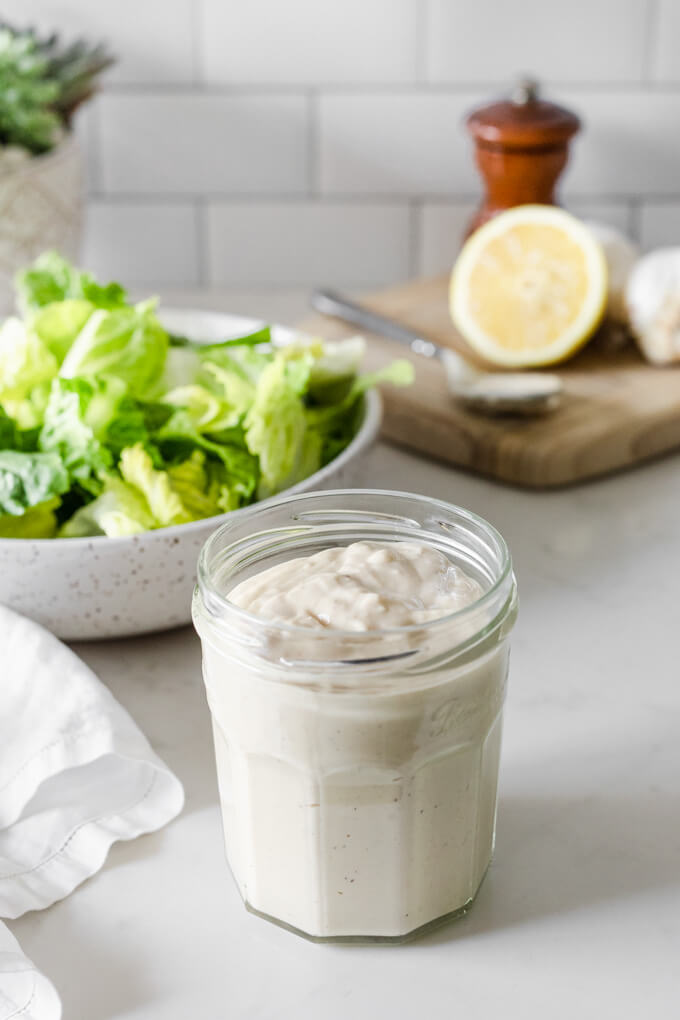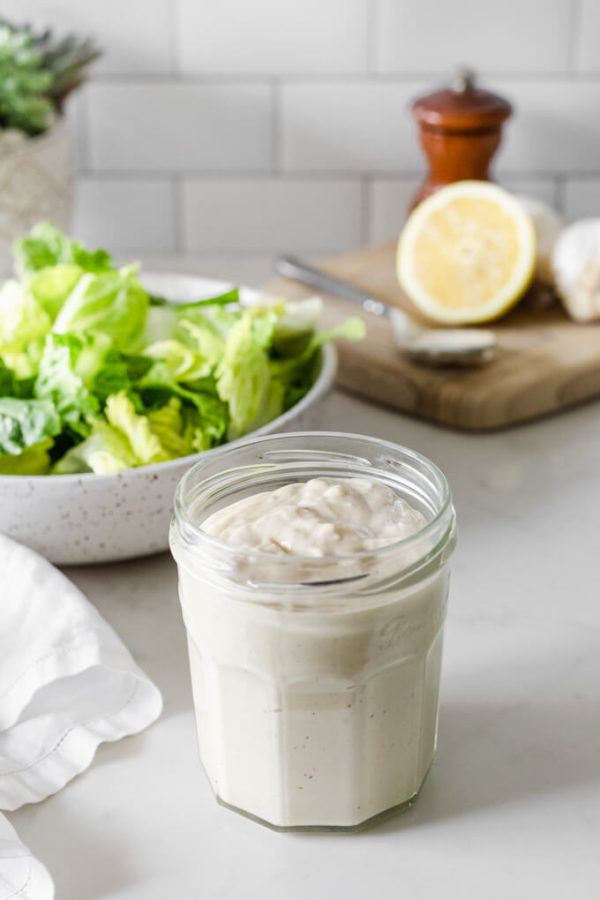 THIS POST INCLUDES AFFILIATE LINKS TO SHARE THE THINGS I LOVE.
Order A Low Carb Caesar Salad When Dining Out
I love to have a big ol' salad for lunch. Salads are great for those of us on low carb diets because they're easy to make ahead and keep in the refrigerator until ready. And, because they take a long time to eat, salads are super filling. When dining out, a big Cobb salad or a nice grilled chicken Caesar salad are my trusty "go-to's".
Low Carb Caesar Salad Dressing with Mayo!
So, what's the easiest way to make a creamy Caesar salad dressing? Use prepared mayonnaise and "whip this up" in minutes. Most of the ingredients are low carb food staples and the anchovy paste is in the tuna aisle at the grocery store. It comes in a convenient tube which I keep in my refrigerator drawer.
Just mix the ingredients into the mayonnaise and enjoy! That's it! (But since some of you like to experiment. I've included two alternate methods below.)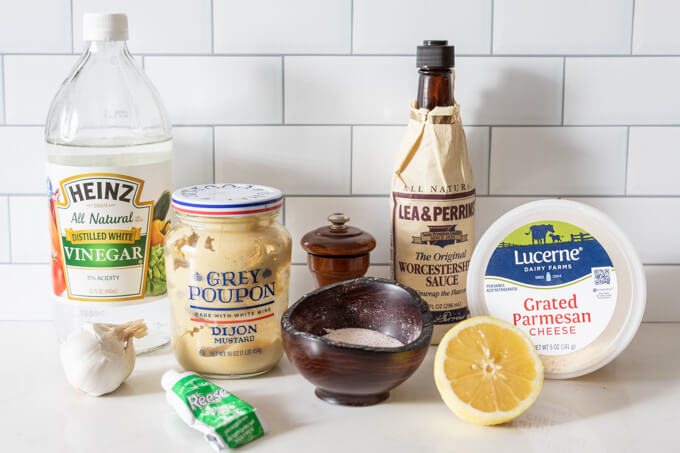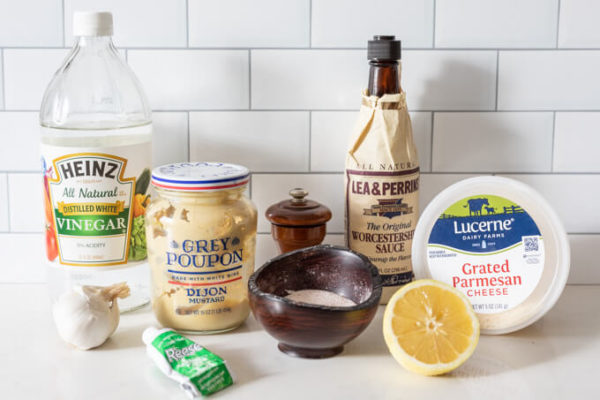 What Does Caesar Salad Dressing Taste Like?
I know that not everyone has had Caesar dressing before and you may be wondering what does a good low carb Caesar salad dressing taste like? Well, it's salty, pungent with garlic, and full of umami flavors from ingredients like anchovies, Worcestershire sauce and Parmesan cheese. Mine has an additional pop of lemon because lemon is awesome.
Most Caesar dressings have a predominant flavor of garlic. Lemon is the predominant flavor in this keto Caesar dressing recipe. If you like but don't LOVE lemon, then add the lemon juice and taste. If you like it as is, then skip the lemon zest.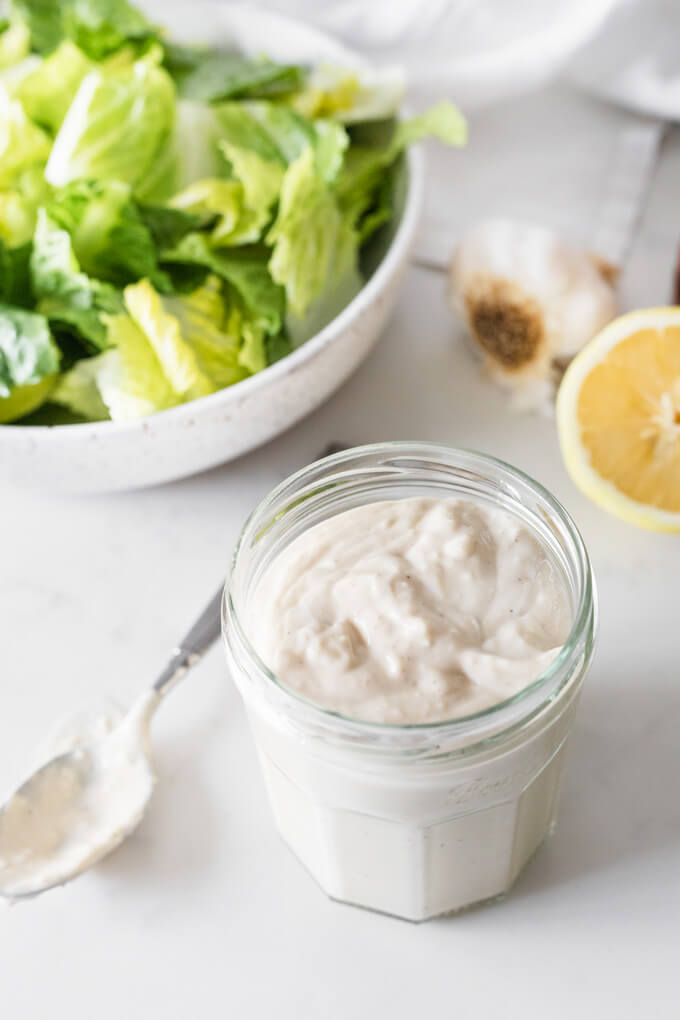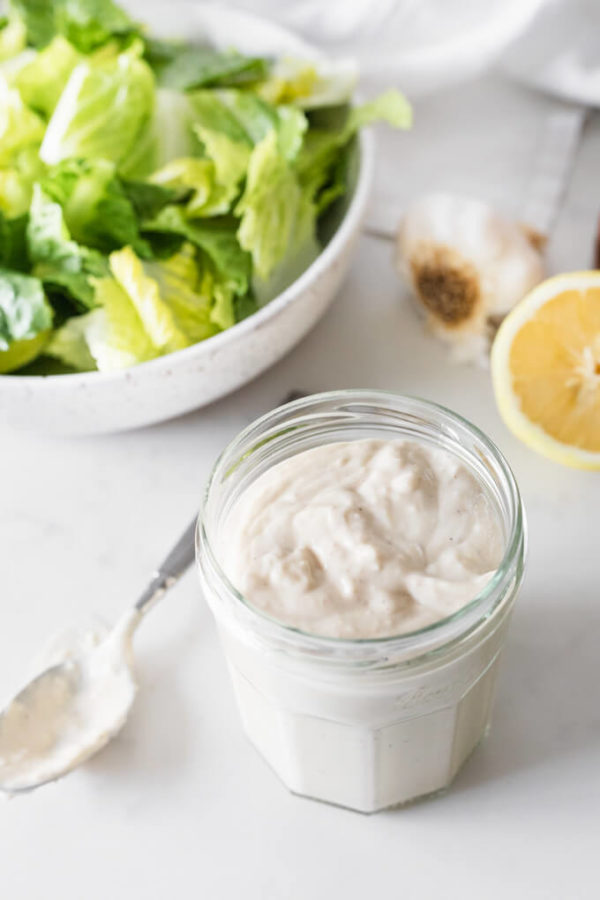 How To Make Traditional Caesar Salad Dressing:
There are basically two ways to make Caesar salad dressing. The traditional method involves an egg yolk and much hand whisking which results in a thin flavorful dressing. A creamy version involves making a homemade blender mayonnaise into which the other Caesar dressing ingredients are blended. (I'm including both methods for those who like to experiment, but my recipe is easier.)
Traditional Caesar Salad Dressing: A thick vinaigrette dressing made from oil and vinegar using a Dijon mustard "cheat" and egg yolk to help the process along. Minced garlic and anchovy fillets are mashed together and whisked with Dijon mustard, an egg yolk and vinegar. Then, oil is added in a thin stream as the dressing is whisked continuously until an emulsion forms. It's an arm workout!
Creamy Caesar Dressing: The making of a homemade mayonnaise results in a creamy dressing. It's easiest to use a blender. Add egg yolks and oil to a blender. Blend on low to form the mayonnaise. Add lemon juice, vinegar, anchovies (or paste) and garlic. Blend to incorporate the ingredients.
CONCLUSION
So, now that you what Caesar dressing tastes like and the methods for making it, get in the kitchen and have some fun. We use this super easy and creamy Caesar dressing all Summer long – it's one of our favorites! With bright burst of lemon it's one of the best keto Caesar dressings around.
This Easy Keto Caesar Salad Dressing is 1 net carb per 3 TBSP.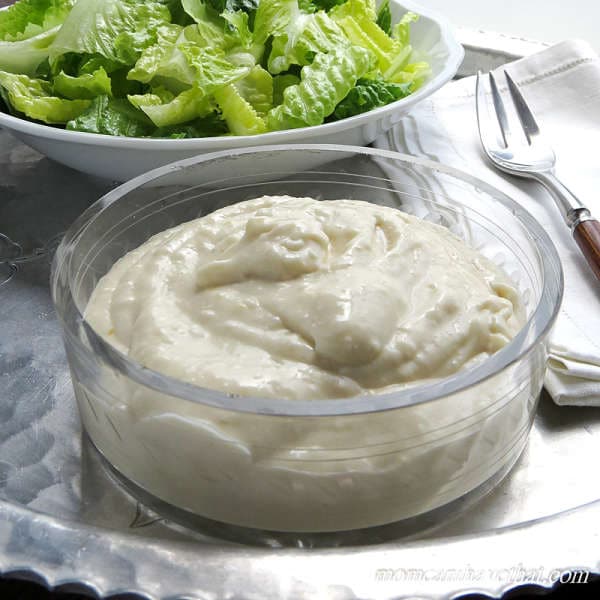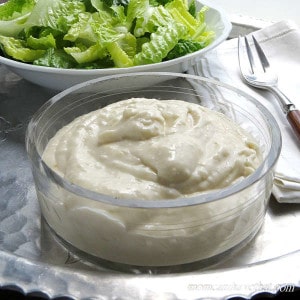 Easy Low Carb Caesar Salad Dressing
Easy low carb Caesar salad dressing or dip that's salty, lemony & pungent with garlic, hitting all of the right places on the tongue. Try on vegetables too.
Print
Pin
Rate
Ingredients
1

cup

mayonnaise

1

clove

garlic

1

tablespoon

lemon juice

1 1/4

teaspoons

anchovy paste

1

teaspoon

lemon zest

1

teaspoon

Dijon mustard

1

teaspoon

Worcestershire sauce

1

teaspoon

white vinegar

1/4

teaspoon

salt

1/4

cup

grated Parmesan cheese
Instructions
Add the anchovy paste and Dijon mustard to a 2-4 cup capacity bowl. Mix until smooth with a whisk or a fork.

On a cutting board, smash the clove of garlic with a large kitchen knife and peel. Chop the garlic a few times, then add the 1/4 teaspoon of salt. The salt will help in the process of mincing the garlic and turning it into a paste. Now, scrape the garlic together into a pile and turning the knife sideways, scrape the garlic/salt against the cutting board several times making a paste. Add the garlic paste to the bowl and blend.

Add the worcestershire and vinegar, stirring into the mixture.

Add the mayonnaise, lemon juice and lemon zest. Stir until combined.

Lastly, add the Parmesan cheese and blend.

Taste and adjust the seasoning.. The flavor of this easy Lemon Caesar Dressing develops more fully over-night and is even better the next day.

Makes a little over 1 cup with a serving size of 3 tablespoons.
Notes
Nutrition Facts
Easy Low Carb Caesar Salad Dressing
Amount Per Serving
Calories 213
Calories from Fat 216
% Daily Value*
Fat 24g37%
Carbohydrates 1g0%
Protein 2g4%
* Percent Daily Values are based on a 2000 calorie diet.
Nutrition
Calories:
213
kcal
|
Carbohydrates:
1
g
|
Protein:
2
g
|
Fat:
24
g