Keto Creamer for Coffee
I can't imagine starting the morning without a delicious hot cup of coffee. I love everything about my morning coffee ritual.
The smell of fresh brewed coffee always puts me in a good mood and there's nothing like that first sip. It's the number one thing I look forward to in the morning.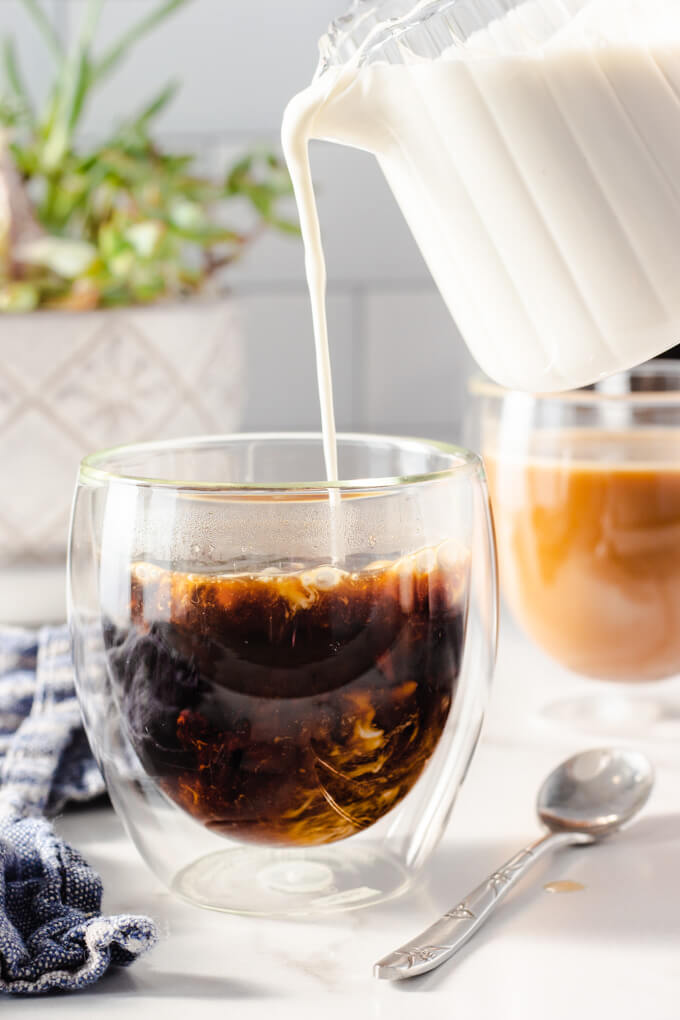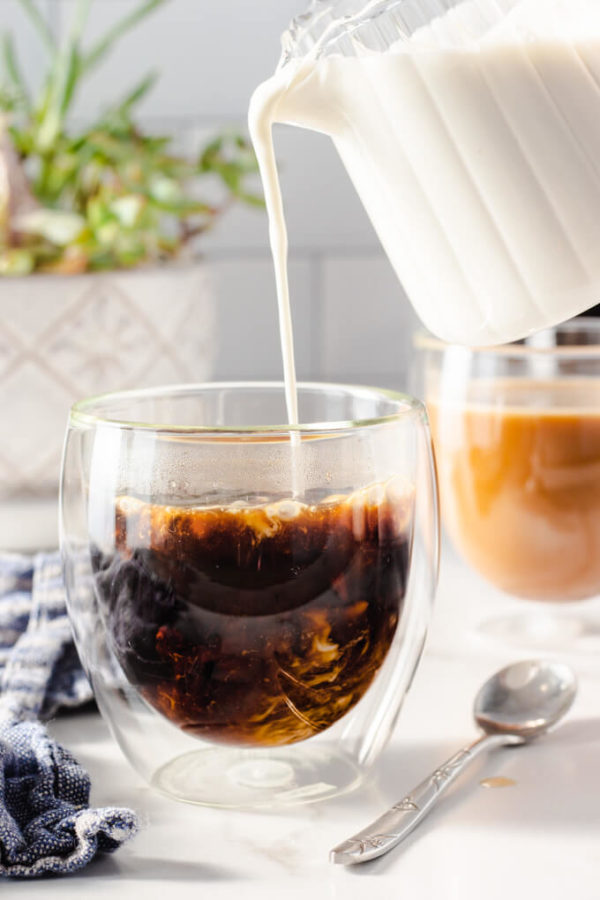 THIS POST INCLUDES AFFILIATE LINKS TO SHARE THE THINGS I LOVE.
What Creamer Can You Use on Keto?
If you're like me, you enjoy your coffee lightened with a little sugar-free coffee creamer. Sad to say, but regular store-bought creamers are full of sugar and junk. Others claim to be sugar-free but are neither low carb nor keto friendly.
Luckily, there several ready-made keto creamer options available in stores or on-line. Or, make your own sugar free coffee creamer with the keto creamer recipe below.
What about Heavy Cream? Is Heavy Cream Keto Friendly?
Yes. The simplest keto coffee creamer is heavy cream. Although dairy products contain natural sugars and can be quite high in carbs, heavy cream and heavy whipping cream are 30-35% fat, making them both great keto friendly options. Each have just under 1 g carb per 2 tablespoons.
NutPods (dairy free)
A popular ready-made keto creamer is NutPods, a non-dairy and sugar free creamer made from almonds and coconuts. Try their Original Creamer or Vanilla, French Vanilla, Chocolate, Caramel or Hazelnut. Also look for seasonal favorites like Pumpkin Spice, Cinnamon Swirl and Peppermint Mocha.
WHERE CAN I FIND IT? You can buy NutPods at selected Walmart or Target stores and on-line at NutPods.com, Thrive Market or Amazon.
Power and Turbo Coffee Creamers
Many keto coffee creamers are made with MCT oil, grass-fed ghee and coconut oil. They are popular but expensive. Two popular brands are Left Coast Keto Coffee Creamer and Omega Power Creamer.
TIP: These creamers are oil based so use your electric milk frother to mix them into your coffee.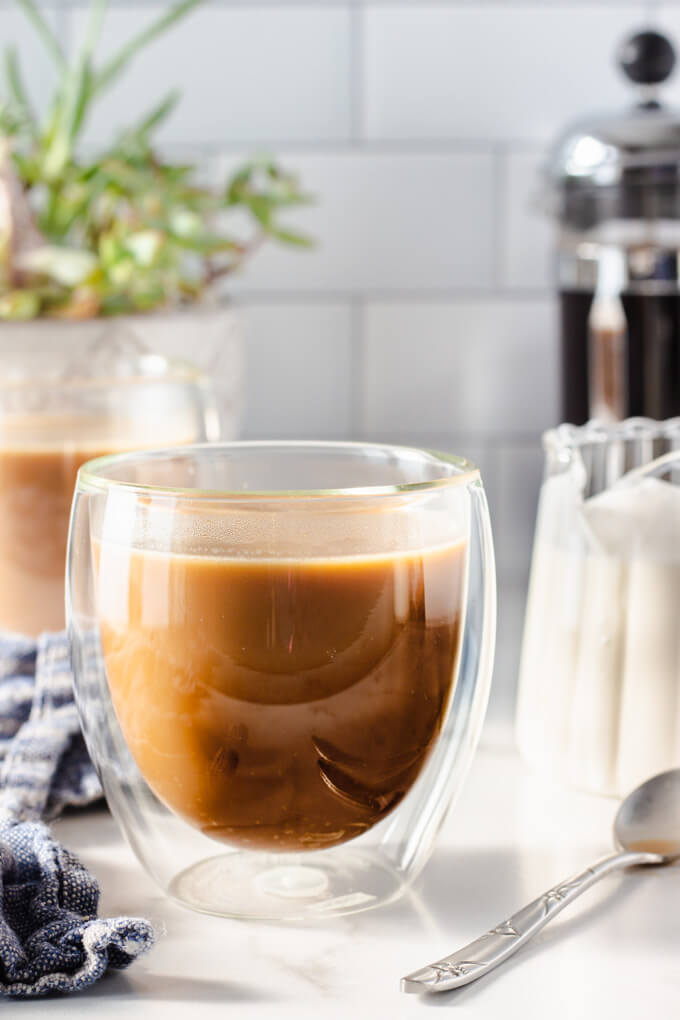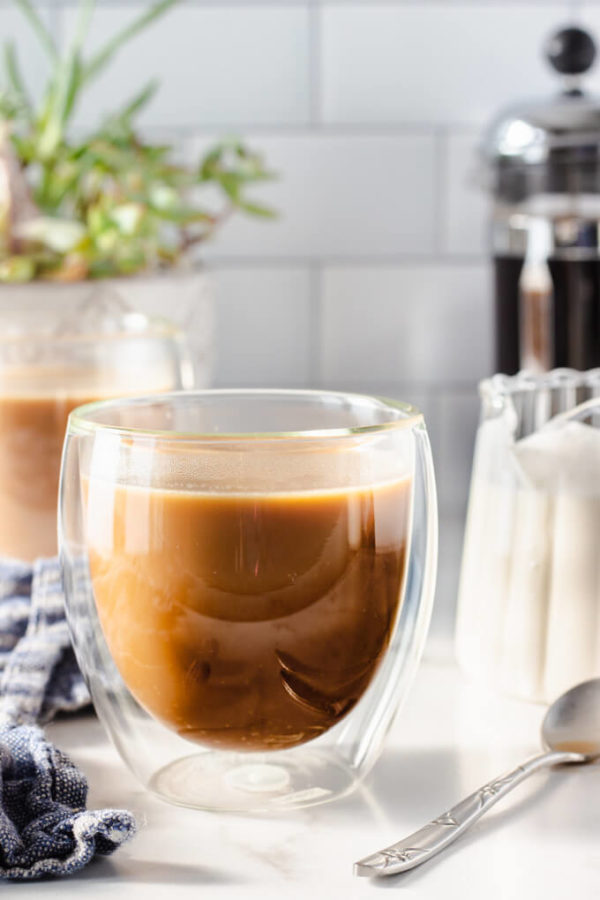 What Can I Put in My Coffee on Keto?
There are many keto friendly ingredients you can put in your coffee while on a low carb diet:
Heavy cream and Half & half
Full-fat coconut milk*
Unsweetened nut milks:* Almond, Macadamia, Cashew, Hemp, or Soy
Butter or Ghee
Coconut oil
MCT oil
Collagen
*Dairy-free keto creamer options.
TIP: To supercharge your morning add a spoonful of coconut oil to your morning brew or make a cup of butter coffee (bulletproof coffee).
Bullet Proof Coffee Options
Some days I skip the creamer and put butter and MCT oil in my coffee. This metabolism boosting recipe for keto coffee was coined by David Asprey, founder of Bulletproof. I swear I'm drinking a latte! (Read more about keto coffee with butter.)
The basic recipe for bulletproof coffee is equal parts grass-fed butter to MCT oil blended into a cup of Joe. Alternately, look for pre-made keto coffee in cartons or powdered keto coffee packets online.
Homemade Keto Coffee Creamer Ingredients
I generally use heavy cream and exogenous ketone powder in my morning coffee, but sometimes I like a flavored coffee creamer. Here are the ingredients I use to make my flavored coffee creamer keto.
Heavy whipping cream
Full-fat coconut milk
Keto friendly sweetener
Salt
Vanilla extract (or flavoring of choice)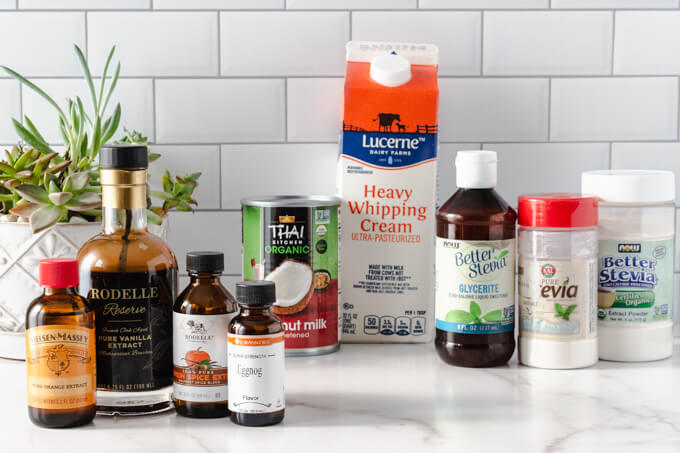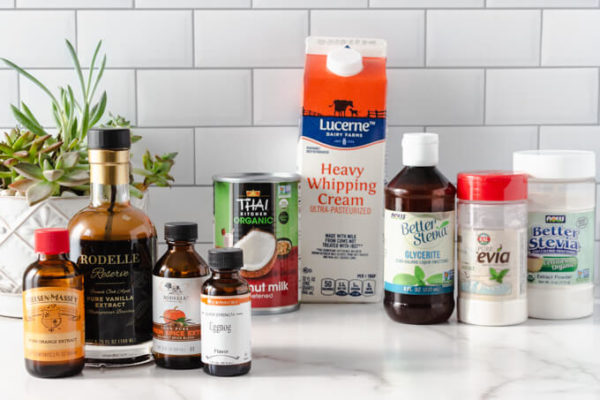 This keto friendly coffee creamer is the perfect sugar-free Coffee Mate copycat without the dubious ingredients. It's easy to sweeten and flavor it any way you want.
I like this recipe because it uses coconut milk which contain medium chain fatty acids that readily convert to ketones. Ketones fuel the brain and rev metabolism.
NOTE: Sweeten and flavor at the same time by using sugar free flavor syrups like Toroni or Skinny Syrups. Add 1/2 cup and use 3 tbsp of the keto creamer per serving.
Keto Coffee Creamer Flavors:
Flavor your homemade keto coffee creamer with extracts. You'll swear you're using sugar-free Coffee Mate! Well, okay… maybe not, but it's pretty close. Some of my favorite flavoring ideas are:
| | |
| --- | --- |
| Almond | 1/2 teaspoon |
| Chocolate | 1 teaspoon |
| Coconut | 1/2 teaspoon |
| Eggnog | 1/4 teaspoon |
| Hazelnut | 1/2 teaspoon |
| Pumpkin Spice | 1 teaspoon |
| Raspberry | 1 teaspoon |
| Vanilla | 1 teaspoon |
NOTE: Some flavor extracts are stronger than others. I find that 1 teaspoon is fine for some extracts, and for others need more or less. Let your taste buds guide you.
For fancier coffee creamer flavor combinations, check out this post at TJ's Taste.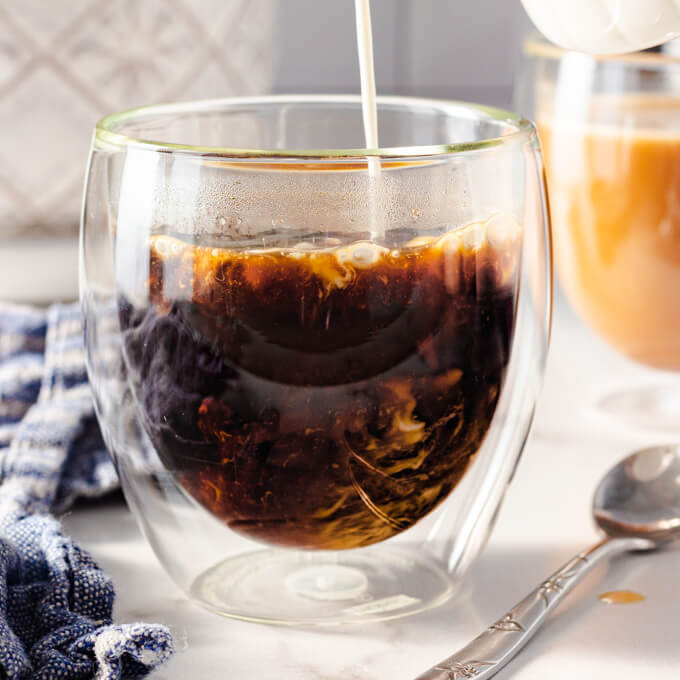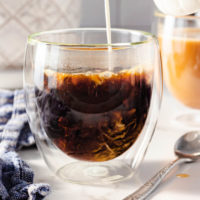 Easy Keto Coffee Creamer Recipe
Replace flavored store-bought brands with this simple homemade keto coffee creamer recipe. Yummy, rich, and sugar free!
Print
Pin
Rate
Instructions
Shake the can of coconut milk to break-up and distribute the layer of coconut cream at the top of the can. Open the can and stir with a long handled spoon to help break up any lumps.
Powdered Stevia Option
Measure 8 servings (or doonks), 1 tablespoon low carb sugar, and salt into the bottom of a clean glass jar. Stir together.

Add the heavy cream, coconut milk and flavoring to the jar and stir to blend until the low carb sugar dissolves.
Stevia Glycerite Option
Add all of the ingredients to a clean jar and blend together.

STORE: Cover with a tight fitting lid and refrigerate for up to a week.

Makes 1 cup with 8 servings of 2 Tbsp each. 1 CARB per serving.
Notes
*Coconut milk freezes really well. Freeze leftover coconut milk in small containers and thaw in the refrigerator. Blend with an electric milk frother or stick blender to re-introduce the coconut cream into the coconut milk.
**KAL Pure Stevia powdered stevia has maltodextrin in it. As you know, we try to avoid this ingredient. HOWEVER, it is only a small amount and shouldn't raise anyone's blood sugar per serving (1/32 of a teaspoon). How do I know that this product is mostly stevia? Because, the serving size is 1/32 of a teaspoon and a slightly smaller amount than other pure stevia powder brands. 
NOTE 1: There is no fiber in this recipe which is why that field is blank in the nutritional information. 
NOTE 2: Sweeten and flavor at the same time with sugar free flavor syrups like Toroni and Skinny Syrups. Add 1/2 cup to the keto creamer and use 3 Tbsp per serving instead of 2.
Nutrition
Serving:
2
Tbsp
|
Calories:
79
kcal
|
Carbohydrates:
1.04
g
|
Protein:
0.49
g
|
Fat:
8.11
g
|
Cholesterol:
20
mg
|
Sodium:
61
mg
|
Sugar:
0.27
g