A crustless zucchini quiche is a delicious way to utilize an abundance of summer zucchini. It's a winning combination of rich custard filling, delicate zucchini flavor, herbs, and mellow saltiness from smoked gouda cheese. This vegetarian quiche is very low carb so it's perfect for keto diets, too.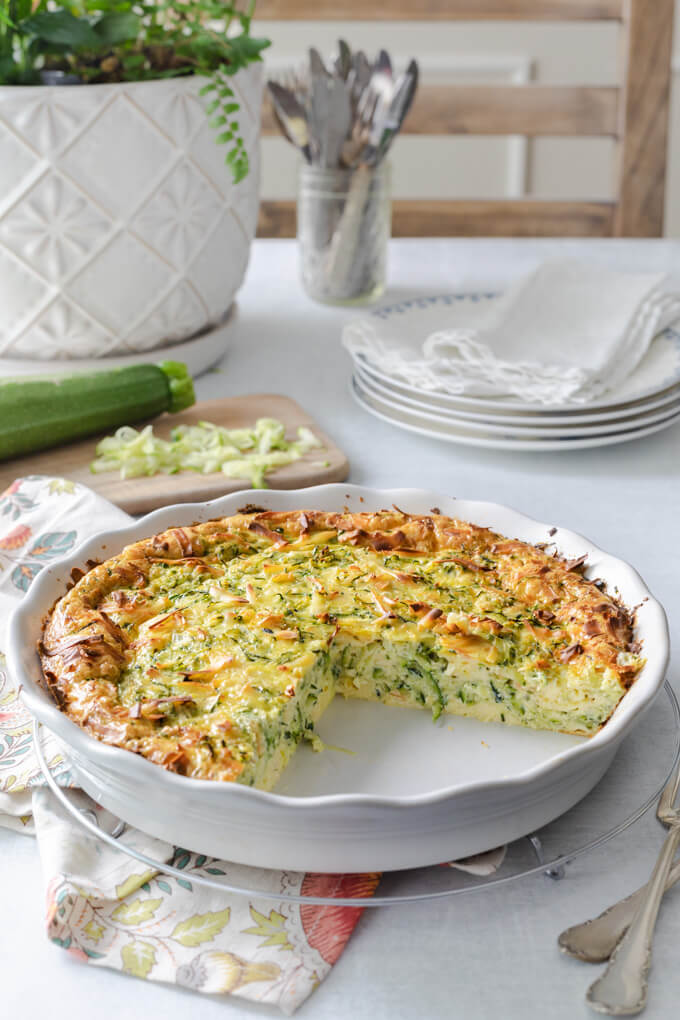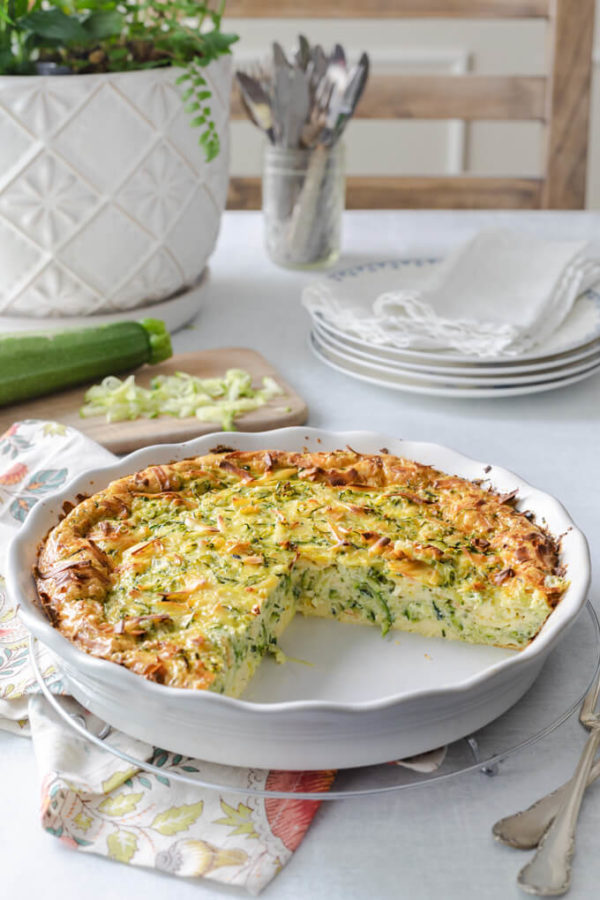 THIS POST INCLUDES AFFILIATE LINKS TO SHARE THE THINGS I LOVE.
Are you experiencing a glut of zucchini this year? Boy, I am. And I'm looking for all kinds of creative ways to use the abundance.
Zucchini fritters are always a fave. And, zucchini boats make tasty sides or main dishes. But, one can only eat so many fritters and zucchini boats. So… quiche!
Swimming in Zucchini? Zucchini Quiche To The Rescue!
This zucchini quiche is an excellent way to use up some summer bounty – it uses a full pound!
At first, I was leary of using zucchini in a quiche because I thought it might be watery. I was wrong. It's amazing! The rich custard filling, delicate zucchini flavor, fresh and dried herbs, and mellow saltiness from the smoked gouda is winning combination. And, ditching the crust means this recipe is low in carbs!
What's best? Sliced Zucchini or Grated Zucchini for Quiche?
You'll see zucchini quiche recipes made with sliced zucchini and grated zucchini. After testing this recipe both ways, I found that grated zucchini works much better in a zucchini quiche. Why?
Zucchini is full of water
Zucchini rounds don't cook completely in the quiche
Zucchini rounds release a lot of water in the quiche, even when salted and patted dry
Zucchini rounds need to be sauteed before adding to the quiche (yuck more work)
Zucchini round sink to the bottom of the quiche
Grated zucchini is easy to squeeze dry
Grated zucchini is easy to layer
Crustless Zucchini Quiche that doesn't weep
As far as quiches go, this is an easy one. Weigh one pound of zucchini. Grate it and put it into a colander. Mix salt into the zucchini and let it sit. The salt will draw water out of the zucchini. Then rinse the zucchini well, to remove the salt. Squeeze the zucchini with clean hands to remove as much water as possible.
Some people put the grated zucchini in a tea towel and twist to remove the liquid from the zucchini. I've found doing it with my hands works just as well and it's one less thing to wash and is faster. You must squeeze the water from the zucchini or it will never cook.
If you'd like to try this quiche with a crust, try my flaky low carb pie crust or your favorite pie crust. It's even more amazing with a crust! Using drier shredded zucchini ensures that the quiche won't weep into the crust causing it to go soggy.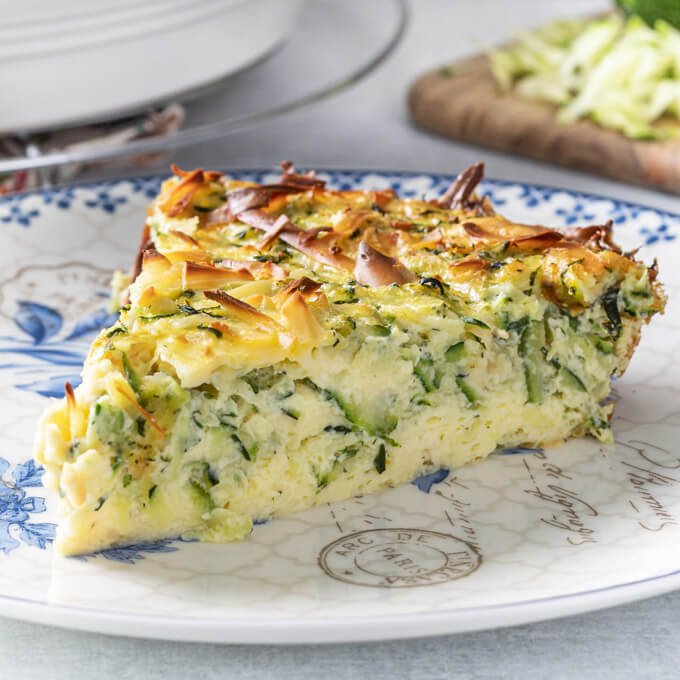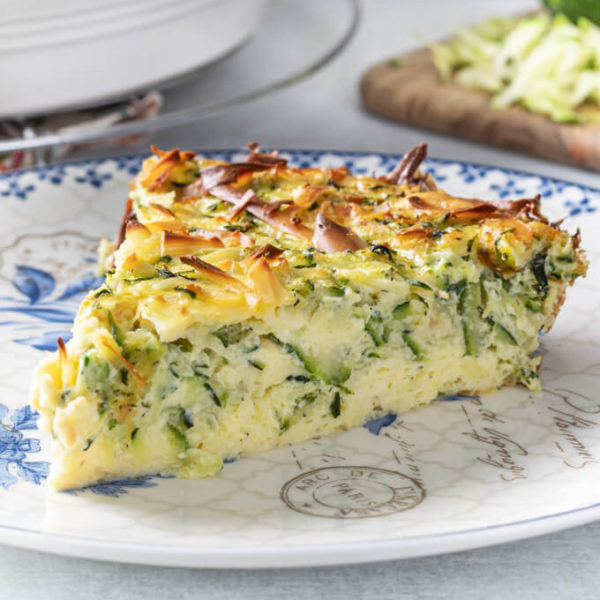 The Perfect Quiche Ingredient Ratio
The perfect egg-cream-cheese ratio for a quiche is ¼ cup of cream and 1 ounce of cheese for each egg. Because zucchini contains so much water, I needed to change the ratio for this quiche. I added an extra egg, a little more cheese, and less cream to account for the extra moisture.
To make it, start by preheating your oven. Then grate the zucchini – I use a simple box grater because it's fast and easier to clean than my food processor. You can find them in the kitchen section of grocery stores, Target and Walmart. Put the zucchini in a colander and thoroughly mix the salt into zucchini. Let it sit for 10 minutes to give the salt a chance to draw the water out of the zucchini.
While the zucchini is sitting, grate your cheese and set it aside.
After the zucchini rests, wash your hands and rinse the zucchini with running water very thoroughly to rid it of excess salt. Then, using your clean hands squeeze out as much liquid from the zucchini as you can.
Put the zucchini into a medium bowl and mix well with the dried herbs and chives and set it aside. In another bowl, beat the eggs, salt, pepper, and cream together until frothy.
Layer Your Quiche
For the best results in making any quiche… Layer. The. Ingredients. Layering the ingredients prevents heavier ingredients from sinking to the bottom and ensures even distribution of ingredients.
Distribute a quarter of the cheese into a quiche dish or a pie plate. Layer roughly one third of the zucchini into the pie plate followed by another layer of cheese. Repeat twice more. Pour the frothy egg mixture over the layers and bake.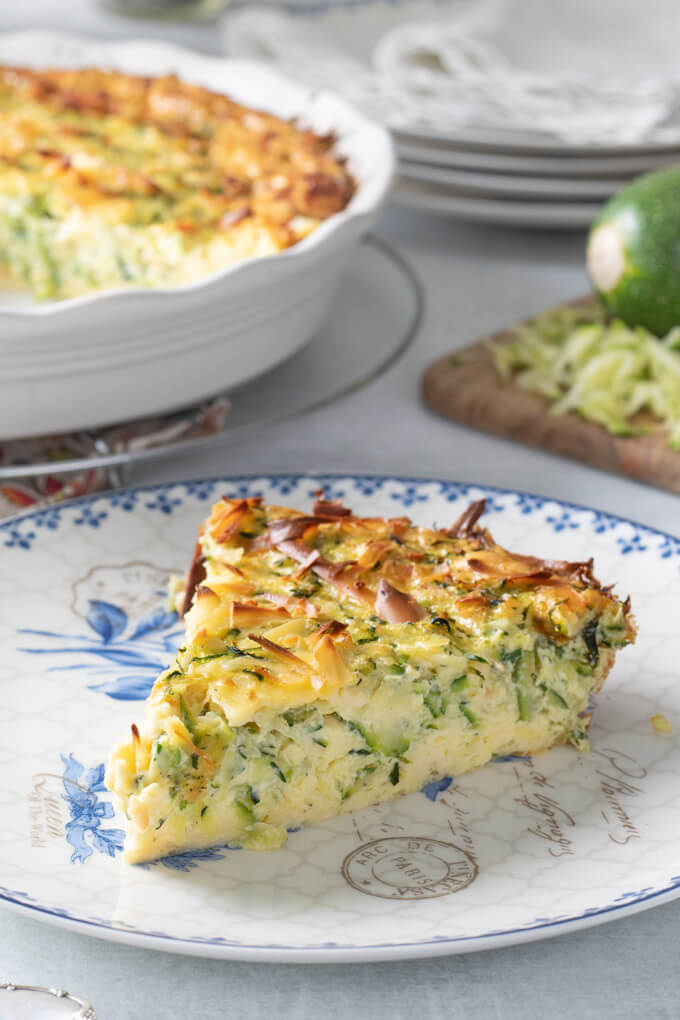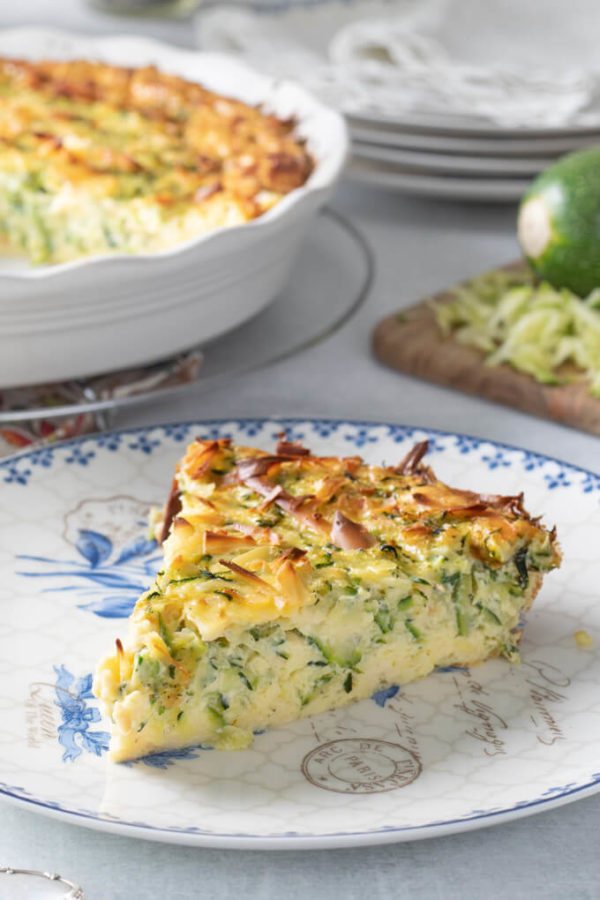 Bake the quiche for 40-50 minutes or until it has browned and is slightly soft in the middle, but not wet. Remove the quiche from oven and let it cool until warm prior to serving.
To refrigerate, allow it to cool completely and cover with cling film. Reheat a slice of quiche in the microwave or in the oven. Serve with a green salad or this refreshing sweet bell pepper salad. Refrigerate up to 1 week or freeze for up to 3 months.
Customize your quiche!
I love this zucchini quiche as I shared here, but I did experiment with other seasoning combinations. In one variation I added two teaspoons of my homemade ranch seasoning. While the quiche was delicious VERY FLAVORFUL, I felt like the zucchini got lost. However, if you aren't a huge fan of zucchini, this may be a great option for you.
Here are some ideas:
add 2 teaspoons of ranch seasoning or lemon pepper
change up the herbs
use green onions instead of chives
add crumbled bacon or chopped ham for more protein
try some crumbled feta cheese or dollops of ricotta cheese on top of the quiche
Other Great Low Carb Keto Vegetarian Quiche Recipes
Low carb vegetarian recipes are sometimes hard to find. Quiche is great because it benefits from the protein contributed from the eggs and cheese. Plus, it looks so nice on a plate. Here are three more great low carb vegetarian recipes.
Zucchini gratin by my friend Mellissa at I Breathe I'm Hungry.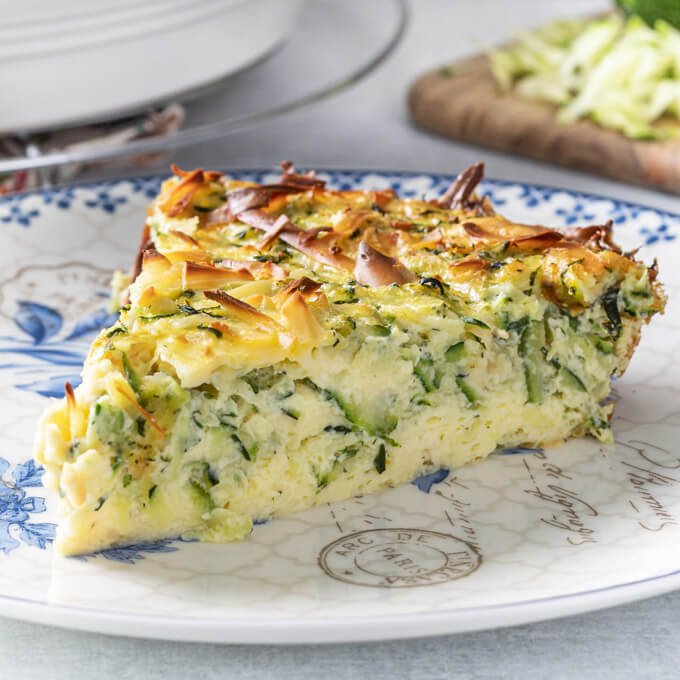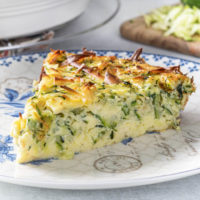 Crustless Zucchini Quiche Recipe
This Zucchini quiche promises rich custard filling, delicate zucchini flavor, herbs, and mellow saltiness from smoked gouda cheese - a winning combination!
Print
Pin
Rate
Total Time:
1
hour
10
minutes
Ingredients
Instructions
Preparation
Place the zucchini in a colander and sprinkle with ½ tsp salt. Thoroughly mix salt into zucchini with your hands. Let sit for 10 minutes. Grate the cheese.

Preheat oven to 350 F and set rack to middle position. Butter a 9 - 10 inch pie plate or quiche dish.
Method
Rinse the zucchini with running water very thoroughly. With clean hands, squeeze out as much liquid from the zucchini as you can. Place the zucchini into a medium bowl and mix well with the dried dill and chives.

Measure salt, pepper, eggs and heavy cream into a medium bowl and beat until frothy.

Layer ¼ of the cheese into the pie plate followed with ⅓ of the zucchini. Alternate layering cheese and zucchini until used up. Gently pour the egg mixture over the quiche.
Bake
Bake for 40-50 minutes depending on you oven or until the quiche is browned and just slightly soft in the middle. Remove from the oven and let cool to room temperature before serving.

Cover with cling film and refrigerate any leftovers. Reheat in the microwave or oven. Great served with a green salad.

Serve warm with a green salad. Serves 6 at 4.1g NET CARBS per serving.
Nutrition
Calories:
314
kcal
|
Carbohydrates:
5
g
|
Protein:
14
g
|
Fat:
27
g
|
Cholesterol:
291
mg
|
Sodium:
577
mg
|
Fiber:
0.9
g
|
Sugar:
1.75
g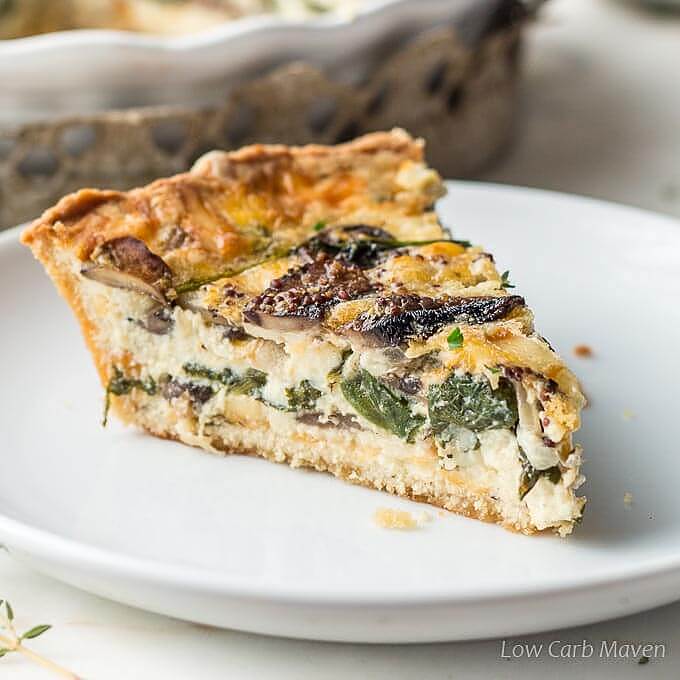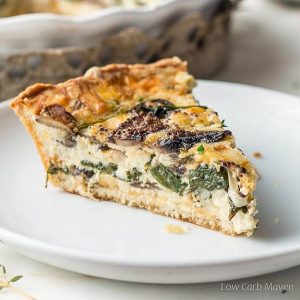 Spinach and Mushroom – Vegetable Quiche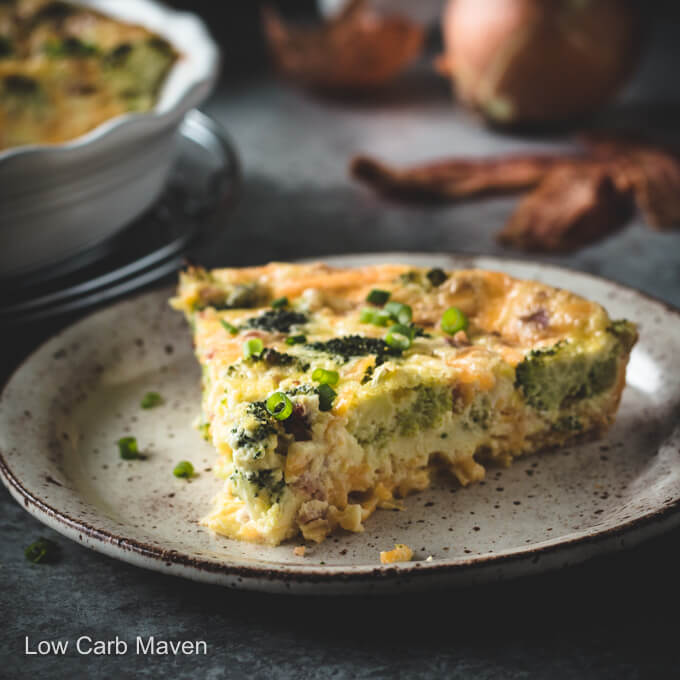 Broccoli Cheddar Quiche with Bacon