Are you a fan of pulled chicken? We are. We love barbecue chicken (and pork!) in sandwiches, wraps, tacos, bell peppers, portobello mushrooms, on salads and more. This crockpot BBQ chicken recipe is easy to prepare and it makes its own sauce! My recipe is low carb and keto friendly, but feel free to use the ingredients you like best.
Pressed for time? I include instructions for using your favorite pre-made bbq sauce, below.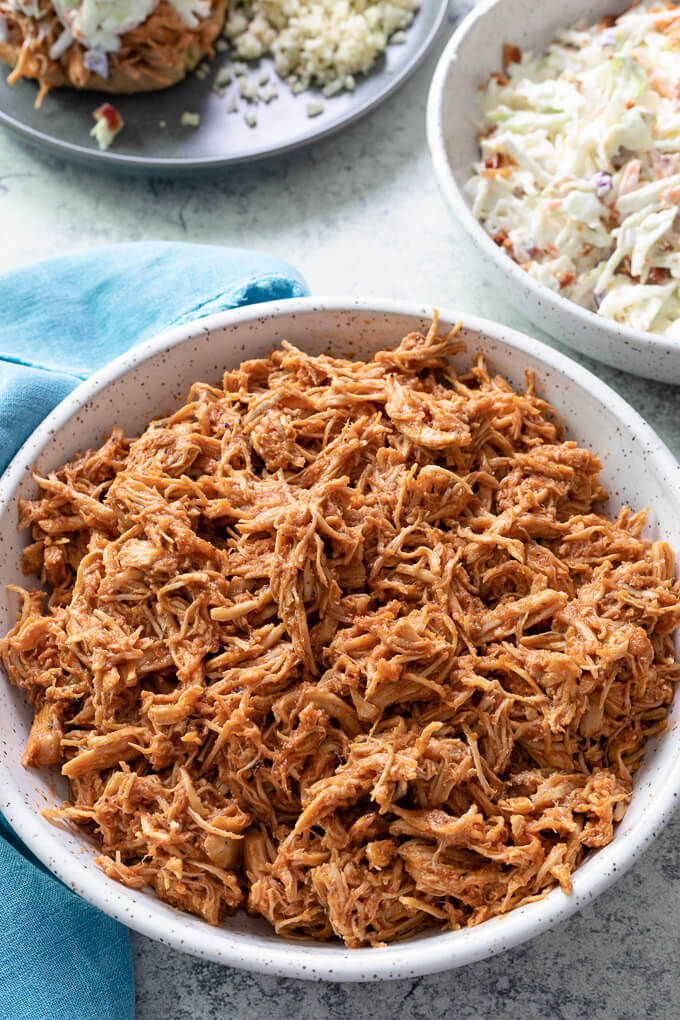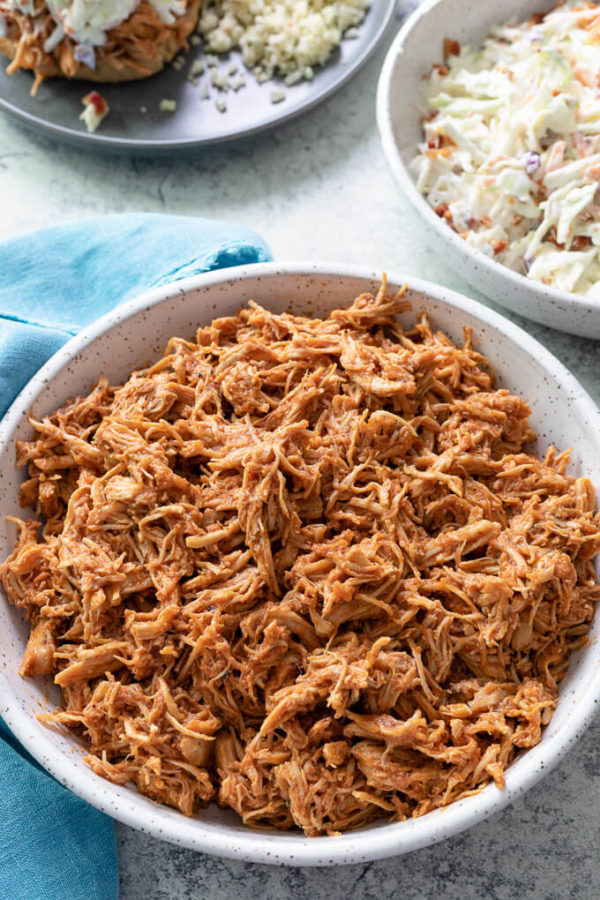 THIS POST INCLUDES AFFILIATE LINKS TO SHARE THE THINGS I LOVE.
Crockpot BBQ Chicken Ingredients (2 ways)
First, I'll share the ingredients for my low carb self-saucing recipe. Next, I'll provide instructions for the no-brainer 2-ingredient BBQ chicken recipe. It's the same as all the other slow cooker pulled chicken recipes on the internet.
They are both good but my recipe lets you control the ingredients and amount of sugar, which is important for those on low carb keto diets, like me.
How to make crockpot BBQ Chicken with its own sauce
I like to make BBQ chicken in the crockpot or slow cooker because it's easy and does all the work for me. Well, except for the shredding.
To make crockpot BBQ chicken, let the chicken warm-up on the counter for 20-30 minutes before cooking. Why? Cooking the chicken straight from the refrigerator toughens the proteins making it hard, rubbery and difficult to shred.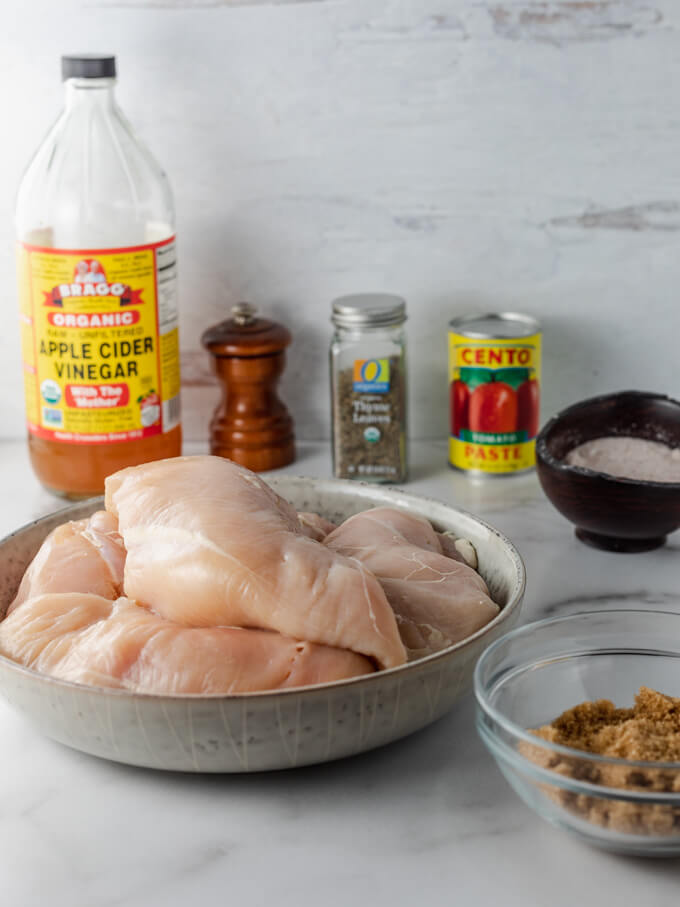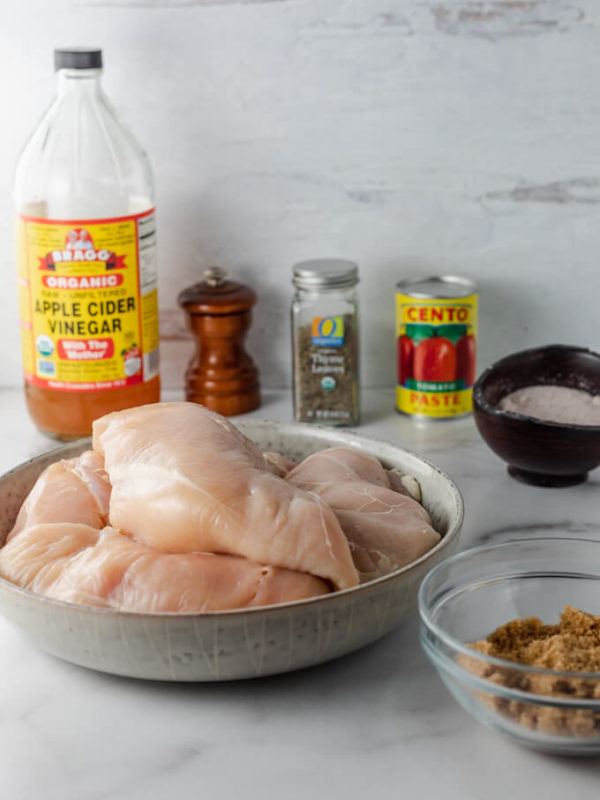 Add the chicken to the crockpot. Then, mix the sauce ingredients together and spread it over the chicken. The layer of sauce helps keep the chicken moist. Since slow cookers "make liquid" during the cooking process, I don't add any additional liquid to this crockpot BBQ chicken recipe. Cook on high for 3-4 hours or cook on low for 6-8 hours.
Check the temperature of the chicken with an instant read thermometer. It's ready to remove at 160 F and will continue to cook to 165 F as it sits tented with foil for 10 minutes. Add the butter to the crockpot to melt while the chicken rests. Then, shred the chicken and return it to the crockpot to mix with the sauce.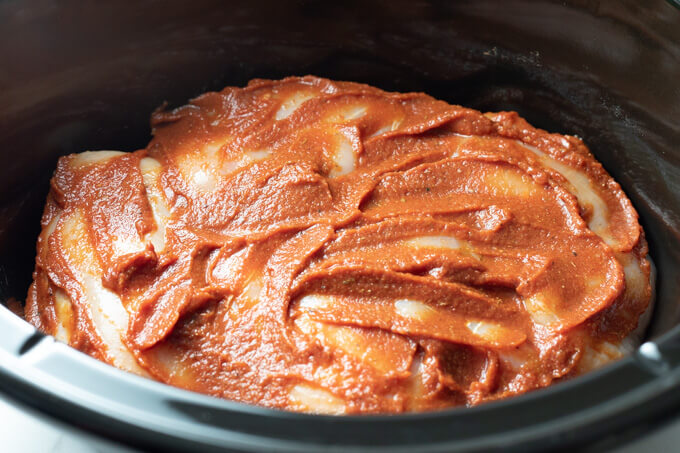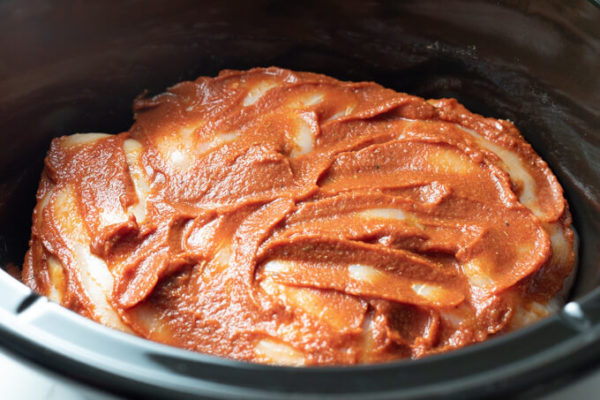 Two-ingredient Crockpot BBQ Chicken
Let chicken come to temperature for 20-30 minutes before cooking. Put it in the crockpot with ½ cup of chicken broth. Cover the chicken with a piece of parchment, making sure it's touching the chicken breasts. This helps keep it moist. Cook on high for 3-4 hours or on low for 6-8. Remove the chicken when its internal temperatures reaches 160 F. Tent with foil and let rest for 10 minutes.
Shred the chicken and add pre-made BBQ sauce to taste. If you are following a low carb keto diet, don't forget to count the carbs and you may want to sauce your portion separately. Use this tangy and bold homemade keto BBQ sauce or your favorite store bought. I like Kinders Zero Sugar and G.H. Hughes, while others like Guy's BBQ Sauce.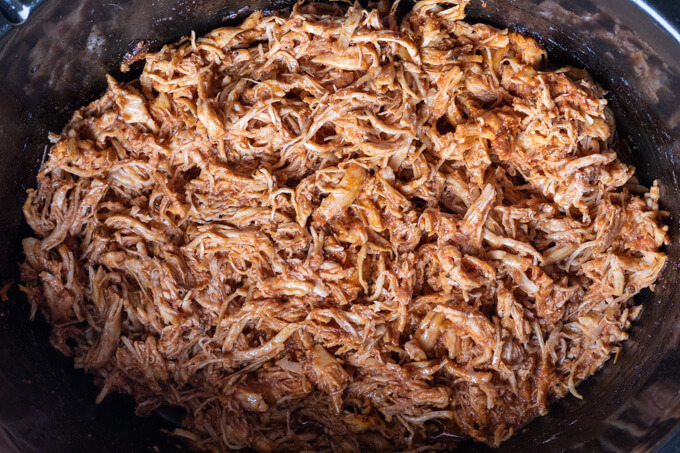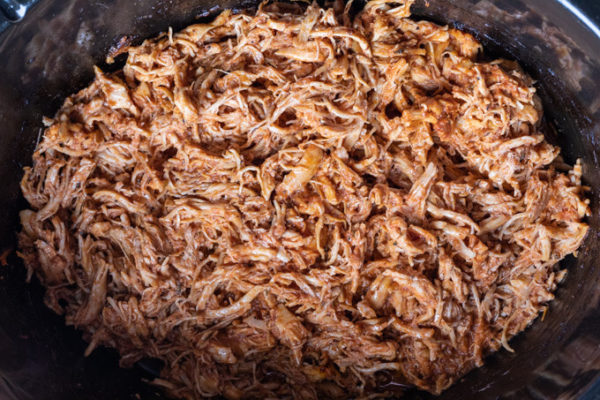 How do you pull chicken?
Pulling or shredding chicken is easy but can be a workout if you have large amounts of meat. I find it's easiest to do while the chicken is warm. If you are shredding or pulling refrigerated chicken, warm it up in the microwave or oven first.
For larger chunks, pull the chicken apart with your fingers or meat claws. Use the double-fork method for more finely shredded chicken. For the fork method, hold a piece of chicken down with one fork and use the tines of the other fork to scrape pieces of chicken away from the larger piece. It only takes a minute to get in a groove.
Unconventional methods for shredding or pulling chicken involve a hand beater or stand mixer with beater attachments. Put the warm chicken in a bowl and turn on the beaters. Their action will shred and pull the chicken apart.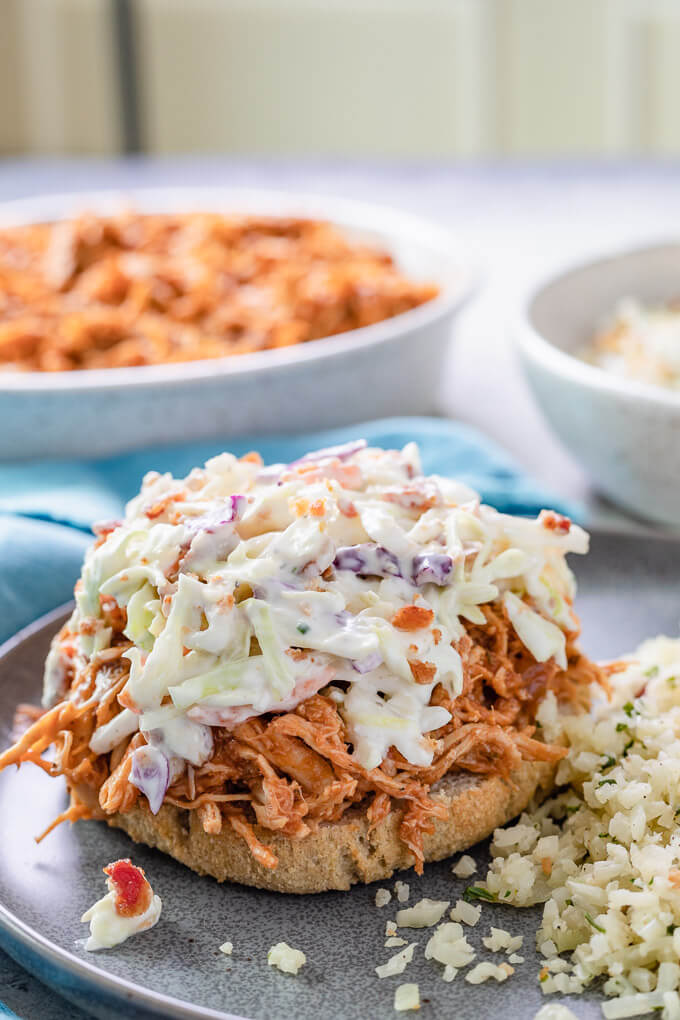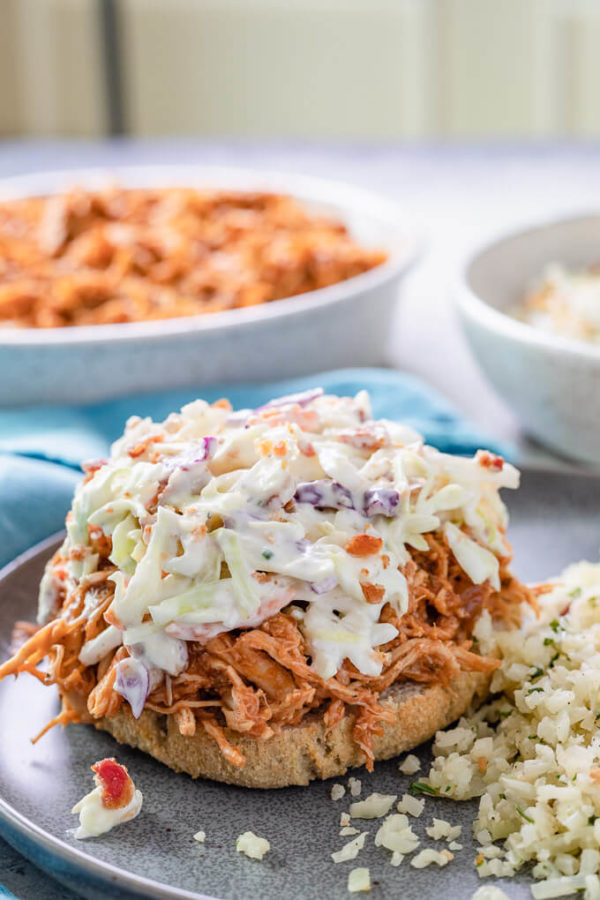 How much pulled chicken per person?
Caterers advise to buy approximately 1/2 pound of raw meat per person. Since approximately 30 % is lost in the cooking process, this leaves about 5 ounces per person. We all have that friend who eats 2-3 portions of pulled chicken because it's so darn good, so it's always good to buy a little extra. This recipe makes 8 cups of shredded chicken (or approximately 7 ounces per cup with sauce).
What goes with shredded bbq chicken?
CONCLUSION:
Whether you use my self-saucing recipe (below) or the no-brainer pre-made bbq sauce version (above). Making BBQ chicken in the crockpot is easy and always a crowd pleaser. And for an even lower carb pulled chicken version, forgo the BBQ sauce and mix the chicken with your favorite Italian dressing, creamy dressing, or even Buffalo sauce!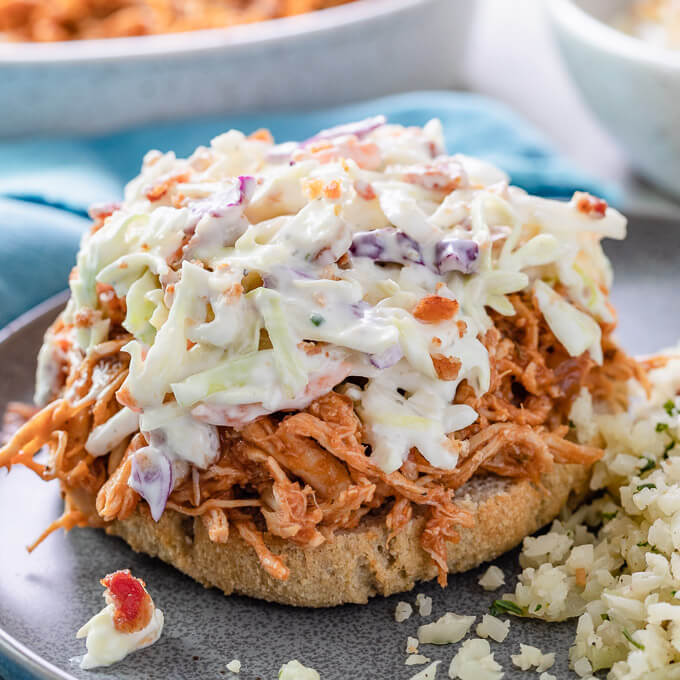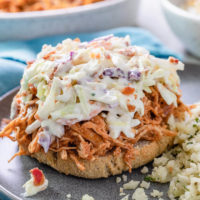 Crockpot BBQ Chicken
This easy self-saucing crockpot bbq chicken recipe yields moist pulled chicken ready for recipes and gatherings with minimal effort!
Print
Pin
Rate
Equipment
Crock pot

Bowl

Measuring spoons

Forks
Ingredients
3

pounds

boneless skinless chicken breasts

4

oz

butter

(ghee or olive oil)
Sauce Ingredients (mix together)
6

oz

tomato paste

1/3

cup

Low carb brown sugar

(Sukrin Gold, Swerve Brown, Lakanto, or Besti)

3

tbsp

cider vinegar

3

tbsp

red wine vinegar

(or more cider vinegar)

2

tbsp

prepared yellow mustard

1

tsp

onion powder

1

tsp

garlic powder

1

tsp

dried thyme

1

tsp

salt

1

tsp

black pepper

1

tsp

liquid smoke

1/2

tsp

celery salt

1/8

tsp

ground cloves
Instructions
Remove the chicken from the refrigerator 30 minutes before adding to crock pot.

Measure all of the ingredients for the sauce into a medium bowl and whisk to combine.

Arrange the chicken in the crock pot in a single layer.

Spread the sauce ingredients over the chicken and place lid.

Cook on High for 3-4 hours or Low for 6-8 hours or until the internal temperature of the chicken reaches 160. Remove the chicken to a rimmed baking dish to rest for 10 minutes tented with foil. Shred chicken with two forks and return the chicken to the crock pot with the butter and heat until the butter melts. Stir. Taste and adjust flavor. Serve.

Yield: 8 cup plain shredded chicken

1 cup = 4 oz just chicken or 7 oz if made with the sauce
Notes
Can you put frozen chicken in the crockpot?
While it is possible to cook frozen chicken in the crock pot, it isn't recommended by food safety sites. The chicken sits in the temperature "danger zone" for an extended period of time and may develop bacteria. Always make sure that your chicken is cooked to an internal temperature of 160 F and tent it with foil for 10 minutes so it reaches 165 F with carry-over cooking.
Nutrition
Serving:
1
cup
|
Calories:
321
kcal
|
Carbohydrates:
5
g
|
Protein:
37
g
|
Fat:
16
g
|
Saturated Fat:
8
g
|
Cholesterol:
139
mg
|
Sodium:
948
mg
|
Potassium:
855
mg
|
Fiber:
1
g
|
Sugar:
3
g
|
Vitamin A:
730
IU
|
Vitamin C:
7
mg
|
Calcium:
24
mg
|
Iron:
2
mg