Low Carb Fennel and Cream of Celery Soup is a pleasantly creamy and satisfying meal. Made from wholesome ingredients, it's low carb & gluten-free
"Mom, this is the most fantastic soup I've ever eaten." — The Picky Eater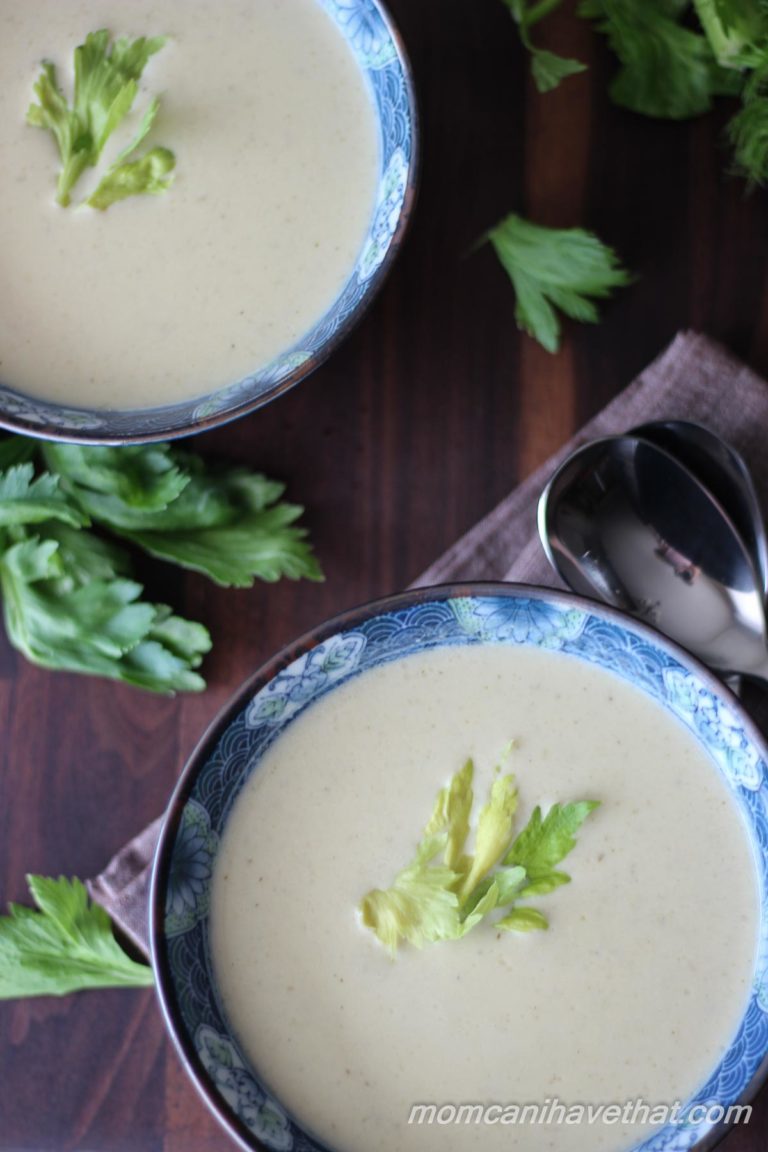 If any of you have a picky eater then you know and share my pain. It's not that my daughter is especially picky. I have known some kids who wouldn't eat anything green, or only ate chicken nuggets, but she has a sweet tooth and a special love of fast food – especially Chick-fil-A. If I had a nickel for every time she asked me if we could go to Chick-fil-A, I would be able to pay for the new air conditioning unit we find ourselves needing.
Oh yeah, our air conditioner broke last week. It was 20 years old and we knew it was just a matter of time. Luckily, it has been unseasonably cool and we have not suffered too much. In the meantime, I have been trying very hard not to use the oven. Have you ever roasted a tri-tip in a toaster oven outside on the back porch? I did, and it was delicious! We'll enjoy it on salads this week. So, in order to keep the house cool, I've been using the toaster oven to cook our meals and I have found myself making a lot of soups.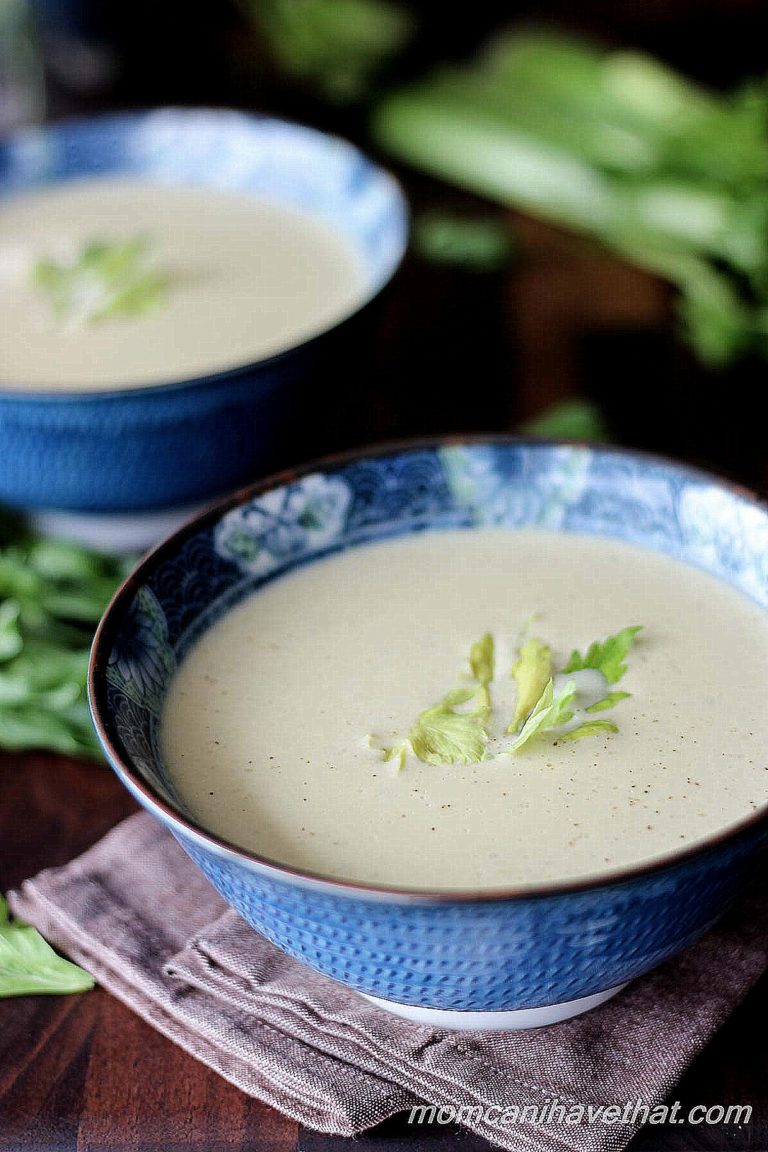 My family loves soup and this one did not disappoint! And it's funny because my daughter will tell anyone who asks that she doesn't like celery. She thinks she likes it with peanut butter and raisins on top (ants on a log) but she doesn't. She'll pick-off the raisins, lick-out the peanut butter and leave the celery abandoned and alone on the plate. Poor celery. I don't blame her really, raw celery has a bit of a funny taste and it's not especially my favorite raw vegetable either, but cooked until it's sweet like in this creamy celery soup, and I'm a real fan!
Traditional Cream of Celery Soup calls for adding a velouté to thicken the soup. Velouté is a sauce made from chicken stock and a roux — butter and flour cooked together until thick. A roux = lots of carbs and gluten. I didn't want either in my soup so I used cauliflower. Yes, I said cauliflower. Cauliflower was the perfect choice to add body and thickness to this fennel cream of celery soup and it keeps it low carb and gluten-free. It's simply wonderful. I think you will agree.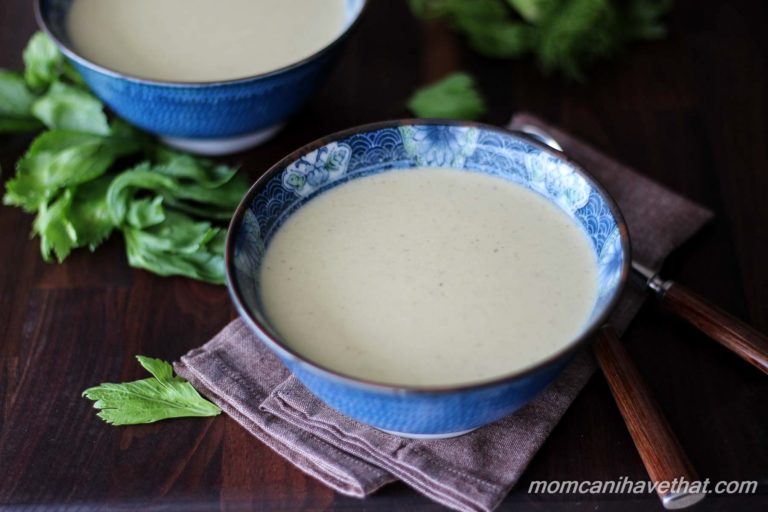 This soup has a couple of steps, but they are very easy; the stove and the blender do most of the work.
What 's that? Oh, you don't like celery? One taste of this Fennel and Cream of Celery Soup and you will be a believer! And the rotisserie chicken? Perfect, tender, moist delicious. You'll be thanking me!
Other soups you may enjoy: Healthy Chicken Minestrone, Chicken Sausage & Kale Soup
Other easy rotisserie chicken recipes: Bangalore Chicken Curry
Featured on Buzzfeed: 31 Reasons Fennel Should Be The New Food Mascot of Fall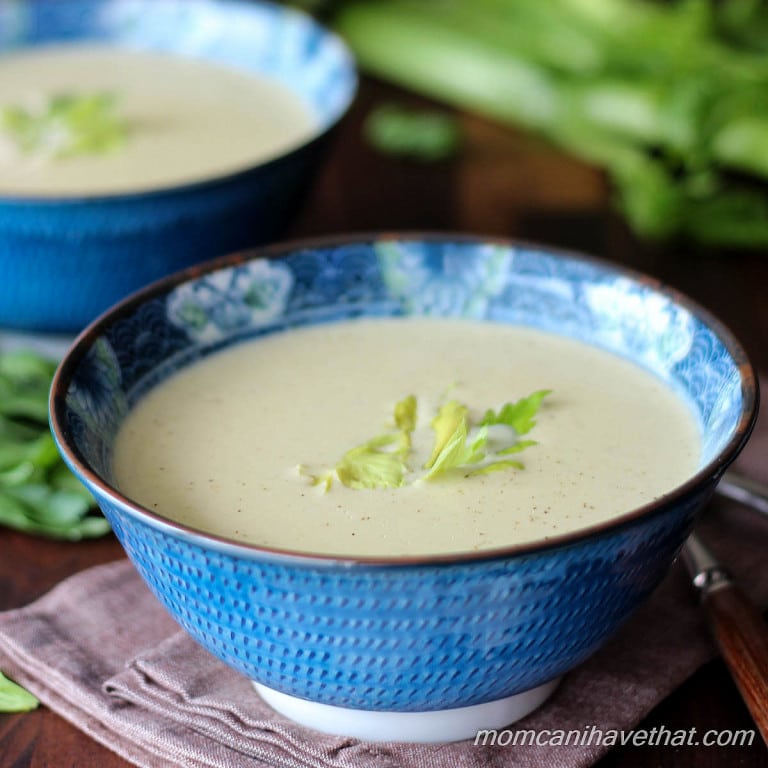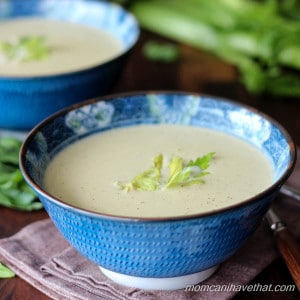 Low Carb Fennel and Cream of Celery Soup with Rotisserie Chicken
Low Carb Cream of Celery and Fennel Soup with Rotisserie Chicken is a pleasantly creamy and satisfying meal. For an elegant appetizer, omit the chicken and garnish with celery leaves or fennel fronds. Low carb and gluten-free.
Print
Pin
Rate
Ingredients
1/2

pound

cauliflower

1/2

pound

celery

1/2

pound

fennel bulb

6

ounces

onion

32

ounces

unsalted chicken broth

1/3

cup

dry sherry

or dry white wine

4

tablespoons

butter

2

cups

heavy cream

1

pound

rotisserie chicken

2

teaspoons

salt

lots of black pepper
Instructions
Cut the cauliflower into chunks and place into a small pot. Cover the cauliflower with water and boil/simmer until completely tender.

Meanwhile, chop the celery, fennel and onions into small pieces. Heat a soup pot over medium high heat and add the butter and vegetables and sherry. Turn the heat to medium, cover the pot and cook until the vegetables are completely tender. Add a little water as necessary and stir the vegetables periodically to prevent burning.

While the vegetables are cooking, begin removing the meat from the rotisserie chicken and dice it.

When the cauliflower is cooked, drain and it to a blender. Add half of the chicken broth and blend until it is pureed and smooth. Pour it back into the cooking pot until ready to add to the soup.

When the celery is completely cooked, put it into the belnder and add enough chicken stock to puree it as smoothly as possible. Scrape it back into the soup pot and add the pureed cauliflower and the rest of the chicken stock. Stir.

Add two cups of heavy cream and the salt. Add lots of pepper to taste. Heat gently as not to burn or curdle the cream.

While the soup is gently heating, continue removing the meat from the rotisserie chicken and cutting it into cubes. When the soup is hot, add the chicken just long enough to heat-through and serve.
Notes
Nutrition Facts
Low Carb Fennel and Cream of Celery Soup with Rotisserie Chicken
Amount Per Serving
Calories 273
Calories from Fat 216
% Daily Value*
Fat 24g37%
Carbohydrates 7g2%
Protein 7g14%
* Percent Daily Values are based on a 2000 calorie diet.
Nutrition
Calories:
273
kcal
|
Carbohydrates:
7
g
|
Protein:
7
g
|
Fat:
24
g
|
Fiber:
2
g