Tart cranberries, almond-coconut shortbread crust, toasted walnuts and dark chocolate chips. These low carb, gluten-free and sugar-free Cranberry Walnut Crumb Bars are all you will be able to think about this season.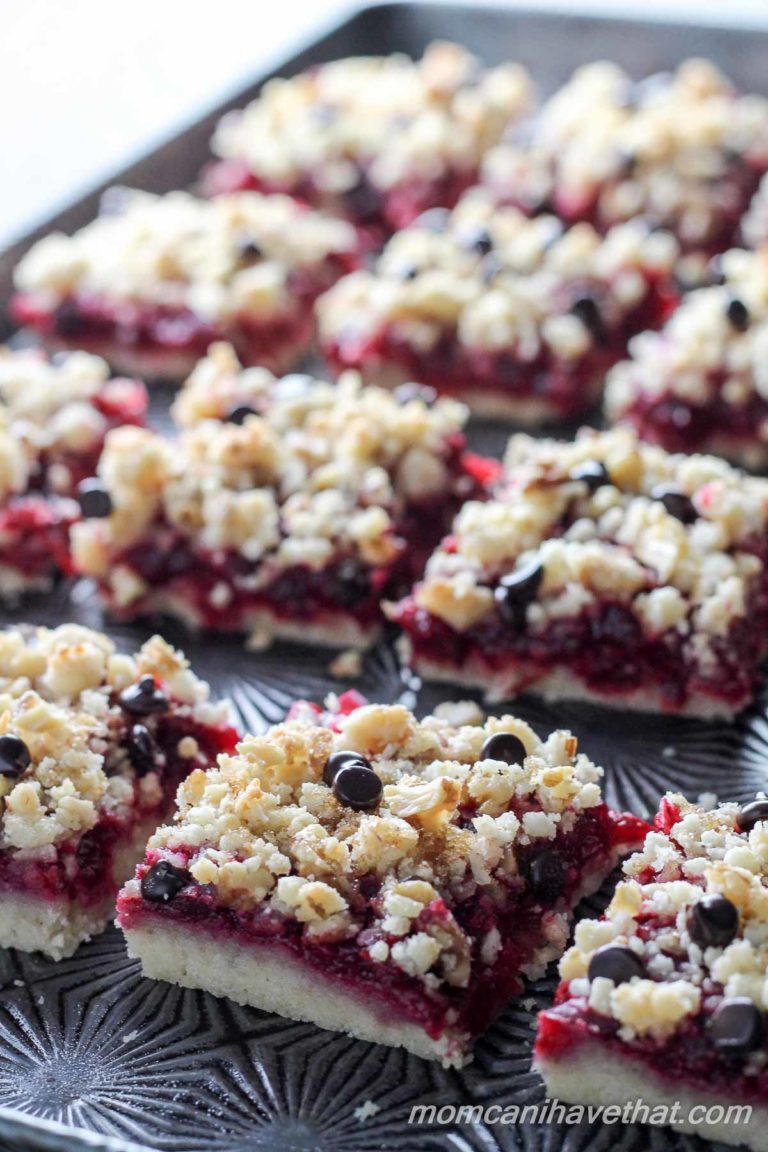 Inspiration for a recipe can come from many places… a picture from a magazine or Pinterest, or a Google search on a specific ingredient, it can come from ingredients I have on hand, my desire to a recreate an old favorite or a new twist on a classic, or sometimes it can emerge from an intense craving for a specific taste.
I have hundreds and hundreds of ideas for recipes sitting in the queue in my Kaban flow chart or jotted down on little scraps of paper on my kitchen island and around my work space. Recipe ideas that just come to me as I work on a post or while I wait for the kids after school. Recipes that will most likely never be tried or tested. (Sigh) I wish I had more energy and time…
The idea for these Cranberry Walnut Crumb Bars just popped into my brain the other day as I was looking, unsuccessfully, for fresh cranberries at the grocery store. There was no seeking for inspiration, it just jumped right into my brain… probably because I had a mad craving for cranberries. I have been waiting for cranberries for months now because I absolutely adore them. Luckily, the frozen cranberries I had in the freezer worked just fine for this recipe, as will fresh.
The first batch of cranberry crumb bars I prepared were good, but I thought they looked and tasted a little plain. They were missing something.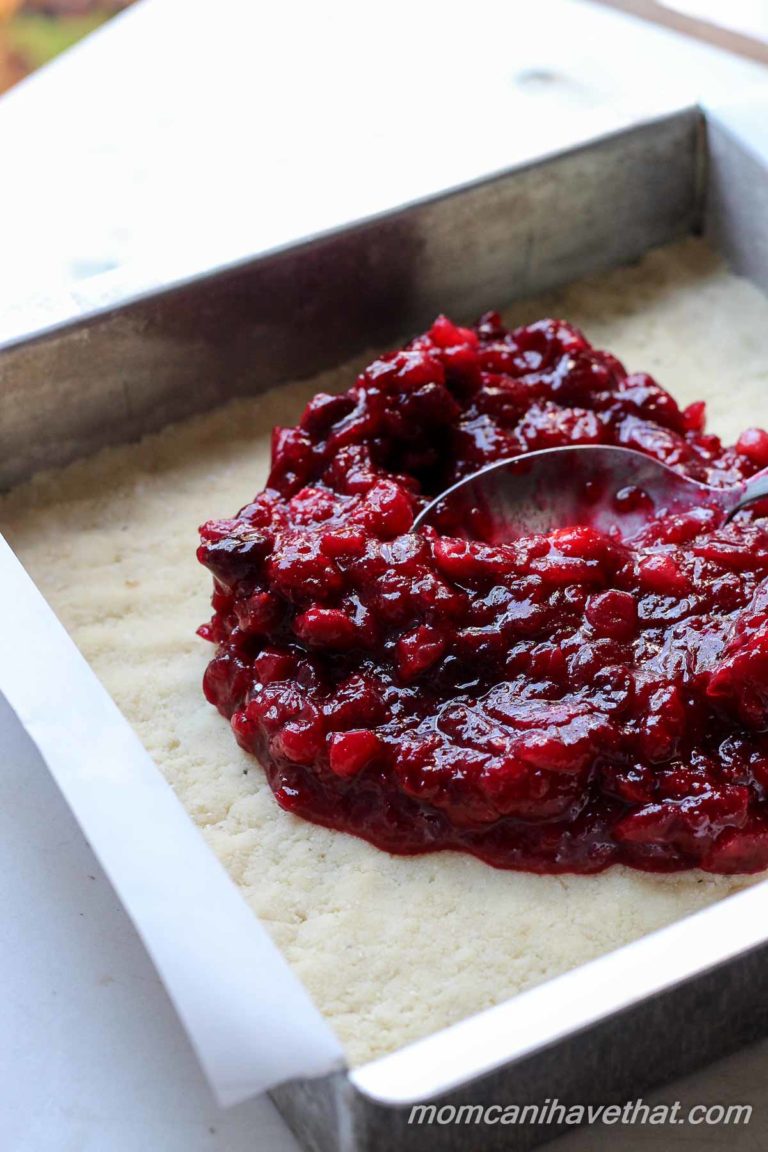 I decided to jazz them up with a few more ingredients and am so happy I did because THESE cranberry bars are totally amazing. I would even say that they are inspired! Walnuts and dark chocolate complement cranberries very nicely and I am sure you will agree that they make for a winning combination. (BTW, I've made these 5 times now and am able to just throw them together – so easy!)
Let's talk about the recipe… This is where I am going to harp about having some great basic recipes in your repertoire. Putting two basic recipes together and adding some fun extras resulted in this super fabulous dessert bar. But you know I can't leave it at that. I like to include ways that one can change things up to create something new and exciting.
Variations:
use the chocolate shortbread base from the Low Carb Chocolate Lasagna recipe
add grated chocolate, chocolate chips or spices to the base
add any of these flavors to the cranberry sauce: vanilla extract, almond extract, orange liqueur, raspberry liqueur, Cassis, brandy, or spiced rum
top with flaked almonds, flaked coconut, pecans, macadamia nuts, pine nuts, or white chocolate chips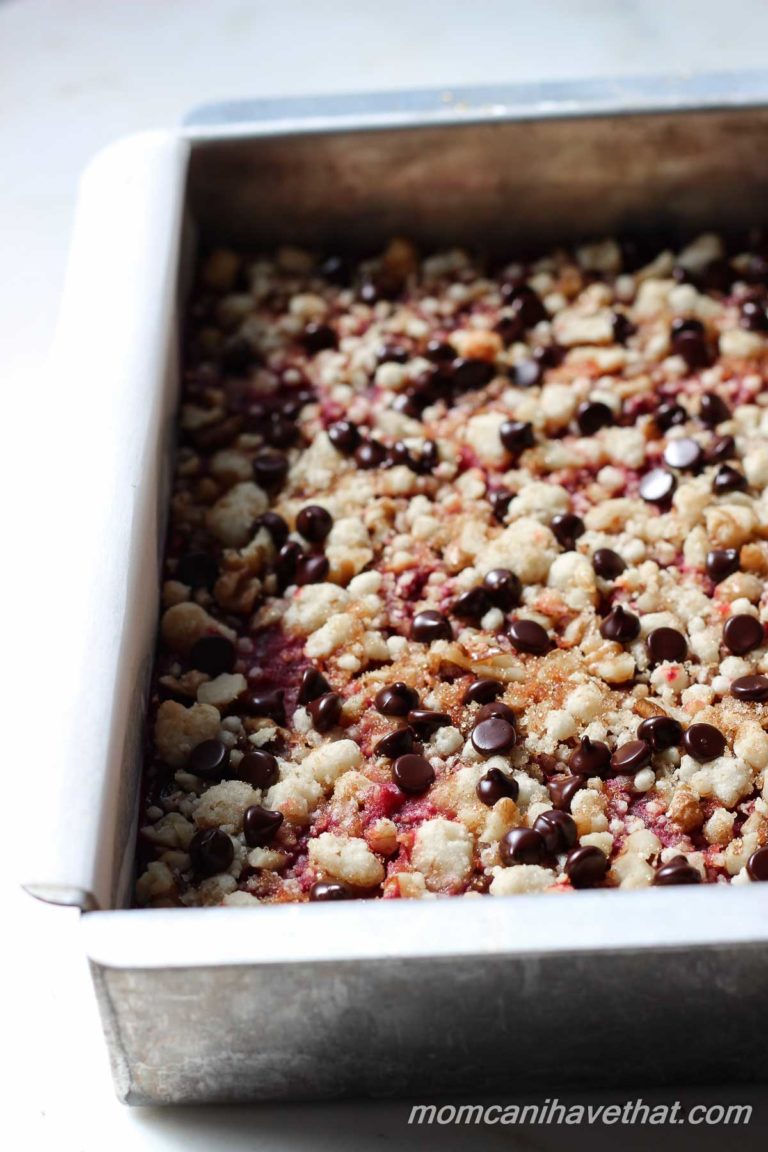 I added chopped walnuts to the recipe because they taste great with cranberries and add visual texture as well as a nice crunch. The Sukrin Gold adds a nice warm brown sugar taste which adds flavor to the walnuts, and the dark chocolate elevated the flavor of the whole bar as well as adding another visual and textural punch. I used a 9×9 inch brownie pan so my bars are thinner than those that would be baked in an 8×8. I think I prefer the bars a little thinner, but that is just my personal preference.
If you are looking to purchase a 9×9 inch square brownie pan, you may consider this pan or this one. They seem to be sturdily constructed and are similar to the pan I purchased 15 years ago from a restaurant supply store. It will last me a lifetime.
Cranberry Walnut Crumb Bars are 5 net carbs per serving
[Disclosure: This recipe contains affiliate links.]
Cranberry Walnut Crumb Bars
Tart cranberries, almond-coconut shortbread crust, toasted walnuts and dark chocolate chips. These low carb, gluten-free and sugar-free Cranberry Walnut Crumb Bars are all you will be able to think about this holiday season. Dairy-free option.
Ingredients
Cranberry Filling
12

ounces

(340 g) fresh cranberries

fresh or frozen

1

cup

(236.58 g) water

1/2

cup

(80 g) Sukrin Melis, ***

(or your favorite powdered sweetener)

1

tablespoon

(15 ml) lemon juice

or 3 Real Lemon packets

1

pinch salt

1

pinch ground nutmeg
Shortbread Crust
2

cups

(180 g) Honeyville almond flour

1

cup

(90 g) unsweetened shredded coconut,

ground in a coffee grinder

1/3

cup

(20 g) Isopure Vanilla Whey Protein Powder ***

(or your favorite brand)

1/3

cup

(50 g) Sukrin Melis, ***

(or your favorite powdered sweetener)

1/2

teaspoon

salt

8

tablespoons

(113 g) salted butter, melted

(or 6 1/2 Tbs. coconut oil / ghee plus 1 1/2 Tbs. water - increase salt to 3/4-1 teaspoon as per your taste)***,
Crumb Topping
3/4

cup

of the shortbread crust mixture

about 1 quarter of the mixture

1/2

cup

(40 g) walnuts,

chopped

3

tablespoons

(35 g) Sukrin Gold***

3

tablespoons

(40 g) Lily's Sugar-Free Chocolate Chips***
Instructions
Prepare: a 9x9 or 8x8 brownie pan by cutting a strip of parchment wide enough to cover the bottom of the pan and long enough to go up two opposite sides and hang over. Spray the pan with baking spray and place the piece of parchment into the pan, smoothing it to fit. Chop the walnuts.

Cranberry Filling: Place all of the ingredients for the cranberry filling into a medium pot and bring up to a boil. Boil gently for 10-15 minutes until the mixture thickens. Let cool.

Preheat the oven to 350 and position the rack to the lower third of the oven.

Shortbread Crust: While the cranberries are cooking, process the shredded coconut in a coffee grinder until it is fairly finely ground. Add all of the dry ingredients for the shortbread crust into a medium bowl. Melt the butter and pour it over the dry ingredients. Mix with a spatula or fork until the butter is distributed and clumps begin to form. Break-up any large crumbs to about the size of large peas. Remove 3/4 cup of the mixture and set it aside for the crumb topping.

Assemble: Very firmly press the shortbread mixture into the bottom of the brownie pan. I like to put s piece of waxed paper over the crust and use a flat bottomed glass to help me press the crust into the pan. Spoon the cooled cranberry sauce into the brownie pan and spread it evenly over the crust. Sprinkle the reserved crumb mixture evenly over the top of the cranberries, then the walnuts, Sukrin Gold, and finishing with the chocolate chips. Bake for 30 minutes or until the top begins to turn golden brown. Cool completely.

Serve: Run a sharp knife around the sides of the pan and lift the whole recipe out of the pan with the parchment. It will bend in the middle, it's okay. Cut into 16 bars and keep refrigerated.
Notes
Nutrition Facts
Cranberry Walnut Crumb Bars
Amount Per Serving
Calories 196
Calories from Fat 126
% Daily Value*
Fat 14g22%
Carbohydrates 8g3%
Protein 4g8%
* Percent Daily Values are based on a 2000 calorie diet.
Nutrition
Calories:
196
kcal
|
Carbohydrates:
8
g
|
Protein:
4
g
|
Fat:
14
g
|
Fiber:
3
g