These tasty crab stuffed mushrooms are low-carb and made with cream cheese. They make the perfect low carb, gluten-free appetizer or light keto lunch.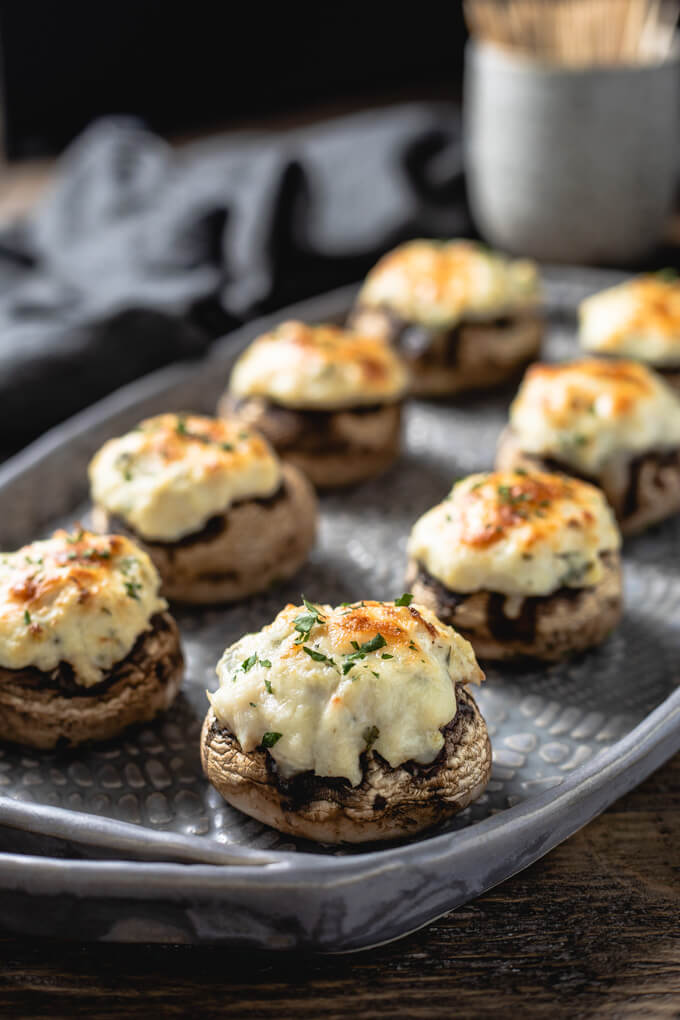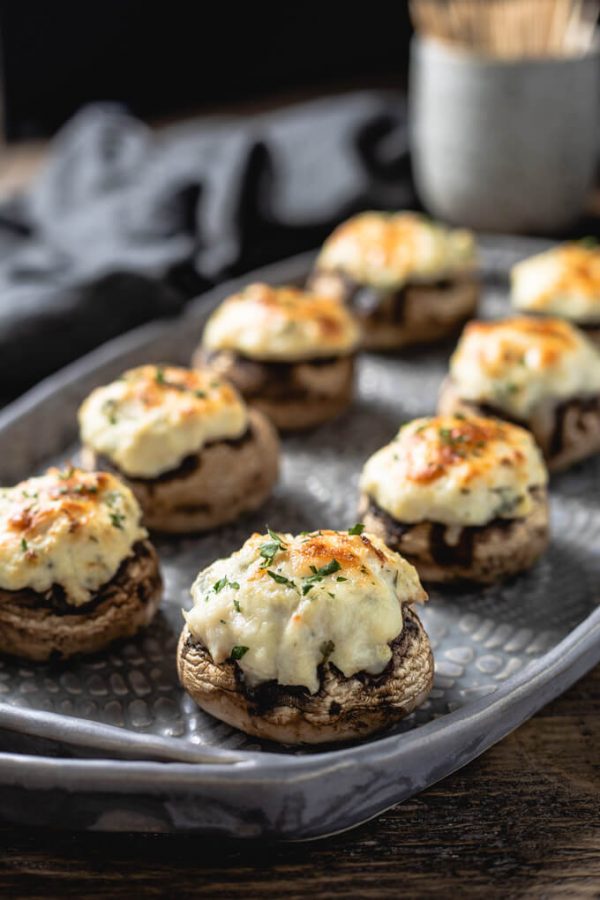 THIS POST INCLUDES AFFILIATE LINKS TO SHARE THE THINGS I LOVE.
I have never been to a party where stuffed mushrooms aren't gobbled up within minutes. They a perfect party favorite. Depending on the ingredients, they also make a wonderful low-carb appetizer or light lunch.
However, a lot of crab stuffed mushroom recipes contain bread crumbs, which bump up the carb content and aren't keto friendly.
These easy crab stuffed mushrooms are made with no bread crumbs, making them suitable for a gluten-free diet. Aside from serving them as an appetizer or bringing them to a party, I love to serve them with a bed of greens, or an asparagus & tomato salad.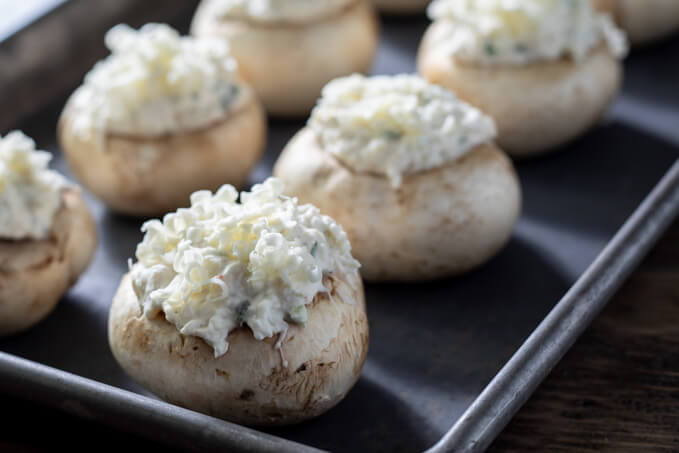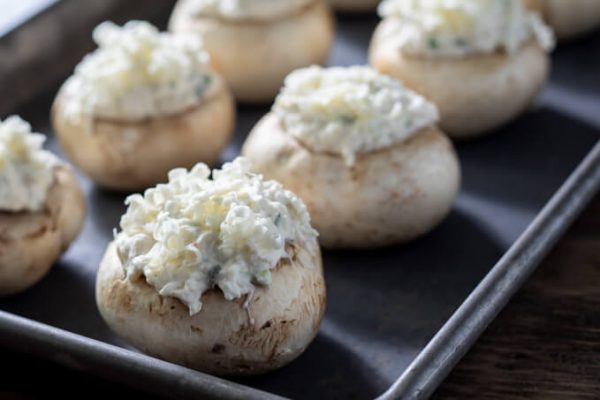 AN EASY CRAB STUFFED MUSHROOM RECIPE
The earthy flavor and soft and meaty texture of mushrooms make them a perfect vessel for holding delicious low-carb fillings.
Typically, mushrooms are stuffed with cheese and herbs, like these spinach artichoke stuffed mushrooms. But, I like to be playful with my fillings. BBQ pork stuffed mushrooms are an easy summertime meal and grilled portobellas stuffed with curried spinach is perfect for vegetarians. Since I love crab dip and crab cakes so much it was a no-brainer to stuff them into a mushroom cap.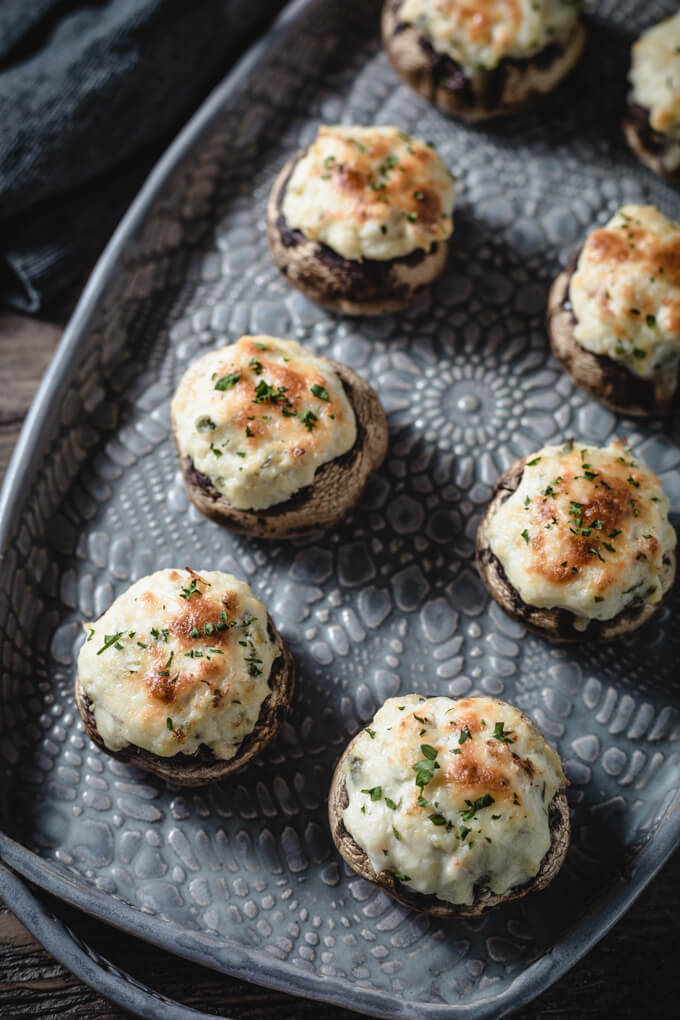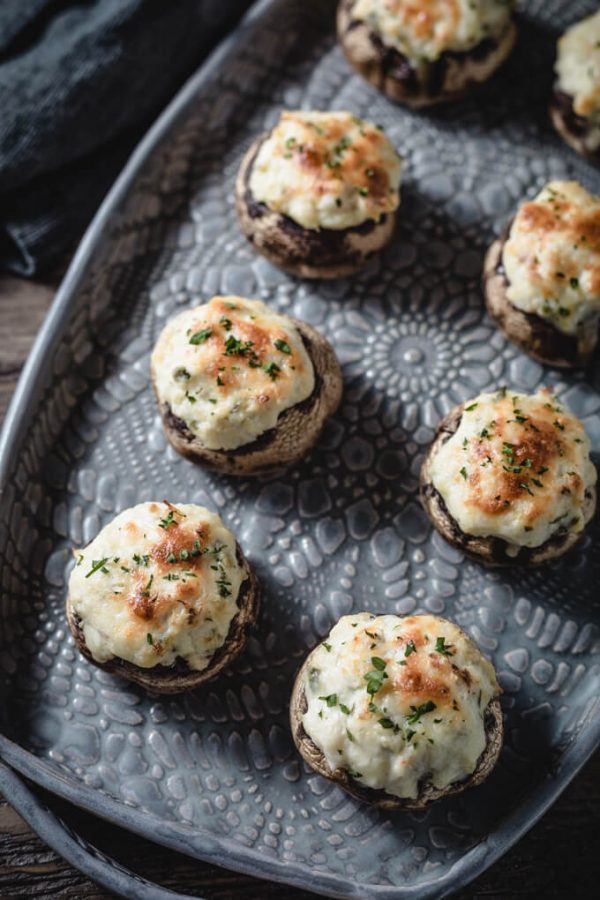 HOW TO MAKE CRAB STUFFED MUSHROOMS
The preparation of crab stuffed mushrooms is pretty easy. Make sure to gently wash your mushroom caps by running them under cool water and patting them dry. Submerging the white button mushrooms in water for too long will cause them to retain water, and become soggy when cooked. Remove the stems by twisting and pulling them out of the cap.
To clean out the gills in the cap, use a melon baller. It's a simple and versatile tool that helps create the perfect little hole for your crab cream cheese stuffing. Once your crab stuffing has been assembled, adjust your seasoning with salt and pepper, or maybe even add in a pinch of minced green onions.
After you prepare the crab meat filling place your mushroom caps on a parchment lined baking tray, and stuff them directly on the tray. This is really the easiest way to stuff the mushrooms as you won't have to transport them. Then, cover the tray in cling wrap until you are ready to bake them, or bake straight away.
The crab meat filling can be made ahead of time and refrigerated until you are ready to stuff the mushrooms. Remember to not overstuff the mushroom caps or they crab filling will ooze out. Pour a small amount of water into the baking tray and put them in a 375F preheated oven for 20-25 minutes (reserving some time to broil).
Any leftover crab mix is great with veggies or on low-carb crackers.
Making crab stuffed mushrooms couldn't be easier!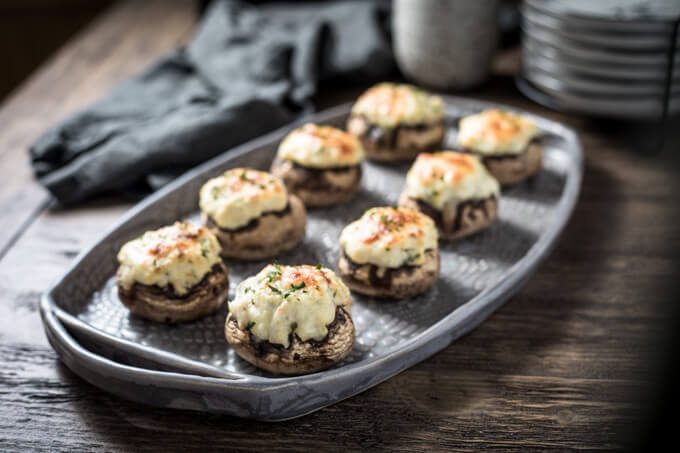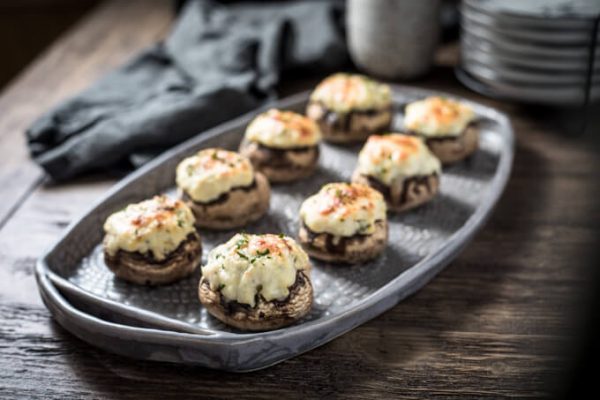 HOW TO SERVE CRAB STUFFED MUSHROOMS
This crab stuffed mushroom recipe is a delicious gluten-free, low-carb appetizer, or light meal. The mushroom caps also reheat well, so you can prep a large batch ahead of time and have lunch or an easy snack prepared for you throughout the week.
Mushrooms are one of my favorite low-carb vegetables, with only 15 calories and 2.3 grams of carbs per cup, they make a great food choice that can be easily added to a keto or low-carb diet.
Mushrooms are also a great source of protein and fiber, which create a feeling of fullness. I love making these crab stuffed mushrooms and eating them with a side salad, or even making them in Portobello caps, like these pulled pork keto stuffed mushrooms for a larger meal option.
Crab stuffed mushrooms can create the perfect surf-and-turf, and even make a great side dish option for chicken or fish. You really can't go wrong with this recipe, and it's one you'll want to make over and over.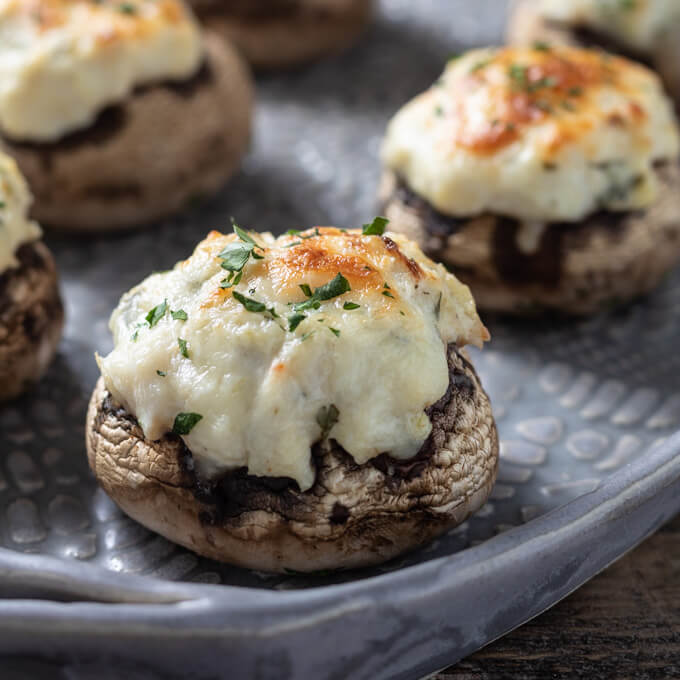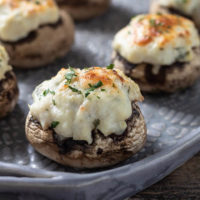 Tasty Crab Stuffed Mushrooms With Cream Cheese
These tasty crab stuffed mushrooms are low-carb and made with cream cheese. They make the perfect low carb, gluten-free appetizer or light keto lunch.
Print
Pin
Rate
Ingredients
8

large

white button or brown mushrooms

(1/2 pound)

1

can

lump crabmeat, drained

(6 ounce can)

4

ounces

cream Cheese, softened

1/2

cup

finely grated cheddar cheese

(divided use)

2

tbsp

mayonnaise

2

tsp

prepared horseradish

2

tsp

lemon juice

1/4-1/2

tsp

lemon zest

1

tbsp

green onion, minced

1/2

tsp

garlic, minced

1/4

tsp

red pepper flakes

1

pinch

salt

black pepper to taste

1

tsp

fresh parsley, minced
Instructions
Preparation:
Wash mushrooms under running water and pat dry. Remove stem by twisting and pulling out. Scoop-out/widen the hole by scooping with a melon baller (optional) to make a larger well for the filling. Place the mushrooms on a rimmed baking tray or in a large baking dish.

Preheat oven to 375 F degrees and place rack to middle position.
Method:
Stir the cream cheese to soften. Blend in the mayonnaise. Add the lemon juice, prepared horseradish, parsley, green onion, fresh lemon juice, and red pepper flakes, blending to incorporate.

Fold in half of the cheddar cheese, then fold in the crab. Taste to adjust seasonings.

Stuff the mushrooms with the filling and top with the remaining cheddar cheese. Do not overfill the mushrooms. I had a little filling left over which was great on celery and crackers!

At this point, the mushrooms can be refrigerated overnight and baked the next day. Cover carefully in cling film. When ready, continue with the directions for baking. Add an extra 5-10 minutes baking time for the mushrooms to cook through.
Baking:
Pour enough water in the bottom of the baking tray to cover the bottom surface. Carefully put the try of mushrooms in the oven and bake for 20-25 minutes, depending on your oven. Finish under the broiler to brown the tops.

Place any leftover mushrooms in an airtight container or cover with cling film and refrigerate. Reheat in the microwave or cover in foil and warm in a 350 F oven for 20-30 minutes.

Serves 4 people. Serving size is 2 stuffed mushrooms at 4 net carbs per serving.
Nutrition
Calories:
267
kcal
|
Carbohydrates:
4.67
g
|
Protein:
15.31
g
|
Fat:
20.44
g
|
Cholesterol:
92
mg
|
Sodium:
464
mg
|
Fiber:
0.7
g
|
Sugar:
2
g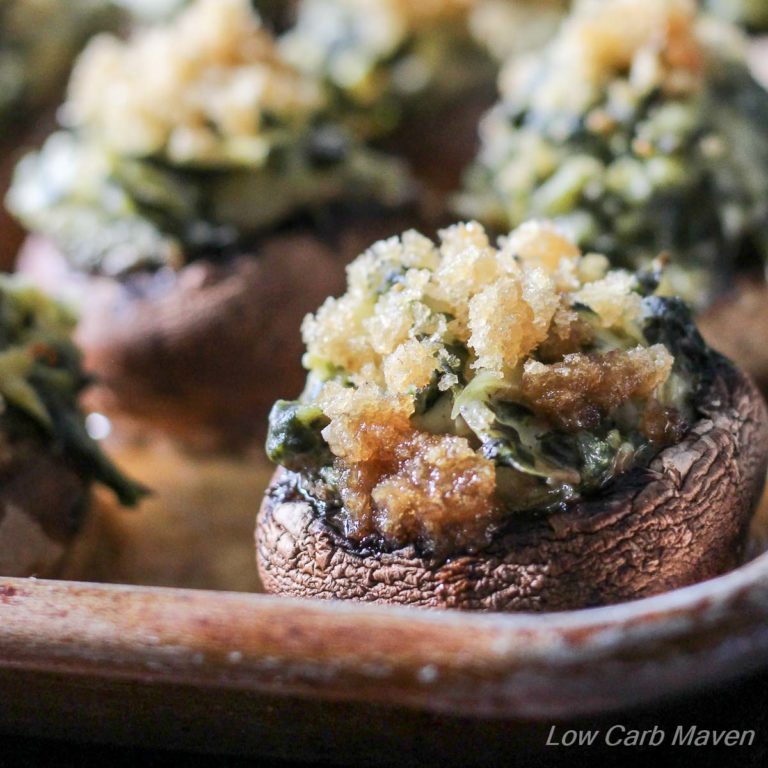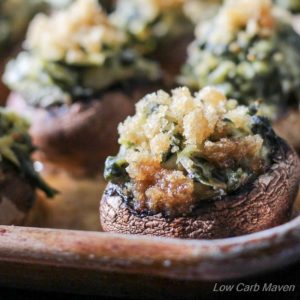 Low Carb Spinach Artichoke Stuffed Mushrooms