A simple warming paleo coconut flour porridge for quiet mornings. It comes together in minutes providing a fast low carb, gluten-free breakfast option.
It's New Years morning and while much of the world is sleeping-in after last night's festivities, I am awake and contemplative. It's been a while since I've had time to reflect on my life, my family and what I want.
For many years school work was a priority, then marriage and work. Soon, readying a home for a baby took precedence and my quiet days tumbled into one another; an endless cycle of sleep deprivation, feedings, bottles and dishes, diapers, smiles and tiny clothes.
The kids are growing and both attend school during the week. I am alone in the house again – enjoying the solitude and the company of my own thoughts. The blog keeps me busy. There's shopping, cooking, taking photographs and writing posts until the children come home in a flurry of excited tales about who did what at school and what's for snack, followed by homework and then dinner. Life moves so quickly sometimes I forget to breath.
But currently it's quiet in the house and I have this simple bowl of paleo porridge – and time to enjoy it.
Happy New Year Friends…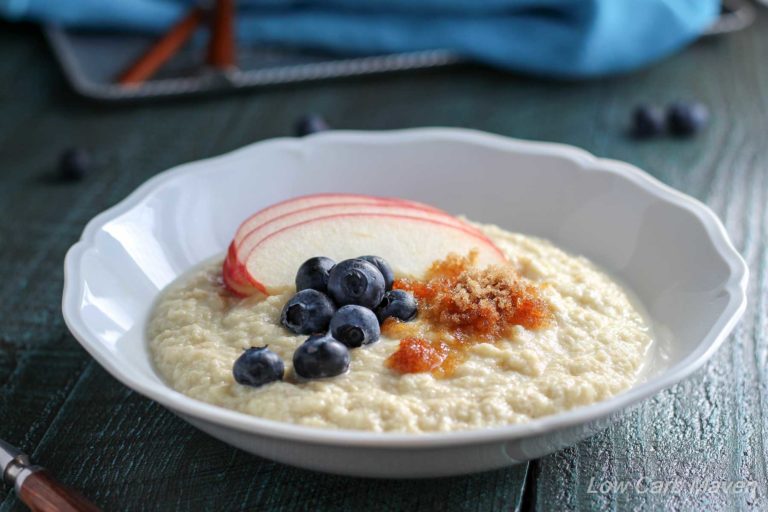 The recipe for this paleo coconut porridge is simple in both its ingredients and procedure. Coconut and flax combine with an egg to produce a hot cereal that resembles cream of wheat in texture with a mild coconut flavor. I enjoy it with brown sugar substitute (Sukrin Gold), butter and cream, but to make this Paleo use coconut sugar, honey or maple sugar. It can be garnished with any topping; an egg, fruit, nuts, honey – just make sure to calculate the carbs. It is full of fiber and moderate in protein. I think it's perfect with a cup of coffee and a piece or two of bacon!
Would you rather have a simple quiche for breakfast? Try the Spinach Bacon Onion Quiche or the Spinach Feta Quiche Muffins – they're crustless.
For an Almond Flour Porridge try this one.
Sometimes cold breakfast is what hits the spot. I have three gorgeous recipes: Really Good Low Carb Granola, Macadamia Berry Blast Granola and Low Carb Chocolate Smoothie Bowl
This Paleo, Low Carb and Grain Free Coconut Flour Porridge is 5 net carbs per serving.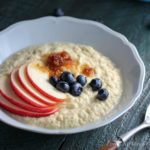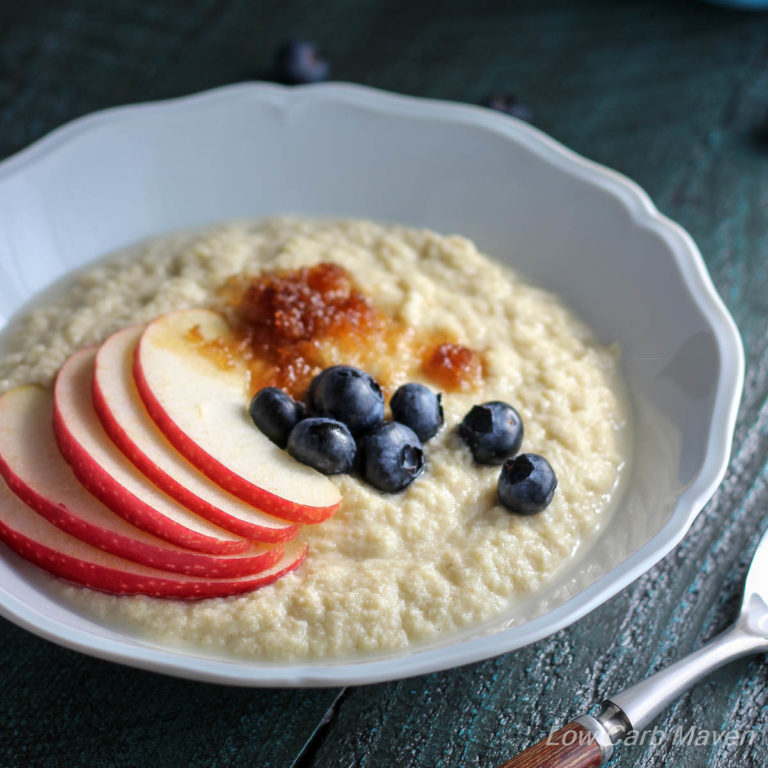 A simple warming paleo coconut flour porridge for quiet mornings. It comes together in minutes providing a fast low carb, gluten-free breakfast option.
Ingredients
2

tablespoons

coconut flour

2

tablespoons

golden flax meal

3/4

cup

water

pinch of salt

1

large

egg,

beaten

2

teaspoons

butter or ghee

1

tablespoon

heavy cream or coconut milk

1

tablespoon

Sukrin Gold or your favorite sweetener
Instructions
Measure the first four ingredients into a small pot over medium high heat. When it begins to simmer, turn it down to medium and whisk until it begins to thicken.

Remove the coconut flour porridge from heat and add the beaten egg, little by little, while whisking continuously. Place back on the heat and continue to whisk until the porridge thickens.

Remove from the heat and continue to whisk for about 30 seconds before adding the butter, cream and sweetener.

Garnish with your favorite toppings.
Recipe Notes
Nutrition Facts
Low Carb Coconut Flour Porridge (Paleo, Grain Free)
Amount Per Serving
Calories 322
Calories from Fat 221
% Daily Value*
Total Fat 24.5g 38%
Total Carbohydrates 14g 5%
Protein 11g 22%
* Percent Daily Values are based on a 2000 calorie diet.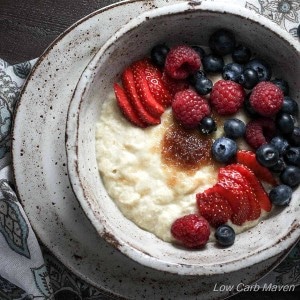 The Best Low Carb Cereal Recipe with Berries and Almond Flour
Signup for my Newsletter
Subscribe to get our recipies by email.