These Keto Chile Relleno are low carb, gluten & grain free, with a dairy-free option. Spicy chorizo, cheddar cheese and a light coating, you'll love them!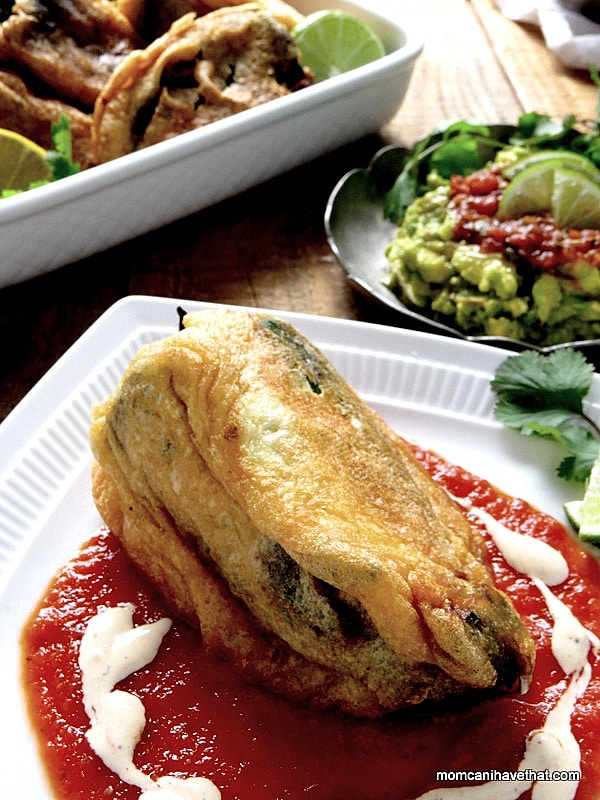 If you want to have something truly spectacular then you need to make these low carb Chile Rellenos.
My husband's favorite food is anything ending in "xican" but with high carbohydrate sides like beans, rice, tortillas and chips – going out for Mexican food is something we just don't do. Which is so sad because, we live in Southern California where there are so many really good Mexican restaurants.
When I saw a package of chorizo on sale the other day I knew I had to buy it and cook something special for the Hubbs. After thinking for a few minutes I decided on low carb chile rellenos. A chile relleno is a fresh poblano pepper stuffed with cheese, then battered and fried. I decided to combine the chorizo with the cheese to make a more hearty low carb chile relleno.
By the way, I have a recipe for homemade chorizo which I think is really great. Let's face it, we don't always know what goes into the food we buy at the store. Making it yourself ensures that you control what goes into it. Which ever chorizo you decide to use, store bought or homemade, either are perfect for this recipe.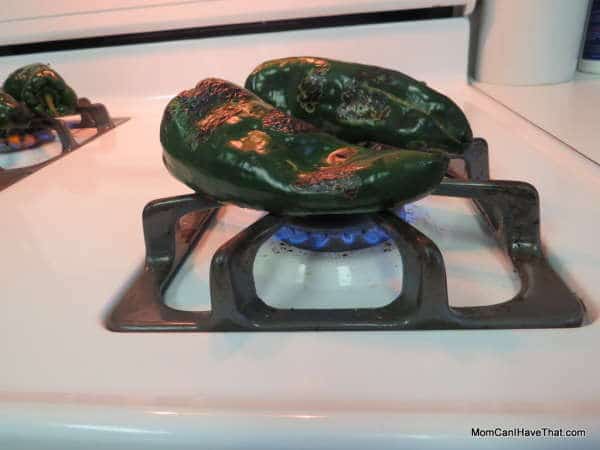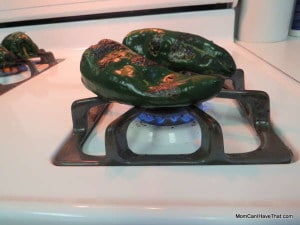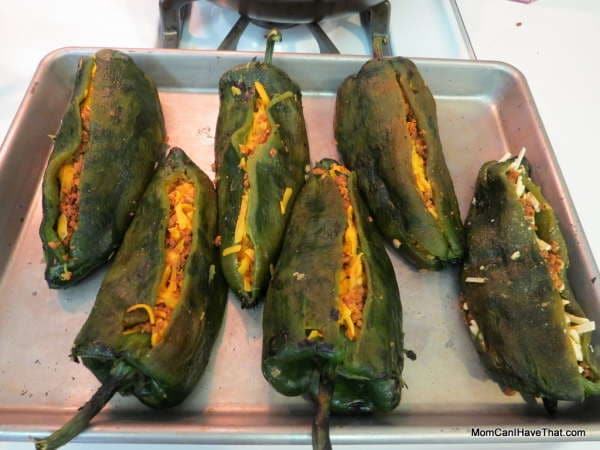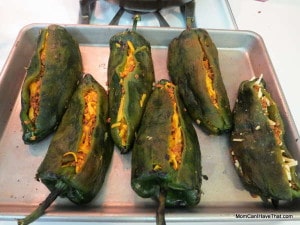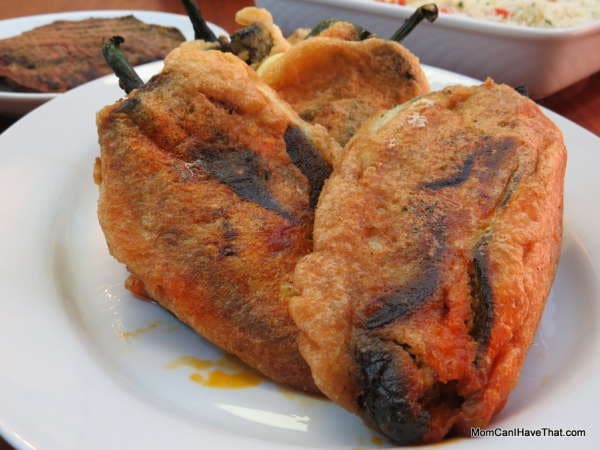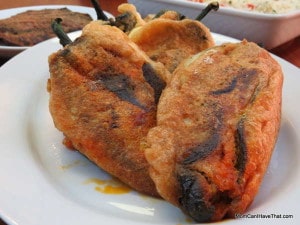 At first I was a little concerned that the preparation of the Chile Rellenos would be a little ambitious, but as it turned out it was easy. I did some of the work in stages so that I didn't have to do it all at once. Also, some steps happen simultaneously so there isn't much baby sitting the food as it cooks.
I suggest charring and peeling the poblano peppers and cooking the sausage the day before, then finishing the preparation closer to dinner time. I think you are going to feel that the little bit of extra work that goes into these low carb Chorizo Chile Rellenos is well worth it.
Would you like to make your own chorizo? Use this recipe: Homemade, Fresh Chorizo. It's easy to make and you can sub turkey or ground beef instead of the sausage! It also makes the easiest and best low carb skillet chili!
Each serving of these wonderful Keto Chile Rellenos stuffed with Chorizo is 8 net carbs
[Disclosure: This recipe contains affiliate links.]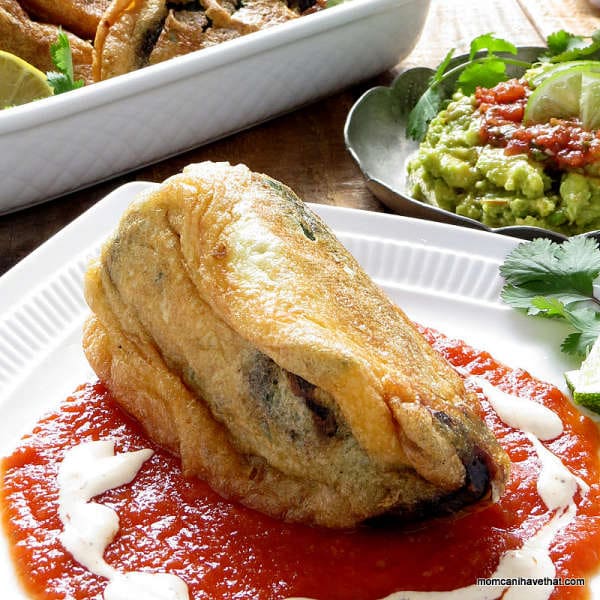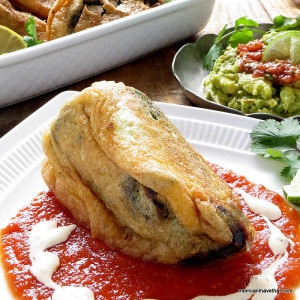 Keto Chile Relleno with Chorizo
These keto Chile Rellenos are low carb but high in flavor! Smokey Poblano peppers stuffed with spicy chorizo sausage and tangy cheddar cheese and coated in a lighter-than-air egg batter. You're going to love them.
Print
Pin
Rate
Ingredients
8

whole poblano or anaheim chile peppers
Filling
1

pound

chorizo

1

tablespoon

white vinegar

8

ounces

cheddar cheese,

grated
Coating
4

large

eggs,

separated

1/4

cup

coconut flour

1

tablespoon

cornstarch

(or arrowroot powder)
Sauce
1

ounce

onion

10

ounces

fresh tomatoes,

seeded and chopped

1/2

cup

chicken broth

1

bay leaf

1

clove

garlic

1/4

teaspoon

oregano

salt and pepper

to taste

oil for frying
Instructions
Cook the chorizo: drain, cool and mix with the vinegar.

Sauce:

Saute the onion and garlic. Seed the tomatoes and give them a rough chop. Put the sauteed onions and garlic with the tomato and oregano in the blender. Blend until smooth. Pour into a frying pan, add the chicken broth and bay leaf and cook until thickened. Season with salt and pepper. (10-15 minutes)

Peppers:

Place the poblano peppers over the flame of a stove burner to blacken and blister the tough outside skin, all over. Place peppers in a paper or plastic bag to steam so that the skin will be easier to remove. Carefully remove the blackened skin from the peppers- just peel it off with your fingers. Cut a slit in one side of each pepper and remove the veins and seeds. Grate the cheese (or use vegan cheese) and mix into the cooled chorizo. Divide the mixture evenly between the 8 chiles; about 1/2 cup per chile. Make sure the sides of the chiles will still meet to close and secure with a toothpick. Set aside.

Batter and Cook:

In a dish big enough to fit a pepper, mix the cornstarch (or arrowroot powder) into the coconut flour and season with salt and pepper. Dredge the chiles in the coconut flour mixture and set aside. (A commercial gluten-free bake mix like Bob's Red Mill also works, for a higher carb count). You will probably only use 1/2 of the mixture, but better to have more than not enough. Carefully separate the eggs putting the whites into a medium bowl and the yolks into a small one. Heat 1/2 inch of oil in a heavy bottomed frying pan. Whip the egg whites until stiff peaks form. Beat the egg yolks with a fork and add 1/3 of the yolks to the egg whites at a time, folding in gently.

Put the tip of a wooden spoon or chopstick in the hot oil. If little bubbles form quickly, the oil is ready for the chiles. Dip a chile in the whipped eggs and cover completely. Cook in the oil until golden brown on both sides. I was able to cook three chiles at a time.

To plate, put a small amount of the tomato sauce on the plate and gently shake the plate back and forth to slightly spread the sauce. Place one of the Chile Rellenos on top of the pool of sauce. Add your sides and enjoy!
SERVING SIZE IS 1 STUFFED CHILE RELLENO PER PERSON.
NET CARBS PER SERVING = 8.12 G
Notes
I am assuming 1 tablespoon of oil per person for frying, although it probably isn't that much.
Nutrition
Calories:
486
kcal
|
Carbohydrates:
10.92
g
|
Protein:
23.56
g
|
Fat:
36.67
g
|
Cholesterol:
181
mg
|
Sodium:
966
mg
|
Potassium:
256
mg
|
Fiber:
2.8
g
|
Sugar:
4.99
g
|
Vitamin A:
60
IU
|
Vitamin C:
56
mg
|
Calcium:
25
mg
|
Iron:
0.86
mg