A lusciously moist Chocolate Walnut Cake made with almond flour and ground walnuts. It's the perfect flourless cake for those who need a gluten-free dessert. The simple addition of a chocolate ganache glaze, transforms it into a stunning dessert.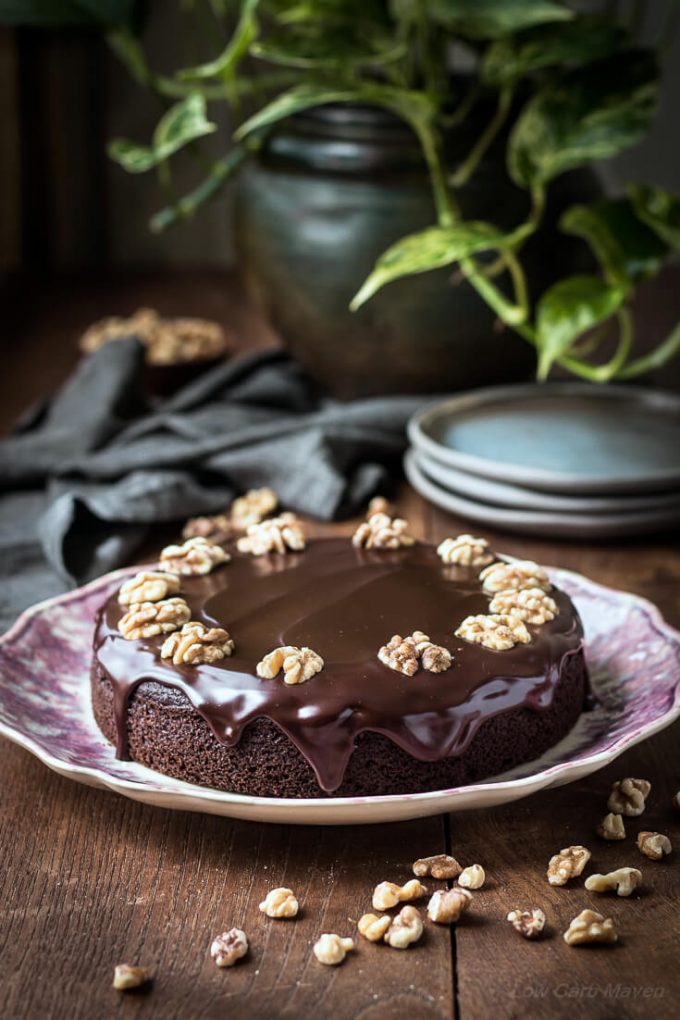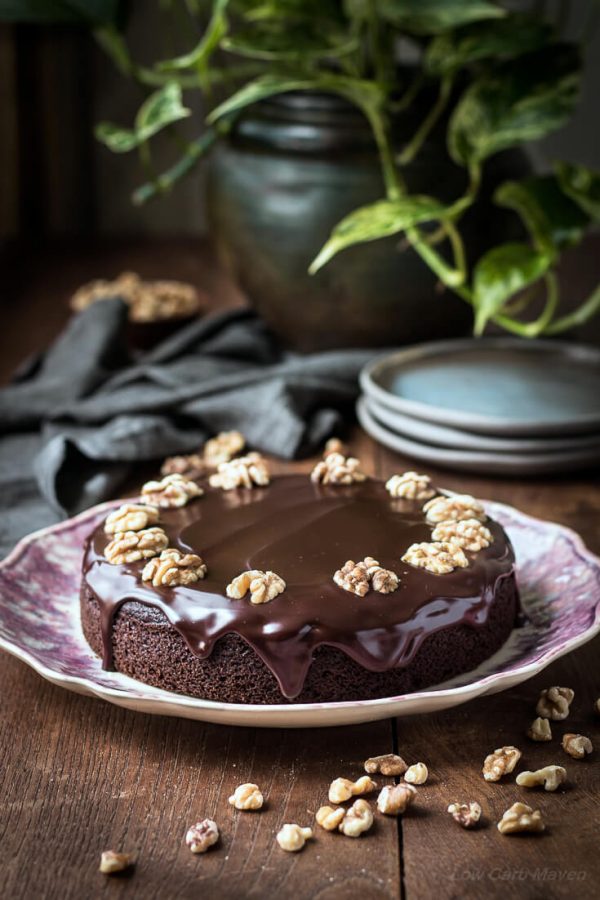 Jump to Recipe Print Recipe
There's nothing better than a lusciously moist chocolate cake – unless it has walnuts! This walnut cake recipe uses both walnuts and walnut oil to bump up it's delicious walnut flavor. We all know that strawberries and chocolate compliment each other nicely, but we don't often think about pairing chocolate with nuts. Walnuts and chocolate are an amazing combination.
Enjoy this updated recipe and post!
Moist Chocolate Walnut Cake
I love making desserts. I enjoy the whole process of coming up with an idea then testing and puttering with the ingredients until it comes out just right. Working with low carb ingredients can be a challenge. We use nut flours to make our baked goods and since they are completely flourless, they don't share the same characteristic properties we are used to.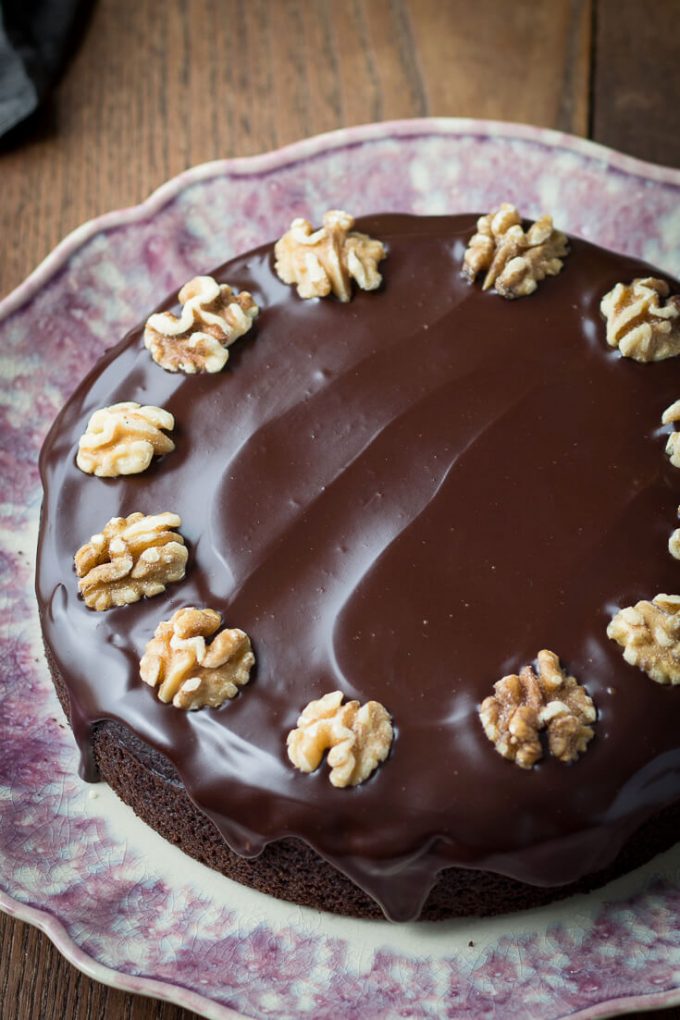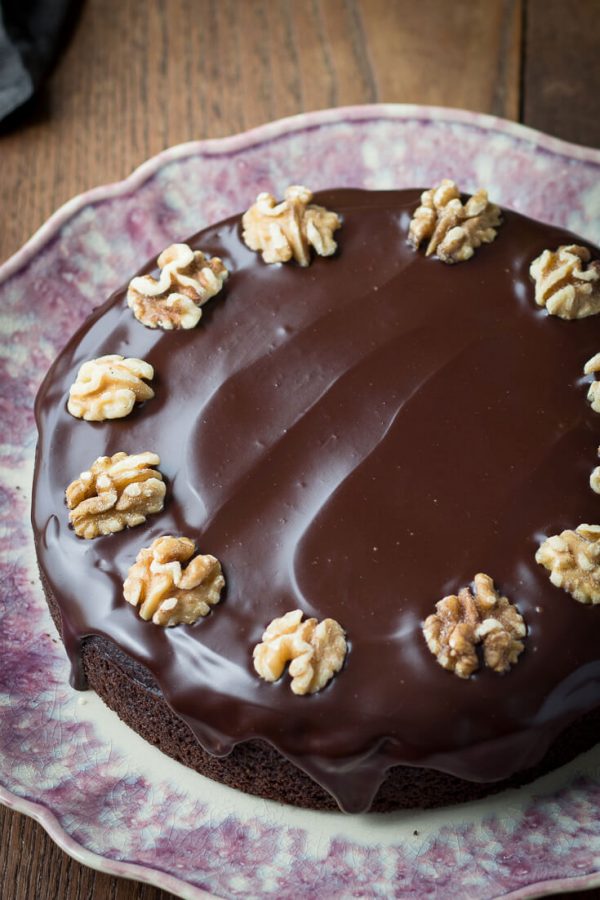 One thing I particularly love about baking with our low carb flours is that they are completely gluten-free. I know that I experience much less finger-joint pain and sinus troubles when I avoid wheat products – even the low carb products which sometimes have extra gluten added.
The downside of using alternate ingredients is that the best results comes from combining them which means longer ingredient lists! The upside is that our low carb cake recipes are usually 1 bowl wonders. That means we can add all of the ingredients to the bowl and mix away. And, over-mixing is never a problem. Nut flours, especially walnuts, are inherently moist and result in beautifully moist cakes and muffins, but they're heavier than traditional flours and need extra leavening.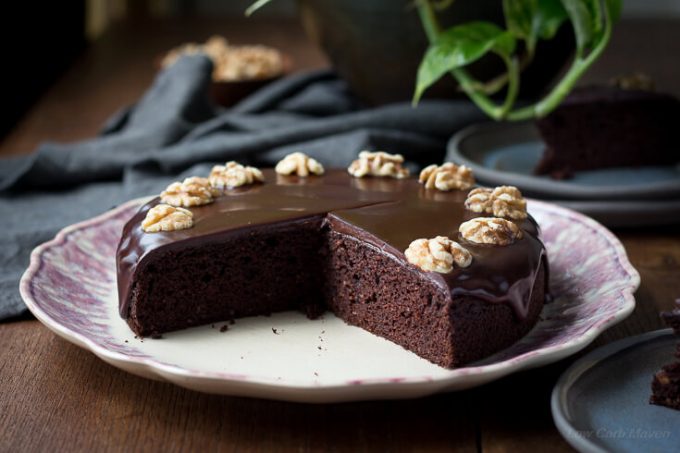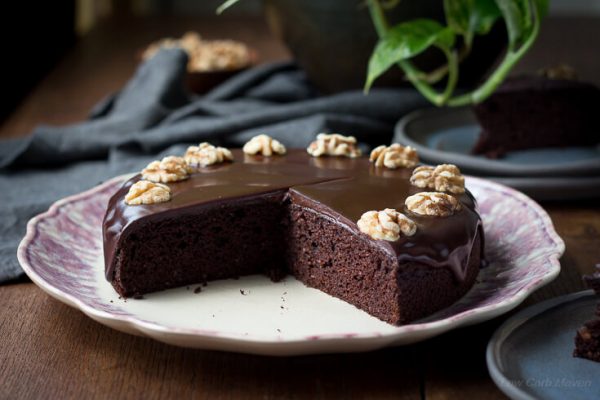 The perfect Low Carb and Keto Chocolate Cake Recipe
As I remade this chocolate walnut cake, I paid attention to the procedure and found ways to make it easier. I also decided that it tasted better with a little more sweetener. Cocoa powder and walnuts are both bitter and the bump in sweetness really brought out some nice flavors. When I brought the cake out of the oven I was sad that I had waited so long to make it again. It smelled amazing!
After the cake cooled, I made a quick chocolate ganache glaze. Then, I sorted through the nuts in my walnut bag and found 12 walnut halves to decorate the top. When originally posted, I used walnut pieces and sprinkled them around the inside edge.
After taking photos, this beautiful cake sat covered on the counter for several days. The ganache was still glossy and beautiful and the cake became more delicious and moist. It was a real treat! If you refrigerate yours, make sure to let it sit out on the counter for 20-30 minutes before enjoying.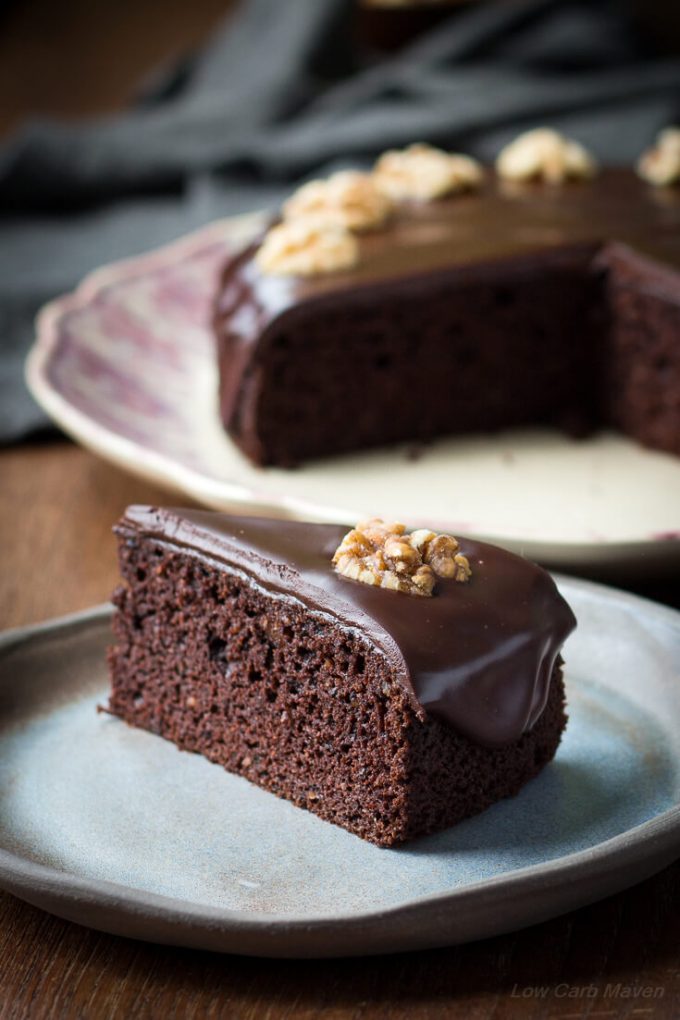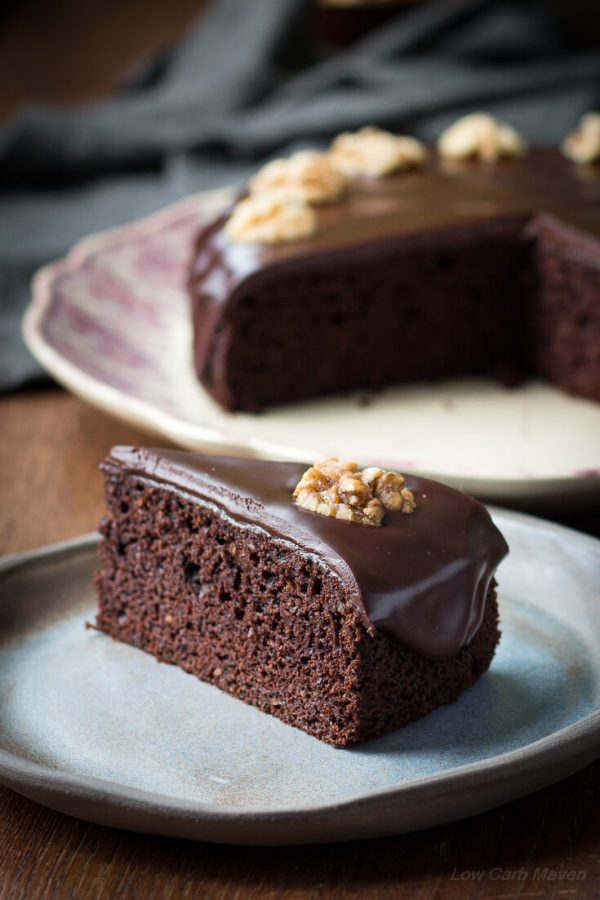 This chocolate walnut cake has a wonderful substantial texture, so a small piece is perfectly satisfying. It's just as perfect to serve to guests as it is to enjoy cuddled up on the couch with your cell phone and a cup of coffee.
[NOTE] I originally posted this recipe a few years ago – back when the whole family was eating gluten-free and dairy-free. At that time, I purchased coconut milk by the case. I used it as both the fat and moisture in my baking recipes. It lends a sweetness which I really like. However, in the process of updating the recipe, I replaced it. Don't worry, I'll still include it as an option.
This Moist Walnut Chocolate Cake (Low Carb Chocolate Walnut Cake) is 5 net carbs per serving.
[Disclosure: This recipe may contain affiliate links.]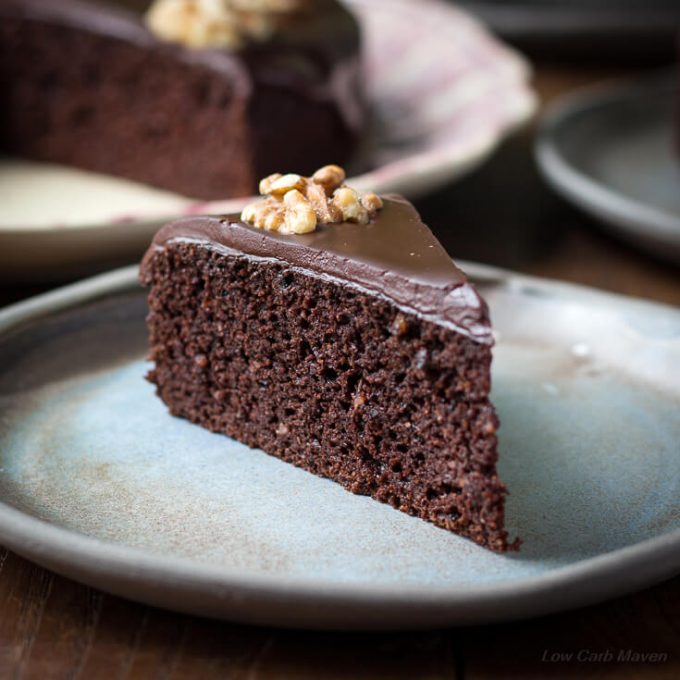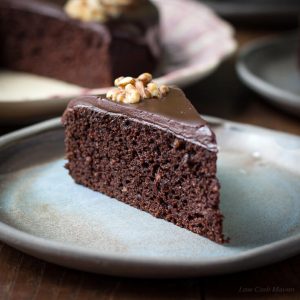 Moist Chocolate Walnut Cake
This Chocolate Walnut Cake is lusciously moist! Made with almond flour and ground walnuts it's the perfect flourless cake for those who need a gluten-free dessert. The simple addition of a chocolate ganache glaze, transforms it into a stunning dessert.
Print
Pin
Rate
Ingredients
Wet Ingredients
4

large

eggs

1/4

cup

walnut oil

(or melted butter)

1

teaspoon

vanilla

1

teaspoon

stevia glycerite

1/2

cup

buttermilk

(or full-fat coconut milk, or heavy cream)
Instructions
Preparation
Preheat oven to 325 degrees F and position rack to the middle of the oven. Trace the bottom of an 8 x 2 inch cake pan on a sheet of waxed paper or parchment. Cut out the circle. Spray the cake pan with baking spray and line the bottom of the pan with the parchment circle. Weigh walnuts and process in a food processor with the sweetener until a finely ground.
Procedure
Measure the dry cake ingredients (including the ground walnuts) in a medium bowl and stir thoroughly with a large whisk to combine. In another bowl, add the wet ingredients and beat with a hand mixer. Pour the wet ingredients into the dry and mix until all of the ingredients are completely incorporated.

Spoon the batter into the cake pan and gently tap it on the counter 2-3 times to dislodge any big air bubbles. Bake for approximately 30-40 minutes or until the cake still sounds moist when gently pressed with your finger and a toothpick inserted into the middle comes out clean. Do not over bake!

Remove the Chocolate Walnut Cake from the oven and cover with a clean tea towel. Let the cake cool completely. Then wrap in plastic wrap until ready to top with ganache. Make sure the cake is at room temperature before topping with the ganache.
Chocolate Ganache Glaze
Finely chop the chocolate and place it in a small microwaveable bowl with the heavy cream and butter. Cover with waxed paper and microwave for 30 seconds. Let stand for 1 minute, then gently whisk to combine. The ganache should be thick and glossy. Use right away.

Pour the chocolate ganache into the middle of the cake and spread with a spatula or knife, encouraging it to drip over the side. Decorate with optional walnut halves or walnut pieces if you wish, while the ganache is still soft. Cut and serve after the ganache has hardened (it will still be fairly soft but not runny).

Store in the refrigerator or on the counter. If refrigerated, let it come to room temperature for 30 minutes before enjoying. Serves 12.
Notes
Walnut oil is a pricey item. Get a good quality oil that is in a dark bottle. It will last a few years in the refrigerator. It's good in salad dressings and baked goods. I have had mine for 3 years and it's still delicious.
If you use the metric system, take a peek at the U.S – Metric Conversion info linked to at the top of the site. It's Pinnable. 
*I use a combination of Bensdorp Cocoa and Black Cocoa for a rich, dark chocolate flavor.
Nutrition
Calories:
264
kcal
|
Carbohydrates:
10
g
|
Protein:
8
g
|
Fat:
23
g
|
Saturated Fat:
3
g
|
Sodium:
223
mg
|
Fiber:
5
g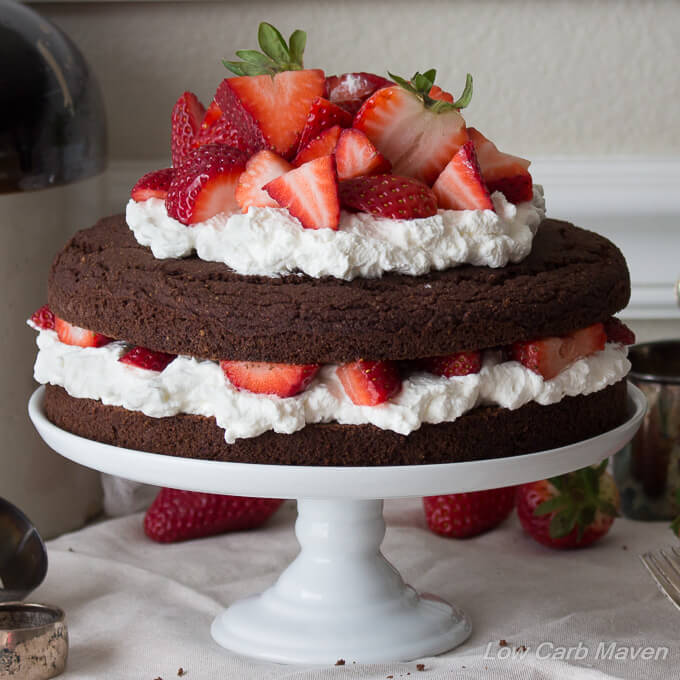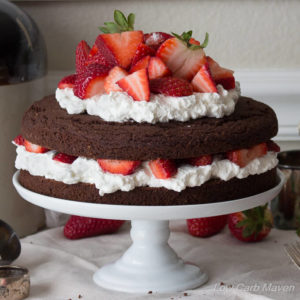 Low Carb Chocolate Strawberries and Cream Cake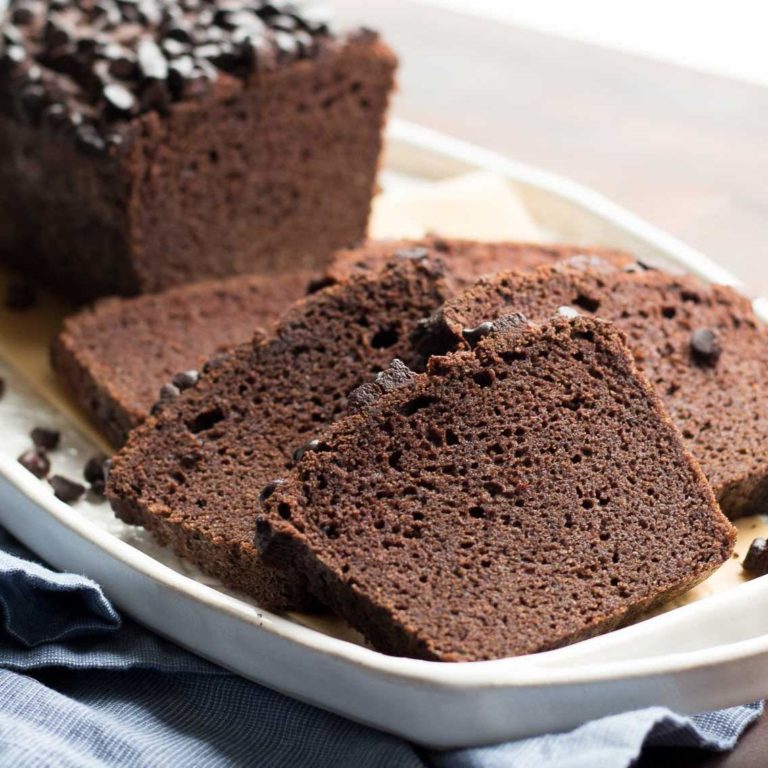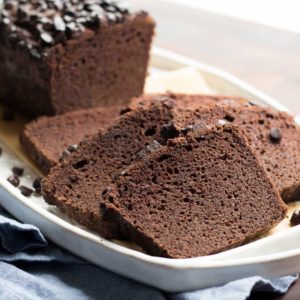 Low Carb Chocolate Pound Cake (Coconut Flour)