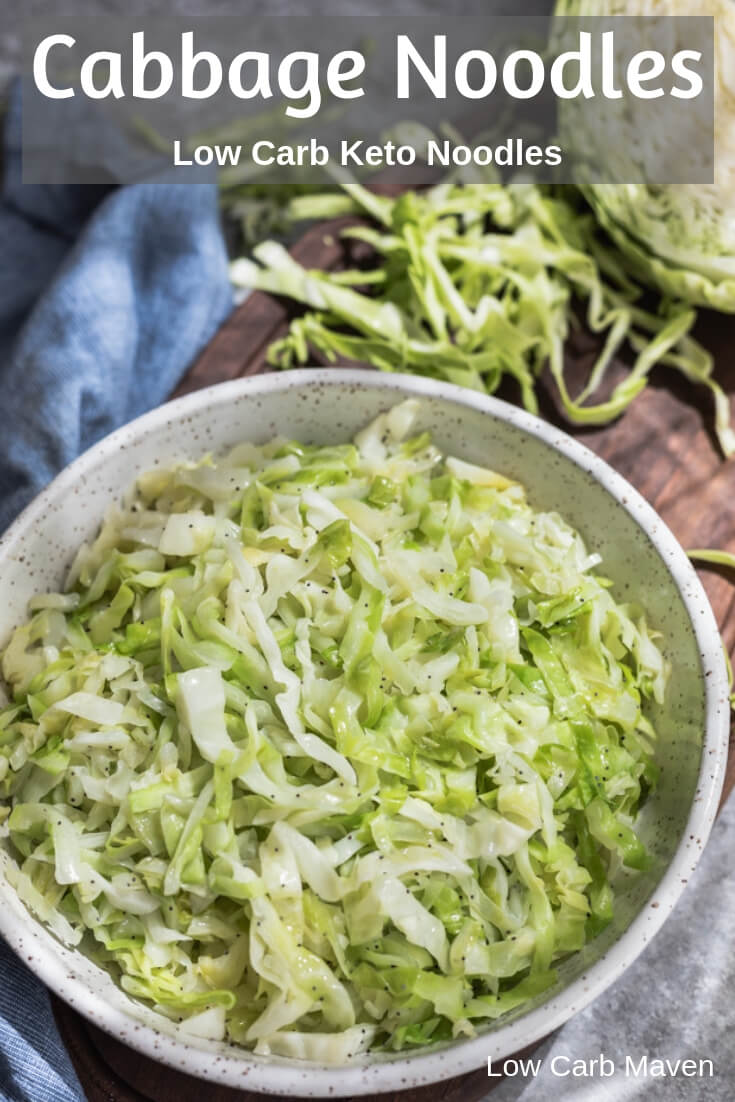 Buttery cabbage noodles are slightly sweet, low in carbs and calories, and the perfect low carb keto noodle substitute.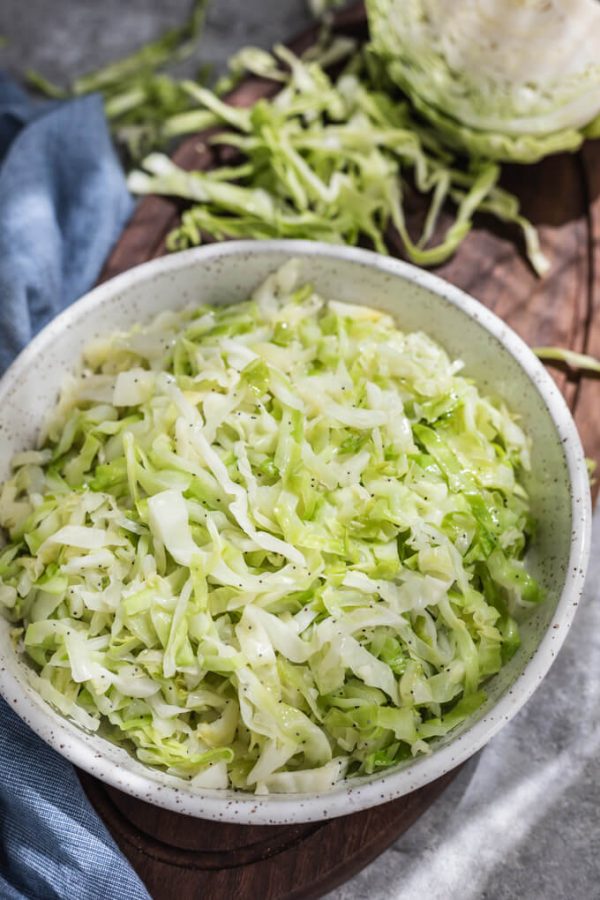 THIS POST INCLUDES AFFILIATE LINKS TO SHARE THE THINGS I LOVE.
[I just want to say that I'm not trying to pull anything on you. This is just fried cabbage, but it does make a great "noodle" base for other dishes.]
We've been eating a lot of cabbage lately – mostly in the form of keto coleslaw or cooked cabbage with sausage for an easy dinner. My kids love it, it's cheap, it's low in carbs, and super easy to cook. Believe it or not, cabbage is a versatile vegetable and great tasting, too!
One thing that many people miss when starting a low carb or ketogenic diet are noodles and pasta. Noodles are great carriers for flavorful sauces and they fill us up in a satisfying way. Finding noodle substitutes that we like can be challenging. Vegetable noodles, especially cabbage noodles, are some of my favorite low carb noodles.
Low Carb Keto Noodles Options
VEGETABLE NOODLES
I have a vegetable spiralizer so we eat a lot of noodles made from zucchini, cucumber, or daikon radish. You can see some ideas on how to serve these low carb noodles in my Zucchini Noodle Shrimp Scampi, Coconut Basil Chicken, or Hearty Beef Curry recipes.
Vegetable noodles can be served raw or cooked depending on the taste and texture you want. They can contribute extra moisture to a dish or get soft when overcooked so plan accordingly.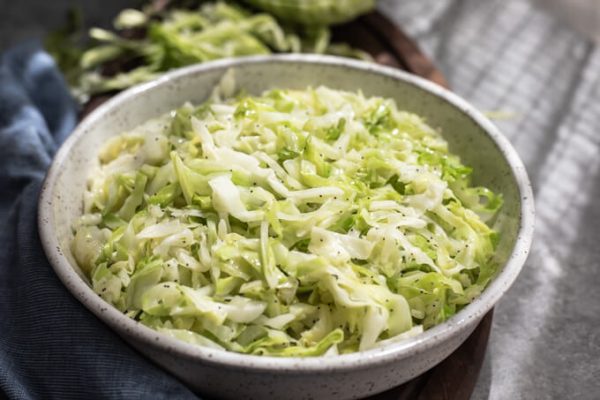 Shirataki, Miracle or Konjac Noodles
Noodles made from Konjac root are another popular low carb or keto noodle replacement. People either love them or hate them, finding fault with the initial smell or the chewy texture, which is similar to Asian cellophane noodles. I find they taste best when used with Asian flavors opposed to Italian flavors.
Cabbage Noodles – Low Carb Keto Noodles
Cabbage noodles are cut strips of cabbage, that are cooked in a frying pan. The flavor is slightly sweet with a hint of bitterness characteristic of cruciferous vegetables. I use regular green cabbage with smooth leaves for cabbage noodles, but you could use any leafy cabbage you like. Cabbage is easy to cut into strips and cooks quickly in a hot pan.
Cabbage noodles fill-out a plate making portions look huge. Add onions, garlic, bacon, green apple, vinegar, or sweetener to vary the flavor. Also, cut thin or thick to vary the look of the noodles.
One of my favorite ways to use cabbage noodles is to top with low carb beef stroganoff or low carb sloppy Joe filling. They also make a great base for Pad Thai and other Asian dishes. Low carb keto cabbage noodles are always a family favorite.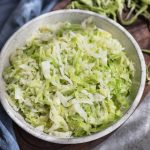 Cabbage Noodles - Low Carb Keto Noodles
Print Recipe
Ingredients
1

pound

cabbage, cored and cut into strips

1/4

cup

onions, sliced thinly

(1 oz)

2

cloves

garlic, sliced

2

tbsp

butter or oil

salt and pepper to taste
Instructions
Cut the cabbage into quarters. Cut out the core and cut into strips. Thinly slice the onions and slice the garlic.

Heat a pan over medium heat. When it is very hot, add the butter or oil and swirl to coat the pan. Add the cabbage, onion and garlic and saute until the cabbage is tender - about 10 minutes.

Salt and pepper to taste.

Serves 4 at 4.6 net carbs each.
Notes
Nutrition Facts
Cabbage Noodles - Low Carb Keto Noodles
Amount Per Serving
Calories 82
Calories from Fat 53
% Daily Value*
Total Fat 5.9g 9%
Total Carbohydrates 7.3g 2%
Protein 1.8g 4%
* Percent Daily Values are based on a 2000 calorie diet.
Nutrition
Calories:
82
kcal
|
Carbohydrates:
7.3
g
|
Protein:
1.8
g
|
Fat:
5.9
g
|
Fiber:
2.7
g
|
Sugar:
4.38
g