A beautiful, tangy sugar-free blueberry jam thickened with chia seeds and flavored with lime. This blueberry jam is absolutely delicious and perfect for any low carb keto diet.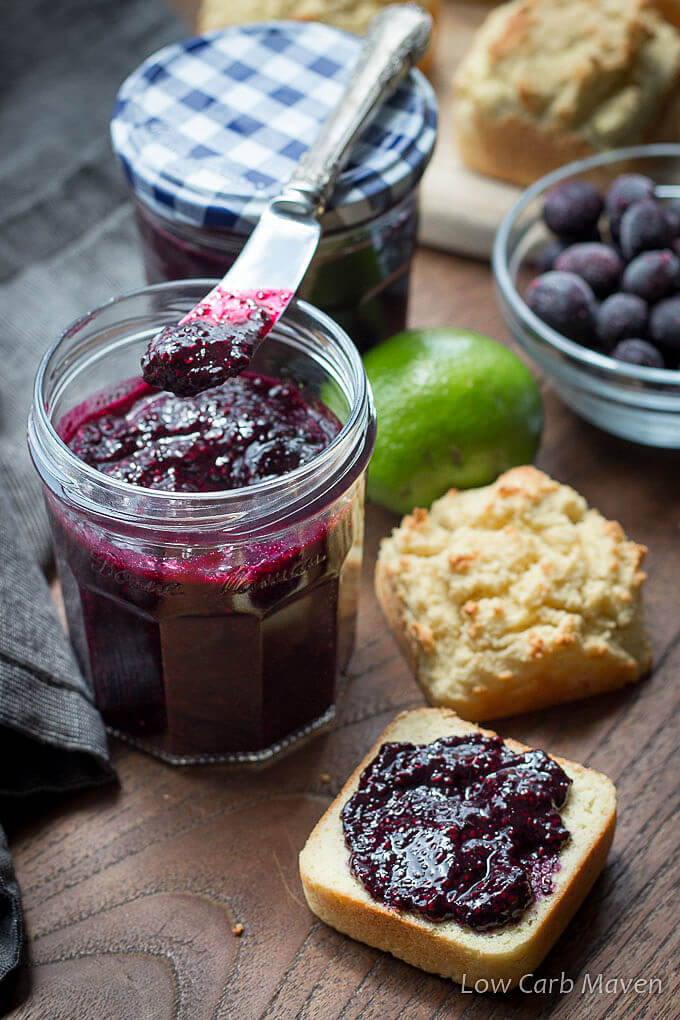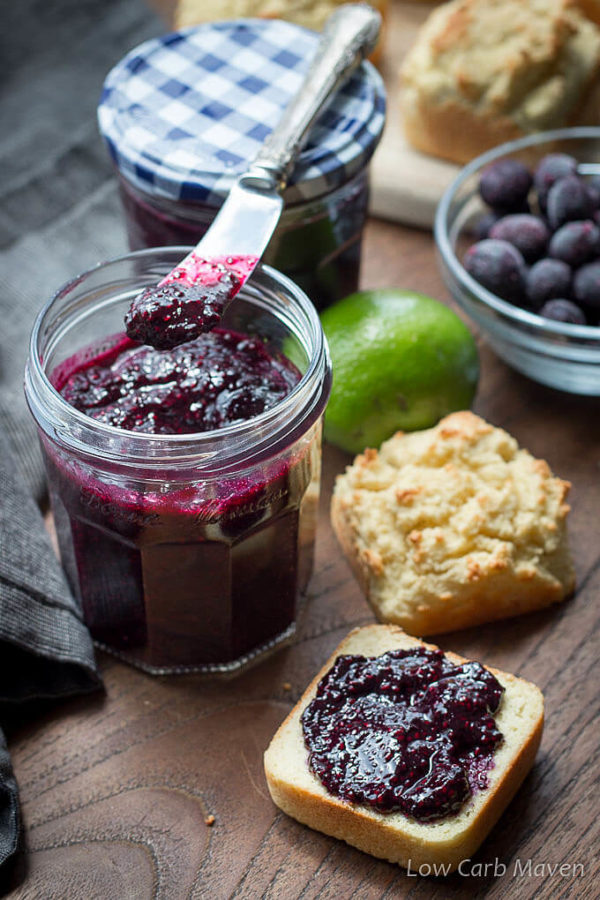 [Enjoy the updated photos, article, and scaled recipe. This blueberry and lime combination is mouthwateringly good.]
A beautiful homemade jam is one of life's simple pleasures, especially when spread over a warm slice of fresh buttered bread. Many people these days are eating more healthy and looking for "clean recipes" to prepare at home. As more information about sugar and its harmful effects are coming to light, there has been a push to reduce sugar consumption.
This is not a raw chia seed jam like so many out there. For convenience, it uses frozen blueberries which are simmered to achieve this beautiful color. But don't worry, it's not a long and involved process like making real jams and jellies – it just takes a few minutes. I use my blender to smooth out the consistency of the blueberries and to help thicken the jam.
My sugar-free blueberry chia seed jam recipe has no added sugar and uses chia seeds for their gelling ability and thickening power instead of excess sugar or added pectin. It's one of three sugar free jelly or jam recipes I have on the blog. My keto raspberry jam tastes just like fresh raspberries and the low carb sugar free strawberry jam resembles a freezer jam in taste. Both use gelatin to thicken.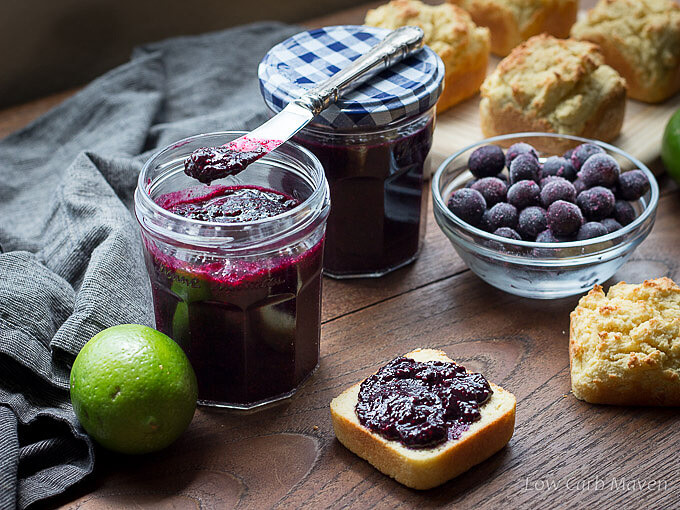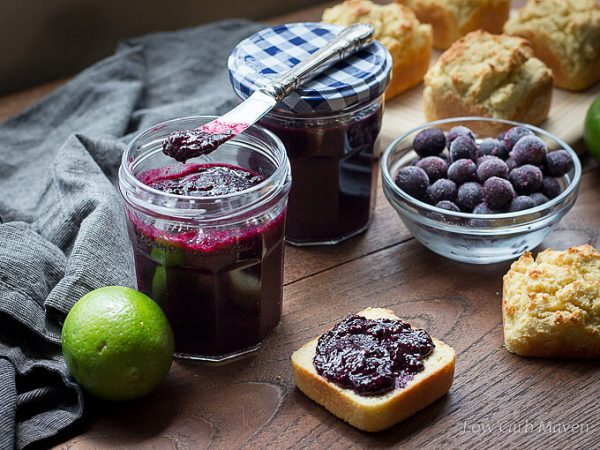 How to Make Sugar-Free Jam With Chia Seeds
Chia seed jam is easy one of the easiest jams to make. Using pureed fresh ripe fruit or cooked fruit will vary the intensity of color and flavor. A little lemon juice helps acidify the jam preventing spoilage. Use only enough of your favorite sweetener to give the chia seed jam a nice sweet taste. Grind the chia seeds for a smoother jam or keep them whole for some texture. I find that I have to use more chia seeds if I grind them.
How to Make Sugar-free Blueberry Jam
Honestly, blueberries contain enough natural sugar and pectin that you can simply cook them down to make a jam. I used to do this for my children. The problem for those following a reduced sugar and low carb diet is that this concentrates the sugars resulting in a higher sugar product per serving.
To make this sugar-free blueberry jam and keep carbs low, cook the blueberries until they soften and burst. Add low carb sweetener to taste. The most common sweeteners are Erythritol blends, xylitol, and stevia. Put the cooked blueberries in a blender to break up the skins. Pour the fruit puree into a jar, add chia seeds and stir. Let the jam sit overnight in the fridge to give the chia seeds time to expand and gel.
How Long Does Sugar-free Jam Last?
This recipe calls for lime juice which acidifies the blueberry jam, helping preserve it. Furthermore, the erythritol based low carb sweetener prevents the growth of bacteria. I often make double batches with the unopened jar sitting in the fridge for several weeks. I try to use the opened jar within 2-3 weeks. Make sure to start with a clean jar and always use clean utensils when removing jam from the jar.
Is Sugar Free Jam Keto Friendly?
Yes, sugar free jam is Keto friendly. While fruit contains natural sugars, lower carb choices like blueberries, raspberries, blackberries, and strawberries are perfect for low carb keto jams. Fruit is generally consumed sparingly and since jam is a condiment, only one tablespoon is used at a time. Most homemade sugar-free jams contain 1g carb per serving.
I love this sugar-free blueberry chia seed jam on toasted low carb bread and stirred into yogurt. Try it as a topping for muffins or swirled into cheesecakes.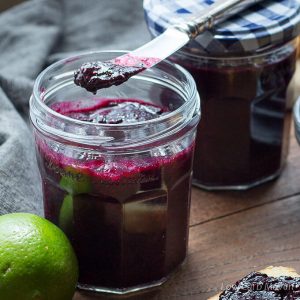 Sugar-Free Blueberry Chia Seed Jam (low carb, no pectin)
A beautiful, tangy sugar-free blueberry jam thickened with chia seeds and flavored with lime. This pectin free jam is absolutely delicious and perfect for any low carb keto diet.
Print
Pin
Rate
Ingredients
2

cups

frozen blueberries

(8 ounces)

1/4

cup

lime juice

(2 ounces)

1/4

cup

erythritol

1

tbsp

water

zest from one lime

2

tbsp

chia seeds
Instructions
Put the frozen blueberries, lime juice, water and erythritol in a small sauce pan over medium heat and bring to a strong simmer. Reduce heat to medium-low and simmer uncovered for 15 minutes.

Turn off the heat and lightly puree the blueberries with an immersion blender or a standing blender..

Pour into a clean jar and stir in the chia seeds and lime zest. Let the blueberry jam cool before covering and placing in the refrigerator. It will thicken overnight but still be thinner than regular jam. Makes 1 cup with 1 tbsp per serving or 16 total servings.

This jam keeps for 2-3 weeks in the fridge.
Notes
The fat, fiber, and protein in this recipe are "trace amounts". This recipe card only allows numerical entries. The calories are 11 and total carbs are 2 per each serving. 
Nutrition Facts
Sugar-Free Blueberry Chia Seed Jam (low carb, no pectin)
Amount Per Serving (1 tbsp)
Calories 11
% Daily Value*
Carbohydrates 2g1%
* Percent Daily Values are based on a 2000 calorie diet.
Nutrition
Serving:
1
tbsp
|
Calories:
11
kcal
|
Carbohydrates:
2
g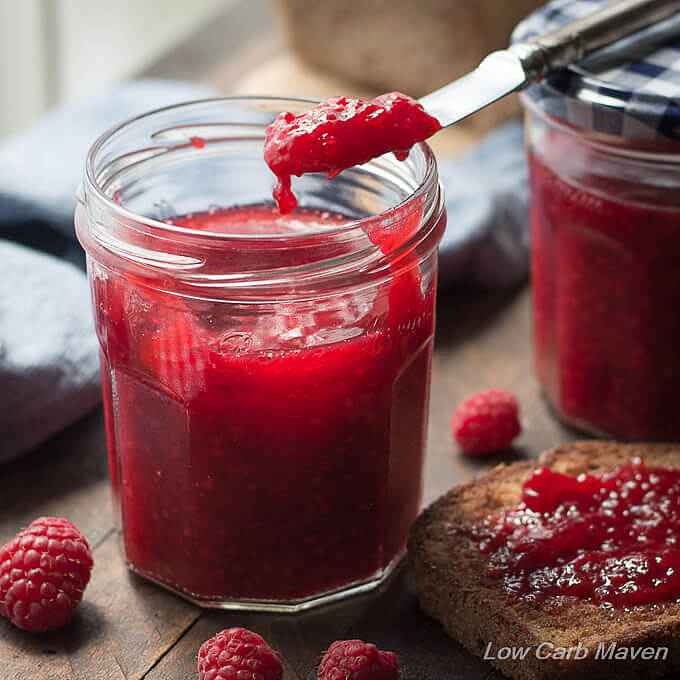 Low Carb Sugar-free Raspberry Jelly (jam)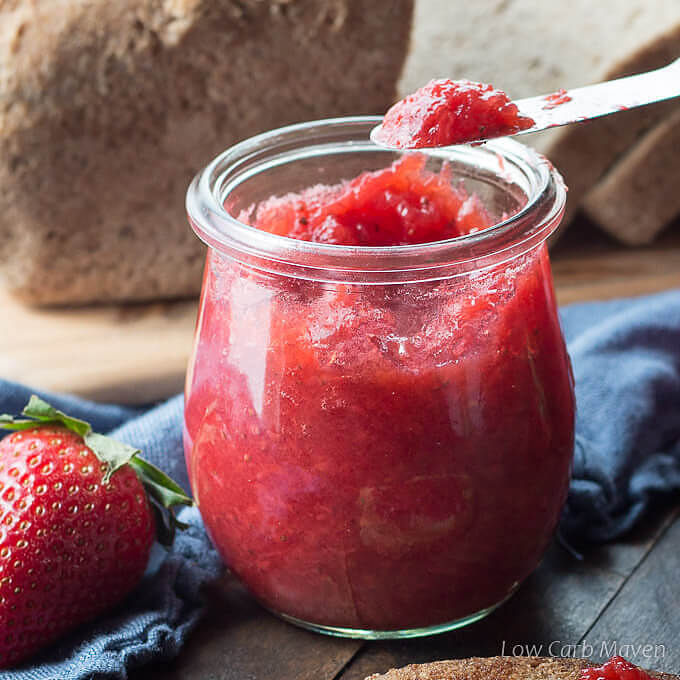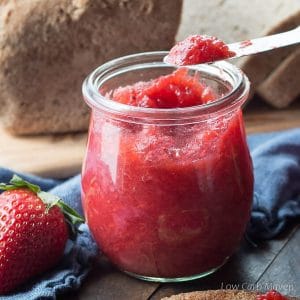 Low Carb Sugar-free Strawberry Jelly (jam)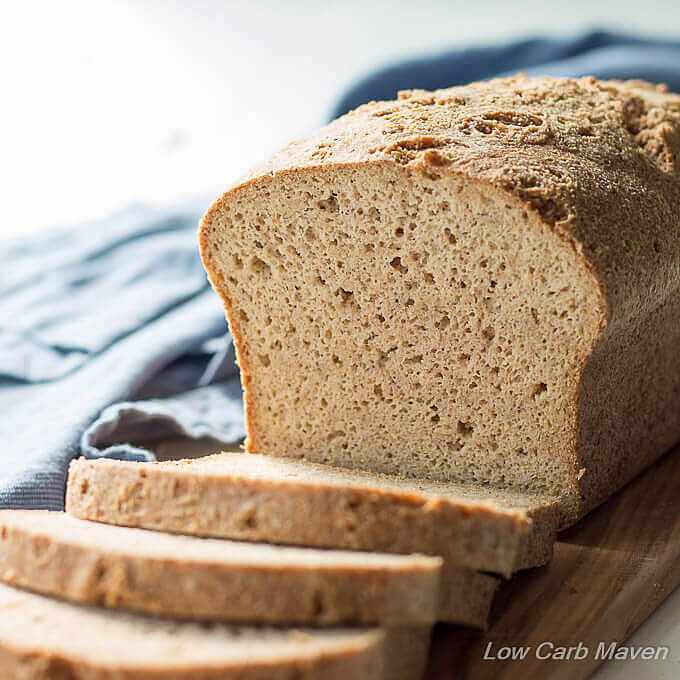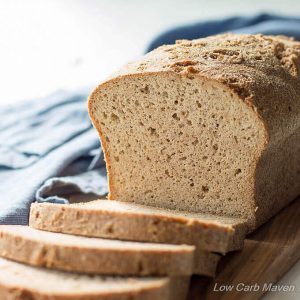 Low Carb Keto Psyllium Flax Bread