Blackberry custard pie features an easy buttermilk custard pie filling in a pre-baked pie crust with fresh blackberries. This no-bake pie recipe cooks in minutes and is sugar-free for low carb diets.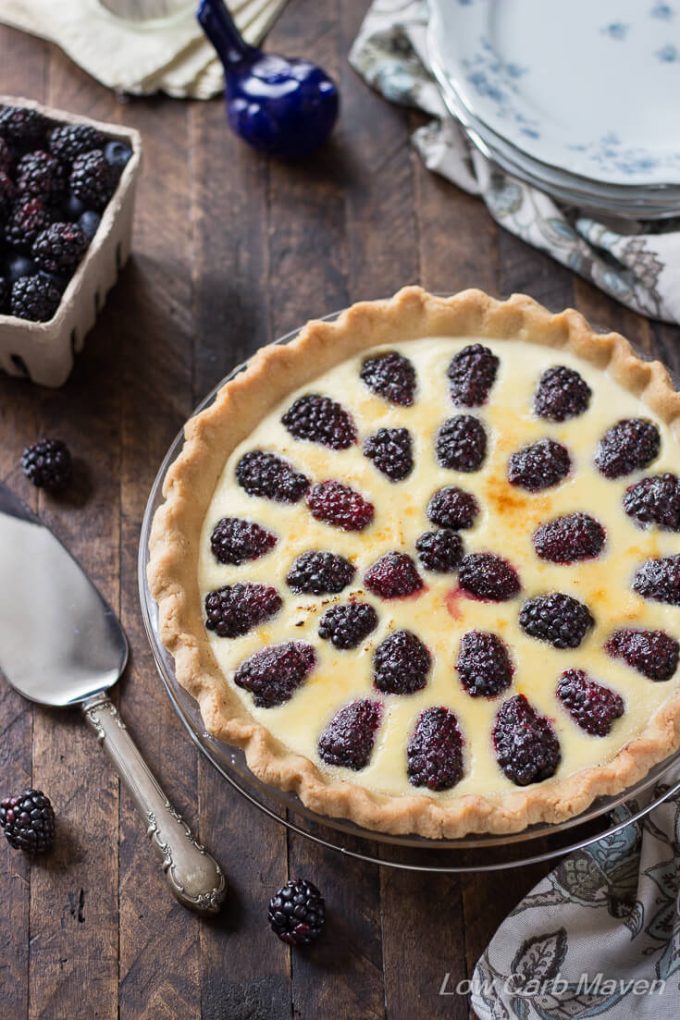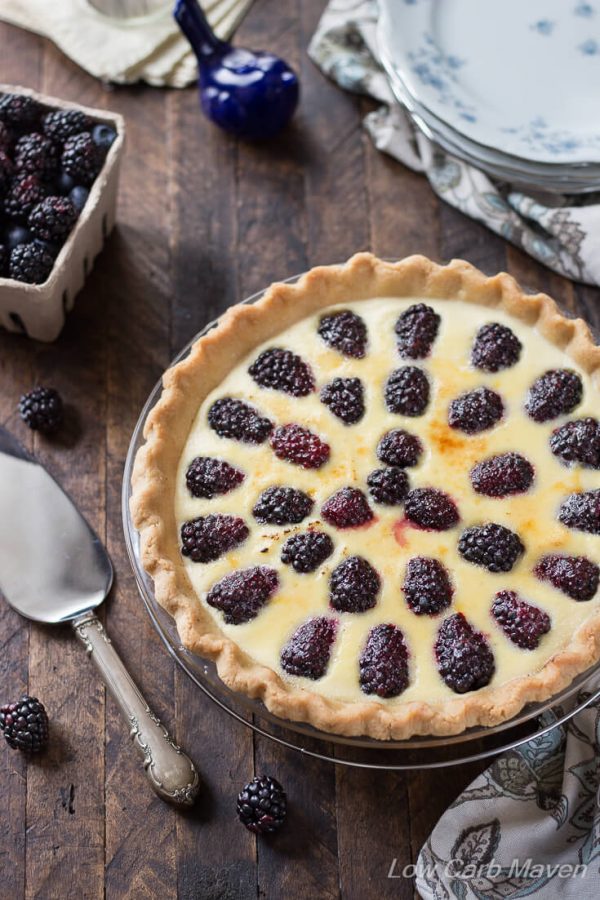 (Maybe you've noticed small animal figures in some my photos. This is to honor my mother who is suffering from autoimmune disease. I love you mama.)
This blackberry custard pie hearkens back to my childhood when I spent summers with red-stained fingers and scratched hands from picking wild blackberries and raspberries in the woods in upstate NY. My Nana taught me how to make traditional 2-crust berry pies and also shared her recipe for my favorite custard pie!
Blackberry Custard Pie
If you poke around the site for any length of time you'll get a sense that I love steak, share mostly chicken recipes and have a fair amount of low carb and sugar-free pie recipes. What can I say? My husband loves pie and I like to make 'em – especially old fashioned favorites from my childhood like this sugar-free blackberry custard pie.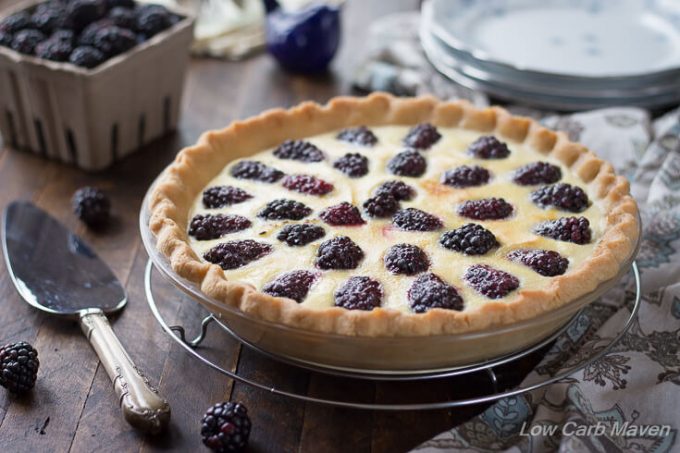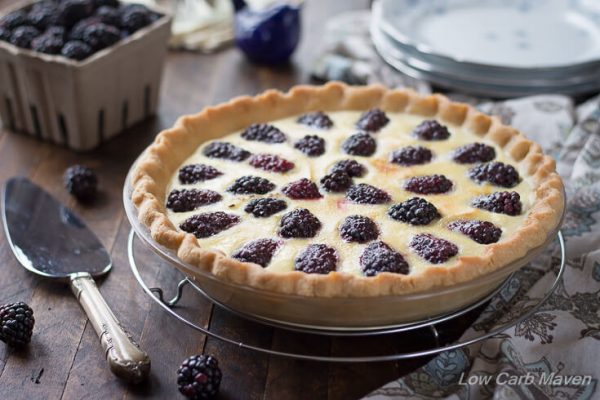 Buttermilk pie is an old fashioned pie recipe, especially popular in the southern part of the U.S. The buttermilk custard is thickened with flour while the similar chess pie uses cornmeal. It's a simple pie with gorgeous flavor that has graced many Southern tables over the years. Custard pies are sophisticated in their simplicity, like a classic creme brulee; eggs, sugar and cream (or milk) bake in a crust until the custard sets. The texture is amazingly smooth and creamy when cooked correctly, but if baked too long… disaster!
I have fond memories of the old fashioned custard pies my grandmother made with blackberries, blueberries and sometimes red currants. Having a slice of creamy custard pie was the best way to enjoy the "fruits" of my labor after picking wild berries all afternoon. It feels good to share a similar recipe with my family – like I'm doing my part to pass-down family food traditions.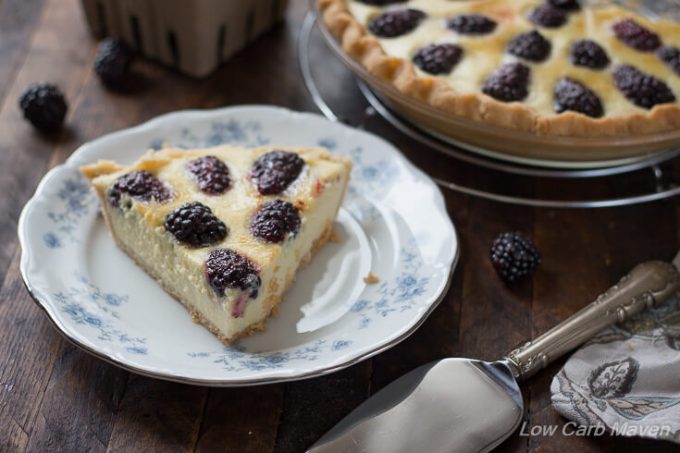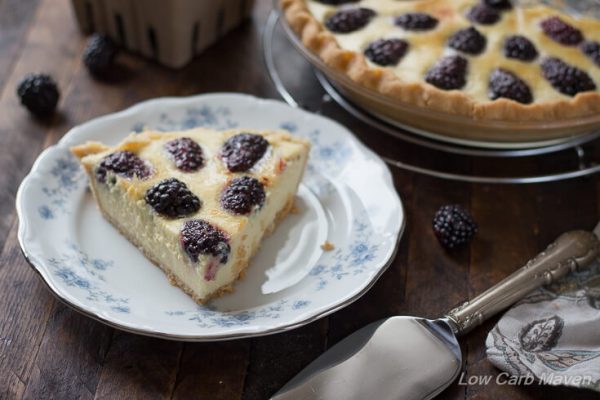 Custard Pie and Easy Buttermilk Pie
I worked on this sugar-free blackberry custard pie recipe all Spring and Summer. It proved to be a little trickier than expected. The buttermilk custard was sublime and perfect every time, but the low carb pie crust burned before the custard set. It didn't matter what I tried, the crust always over-browned. Our low carb almond flour crusts are delicious and nutritious, but they are sometimes tricky.
As I mentioned, timing was an issue with this pie, so I decided to cook the custard on the stove like a pudding filling. Adding a little gelatin provided the perfect texture and a low carb sugar substitute (Tagatesse) sweetened it beautifully. I simply poured the sugar-free custard into the pie crust and added the blackberries to the top. Leaving the pie uncovered in the fridge helped the custard develop a skin which was perfect for torching (an optional step). This gave an overall "baked" look to the pie and caramelization to the blackberries.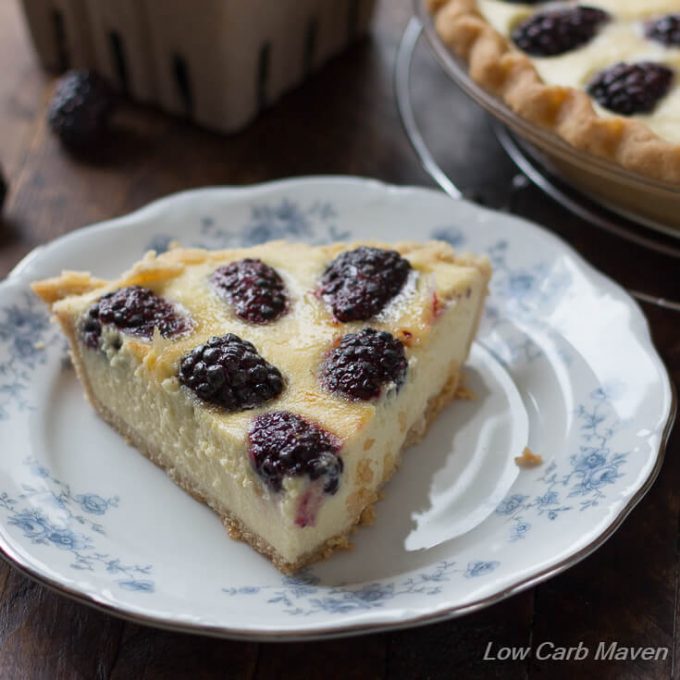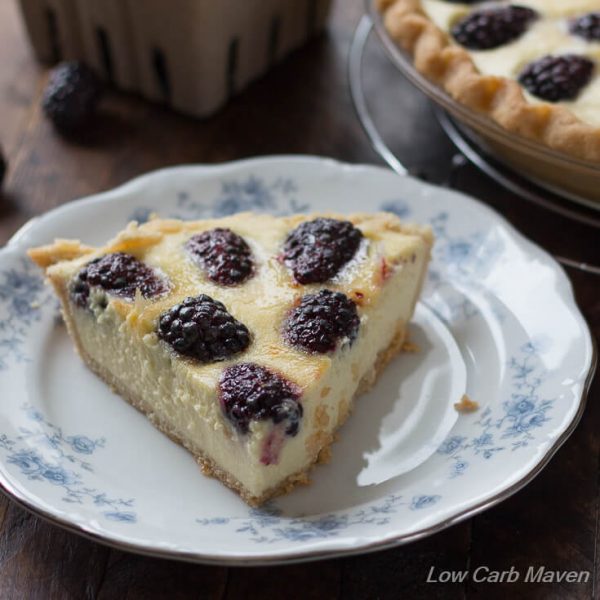 If you've never cooked a custard on the stove before, don't worry. Like my other sugar-free custard and pudding recipes, it takes 10 minutes tops! For added security, you can use a double boiler method – the extra time is worth it for some. Using a pre-baked pie crust will have the pie finished and chilling in under 30 minutes.
This is a delicious pie for Spring and Summer, or anytime you can find fresh blackberries.
Blackberry Custard Pie is 6 net carbs per serving.
[This recipe and post may contain affiliate links. Purchasing through these links may result in my earning a small commission at no additional expense to you.]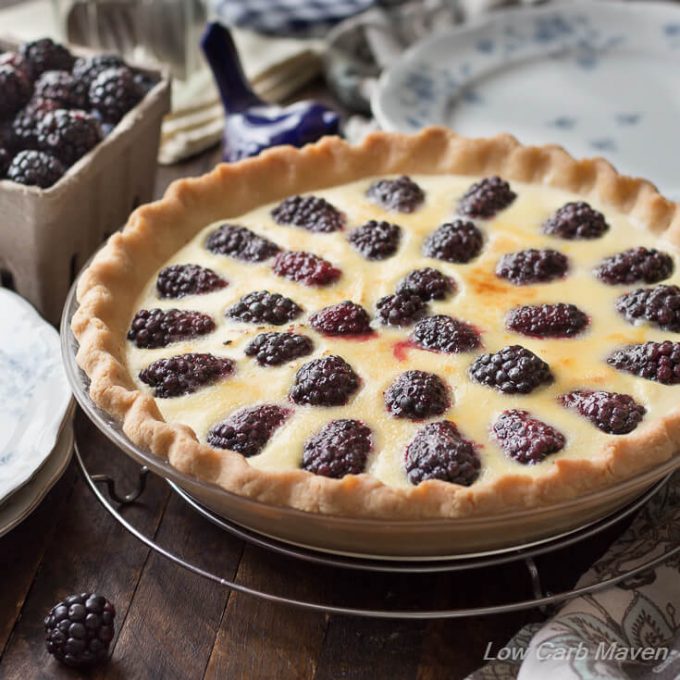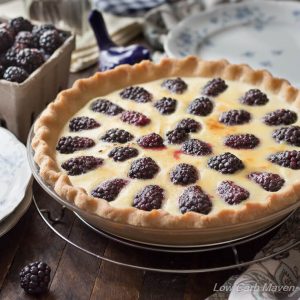 Blackberry Custard Pie - Easy Buttermilk Pie Recipe (Sugar-free, Low Carb)
Blackberry custard pie features an easy buttermilk custard pie filling in a pre-baked pie crust with fresh blackberries. This no-bake pie recipe cooks in minutes and is sugar-free.
Print
Pin
Rate
Instructions
Preparation
Sprinkle gelatin over 1 tablespoon water to bloom. Measure sweetener, salt and xanthan gum in a 4-6 cup capacity non-reactive metal pot. Add the eggs and yolks and whisk together until completely combined. Whisk in the buttermilk and heavy cream.
Cook
Place the pot over medium heat, whisking constantly until the mixture begins to thicken - about the 5 minute mark if using Tagatesse (or sugar) and 8 minutes for Sukrin :1 or Swerve. Turn the heat down to medium low and whisk vigorously for 1 minute. (The custard should bubble lazily if whisking stops.) Remove from heat and whisk for 1 1/2 minutes more. Tear the gelatin into pieces and drop into the custard, stirring until dissolved. Add vanilla and nutmeg, stirring to blend.
Assemble
Let the mixture cool just slightly then pour into pre-baked pie crust. Level the top and arrange black berries, pushing them into the custard until they are at least 1/2 way submerged. Refrigerate uncovered for several hours before covering with cling film. Chill at least 6 hours before slicing and serving.
Optional Step
Sprinkle Tagatessse [Sukrin Melis, Swerve Confectioners (or powdered sugar if not low carb)] over the top and brown with a culinary torch. Pay particular attention to the black berries to make them look like they baked.
Serves 8. Each serving is 5 g NET CARBS. Nutritional information includes the crust specified and linked to.
Notes
**** I swapped out the low carb crust recipe shown in the photos because of its tendency to soak. The Low Carb Graham Cracker Crust resists soaking better. 
Nutritional information for the custard only: Calories: 181g, Fat: 15g, Carbs: 4.5g, Fiber: 1g, Protein 6g, NET CARBS: 3.5
Nutrition
Calories:
357
kcal
|
Carbohydrates:
8
g
|
Protein:
11
g
|
Fat:
32
g
|
Cholesterol:
226
mg
|
Sodium:
219
mg
|
Potassium:
145
mg
|
Fiber:
3
g
|
Sugar:
3.5
g
|
Vitamin A:
180
IU
|
Vitamin C:
4.4
mg
|
Calcium:
91
mg
|
Iron:
0.7
mg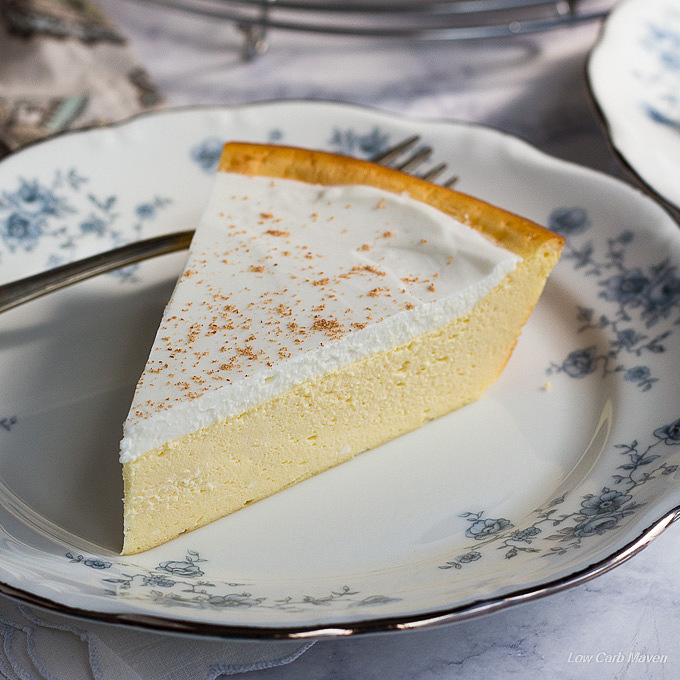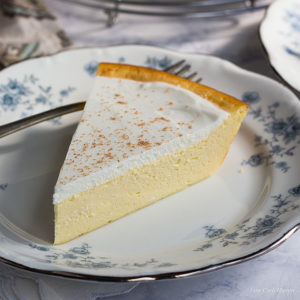 Nana's Cheese Pie – Crustless Cheesecake Recipe (low carb, sugar-free)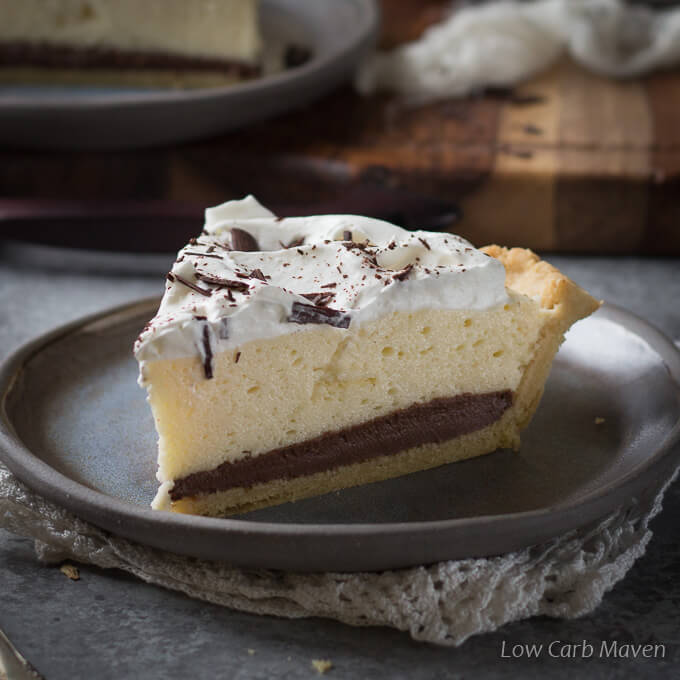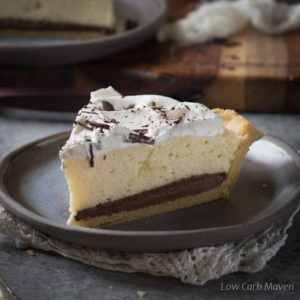 Black Bottom Pie (Low Carb, Sugar-free)