An easy and authentic tasting Beef Satay recipe featuring beef in a Thai marinade and a tasty peanut sauce. Perfect served with a Thai cucumber salad. Low carb eating at it best!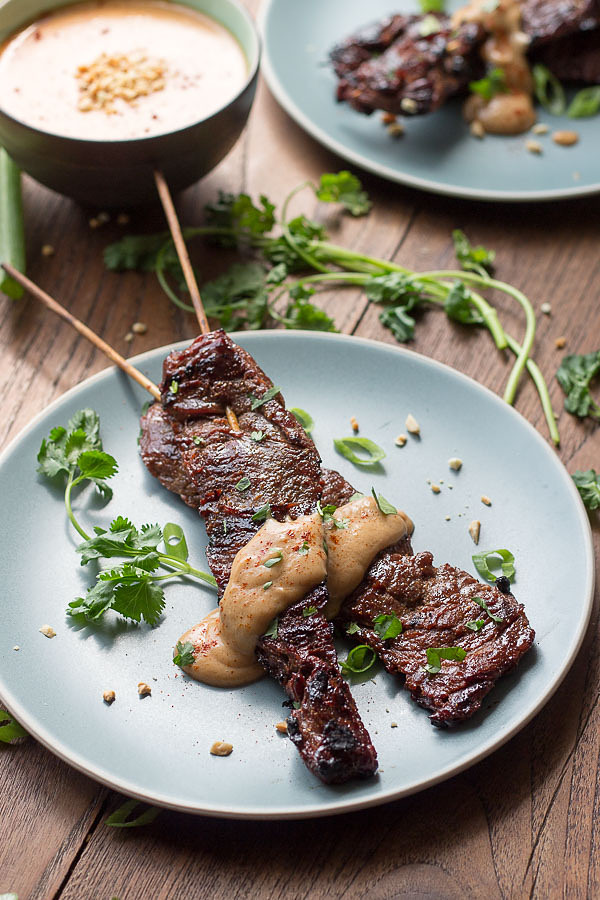 Wow! I can't believe that my kids go back to school on Wednesday. I blinked and missed their Summer break. Soon we'll be knee-deep in homework and extra-curricular activities with little time left for making dinner during the week. Luckily, I have some quick-dinner-tricks up my sleeve and a few recipes that give you that restaurant taste you crave, without breaking the bank.
This beef satay recipe is perfect for a week night meal – especially if you have a crazy hectic life! The whole thing preps and cooks faster than you can order take-out, pick it up, and bring it home. The beef only needs 15-20 minutes to marinate before it's grilled, leaving plenty of time to make the peanut sauce and even a beautiful Thai cucumber salad. The whole meal is ready in 30 minutes and tastes like the real deal.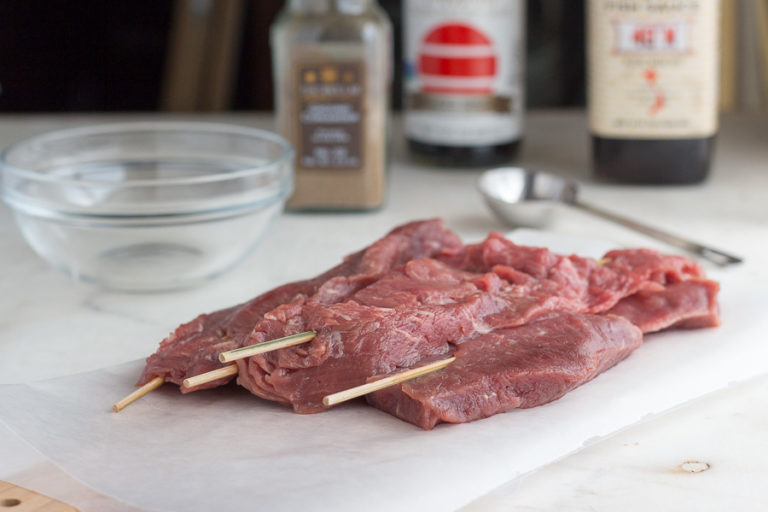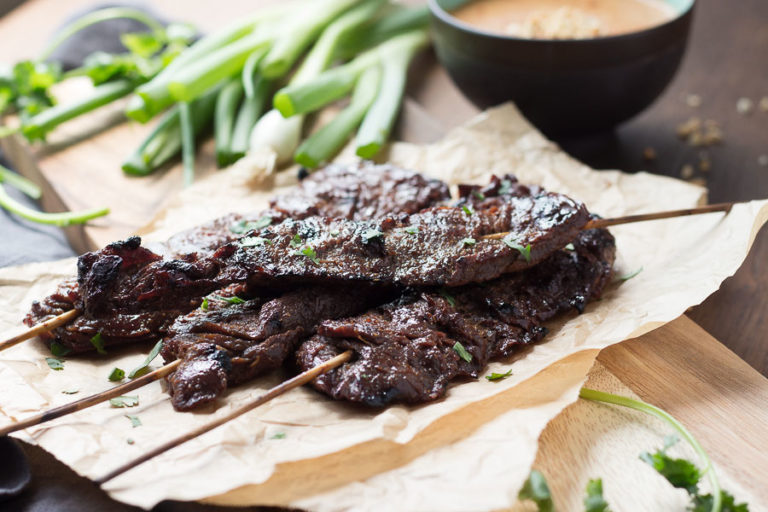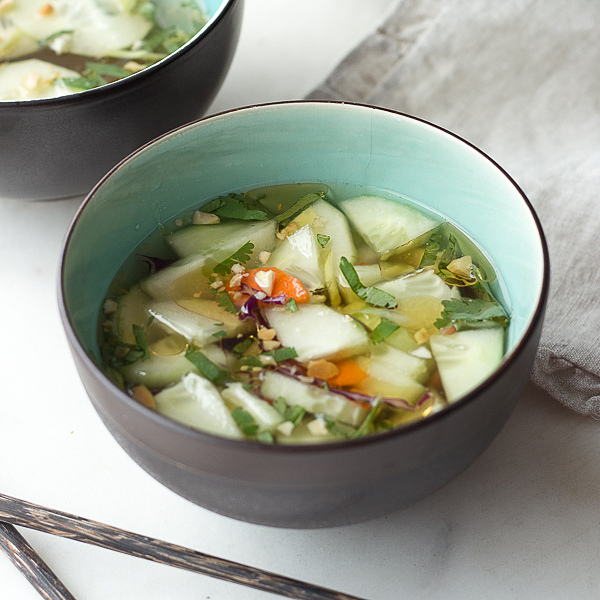 INGREDIENTS: For this recipe beef satay, I used 4 grass-fed beef satay that arrived in my Butcher Box shipment. The meat was really beautiful – I was impressed, but you can use flank steak or skirt steak. You want a meat that has some "grain" for that authentic look. I also used Red Boat Fish Sauce and Mae Ploy Thai Red Curry Paste as well as Tamari – a gluten-free soy sauce.
I like Red Boat Fish Sauce because it is gluten-free and produced in small batches using traditional methods — it's also Paleo and my favorite. Three Crabs brand is also a good fish sauce but I don't know if it is gluten-free. In a pinch, the Thai Kitchen fish sauce from the grocery store (in the Asian section) is just fine and is available in a much smaller bottle.
Find Chile Garlic Sauce in the Asian section of the grocery store — it's wonderful! I absolutely love the stuff. It's used in many Asian recipes from Chinese, to Vietnamese, to Thai, to Fusion recipes. Add a little of this flavorful sauce to mayo and you have a great condiment.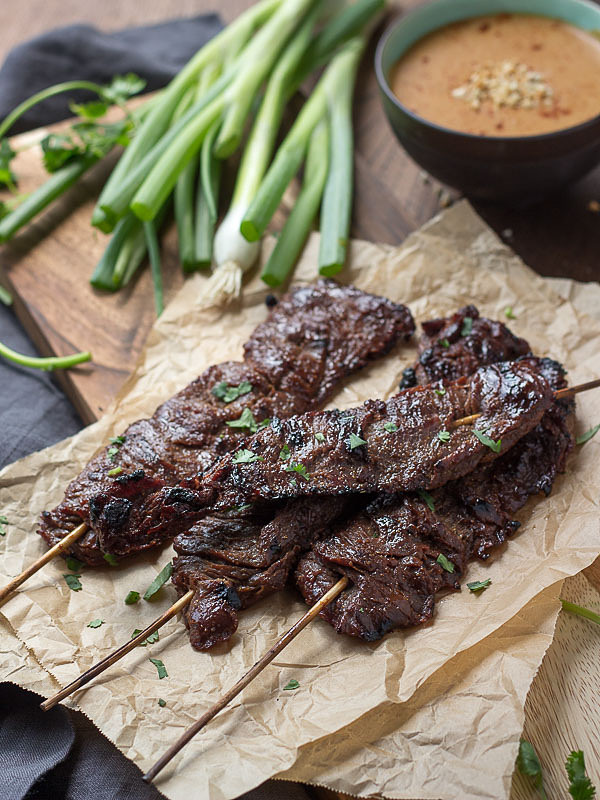 If you don't have any Thai curry paste and you enjoy Thai food, you need to get at least one. I love the Mae Ploy brand and have the Yellow Curry Paste (mild), Green Curry Paste (spicy), Red Curry Paste (medium-spicy), Panang Curry Paste (mild), and Massaman Curry Paste (mild). Yep, I have them all and I use them! They keep forever in the fridge. I've had mine for over a year and they are still great. If you are looking for one or two curry pastes to try, get the Yellow and Red or Panang. They are the most versatile.
That's it folks. It's a super simple recipe that your family won't know is low carb (keto) or sugar-free. Enjoy!
This delicious Beef Satay and Peanut Sauce is 3 carbs per serving.
With the Thai Cucumber Salad it's 7 net carbs.
[This post and recipe contain affiliate links.]
Beef Satay and Peanut Sauce
An easy and authentic tasting Beef Satay recipe featuring beef in a Thai marinade and a tasty peanut sauce. Perfect served with a Thai cucumber salad. This 30 minute meal is low carb eating at it best!
Ingredients
Beef Satay & Marinade
1

pound

flank steak or skirt steak

2

tablespoons

Red Boat Fish Sauce

or your favorite

2

tablespoons

Tamari Soy Sauce

or coconut aminios

2

tablespoons

Sukrin Gold

powdered (Swerve Confection, coconut sugar, or honey)

1/2

teaspoon

ground coriander
Thai Peanut Sauce
1/4

cup

smooth peanut butter

or almond butter

1/3

cup

coconut milk

full fat from a can

1-2

teaspoons

chile garlic sauce

found in Asain section of grocery

1

tablespoon

Sukrin Gold,

powdered (Swerve Confection, coconut sugar or honey)

1/2

teaspoon

Thai Red Curry Paste

I like Mae Ploy
Extras
1

tablespoon

olive oil

to oil meat before grilling

in

bamboo skewers soaked for several hours water

Foil to keep the skewers from burning
Instructions
Preparation: Get your ingredients together. Powder the 3 T of Sukrin Gold if using.

Beef Satay: Cut the flank steak into 1 1/2 inch strips so that the grain of the meat is going horizontally across the strip. Stick the skewers into the meat leaving a handle long enough to hold while eating. Mix the fish sauce, soy sauce, and sweetener together in a baking dish and make sure to coat all surfaces of the beef. Sprinkle the meat with the coriander, rubbing it in. Let marinate for about 15-20 minutes. Meanwhile, shake the can of coconut milk, preheat grill, and start on the peanut sauce.

Thai Peanut Sauce: In a smallish microwave safe bowl, warm the peanut butter up in the microwave for a few seconds. Stir in the chile garlic sauce, sweetener of your choice, and Thai red curry paste. I use a small whisk. Slowly add the coconut milk to the peanut butter mixture while stirring with a whisk.

Optional: If you are making the cucumber salad mentioned in the post, do so now.

Grill: Pour about 1 tablespoon of oil over the beef and coat all surfaces. Fold a piece of foil in half to be placed under the handles of the skewers while cooking on the grill. Remove the beef from the marinade and place it on the grill for cooking. Line them up and place the foil under the handles. Grill on both sides until done - this depends on how thick your meat is and how hot your grill gets.

Serve: Serve the beef satay with a Thai cucumber salad, Thai Chicken Coconut Soup or a regular salad with your favorite Asian dressing.
Notes
Nutrition Facts
Beef Satay and Peanut Sauce
Amount Per Serving
Calories 373
Calories from Fat 243
% Daily Value*
Fat 27g42%
Carbohydrates 4g1%
Protein 28g56%
* Percent Daily Values are based on a 2000 calorie diet.
Nutrition
Calories:
373
kcal
|
Carbohydrates:
4
g
|
Protein:
28
g
|
Fat:
27
g
|
Fiber:
1
g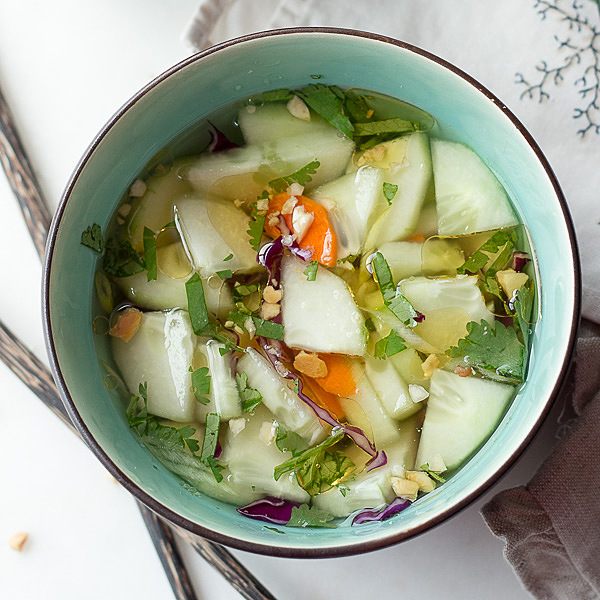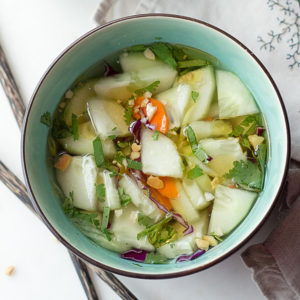 Chicken Satay with Easy Peanut Sauce