Do you love enchiladas like I do? Try this fun twist on a Mexican comfort food classic. This low carb enchiladas recipe combines sweet and tangy BBQ sauce with traditional enchilada sauce, seasoned shredded chicken and gooey cheese! Eat as is or top with keto coleslaw, sliced avocados, sour cream or guacamole. It's an absolute family favorite.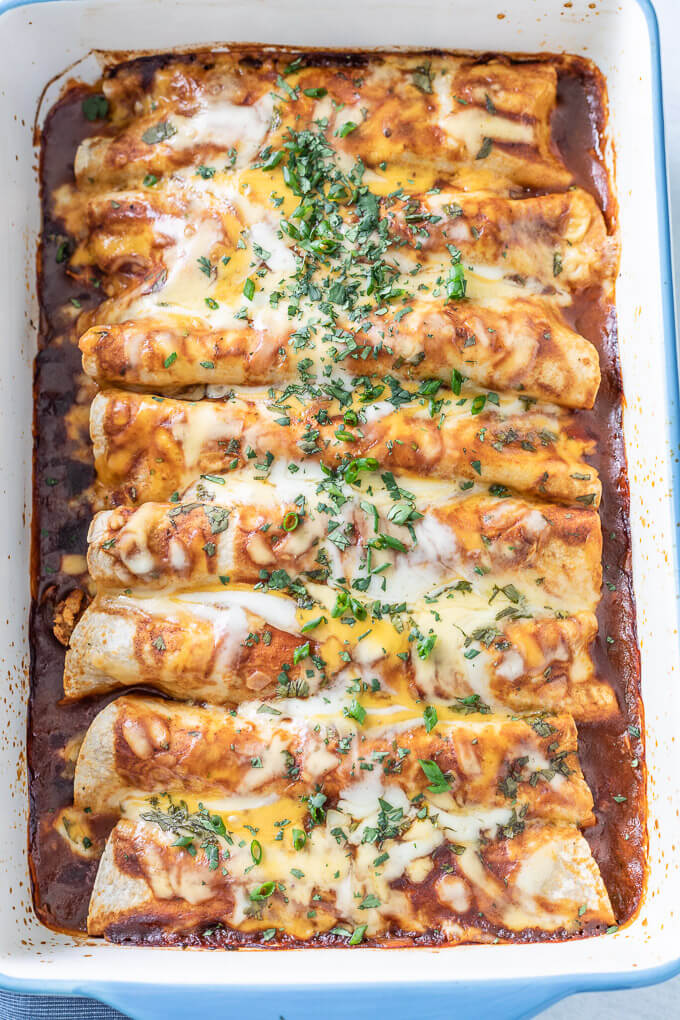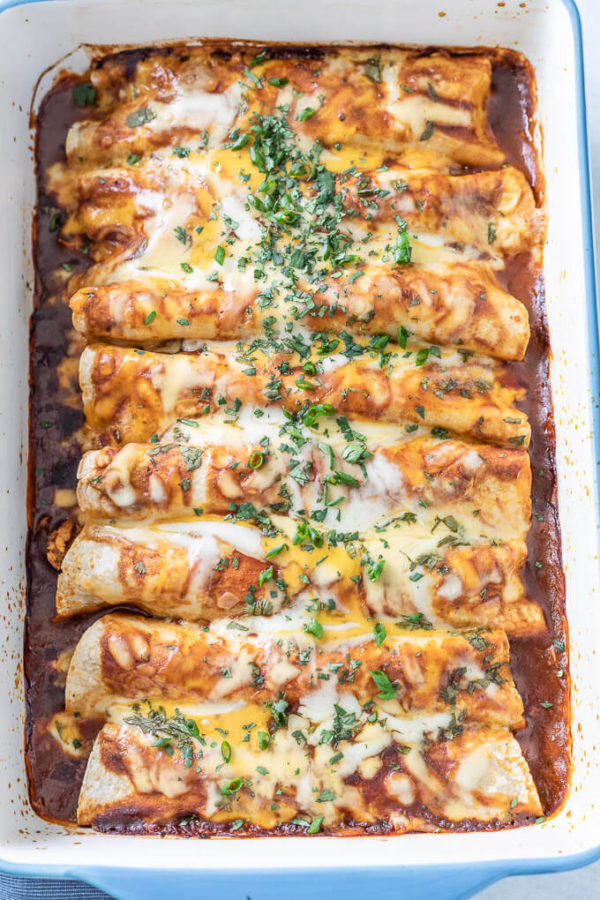 THIS POST INCLUDES AFFILIATE LINKS TO SHARE THE THINGS I LOVE.
BBQ Chicken Enchiladas
I already have two great low carb chicken enchiladas recipes on the blog – traditional chicken enchiladas with a red sauce and creamy white chicken enchiladas. Both are super tasty but not as fun as these BBQ chicken enchiladas. What I like about BBQ chicken enchiladas is that the flavor is more mainstream which is perfect for kids or picky family members. The sweet BBQ sauce tempers the bitterness of ground chiles in the enchilada sauce.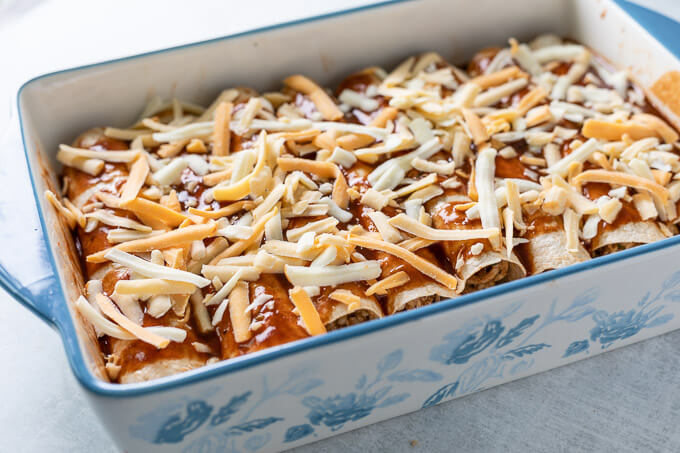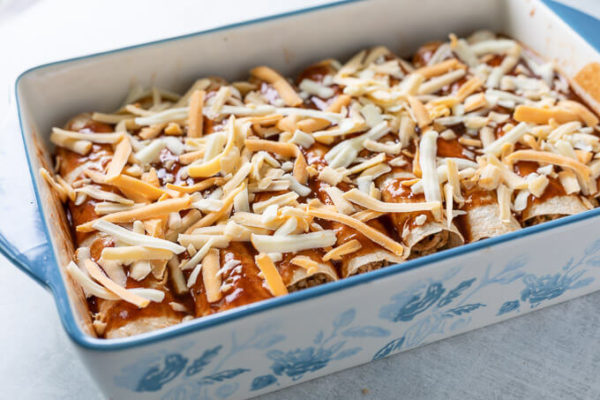 Low Carb Enchilada Sauce and Keto BBQ Sauce Options
For this recipe, I use sugar-free BBQ sauce and my homemade low carb enchilada sauce. The enchilada sauce is easy to make and has a great authentic flavor. If you want to cheat and use enchilada sauce from a can, make sure to count the carbs. Use your favorite premade BBQ sauce, (mine is Kinders Zero Sugar BBQ Sauce) or use homemade keto BBQ sauce. Alternately, mix leftover BBQ chicken (or pulled pork!) and pour enchilada sauce over the top.
Low Carb Enchilada Wrap Options
As I've mentioned in past keto enchilada posts, there are a variety of enchilada wrap options. This time I used store-bought low carb tortillas, but I also like low carb Cut de Carb wraps (cut crosswise to yield two enchilada wraps) and low carb crepes for enchilada wraps. Another option is to look for low carb tortillas recipes on-line, however, many of them are basically low carb crepes.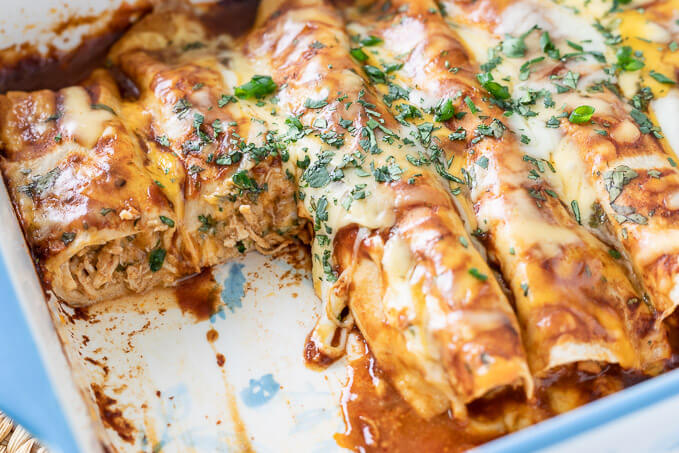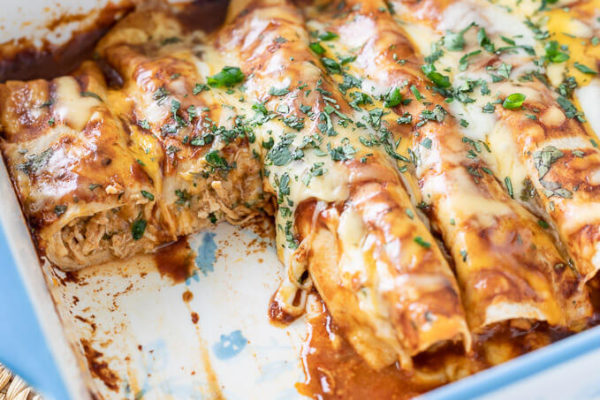 Use Shredded Chicken or Leftover BBQ Chicken
BBQ chicken enchiladas call for shredded chicken. Use rotisserie chicken or make your own shredded chicken. For cooking options, read my post about "how to make shredded chicken" which includes instructions for 6 cooking methods. I always season my chicken until it tastes good before adding any sauce. This is an important step to ensure the meal is properly seasoned.
Green Onions and Cilantro Make it Great
Adding green onions to the chicken filling makes it extra flavorful, but the flavor of cilantro is lost. Save the cilantro for sprinkling on top before baking and as a final garnish. If you have the "cilantro tastes like soap" gene, skip the cilantro and use the green tops from the onions instead.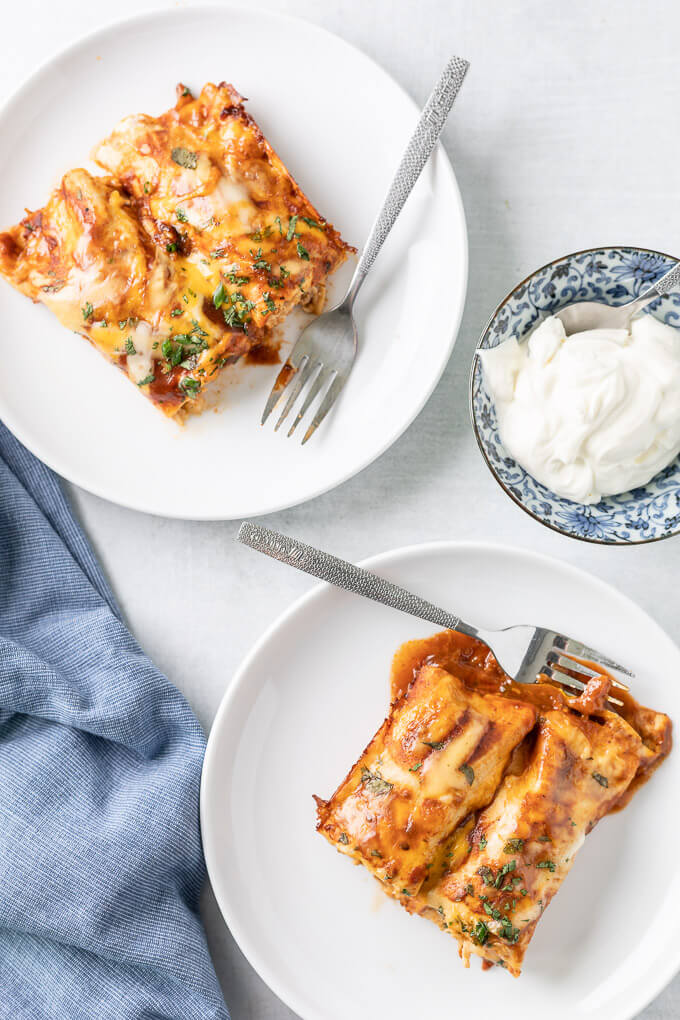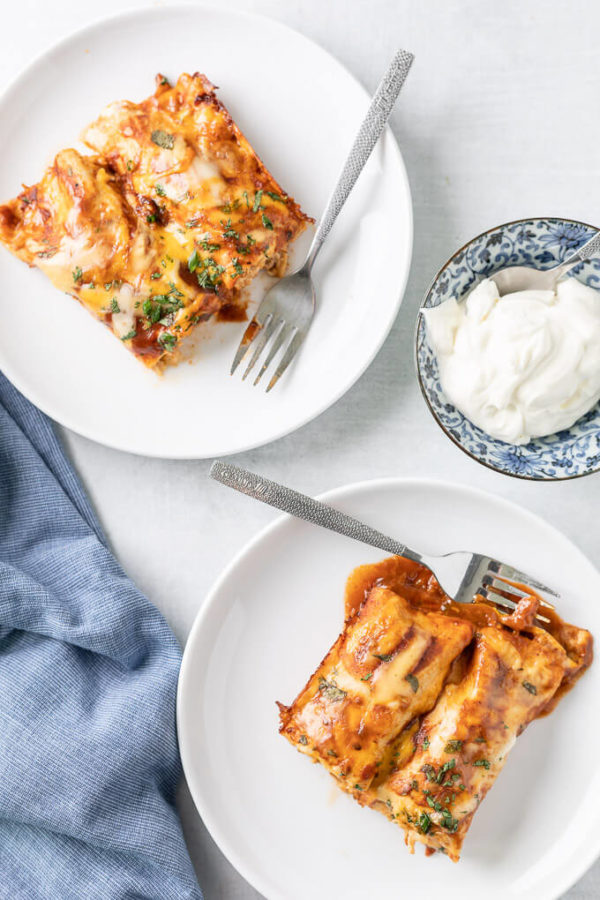 Thoughts on Lowering Carbs Further
I just want to mention that you can lower carbs even further by using unconventional enchilada wraps. Consider using several pieces of deli chicken or ham in place of tortillas or even steamed cabbage leaves. For that matter, you may be able to use raw kale or Swiss chard leaves as wraps. I've made egg white wraps and scrambled egg wraps for enchiladas before and while the weren't as good as low carb tortillas, they did the trick.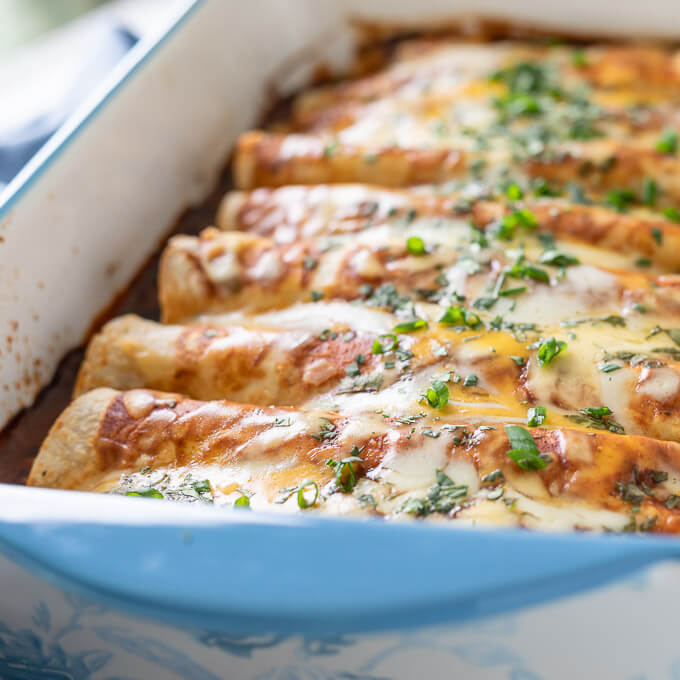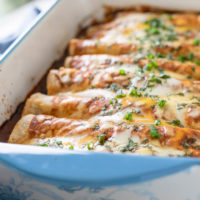 Low Carb BBQ Chicken Enchiladas
Sweet & tangy BBQ sauce meets traditional red enchilada sauce, seasoned shredded chicken & gooey cheese in this easy family approved recipe.
Print
Pin
Rate
Equipment
Large mixing bowl

Medium Mixing Bowl

9×13-inch casserole dish
Ingredients
4

cups

shredded chicken

slightly packed

3/4

tsp

ground cumin

1/2

tsp

granulated garlic

1/4

cup

chopped green onions

1/2

tsp

pink salt

1/4

tsp

white pepper

1 1/4

cup

low carb enchilada sauce

(or 10 ounce can)

2/3

cup

low carb BBQ sauce

(plus 2 tbsp water)

2

cups

shredded cheddar cheese (or Monterey Jack)

divided use

8

low carb tortillas

(or low carb crepes or Cut de Carb Wraps)

chopped cilantro for garnish
Instructions
*If you aren't using canned enchilada sauce, make the homemade enchilada sauce 30 minutes before starting the enchiladas. Can make it up to several days ahead and refrigerate until needed.
Preheat oven to 375F and place rack to middle position (or see below for slow cooker option). Mix 1 1/4 cup enchilada sauce with the BBQ sauce and water and set aside. Chop the onions and cilantro.

Put the shredded chicken in a large bowl and season with cumin, garlic, green onions, salt and pepper. Taste to adjust seasoning. It should taste good before you continue. Mix 1 cup of the cheese and 1 cup of the BBQ enchilada sauce into the chicken. Smooth the top of the BBQ chicken filling and score the top into 8 even sections with the spoon.

Spoon 1/4 cup of the sauce into the casserole dish and shake to distribute or spread with a spoon along the bottom of the dish.

Place 1 tortilla on your work surface. Spoon 1 eighth of the filling onto the lower 1/3 of the tortilla and spread-it-out, in-a-line from end to end. Roll the filling in the tortilla and place the enchilada seam-side-down in the casserole dish. Repeat with the remaining filling and tortillas.

Pour/spread the remaining BBQ enchilada sauce over the enchiladas and top with the remaining cheese. Cover with foil and bake for 20-30 minutes or until bubbly. Remove the foil and place under the broiler to brown the cheese. Top with cilantro and let sit for 10 minutes before serving.
Slow Cooker Option
Spread 1/4 cup of the BBQ enchilada sauce in the bottom of the slow cooker. Follow the instructions for making the filling and rolling the enchiladas. Place the enchiladas seam-side down into the slow cooker sleeve, fitting them in as best as possible. Spoon the remaining sauce over the enchiladas. Cover and cook on high for 2-4 hours. At the last 15 minutes of cooking add the cheese and cilantro, covering until the cheese melts.
Serving size is 1 enchilada. EACH ENCHILADA HAS 9 g NET CARBS. See notes for how the nutritional information was calculated.
Notes
Nutrition assumes using low carb whole wheat tortillas. If not using low carb tortillas, subtract 5 net carbs per serving and calculate the net carbs per serving of your enchilada wraps.
Nutritional information assumes using store bought low carb BBQ sauce at 2 carbs per 2 tbsp serving (or 10 servings).
See post for additional enchilada wrap ideas and how to lower the carbs in any enchilada recipe.
Nutrition
Calories:
306
kcal
|
Carbohydrates:
18
g
|
Protein:
30
g
|
Fat:
13.55
g
|
Saturated Fat:
6
g
|
Cholesterol:
75
mg
|
Sodium:
1120
mg
|
Potassium:
342
mg
|
Fiber:
9
g
|
Sugar:
1.13
g
|
Vitamin A:
1240
IU
|
Vitamin C:
18
mg
|
Calcium:
1573
mg
|
Iron:
17
mg