Easy to make, easy to eat, and just 3-ingredients! Bacon wrapped buffalo chicken bites are always a favorite appetizer. This great recipe is low carb, gluten-free & keto.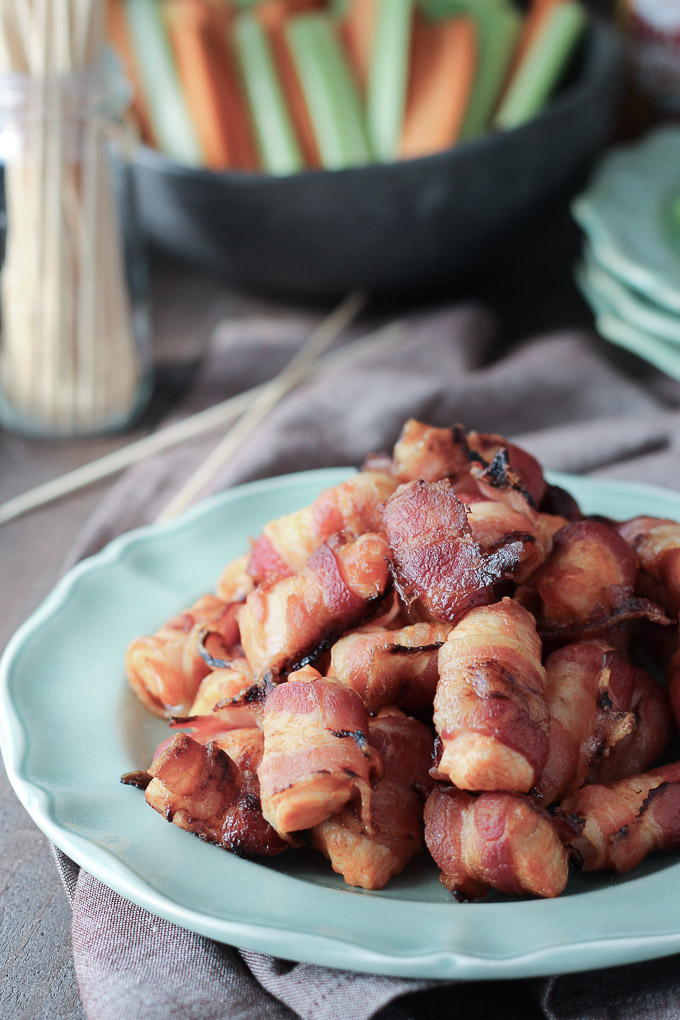 My kids started school yesterday. I can hardly believe it – I have a kiddo in 3rd grade and one in 6th. I'm not sure you're aware because I don't usually talk about this stuff on the blog, but my kids were born in China. We adopted my daughter 11 years ago and my son 6 years ago.
After many years of trying to have a baby, we looked into domestic adoption. As we met people in the adoption community and listened to several stories about failed adoptions, we turned our focus towards Chinese Adoption after learning a cousin had started the process. I am so thankful to have my children in my life – even though being a parent is hard and it's not all sunshine and roses. I learn something new about myself and my children every week and wouldn't change a minute of it. Now, you know something new about me.
——————————–
This recipe is in honor of my eight year old son who's just starting his first season of flag football. I look forward to watching him learn about the game and develop some important skills like playing with a team, taking direction, building interpersonal relationships, and personal fortitude. And… maybe have a little fun! That's the most important thing, right? To have fun.
Since the NFL football season begins next month I thought I should share a great tasting appetizer with you. These Bacon Wrapped Buffalo Chicken Bites are awesome! They hit all of those great tastes in just one bite – smokey, salty, tangy, spicy – YUM! And with just 3-ingredients, they are so easy to make!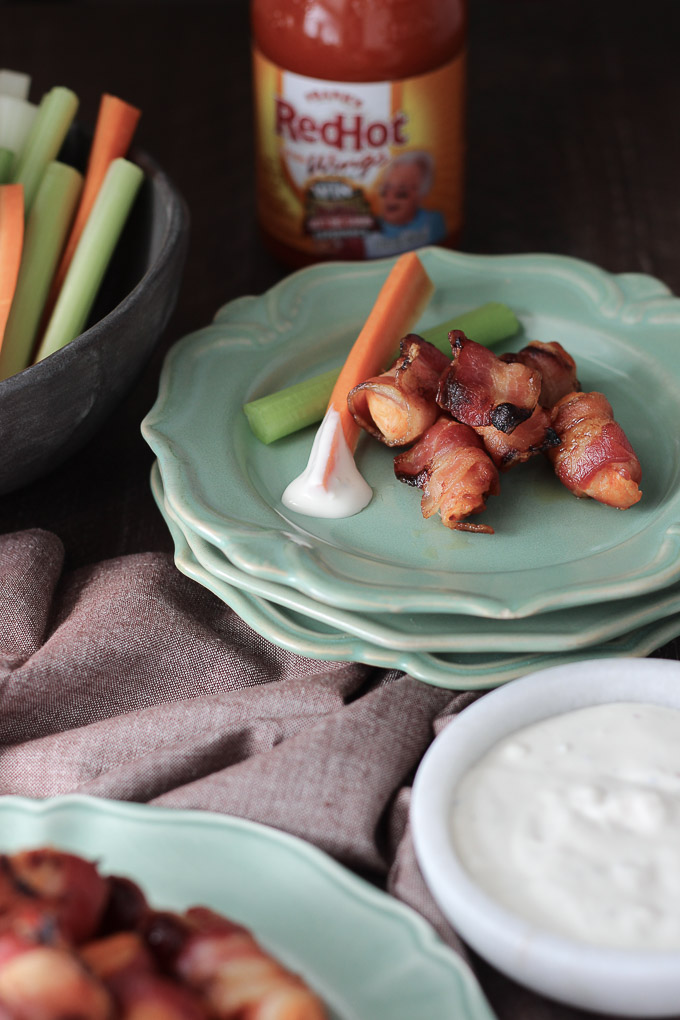 Are you ready for the recipe? Go grab a pen… Chicken breast. Bacon. Buffalo sauce. That's all! But I like to serve it with the traditional carrot sticks and celery as well as blue cheese dressing. Yum!
I don't know about you, but I enjoy serving a few low carb appetizers and crunchy snacks while we watch the games together. They don't have to be fancy. I usually serve one cooked appetizer like these buffalo chicken bites, for example, and then fill-in with veggies and a low carb great dip or even a small meat/cheese platter. That's all this little family needs. However, if we're having guests, I might make some low carb brownies and have some fresh fruit for the kiddos, too.
If you're new to the blog, I have a sweet and spicy version of this fun bacon wrapped appetizer with chipotle pepper and Sukrin Gold brown sugar substitute. It's really amazing!
 These Bacon Wrapped Buffalo Chicken Bites are around 1 net carb per serving!
[This post may contain affiliate links.]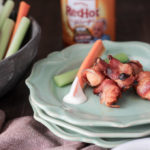 Bacon Wrapped Buffalo Chicken Bites
Easy to make and easy to eat! These bacon wrapped buffalo chicken bites are always a favorite appetizer. This great 3-ingredient recipe is low carb, gluten-free & keto.
Ingredients
Buffalo Chicken Bites (makes about 50 pieces)

1

pound

boneless chicken breasts

cut into 1 inch pieces

1

pound

regular cut bacon

thin, I used Oscar Meyer

1/2

cup

Franks Red Hot Buffalo Sauce

1/4

cup

Franks Red Hot Buffalo Sauce

for basting
Instructions
Prep: Cut the chicken into 1 inch pieces. Pour 1/2 cup Franks Red Hot Buffalo Sauce (or your favorite) over the chicken and mix to distribute. Let marinate in the refrigerator over night.

Preheat the oven to 375. Place the rack in the middle position. Place a cooling rack into the middle of a large sheet pan.

Procedure: Cut all of the bacon into thirds. Place 1/3 of the bacon onto a cutting board into rows. Place a piece of chicken on a piece of bacon and roll, continuing for all of the bacon on the cutting board. Transfer the bacon wrapped buffalo chicken to the sheet pan and place seam side down on the cooling rack. Place the next third of bacon on the cutting board into rows, and repeat the procedure. Continue until you run out of bacon or chicken. Using a pastry brush, baste each chicken bite with 1/4 cup buffalo sauce. If you do not have a pastry brush, then add a few drops to each with a spoon.

Bake: Bake in the middle of the oven for 20 minutes, then place under the broiler for 5-7 minutes, turn the bacon chicken bites over and broil for another 5-8 minutes.

Serve with Buffalo Sauce and Blue Cheese dressing. Makes about 50 pieces.
Recipe Notes
Nutrition Facts
Bacon Wrapped Buffalo Chicken Bites
Amount Per Serving
Calories 301
Calories from Fat 207
% Daily Value*
Total Fat 23g 35%
Protein 23g 46%
* Percent Daily Values are based on a 2000 calorie diet.
Signup for my Newsletter
Subscribe to get our recipies by email.