Bacon wrapped asparagus bundles are an elegant side dish or appetizer that will make everyone fall in love with asparagus. Make this delicious low carb asparagus recipe to serve with your holiday dinner or any day of the week.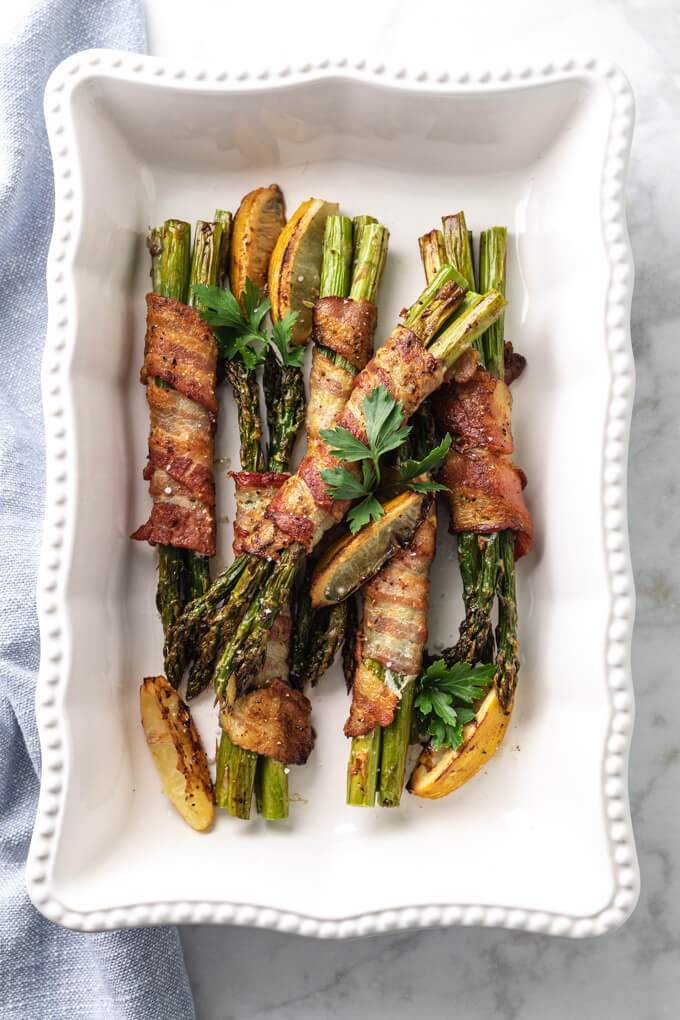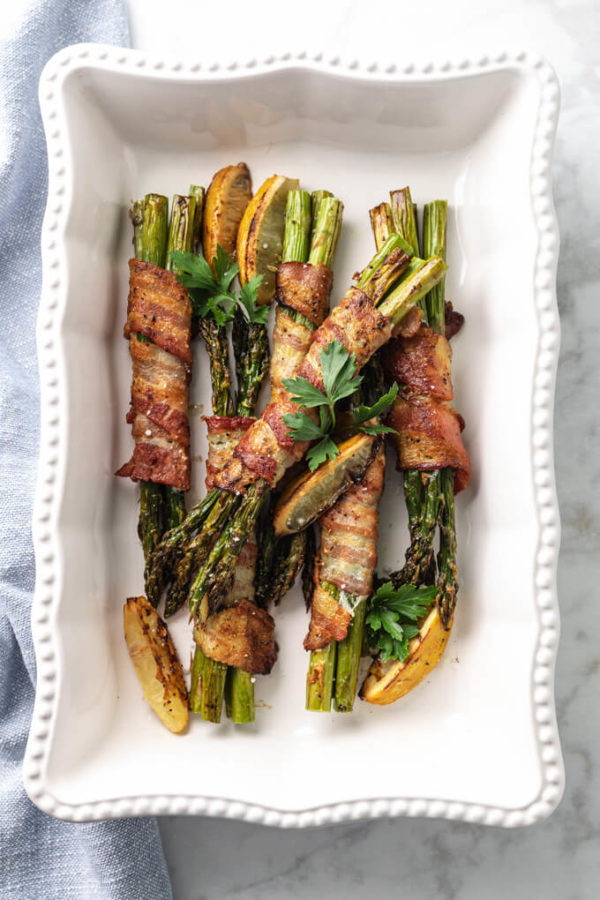 Asparagus is one of my favorite veggies. It's flavorful but low in carbs and calories, making it perfect for people following keto or low carb diets. I love asparagus with hollandaise but sometimes I want something a bit more low maintenance. More like the other sheet pans sides I love so much like these Indian roasted vegetables.
While I could truly eat asparagus every day, my husband sadly disagrees. He's not a fan of asparagus – at all. It's a texture thing. So, I set about trying to find an asparagus recipe that even he would enjoy. And I've done it with these bacon wrapped asparagus bundles. How could you not enjoy asparagus when it's wrapped in smoky, salty bacon?

Bacon Wrapped Asparagus Bundles
Honestly bacon is the key to getting any veggie hater to eat their veggies. I use the bacon trick to add so much flavor to this sheet pan roasted cauliflower with green onion and bacon. Everyone loves it and happily eats their cauliflower when I make it.
And if bacon isn't enough flavor for you, you could always add even more flavor directly to the asparagus. In this recipe, I'm using lemon pepper seasoning to add some pizzazz to the asparagus itself but you could switch it up and season this with cajun seasoning or even a sweet and smoky barbecue rub.
If that's not enough to turn an asparagus naysayer into an asparagus fan, you could also serve this with dressing or dipping sauce. I particularly love this with my keto honey mustard. Even the biggest asparagus hater can't turn their nose up when these delicious bundles get dunked into that tangy sauce!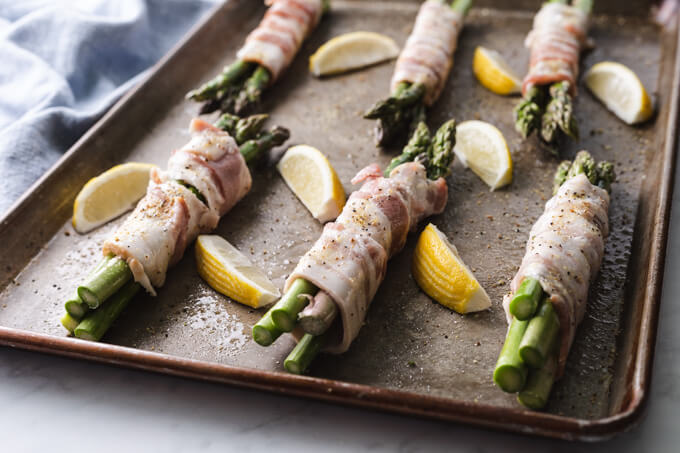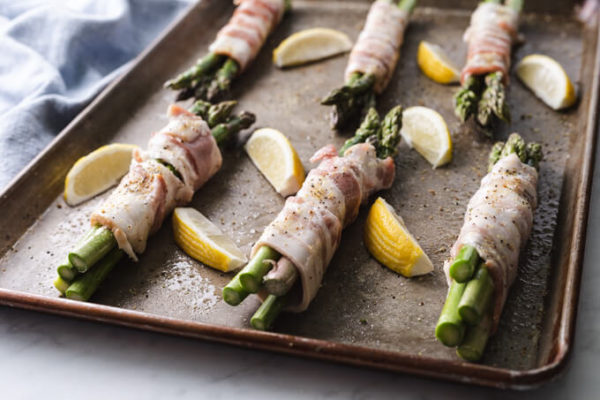 How to Prep Asparagus
Part of making the best asparagus side dishes is properly choosing and preparing your asparagus. My friend Jenna at Seasoned Sprinkles has a great article about how to buy and cook asparagus.
For this recipe, I recommend looking for asparagus at the market that is medium thickness. Your bundle from the market will likely have some stalks that are very thin or very thick. Remove the spindly stalks and wash the rest of the asparagus.
However, any thicker asparagus stalks need to be peeled. Lightly peel the stalks with a vegetable peeler.
After that, you need to trim your asparagus. So many people don't make asparagus at home because they aren't sure how to trim asparagus, but I got you covered with this easy hack. To find where you should trim each stalk, just gently bend the stalk. Where it snaps is where it is tender. Trim off the part of the stalk below that and you'll remove the tough, woody sections.
Once you trim the asparagus, divide it up into six bundles. Now you're ready to wrap the asparagus bundles with bacon.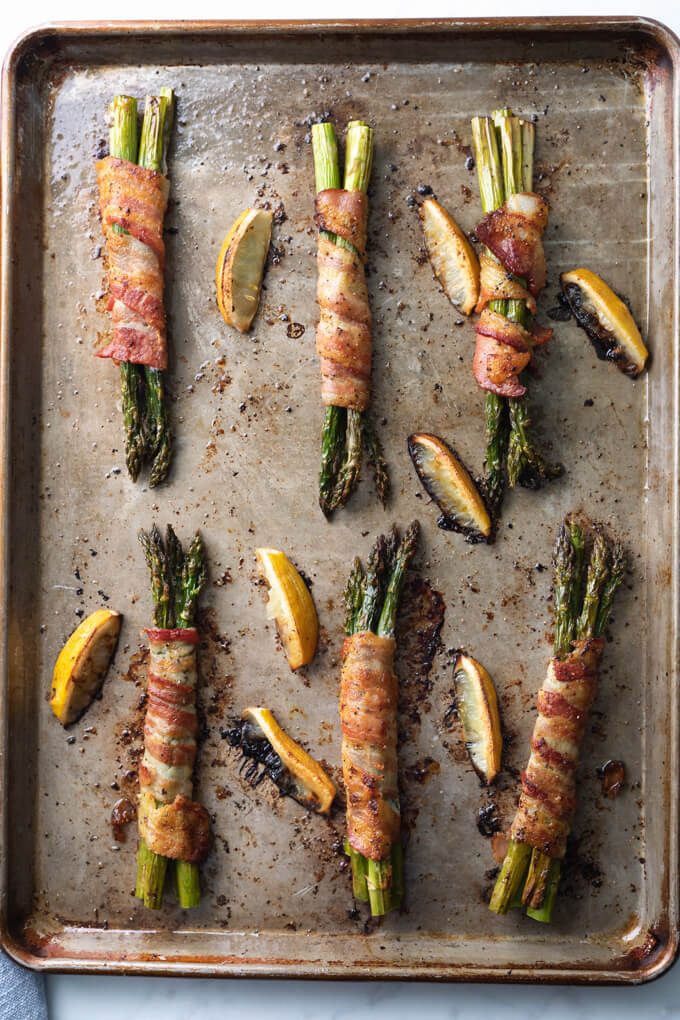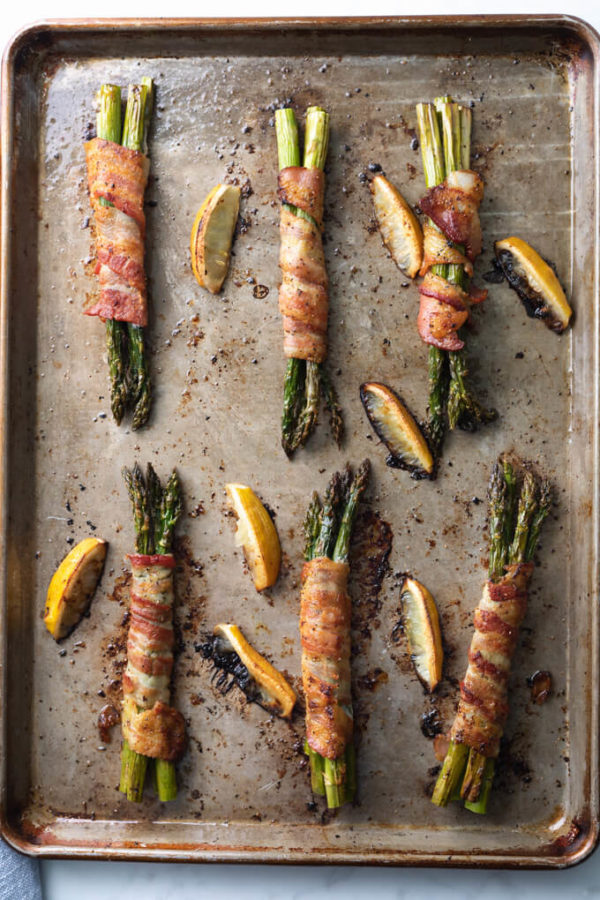 How to Wrap Your Asparagus Bundles in Bacon: Tips and Tricks
Use Regular Cut Bacon. Picking the right bacon is key for bacon wrapped asparagus bundles. I used regular cut bacon and not thick cut bacon. While thick cut bacon sounds good in theory, because increasing the bacon ratio is always good, I found thick cut bacon didn't cook thoroughly.
Let the bacon warm-up. I let the bacon sit out on the counter for a few minutes to take the chill off. This allows the fat to become soft and pliable, making it easier to wrap the asparagus. In fact, it should wrap so easily that you won't even need a toothpick to hold the bacon in plac.
After wrapping the bacon around the asparagus, put the asparagus bundles right onto a sheet pan. Then, season the bundles and spray them with olive oil. Quarter a lemon and roast along with to squeeze over when you serve the asparagus. Roasting the lemon quarters mellows the bite and concentrates the lemon flavor.
Now, let the oven work its magic and roast the asparagus until just before it's done. To finish the asparagus bundles and cook the bacon further, turn on the broiler for a minute or two. Broiling at the end will crisp up the bacon and slightly char the tips of the asparagus for added flavor with no extra effort.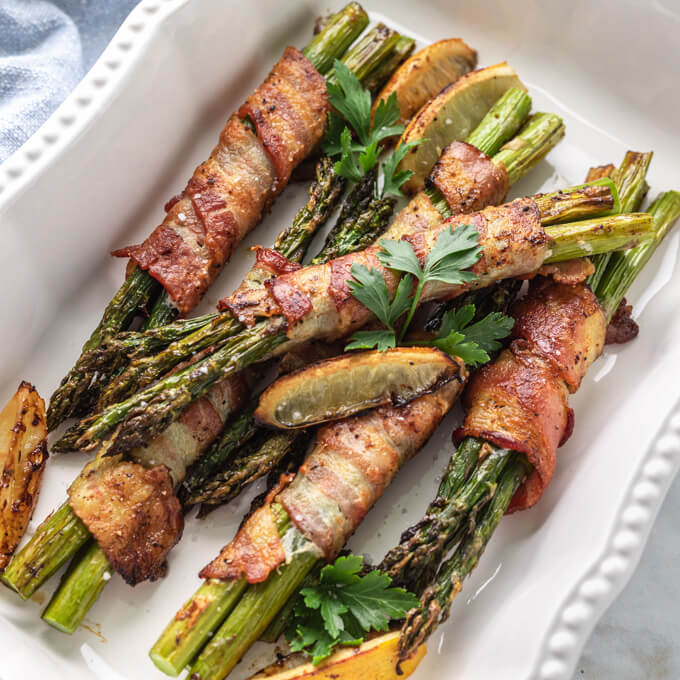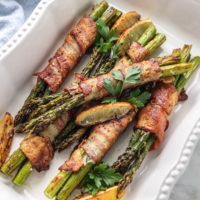 Bacon Wrapped Asparagus Bundles
Sweet roasted asparagus with crispy ends wrapped in salty bacon! This easy side doubles as an appetizer and is great with honey mustard dressing.
Print
Pin
Rate
Ingredients
1

pound

asparagus, trimmed

(see post)

6

slices

regular cut bacon

1

tsp

lemon pepper

1

whole

lemon, quartered

olive oil spray
Instructions
Preheat oven to 400 F and place rack in middle position.

Wash and dry asparagus, trim, and peel if necessary. Divide into six bundles.

Wrap each bundle with a slice of bacon, overlapping the bacon slightly and tucking the end under the bundle, and place on a sheet pan. Spray with olive oil and season with lemon pepper.

Place quartered lemon on sheet pan with the asparagus

Roast for 8 minutes, turn-over and roast another 8 minutes. Crisp bacon under broiler if necessary.

Squeeze with lemon at service.