These breakfast wraps are filled with bacon & eggs, cheddar cheese, avocado and salsa.  This low carb and super easy recipe will keep you satisfied all morning.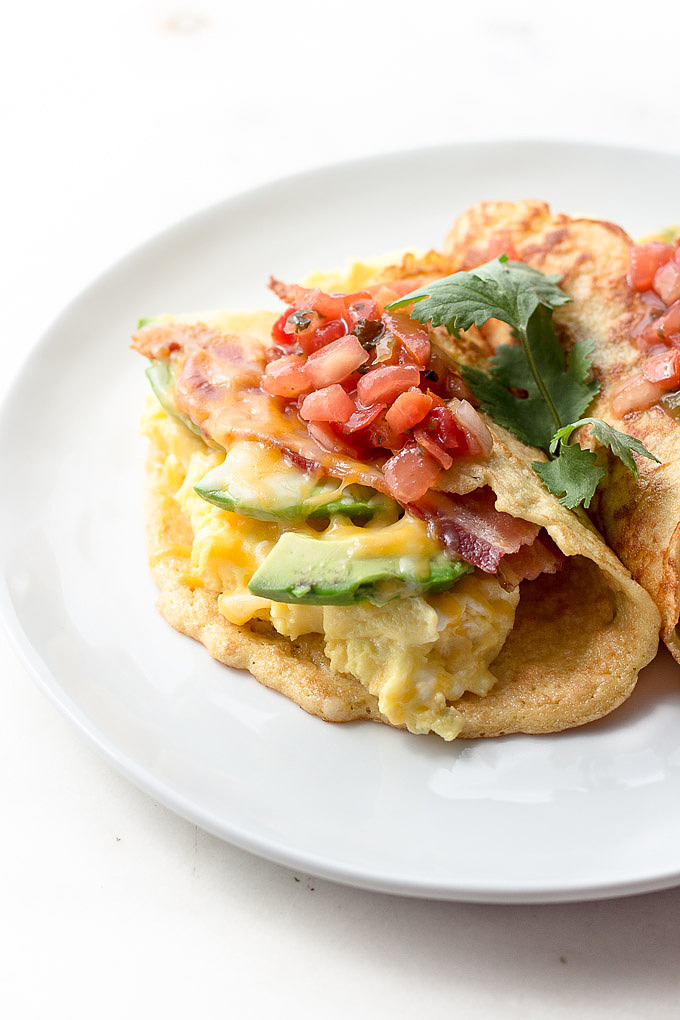 In Southern California, breakfast burritos and breakfast tacos are king. You can go to any local taqueria and order them. Some of my favorites are filled with carne asada, onions, cilantro and avocados, but since going low carb, we don't frequent taco shops except to get guacamole and salsa to accompany our homemade beef fajita or chicken fajita dinners. Sometimes my husband will order a breakfast burrito, which is always HUGE, and just eat the filling, pushing aside the potatoes or requesting that they be left out entirely.
Breakfast and tacos, in our area anyway, have almost become synonymous. And, what better way to enjoy a breakfast taco at home than to make a quick, low carb version with bacon and eggs and a tasty – almost zero carb wrap? I shared the recipe for pork rind wraps several months ago and they are now the most popular post on the blog. They're pliable, neutral in flavor and perfect for a low carb breakfast wrap application.
I make a full batch of these low carb wraps (or keto tortillas) on the weekend so we have plenty for the whole week. They're the perfect vehicle for tasty breakfast fillings like bacon & eggs, left over ground beef or taco meat. I've even filled them with Philly cheese steak for the ultimate in low carb breakfast yumminess!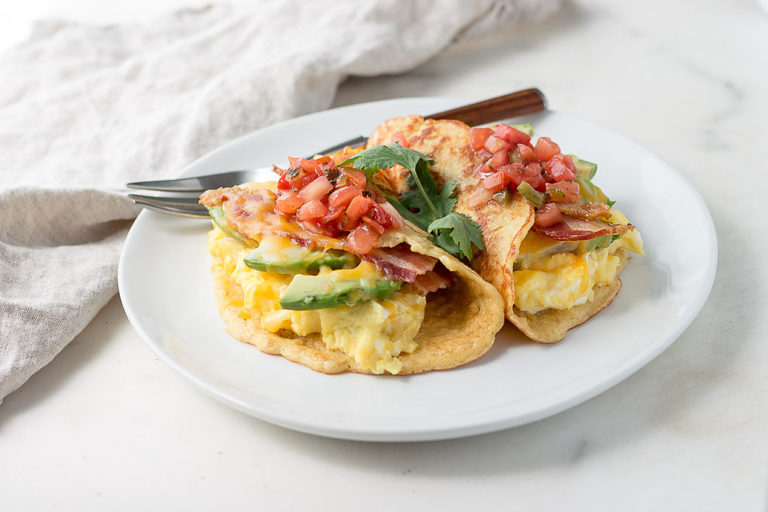 If you aren't into pork rinds, I understand. I have also used these zucchini tortillas for breakfast tacos, and they're great. They're much less in carbs than the low carb tortillas you can get from the store (although low carb tortillas are great and we buy them from time to time) and they put that summer zucchini glut to good use. If you are looking for something faster, consider pouring egg whites into a pan and letting them cook into a thin wrap – they work perfectly, too.
This breakfast wrap recipe calls for good ol' scrambled eggs and bacon, cheddar cheese, avocado and salsa. It makes two servings, although my husband often eats both, but I can only eat one.
Each Low Carb Breakfast Wrap is 3 net carbs.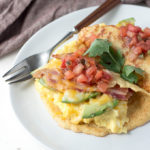 Bacon & Egg Breakfast Wrap with Avocado
These breakfast wraps are filled with bacon & eggs, cheddar cheese, avocado and salsa. This low carb and super easy recipe will keep you full all morning.
Ingredients
3

slices

bacon

cooked

2

large

eggs

1/2

cup

grated cheddar cheese

1/2

avocado

sliced

1/4

cup

salsa

salt and pepper to taste
Instructions
Cook the bacon in the pan until crisp. Remove, cut in half and set aside. Pour out all but 2 teaspoons of bacon fat. Slice the avocado.

In a small bowl, beat the eggs and half of the cheddar cheese cheese with a fork. Cook the scrambled eggs to your liking and remove from the pan. Season with salt and pepper.

Place the wraps into the hot pan over medium heat (I had to overlap mine just a bit in the middle). Divide the scrambled eggs and place them on 1/2 of each wrap, not going past the middle. Add the avocado, bacon and remaining cheese. Add 1 tablespoon of water to the pan and cover quickly with a lid. Leave covered for 1-2 minutes or until the cheese has melted and the bottom of the wraps have browned a bit. Serve with salsa.
Recipe Notes
Nutrition Facts
Bacon & Egg Breakfast Wrap with Avocado
Amount Per Serving
Calories 469
Calories from Fat 342
% Daily Value*
Total Fat 38g 58%
Total Carbohydrates 4g 1%
Protein 27g 54%
* Percent Daily Values are based on a 2000 calorie diet.
Almost Zero Carb Wraps (low carb, keto)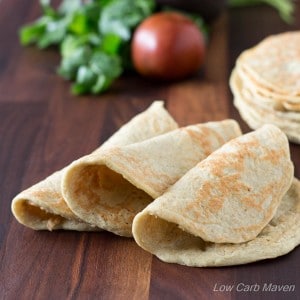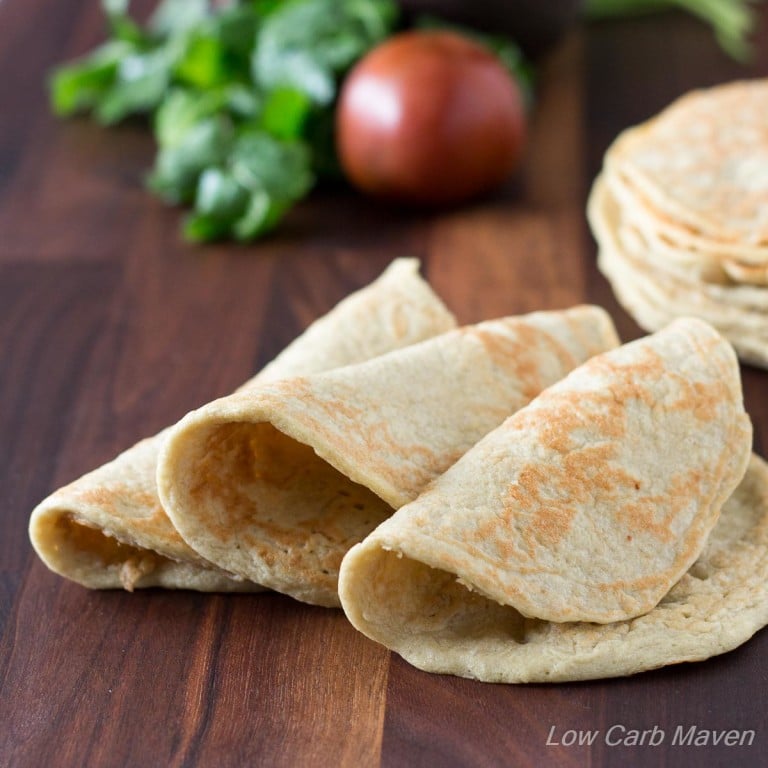 Signup for my Newsletter
Subscribe to get our recipies by email.