Asparagus with Hollandaise sauce – tender asparagus with an easy brown butter Hollandaise sauce that's made in a blender. An easy yet elegant side perfect for low carb diets.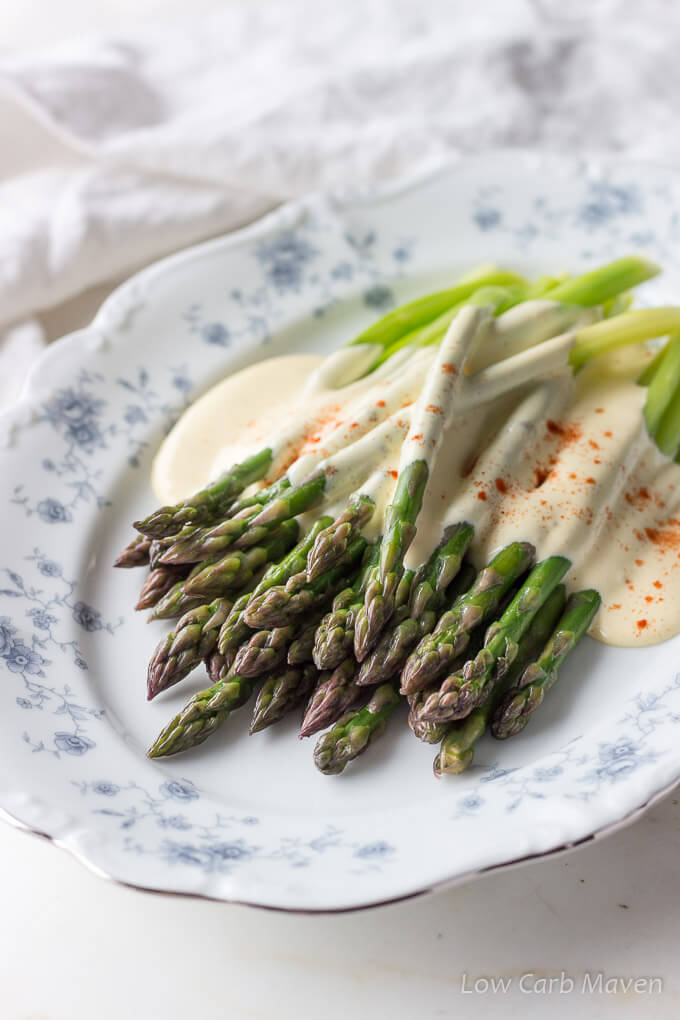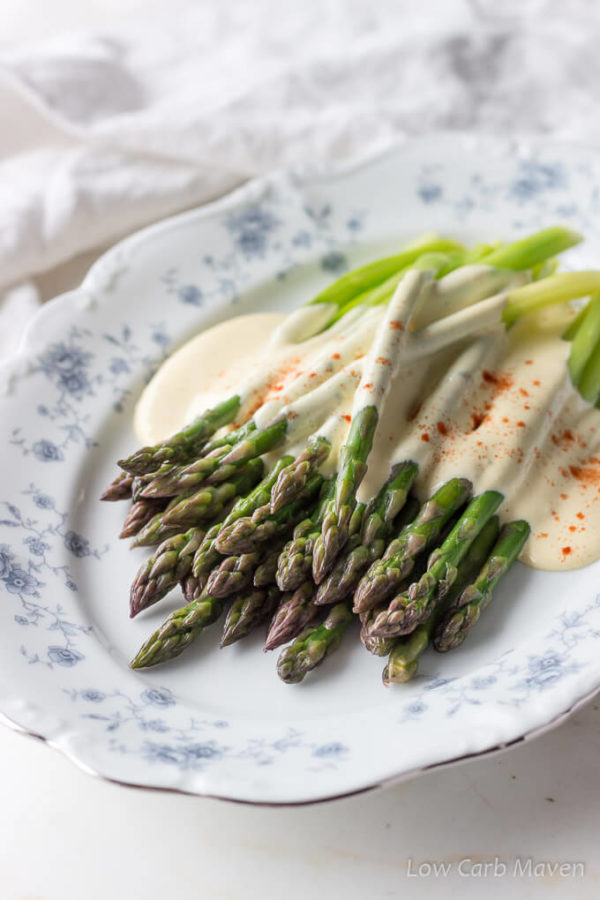 My aunt was the first person who served Asparagus with Hollandaise sauce to me. A talented gourmet cook, she delighted in serving great tasting food to family and friends. Her Hollandaise sauce was so perfect and rich with buttery flavor that it showed me how wonderful asparagus could be.
I'm sure my Aunt Persus used a traditional method for making Hollandaise sauce, where egg yolk and butter are whisked continuously over low heat until the eggs thicken and the butter emulsifies into a rich luscious sauce. It sounds easy – and it is, but I have scrambled my egg yolks many times over the years. Just a smidge too much heat or a moment of distraction can take a Hollandaise sauce from sublime to destruction! This recipe cheats by using a blender!
If you haven't made Hollandaise sauce in a blender then you are in for a treat. It's as simple as adding hot melted butter to a slow-running blender containing egg yolks, lemon juice, and a little water. I've shared this recipe previously in my post on easy blender Hollandaise, but I decided to vary the recipe by browning the butter for this easy asparagus dish. Brown butter Hollandaise sauce anyone?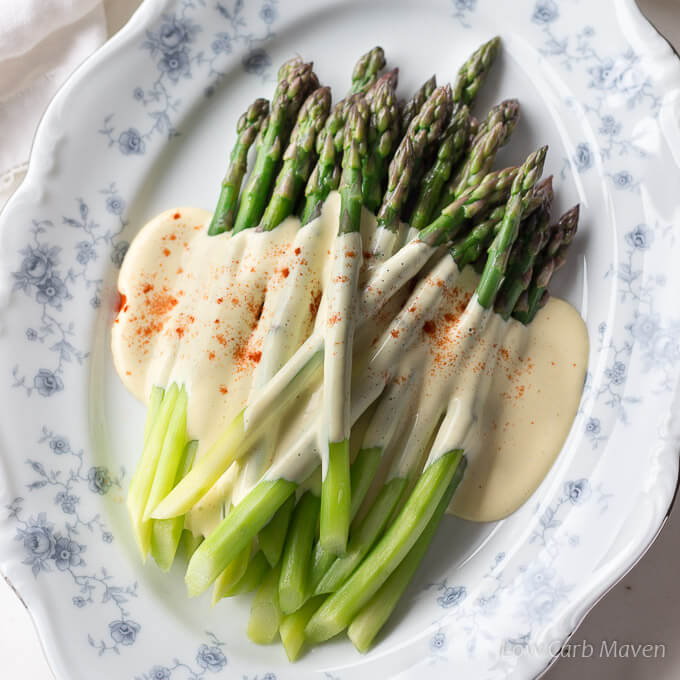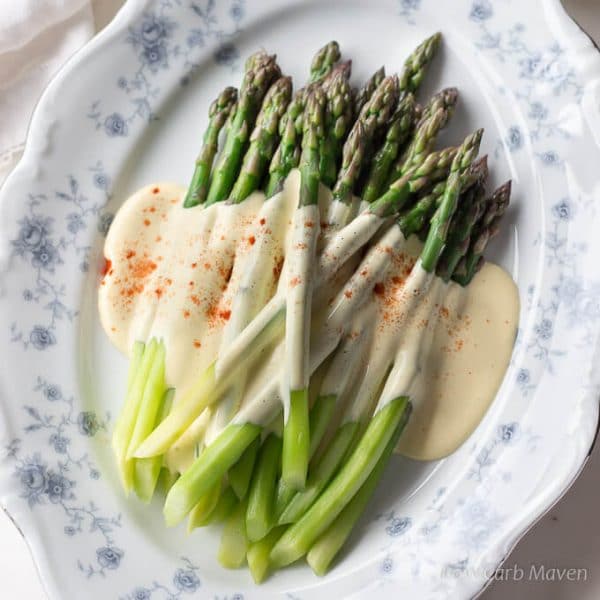 As I've said, asparagus with Hollandaise sauce is a wonderfully elegant side dish. It's perfect for a dinner party or for special meals at Christmas, Valentine's Day, Easter, or Mother's Day. But, I hope you don't save serving asparagus with Hollandaise sauce just for special occasions. It's the perfect low carb side to serve with beef, lamb, or even chicken – any time of the year.
What makes this recipe special is browning the butter in a frying pan and then adding it to the egg yolks. I swear this is why my Aunt's asparagus with Hollandaise was so delicious. Also, using a good quality butter like Finlandia or Plugra can really add to the richness and buttery taste. Since good quality European style butter is more expensive, I save that purchase for when I really want to impress.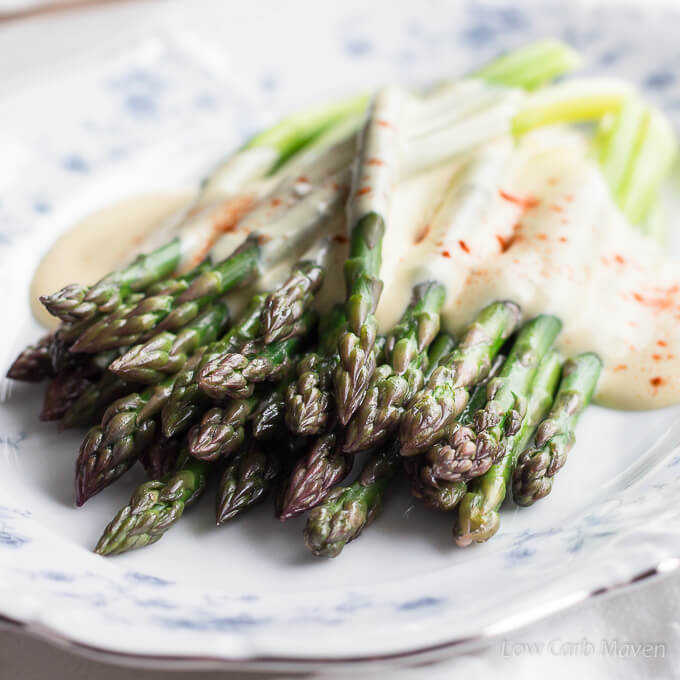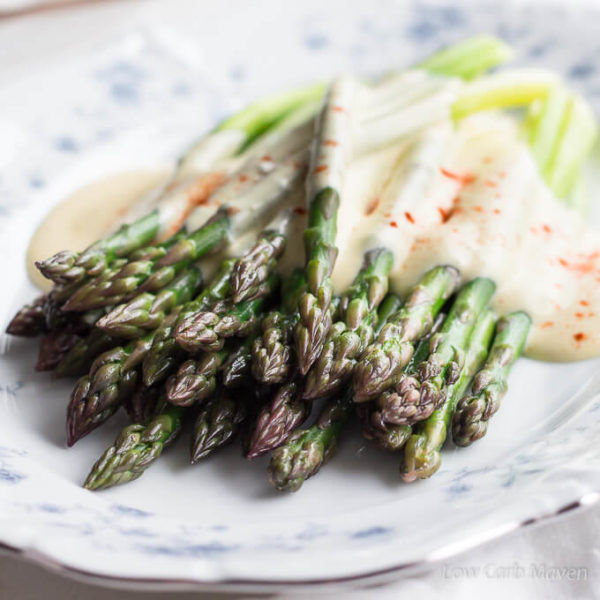 Let me talk about Hollandaise sauce for a minute. An acid is generally added to enhance the flavor of the sauce – lemon or white vinegar are traditional. Start with 1 teaspoon and only increase by ½ teaspoon at a time. The sauce should be balanced with the butter flavor predominant. The lemon should enhance but not overpower – it shouldn't be sour, but a little tartness is fine.
I like using salted butter in my Hollandaise and believe that it seasons the sauce perfectly. If you use unsalted, add a pinch of salt at a time until the sauce tastes "good", but not salty. Adding a little cayenne pepper and white pepper to a Hollandaise sauce brings out a nice savory flavor. I add just a touch more seasoning when I plan to make the sauce for asparagus than I would for say poached eggs.
Enjoy!
Asparagus with Hollandaise Sauce is 2 net carbs per serving.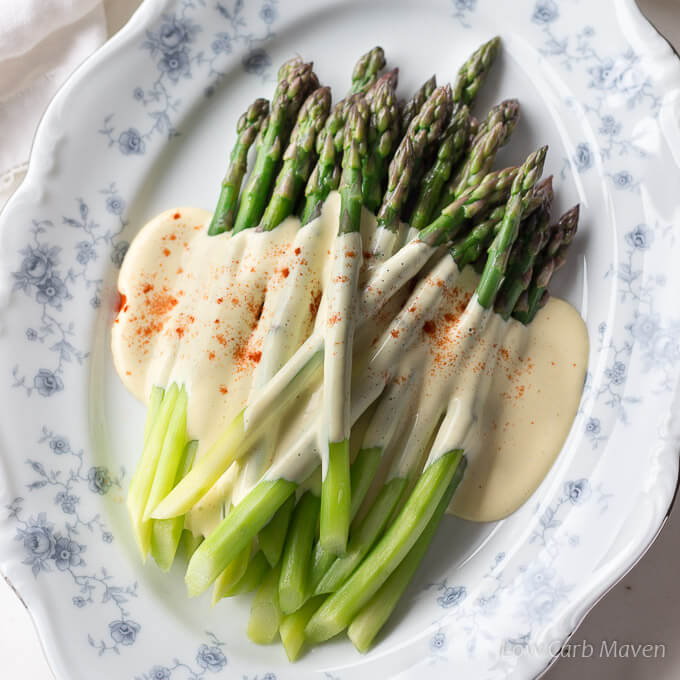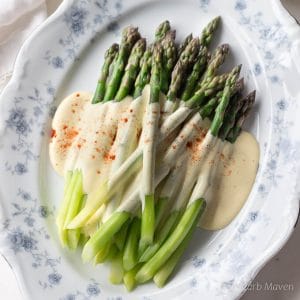 Asparagus with Hollandaise Sauce
Asparagus with Hollandaise sauce – tender asparagus with an easy brown butter Hollandaise sauce that's made in a blender. An easy yet elegant side perfect for low carb diets.

Print
Pin
Rate
Ingredients
1

pound

asparagus, trimmed

1

tablespoon

water

salt and pepper to taste
Hollandaise Sauce
4

ounces

salted butter

2

large

egg yolks

1/2

teaspoon

Dijon mustard

1

tablespoon

water

1-2

teaspoons

freshly squeezed lemon juice (or white vinegar)

1-2

pinch

cayenne pepper

1-2

pinch

white pepper
Instructions
Preparation:
If the asparagus is medium to large in thickness, cut 1 inch off of the bottoms and lightly peel the stalks with a vegetable peeler. I start about 1/3 from the top and continue to the bottom of each spear. If the asparagus is thin, hold a spear towards the bottom and bend it until it snaps. Cut the remaining spears to the same length. Separate the eggs, reserving the whites for another use.
Asparagus:
Place the asparagus in a microwave safe bowl and add 1 tablespoon of water. Cover with plastic wrap and cook at high power from 1 1/2 – 2 1/2 minutes depending on your microwave. Drain off the water and keep covered. Alternately, blanch the asparagus in boiling water until it is crisp tender, drain, and keep warm.
Blender Hollandaise
Add the egg yolks, 1 tablespoon of water, 1 teaspoon of lemon juice and the mustard to a blender. Place the lid on top and remove the middle piece. Place the butter in a medium to large frying pan and melt the butter over medium heat. Turn the heat up to medium high and gently swirl the pan every few moments. When the solids in the bottom of the pan just begin to turn brown, turn off the heat. Turn the blender on low and begin pouring the hot butter into the blender, leaving the brown solids behind in the pan.

After the butter has been incorporated, add the cayenne pepper and white pepper and blend. Taste. Adjust seasoning with more acid, salt or pepper. Pour over the asparagus and serve immediately. Serves 4.
Notes
More butter, up to 2 ounces, can be added to the egg yolks if you prefer. 
-The sauce can be thinned out with more water, if needed, and I have seen some recipes call for heavy cream. 
-If you need to keep the sauce warm while cooking other dishes, it can be kept in a double boiler ( I use a bowl resting over a pot with about an inch of hot water in the bottom. I will periodically turn the heat between low and off to modulate the temperature.) for up to an hour. Make sure to whisk from time to time to prevent a skin from forming on the top and to prevent the sauce from getting too hot on the bottom of the bowl. 
-Can be made ahead and refrigerated. Reheat over a water bath just like mentioned above, stirring every few minutes until warmed through. Thin with water if needed. 
Nutrition Facts
Asparagus with Hollandaise Sauce
Amount Per Serving
Calories 248
Calories from Fat 234
% Daily Value*
Fat 26g40%
Carbohydrates 3g1%
Protein 4g8%
* Percent Daily Values are based on a 2000 calorie diet.
Nutrition
Calories:
248
kcal
|
Carbohydrates:
3
g
|
Protein:
4
g
|
Fat:
26
g
|
Fiber:
1
g