A flavor packed Asian Cabbage Salad recipe which is completely raw and loaded with healthy fats. What could be better when living the low carb or keto lifestyle than eating your vegetables and getting your fats too!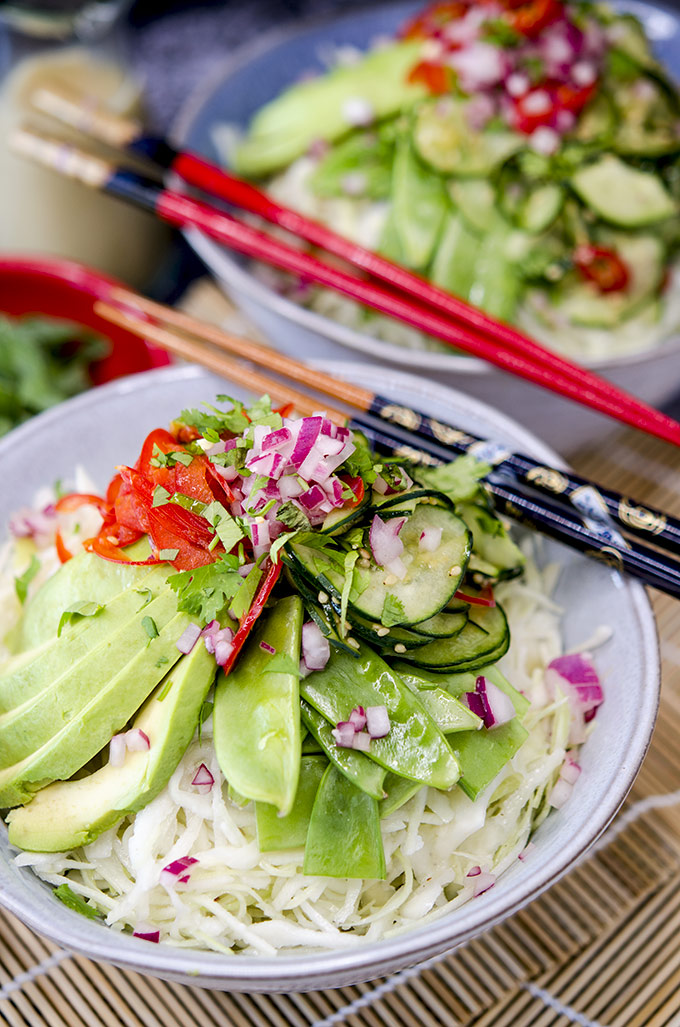 THIS POST INCLUDES AFFILIATE LINKS TO SHARE THE THINGS I LOVE.
An Asian Cabbage Salad Like No Other
My family became instant fans when I started cooking Asian style recipes about eight years ago.
Although it has taken me a while to figure out the flavor profile that works with the keto and low carb lifestyles, I've got it down now!
This recipe checks off so many boxes for both deliciousness and being low carb which is why it is like no other:
Veggie Packed Asian Salad: one area which is hard for people living low carb is keeping up with veggies. The flavors explode in this crunchy Asian salad with a mixture of cabbage, cucumber, red peppers and avocado.
High Fat and Low Carb: The standard version of this recipe has a lot of healthy fats… coconut oil, avocado and more. I also provide an alternative twist to keep the fat content lower too! The choice of vegetables keeps the carb count low. It's the perfect mix for the LCHF lifestyle.
No Sugar Added: So many Asian-style recipes add in honey or other sweeteners. You'll find that the combination of vegetables, fats and vinegars provide a completely balance dish. No need for anything additional.
It's all RAW: That's right. No cooking involved. The secret to the lush texture and bright flavors is allowing the vegetables to marinate separately before combining. Delightful.

Why make this Asian Cabbage Salad recipe?
Here are a couple reasons why you might want to make this Asian Cabbage Salad recipe:
First, it will captivate your tastebuds. With each bite you get a flush of healthy fats cut almost instantaneously by the high notes of acids and totally balanced out with the perfect amount of salt. It's like a concert inside your mouth… a delight to the senses.
Next, it's budget friendly. You can easily feed four people a completely filling lunch for under $5 a person… the most expensive ingredient is the coconut oil. It's just half of a cabbage, a bell pepper, a cucumber, one avocado and some condiments for four people.
Last, with a mandolin the preparation is an absolute breeze. If you have everything ready before starting this recipe, you can be done slicing everything in about 10 minutes. Then it's just waiting for all the flavors to meld together.
PRODUCT NOTE: I've been using this Kyocera Mandolin for the last 9 years. The exact same one for all those years and it is still running strong and sharp! I love it because it is easy to use, has an adjustable blade height and the cleanup is a breeze in the dishwasher. Save yourself a ton of time with this recipe and get one today!

What to serve with Asian Cabbage Salad
You can serve this Asian cabbage salad recipe as a hearty lunch for four people or as a side salad at dinner.
If you're serving as a side salad at dinner, it pairs incredibly well with a Crunchy Seared Ahi Tuna recipe.
Looking for some meat proteins to add to the Asian cabbage salad? Check out the Low Carb Beef Satay or add on some Coconut Basil Chicken. If you have some leftover steak, take a look at the recipe for Thai Beef Salad to learn how to repurpose your leftovers!
If you're looking for an alternative Asian salad recipe, then you might be interested in reading about Kim's Low Carb Thai Cucumber Salad.
RECIPE NOTE: Want to do something really funky and fun? Once you have the Asian cabbage salad made, go ahead and add it to some lettuce wraps. Top it with some sliced chicken breast for an out-of-this-world experience. The crunch factor is off the charts.

How to make Asian Cabbage Salad:
Making an Asian cabbage salad is easy. Simply follow these easy steps:
First, gather up all the ingredients that you will need for the recipe.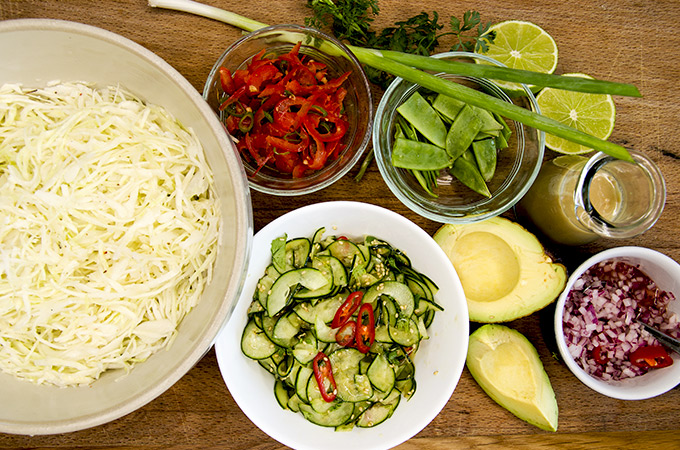 Next, setup 4 different bowls. A large bowl for the cabbage, two medium sized bowls for the cucumber and red peppers and a small bowl for the optional quick-pickled red onions.
Slice all the ingredients according to the recipe and combine into their appropriate bowls.
Allow each separate component to marinate for approximately 30 minutes before completing the Asian cabbage salad.
Combine the components to the salad and garnish to your hearts delight!
NOTE: If you would like for this recipe to have more spice (read spice as HEAT!) my recommendation is to stay away from Sriracha or other chili-based sauces. For some reason, chili sauces and products don't play well with this recipe. Simply add in more raw Thai chilis, jalapeños or other fresh chili to your desired taste.
Thank you Scott from I'd Rather Be A Chef for this amazing recipe!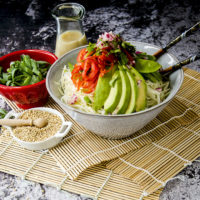 Crunchy Asian Cabbage Salad (Low Carb and Keto)
A delightfully playful Asian Cabbage Salad recipe which is also high in healthy fats, dairy free, sugar free and delicious.
Print
Pin
Rate
Ingredients
For the Asian Cabbage Salad Dressing
1/4

cup

Coconut Oil

Liquid or substitute a light flavored oil

2

tbsp

Rice Wine Vinegar

1

tsp

Bragg's Amino Acids

1

tsp

Dijon Musard
For the Asian cabbage
1/2

head

Green Cabbage

Cored and finely shredded

1/2

cup

Coconut Oil

Liquid or substitute a light flavored oil

3

tbsp

Rice Wine Vinegar

1/2

tsp

Kosher Salt

1/4

tsp

Freshly Cracked Pepper
For the Asian cucumbers
1/2

Hothouse Cucumber

Seeded

1/4

cup

Cilantro

Chopped with no stems

1/4

Fresh Red Chili Pepper (Optional)

Sliced thin

1

tbsp

Sesame Seeds (Optional)

1

tbsp

Olive Oil

1/4

tsp

Kosher Salt
For the Asian red peppers
1

Red Pepper

Cored, seeded and sliced very thin

2

tsp

Sesame Oil

1/4

cup

Scallion Greens

Sliced or substitute 2 tbsp finely diced shallots.

1/2

tsp

Ginger

Fresh, from a jar or 1/4 tsp dried ginger

1/4

tsp

Ground Cumin
Remaining Ingredients
1

Avocado

Peeled, seeded and sliced

1

cup

Snow Pea Pods (Optional)

Washed and cut in half
Optional Quick Pickled Onions
1/4

cup

Red Onion

Finely diced

2

tbsp

Red Wine Vinegar
Instructions
For the Asian cabbage
Shred the cabbage into a large bowl. Add in the remaining ingredients for the Asian cabbage, mix well.

After 15 minutes, mix again ensuring that any liquid from the bottom of the bowl is mixed back into the cabbage.
For the Asian cucumbers
Finely slice the cucumbers into a medium sized bowl. Add in the remaining ingredients for the Asian cucumbers, mix well and allow to rest for 30 minutes.
For the Asian red peppers
Finely slice the red peppers into a medium sized bowl. Add in the remaining ingredients for the Asian red peppers, mix well and allow to rest for 30 minutes.
(Optional) For the Quick Pickled Onions
Finely dice the onions and add into a small bowl. The bowl size is important so that the vinegar covers the onions.

Cover the onions with red wine vinegar and allow to rest for 20 minutes.
For the Asian Cabbage Salad Dressing
Combine all the ingredients into a bowl. Mix well and set aside. NOTE: Do not refrigerate as the coconut oil will harden!
Making the Asian Cabbage Salad
Once all the components to the Asian cabbage salad have had a chance to marinate, start by placing the cabbage in the bottom of a soup-sized bowl.

Top the cabbage with equal portions of marinated cucumber, marinated red peppers and the sliced avocado. If using snow peas, add them into the salad now.

If you have chosen to make the quick pickled onions, add them to the top along with an additional pinch of cilantro. For added garnish, sprinkle with additional sesame seeds.

The serving size is quite large for the Asian Cabbage Salad and has a NET Carb count of 7.1g per serving.
Notes
HUGE NOTE: Coconut oil doesn't like to stay in its liquid state particularly in cool temperatures. As the Asian cabbage salad sits, it will actually start to become a little thicker. I like how the coconut oil adds body to the salad. If you use a refined oil instead of coconut oil, this will not occur.
Additionally, if you choose to use coconut oil in the salad dressing (not much is needed for each salad!), it will start to solidify as it cools. My suggestion is to make the dressing immediately before serving the salad or to give it a good mix before serving. Refrigerating the dressing made with coconut oil will make it turn to a solid!
There are a few optional ingredients in this recipe. I've made the Asian cabbage salad with and without all the optional ingredients. Here's the deal: the salad will taste best with all the ingredients, but you will also make a really delicious salad without some of the options. I want to keep it as simple as possible.
As you are tasting the individual components, keep in mind that they are intended to be eaten with one another. Individually they aren't completely balanced, but when they are together they are a true delight.
Nutrition
Serving:
1.5
Cups
|
Calories:
519
kcal
|
Carbohydrates:
10
g
|
Protein:
2.2
g
|
Fat:
52
g
|
Sodium:
202
mg
|
Fiber:
2.9
g
|
Sugar:
5
g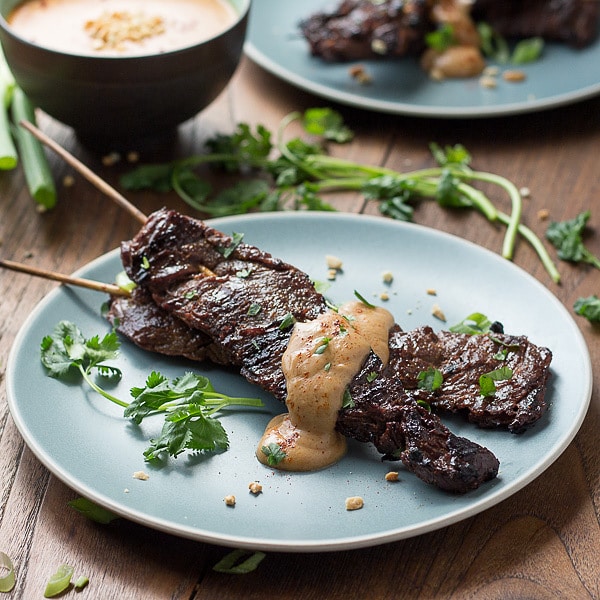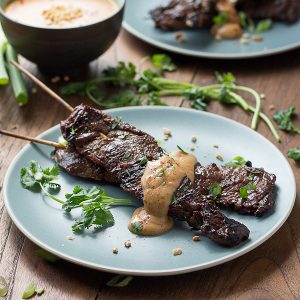 Thai Beef Satay with Peanut Sauce