With it's Fall flavors and colors, this Arugula and Persimmon Salad with Citrus Vinaigrette appeals to those who eat with their eyes! This vegetarian recipe is also perfect for those following a Primal or Paleo way of eating.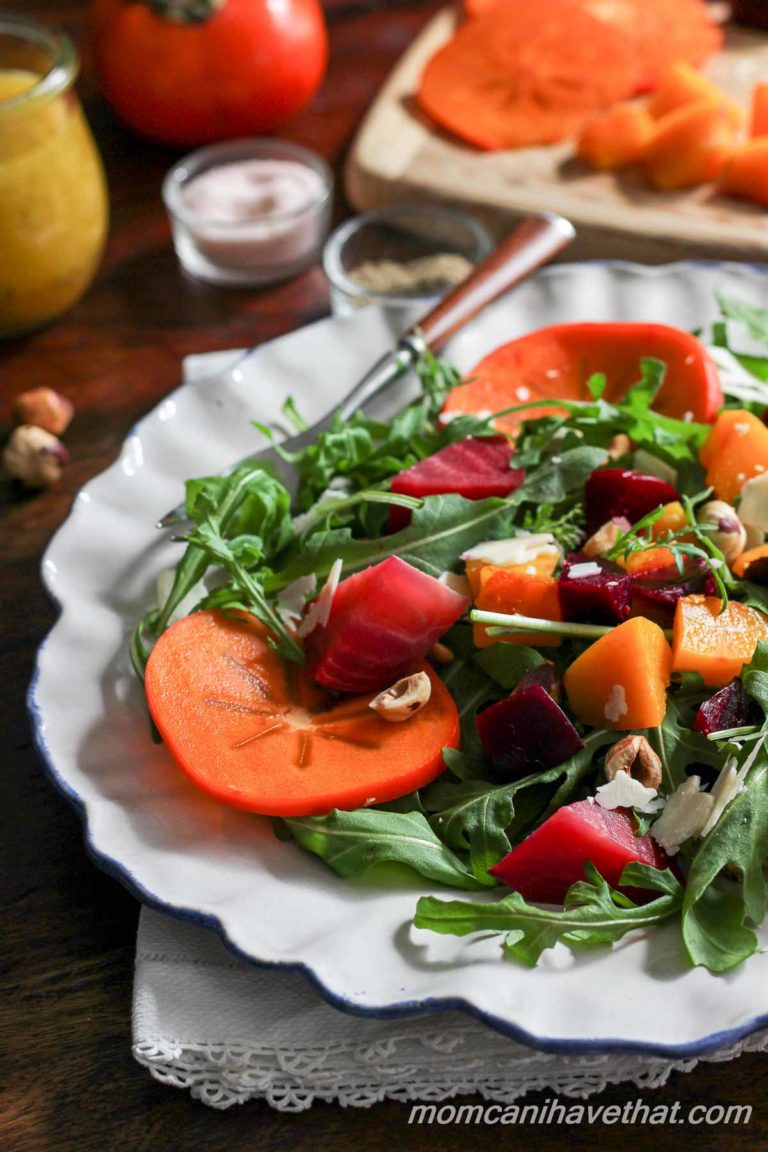 I am reaping the benefits of Fall harvests by way of bi-weekly CSA deliveries. I'm so lucky to be in a position to help support the local farmer's in my area, but I currently find myself with a lot of persimmon, beets, and butternut squash – items I typically don't buy at the store because they are all higher in carbs. But since I do enjoy them, I thought I would combine these wonderful vegetables in a salad bursting of Fall flavors that is perfect for our Paleo friends.
If you haven't had a persimmon before I don't know if I can adequately describe it's flavor. It is delicate and delicately sweet. The two most common varieties of persimmons found in the super markets and farmer's markets are the Fuyu and Hachiya persimmons.
The Fuyu persimmons are lighter in color – more yellow and more flat in shape and eaten a little more firm while the Hachiya persimmon is a little more rounded and tend to be eaten when it's very soft and ripe – almost mushy. Several years ago I used Hachiya persimmons to make a persimmon bread which was very good. The only disappointing thing about that recipe was that the persimmon flavor was lost in the flavor of the other ingredients. I didn't want to make that same mistake again with this recipe which features some beautiful Fuyu persimmons.
Now, let's be real honest for a minute… Not everyone likes beets, in fact, my husband says they taste like dirt. And while I can't agree with that statement, there is a certain amount of earthiness in their flavor which pairs nicely with acidic ingredients – like citrus, or even compliments a nice nutty or tangy flavorful cheese. Butternut squash also has a bit of an earthy flavor albeit more to the nutty and sweet side of things.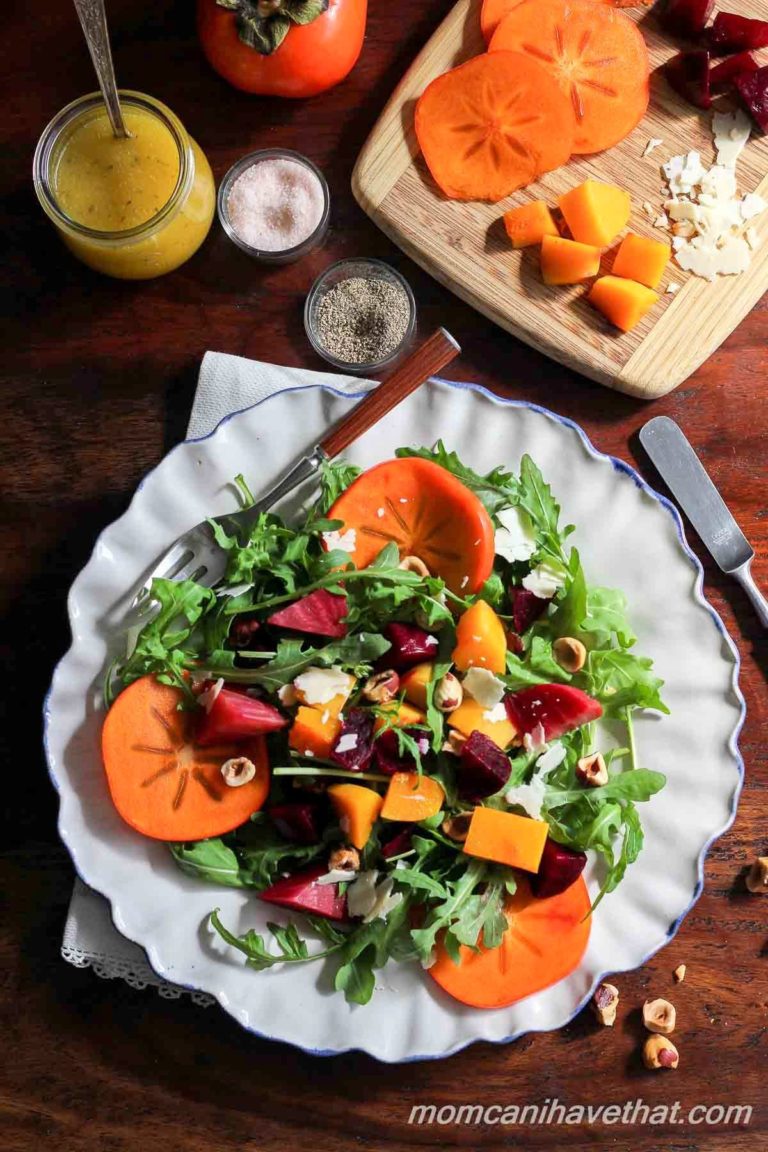 I really like the ingredients I chose for this arugula and persimmon salad. Beats with their deep earthy flavor, sweet-nutty butternut squash, and peppery arugula each playing their own counterpoint to the soft and delicate persimmon. Toasted hazelnuts bring a little crunch as well as a mellow and rich nuttiness and the Parmesan cheese also somewhat nutty in flavor brings a nice saltines.
Other great cheese choices would be crumbled blue cheese, crumbled feta cheese or even goat cheese balls rolled in fresh herbs (lemon thyme) or chopped nuts. The citrus vinaigrette is not overpowering but adds a nice quiet acidity to the salad which dresses-up the earthiness of the vegetables and heightens the flavor of the persimmon. If I had had any at the time, some rotisserie chicken would have been a perfect addition to this persimmon salad as would the tart vibrancy of pomegranate arils.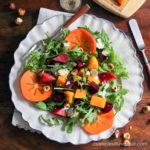 Arugula and Persimmon Salad with Citrus Vinaigrette
With it's Fall flavors and colors, this Arugula and Persimmon Salad boasts beautiful root vegetables, toasted hazelnuts, flavorful cheese and an amazing citrus vinaigrette.
Ingredients
Salad
2

ripe Fuyu persimmons

sliced horizontally

4

medium beets

roasted or pickled

1

small butternut squash

cooked (or cooked sweet potato)

1

pound

arugula
Citrus Vinaigrette
1/2

cup

fresh orange juice

3

tablespoons

champagne vinegar

1

tablespoon

lemon juice

1

tablespoon

minced shallot

1/4

cup

extra virgin olive oil

1/4

cup

extra light olive oil

1/4

teaspoon

dried thyme

zest from the orange

pinch of salt

pinch of fresh black pepper
Garnish
toasted hazelnuts

pecans, or walnuts

Parmesan cheese

goat cheese or feta cheese

pomegranate seeds

optional

rotisserie chicken

optional
Instructions
Butternut squash:

Peel the butternut squash and cut lengthwise. Scoop out the seeds and cut lengthwise into quarters. Put into a glass baking dish with 1 T water, cover and microwave for 4 minutes. Cut into pieces. Alternately, use already cooked butternut squash or sweet potatoes.

Citrus Vinaigrette:

Squeeze the orange juice into a small sauce pan and bring up to a boil. Turn the heat down to a strong simmer and reduce by half. Pour the reduced orange juice into a small bowl and add the rest of the ingredients for the dressing and whisk. Taste for seasoning. For a stronger orange flavor add more orange zest, for more acidity add more vinegar, for a stronger punch of tartness add more lemon juice.

Assemble:

Divide the arugula among 4 plates. Arrange the sliced persimmon. Add the butternut squash, beets, cheese, hazelnuts and any other garnishes. Pour dressing over. Serve.